1 View
Tesla Model S Back on the Table With LAPD
October 17th, 2016 3:45 PM
Share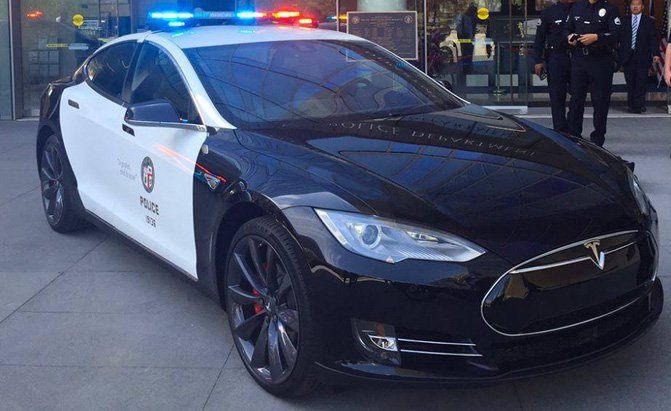 The Tesla Model S might join the Los Angeles Police Department (LAPD) fleet after all.
Earlier this year, LAPD chose to add 100 BMW i3s to its fleet with Police Administrator Vartan Yegiyan saying that the Tesla Model S wasn't practical enough, suggesting that it was too expensive to be used as a fleet car. The BMW i3 are being used for non-emergency duty and now, LAPD is planning to test a Model S as a patrol car, outfitting it with all the necessary equipment including radios, a computer, custody cage, locking shotgun rack and more.
In a recent interview with NBC Los Angeles, Yegiyan said the deployment of the BMW i3 fleet has gone well and the cars are being used as unmarked vehicles for administrative travel, but are also driven by sworn officers to crime scenes or during investigations. The addition of electric cars to the fleet will help reduce the total cost of fleet operations by 15 percent compared to traditional vehicles they replaced.
SEE ALSO: LAPD Chooses BMW i3 Over Tesla Model S
But patrol cars have different requirements, for example needing faster acceleration and longer range than what the BMW i3 currently offers, which is why the Tesla Model S is getting a second look by the LAPD. The American automaker will have an active role in outfitting the patrol car with the equipment needed and will be put to the test in the field by an on-duty patrol sergeant, who will be driving it to emergencies and possibly even taking part in pursuits.
Still, the biggest hurdle the Model S will have to overcome is its cost, which is far more than the BMW i3. The cost of electric vehicles are expected to drop as battery technology improves, however, and Yegiyan wants the LAPD to be ready when it gets to an affordable price range, so don't be surprised if the Tesla Model 3 becomes the next candidate to wear black and white.
[Source: NBC Los Angeles]
Discuss this story on our Tesla Forum
Published October 17th, 2016 3:45 PM
Popular Articles
Latest Comparisons
Car Buying Tools