3 Views
Top 10 Interesting Cars in Upcoming Auctions
June 29th, 2017 8:56 AM
Share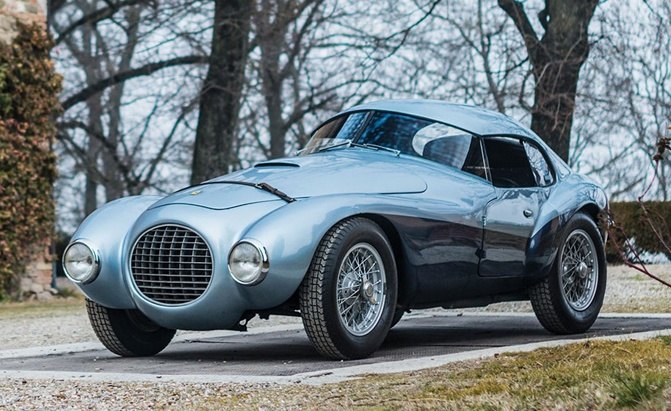 Auction season is upon us and there is a cornucopia of interesting cars available.
Celebrities, uglies, and eggs are a common theme. Yes, eggs. Here are a few our personal favorites from RM Sotheby's, Mecum, Gooding and Co., and Auctions America.
1956 Aston Martin DBR1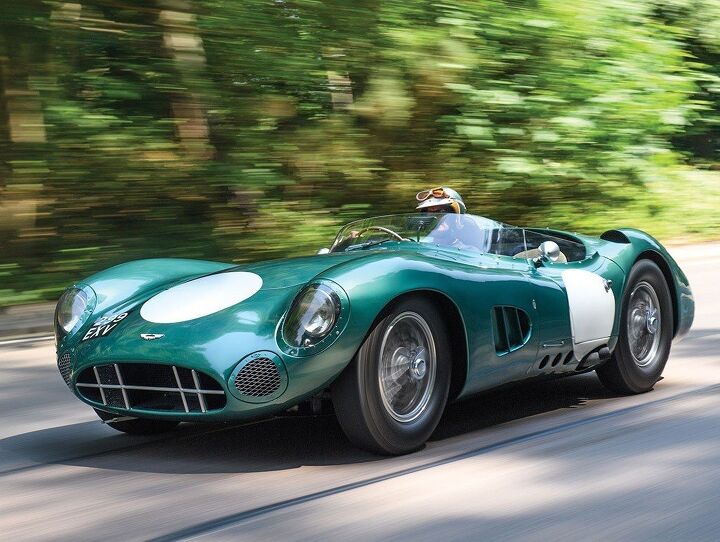 The Aston Martin DBR1 is arguably the most important car in Aston's 104-year history. Built to compete against the likes of Ferrari and Jaguar in the golden era of racing in between 1950 and 1960, this particular example is the first ever built and has an incredible history of famous drivers including Stirling Moss and Carroll Shelby. Presented in immaculate condition with a reproduction engine, and the final "works" engine that it was raced with when it won the Nurburgring 1,000-km race in 1959.
---
1953 Abarth 1100 Sport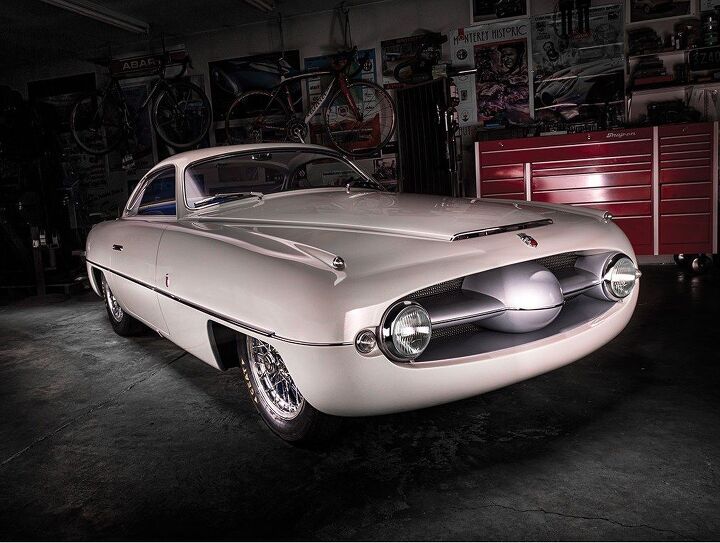 This unbelievable custom body Fiat 1100 Abarth is a unique sports car that was designed to show off the skills and techniques used by the coachbuilder Ghia. Only one was ever produced, making this car exceedingly rare. After changing many hands throughout the years, and reportedly (although not documented) receiving a V8 drivetrain, the car came into disrepair, until its current custodian completed a five-year restoration, leaving no detail unnoticed. Painstaking research into the authenticity of every nut and bolt was completed, and a complete history of the vehicle including pictures dating back to the original auto show where it was shown in 1954 are included. Truly wonderful.
---
1970 Porsche 917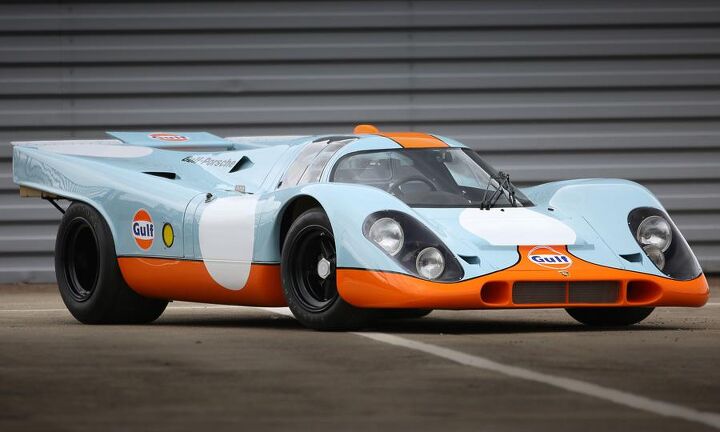 First of all, it's a Porsche 917. Second, it's a Porsche 917 that won Le Mans in 1970, and if that's not enough for you, this is the Porsche 917 that Steve McQueen raced and drove during the filming of the 1971 film Le Mans (which was, unfortunately, a huge flop in theatres, but we still love it). Seen extensively on screen, this car is as much a star as McQueen was, but it also performed double duty as a camera car whilst filming. Porsche factory driver Jo Siffert originally purchased it and lent it to McQueen for the film, once filming wrapped, it returned to his possession where it remained until he died in the late '70s. In 2001, the car was found again in what is considered one of the greatest barn finds of all time, and it was given a full restoration.
---
1980 Buehrig Carriage-Roof Coupe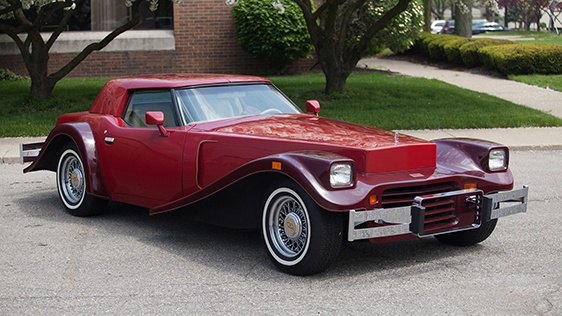 We really have to give credit to the photographer for the photos of this… car? The photos themselves are OK, but what we're really commending is the ability to hold down your lunch when you look at this thing. Yeeuch. Not much information is available about this creature from the red lagoon, and that's probably a good thing, because just like the Necronomicon, if you have the information to summon the devil, it's very likely that you might use it. As far as we can tell, this 1980 Buehrig Carriage-Roof Coupe is a custom bodied 1980 Corvette, and if we're honest, the actual execution of the build is very well done, it's just a shame that it was styled by a child. Estimated to empty $30,000 to $40,000 out of some poor schmuck's wallet, this Corvette catastrophe will hopefully be put into a barn and forgotten about for 100 years.
---
1950 Ferrari 166mm "Uovo"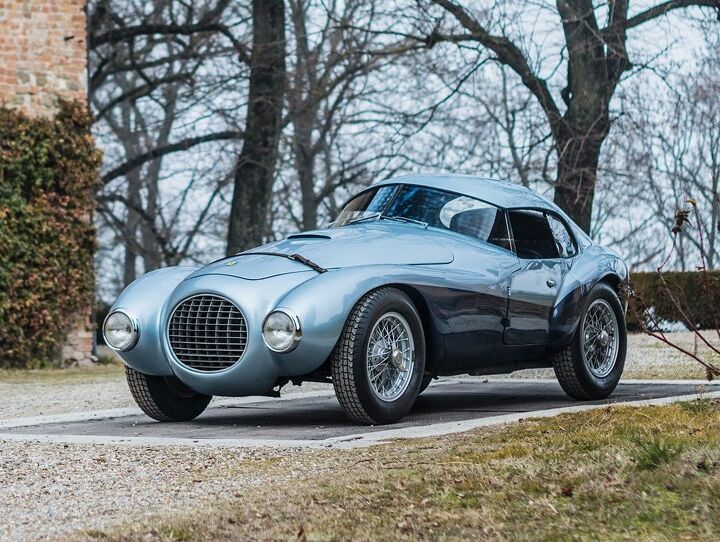 When the words "1950 Ferrari V12" pop up, so do a number of zeros in the price tag. To most people, a Ferrari V12 is the god all gearheads pray to, and adding the numbers 1-9-5-0 only make us close our eyes tighter and hold our hands together longer. Although, this time, we're closing our eyes for a different reason, because this Ferrari has a coach-built body by Carrozzeria Fontana, and we're not sure if it is beautiful, ugly, or if it simply… Is. The "Uovo" is one of the most compelling and polarizing Ferraris of the Enzo era, known for its egg-shaped body, it was commissioned to be aerodynamic and slippery for competition. Not seen in public for many years, the Uovo's strange curves and bulbous body will be available to purchase from RM Sotheby's for many millions, and is still eligible for many great classic races, such as the Mille Miglia.
---
1965 Peel Trident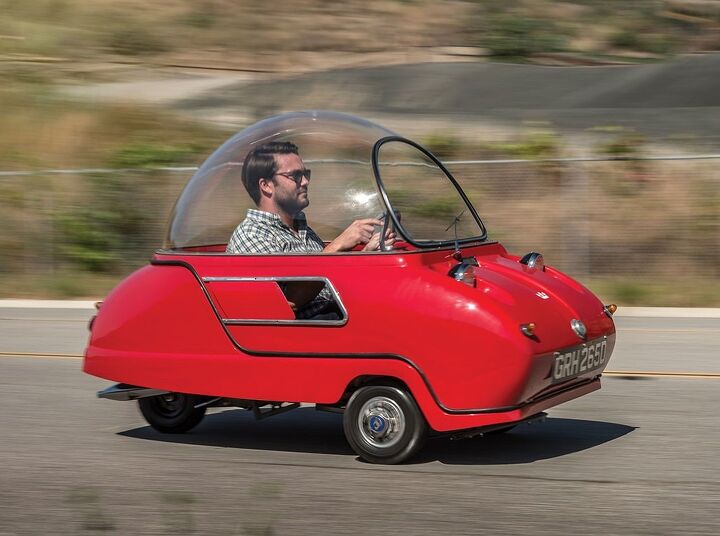 "Saloon car comfort with scooter cost." Yeah right, we always say the most comfortable driving position is to have your knee in your eye socket. Slightly larger than the infamous Peel P50, the Trident was a luxury model that baked the top of your head as you drove down the street at 38 miles per hour. Honestly, though, could you imagine going 38 miles per hour in this egg? Even at 100 mpg, which is "almost cheaper than walking" as they advertise, I don't know how much you would have to pay us to take an almost totally spherical car into the concrete jungle where real cars live. Nonetheless, these cars are very collectible, and micro-cars are seeing a rise in popularity in collections because of their quirkiness and relatively low cost. Hilariously, this car has two seats, in case you need to carry around someone who is only four feet tall.
---
1955 Mercedes-Benz 300SL Gullwing and 1957 Roadster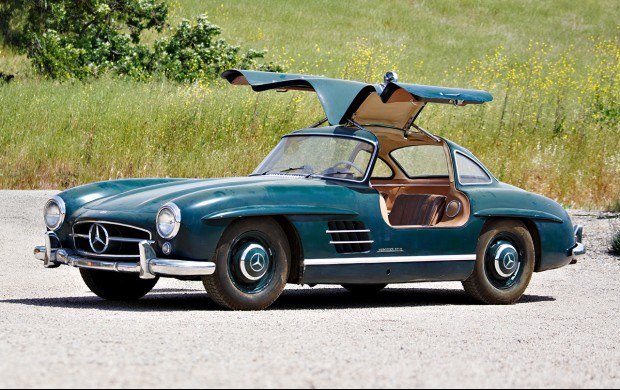 His and hers Mercedes 300SLs anyone? A great story follows the ownership of this Gullwing and its companion roadster, as they have had the same owners from new since 1955 and 1957, respectively. The 300SL Gullwing is obviously one of the most iconic cars of the 20th century, and it is amazing to see a rare color combination with the British Racing Green/tan interior model believed to be one of one. Unfortunately not sold together, the Gullwing and Roadster have spent the past 60 years together, and we really hope that once the paddles start flying in the Gooding and Co. auction house, the bidders will have deep enough pockets to take home both of these beauties, as it would be a shame to break up the family after so long. Totally original and basically untouched, the green Gullwing has only 16,000 miles from new, while the Roadster has just under 38,000, the owner obviously loved the wind in his hair while he had it (his hair, that is).
---
1936 Rolls-Royce Street Rod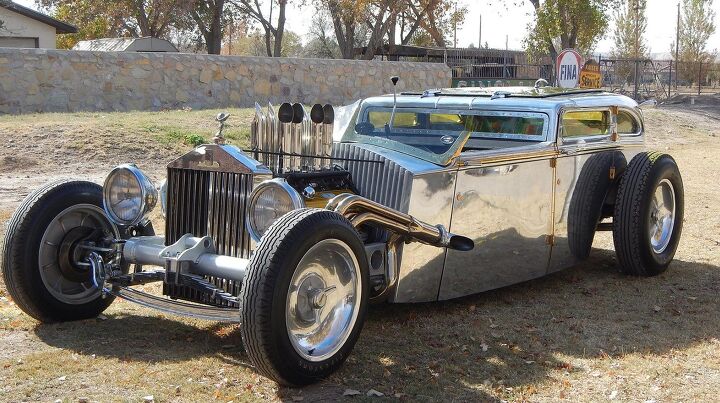 If you're going to make a custom hot rod, why not make it a Rolls-Royce? Once a symbol of opulence and snobbery, it's now the totally opposite: a gleaming beacon to all things anti-establishment. This hot rod is aircraft-themed inside and out, from the polished body to the cockpit. Unfortunately, the aircraft inspiration stops at the obvious Chevy 454 powerplant, and we would have preferred to see two Rs on the valve cover, or possibly a rotary drivetrain, but I'm sure it's just as terrifying as is. While some would call this the "Rat Rod Rolls," we take issue with that because this is actually a well-done chop and custom, and there aren't any rusty parts. While it would take a special individual to want to own this creation, we just love seeing what people can come up with when they have parts lying around, and the skill to turn them into, dare we say it… art?
---
1964 Shelby "Lindauer Cobra"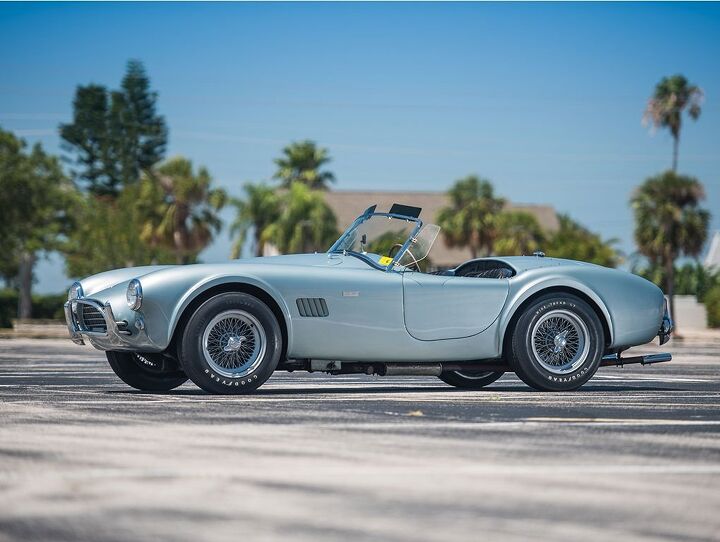 Famous for being possibly the most original Cobra in existence, the 1964 Shelby 289 "Lindauer Cobra" has been in constant care and paid great attention since sold new to Robert Lindauer in 1964. Very few Cobras survived in original condition, because being a high-performance sports car, these were driven on the track, crashed, rebuilt, blown up, you name it. Only a slight exception to the rule, Lindauer drove the car more than 4,000 miles within the first month of ownership and then continued to take the car to events such as Gymkhana. Lindauer himself was a NASA engineer who worked on the Apollo program, so the vehicle was in more-than-capable hands. For the last 40-odd years, the car has been up on jack stands in a climate controlled room and only run every once in a while to ensure parts didn't deteriorate. This is an exceptionally cool car and a very important piece of car history.
---
1965 Ferrari 330 GT 2+2 Shooting Brake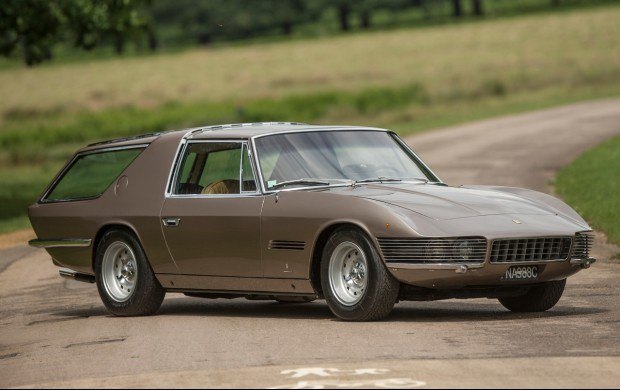 A coach-built Ferrari is usually something lustworthy and beautiful, a dream brought to life with a designer's eye and a craftsman's hand, but if this was Vignale's dream, wake us up! Yikes. This strange-looking creation is a 1965 Ferrari 330 GT 2+2 Shooting Brake. It left the factory looking like a regular car before being sent to Vignale to have a one-off custom body fitted to it. Since only one was ever built, it makes us wonder why somebody would repaint it from its original gold and green shade that it would have originally come with to the champagne brown it is now. This was possibly done to hide the hideous roofline borrowed from a 1985 Chevy Caprice Estate. Despite the strange styling, this car was interesting enough to garner the attention of Jay Kay, lead singer of Jamiroquai, who owned it for a brief period of time. If having an Enzo-era Ferrari V12 is too mainstream for you, you'll definitely stand out with this, kind of like having a wart.
Published June 27th, 2017 3:47 PM
Popular Articles
Latest Comparisons
Car Buying Tools