1.1K Views
2023 Nissan Ariya Platinum+ E-4ORCE Review
November 20th, 2023 4:32 PM
Share
| Love It | Leave It |
| --- | --- |
| Interior Comfort | Power Feels Restrained |
| Ride Comfort | Weight |
| Ease of Use | Lane Intervention |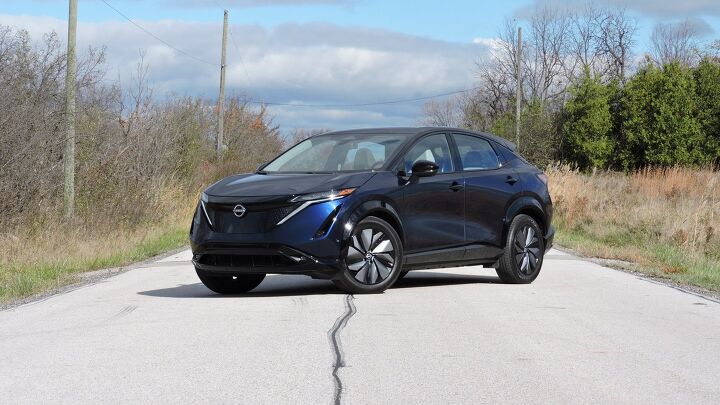 The 2023 Nissan Ariya is all about choice. Besides being the all-electric SUV option within the brand's lineup, there are no fewer than eight trims available in the United States (six in Canada). These cover two battery sizes, two driveline choices, and three power level outputs.
Despite the magnitude of choices, the majority of our seat time behind the wheel of the Ariya has been with the same configuration. Large battery, front-wheel drive, and larger front motor.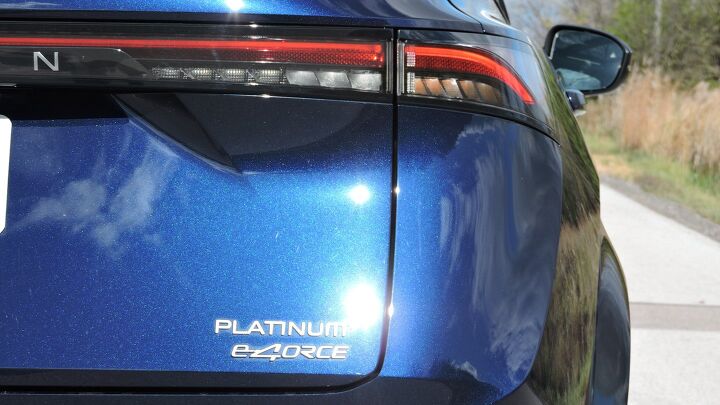 We did get a brief drive of the dual-motor Ariya, but we wanted to conduct a longer test, in real world conditions. Nissan obliged us, giving us a 2023 Nissan Ariya Platinum+ e-4ORCE for review.
They Look Similar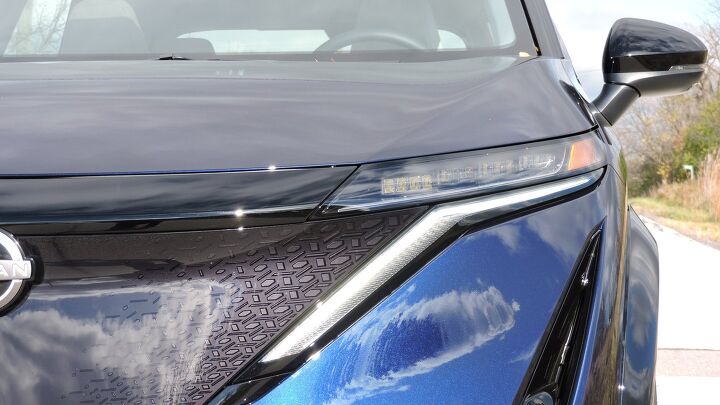 The Platinum+ e-4ORCE is more or less the top trim for the vehicle in both Canada and the United States. Despite its posh status, it's hard to tell one Ariya trim apart from another. There are subtle differences with trim pieces and side mirrors, but in general, an Ariya has a singular look.
This isn't a bad thing as the 182.9-inches (4,645 mm) long EV receives more praise than not for its styling. It has a futuristic look, but not over the top like some other electric vehicles. The rounded exterior gives the illusion the Ariya is larger than it is. One of our favorite details is the subtle geometric pattern that reoccurs inside and out.
Two Motors Better Than One?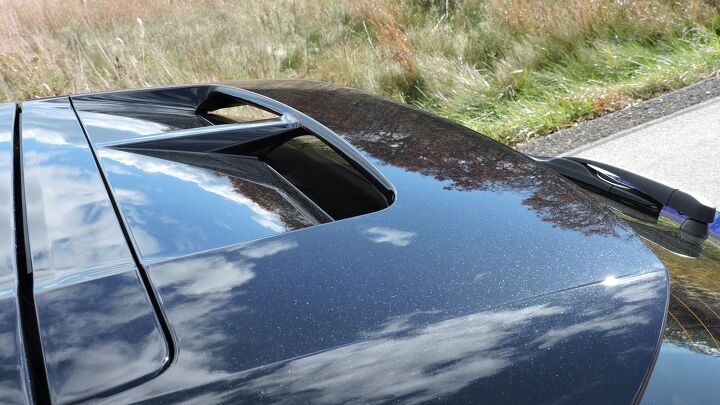 As the e-4ORCE name suggests, this Ariya is equipped with the dual motors – one up front and one in the rear. Combined, the two power units generate 389 horsepower and 442 pound feet of torque. Having driven the front-wheel drive Ariya with the larger battery and 238 hp motor, this dual motor set-up doesn't feel as powerful as we expected. Sure, it's quicker, but there doesn't always feel like an extra 160 hp is on tap.
In the Normal driving mode, especially at lower speeds, the motors almost give the impression that they're being held back. At certain speeds like freeway merging, we are reminded that there is indeed 442 lb-ft of torque under us, it's just not always present. Compared to driving similarly powerful EVs like the Ford Mustang Mach-E, Kia EV6, and Hyundai Ioniq5, the Ariya doesn't feel as swift.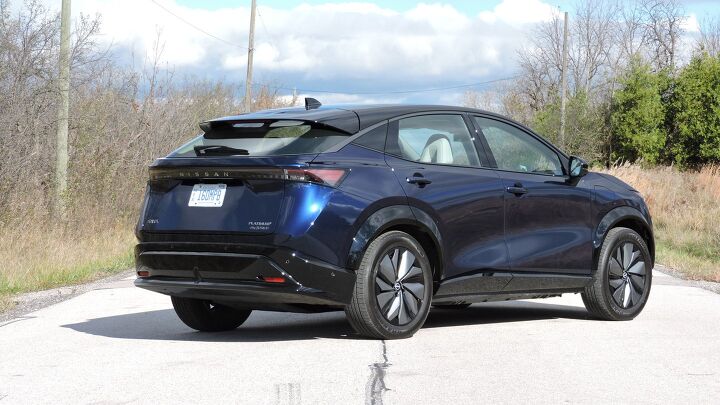 Part of the power disparity could be due to the vehicle's weight. At 5,057 pounds (2,294 kg) as tested, it's some 700 pounds heavier than front-wheel drive Ariya's with the smaller battery, and still about 350 lbs heavier than those with the larger battery. It's also portlier than the competitors listed above.
Like most EV's, Nissan offers a Sport mode that greatly increases accelerator response. It makes the driving experience better, the power levels feel more robust, and even includes some simulated 'motor' noise. But of course, Sport Mode does diminish range.
Charging and Range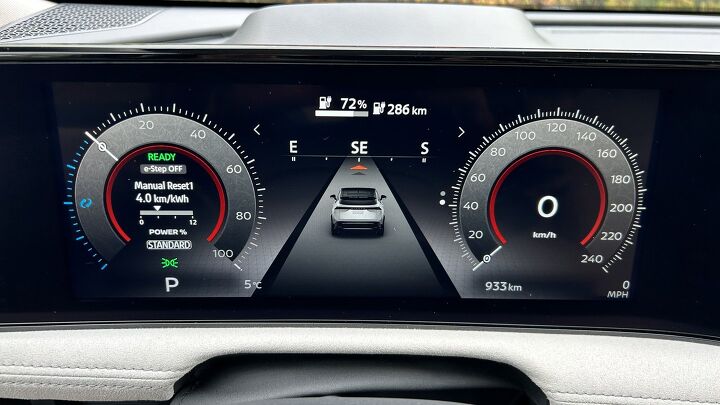 All e-4ORCE Ariya's come with the larger 87 kWh battery. It includes a 7.2 kW onboard charger and can be recharged at speeds up to 130 kW. The Platinum+ is the least efficient version of Nissan's EV SUV, officially rated at 93 MPGe (2.5 L/100KMe) in the city and 87 MPGe (2.7 L/100KMe) on the highway.
What that means in terms of range is an official figure of 267 miles (428 km) on a single charge. During our time with the vehicle this about what we saw during 55 degree Fahrenheit (13 C) days.
Comfortable Utility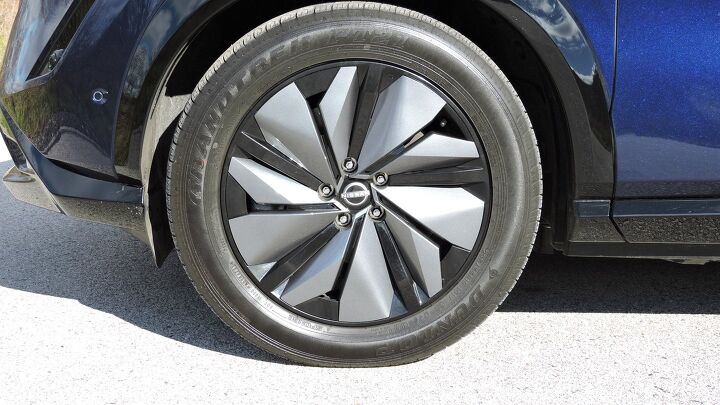 The dual motor version of the Ariya feels more composed and the suspension less busy than its front-wheel drive counterpart. A side-benefit of the added weight, it makes the vehicle surer footed and a better cruiser. Having power sent to the rear wheels helps the vehicle rotated in slipperier conditions and provides better traction from a stop.
The Ariya is still not a handler though, nor is it intended to be. The vehicle excels at being easy to operate, predictable, and comfortable for all occupants. It's the sort of SUV that does its job in the background without any fuss.
Wearing 235/55R19 tires, the Platinum+ receives upgraded 14.3-inch front brake rotors, which is a step up from lesser models, most likely to handle the vehicle's extra weight and/or 1,500 pound (680 kg) tow rating.
Equipment for Days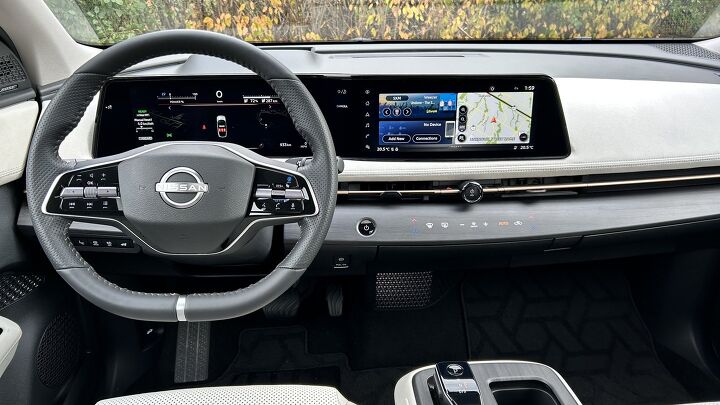 The Platinum+ model comes loaded to the gills with technology and features. Included in our tester are rain sensing wipers, a panoramic sunroof, an around view monitor, power liftgate with motion activation, and a 10-speaker Bose audio system. Standard on all Ariya's is a 12.3-inch infotainment system, a head-up display, wireless Apple CarPlay (Android Auto is still wired), a 12.3-inch customizable digital gauge cluster, a wireless charger, ambient lighting, and Nappa leatherette seating surfaces.
We find all the driver interfaces are very easy to use. The configurable digital dash and infotainment systems require a minimal learning curve to operate. The haptic buttons on the dashboard and center console work, if lacking a bit in response.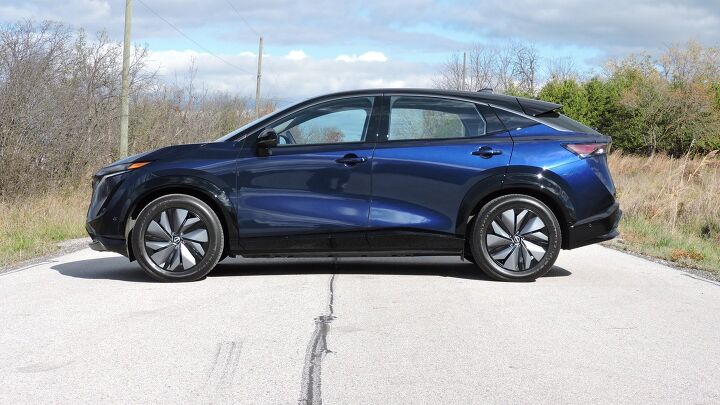 Nissan, like most manufacturers, includes a lot of safety equipment as standard equipment. Items like automatic emergency braking with pedestrian detection, adaptive cruise control, lane departure warning, forward collision warning, lane intervention, blind spot monitoring, rear cross traffic alert, automatic rear braking, and more are all standard. Our Platinum+ further ups the safety game with Nissan's ProPILOT Assist with Navi-link and ProPILOT Park.
During our week with the vehicle, we did find the lane intervention is too strong and too persistent, leading us to leave it turned off most of the time. All of the other safety features worked seamlessly and unnoticed.
A Nice Place to Be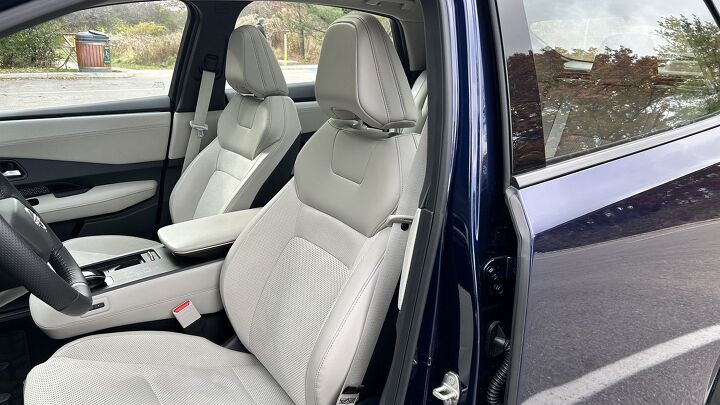 As the top trim level, our Ariya tester came with a power driver seat and a power passenger seat. Both are heated and cooled and drew praise for comfort. The steering wheel is also heated with power operated tilt and telescopic functions.
Headroom for front seat passengers is 37.9-inches (963 mm), while those in the back get just 36.6-inches (929 mm). Despite these low figures, the Nissan still feels airy, and easily has room for four adults.
On a style front, the interior has a few intriguing details like the fake suede insert on the dash as well as those back-lit geometric ambient lights. There are two glove boxes up front, one of which is power operated. While on the topic of storage, the rear cargo area holds 22.8 cubic feet (646 L) of gear, which can expand to 59.7 cu ft (1,691 L) with the rear seats folded.
2023 Nissan Ariya Platinum+ e-4ORCE: The Verdict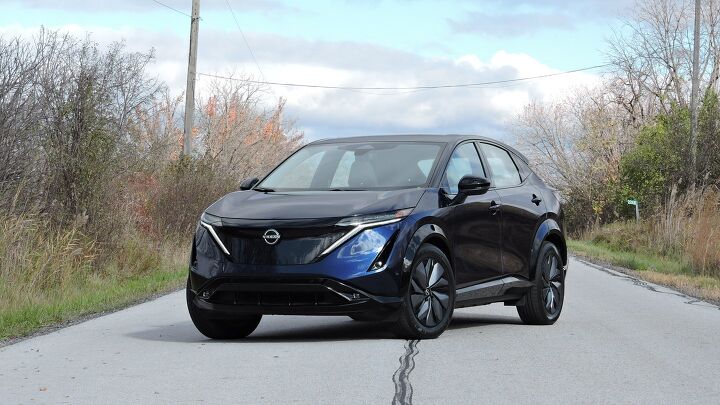 Pricing for the 2023 Nissan Ariya in the United States begins at $44,555 (all prices include destination charges) or $55,843 in Canada. As mentioned at the start though, there's a wide range of models available, with our Platinum+ e-4ORCE coming in at $61,905 ($72,243 CAD).
This brings us back to the question of choice. Not only are there plenty of Ariya trims to choose from, but there are also now a lot of competitors fighting in the same market space. At the price point where the Ariya e-4ORCE Platinum+ competes, we feel there are better options out there.
Where the Ariya's real strength lies are with the large battery/front-wheel drive configurations. The Venture+, Evolve+, and Empower+ would be a solid first vehicle for those making the transition to electric vehicles from conventional hybrids or gasoline powered cars. Simple to operate, easy to live with, and offering good range, they feel just like a small SUV. The Ariya just happens to one that's fully electric.
Become an AutoGuide insider. Get the latest from the automotive world first by subscribing to our newsletter here.
Fast Facts

Motor:

Dual Motor

Output:

389 hp, 442 lb-ft

Transmission:

Single-Speed Auto

Fuel Economy (MPGe):

93 city, 87 highway

Fuel Economy (Le/100 km):

2.5 city, 2.7 highway

Starting Price (USD):

$44,555

As Tested Price (USD):

$61,905

Starting Price (CAD):

$55,843

As Tested Price (CAD):

$72,243
Published November 20th, 2023 4:32 PM
Popular Articles
Latest Comparisons
Car Buying Tools