653 Views
2023 Nissan Ariya Evolve+ FWD Review
June 27th, 2023 2:25 PM
Share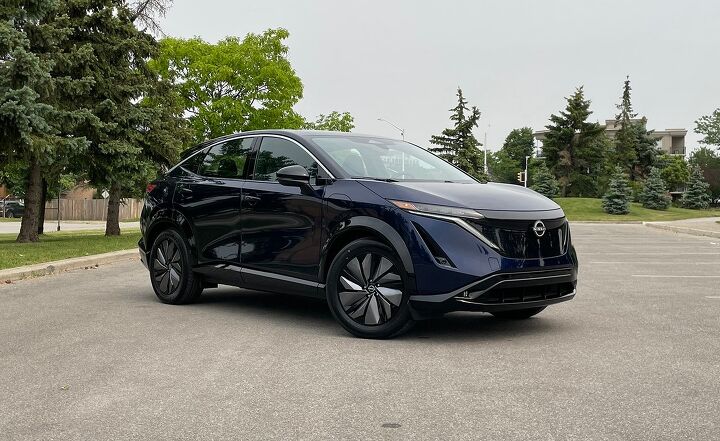 FAST FACTS
| | |
| --- | --- |
| Motor: | 178 kW Single Motor |
| Output: | 238 hp, 21 lb-ft. |
| Transmission: | 1AT, FWD |
| Fuel Economy (MPGe): | 105 city 91 hwy |
| Fuel Economy (Le/100 km): | 2.2 city, 2.6 hwy |
| Starting Price (USD): | $44,525 (inc. dest.) |
| As Tested Price (USD): | $58,888 (inc. dest.) |
| Starting Price (CAD): | $44,080 (inc. dest.) |
| As Tested Price (CAD): | $68,043 (inc. dest.) |
It's a bit of a surprise it took this long.
Nissan was one of the first mass market electric vehicle adaptors with the original LEAF. Considering all the experience, success, and knowledge gained form two generations of the compact EV, we're a bit shocked it has taken the brand as long as it has to release a second full electric vehicle.
But Nissan finally has in the form of a compact SUV-like vehicle called the Ariya. Yes, you read that right, compact. Although the Ariya visually looks large from the outside, it's smaller than the brand's own Rogue SUV. Measuring 182.3-inches (4,645 mm) in length and 65.4-inches (1,660 mm) in height, it's shorter and lower to the ground than the Rogue.
The Ariya features styling we refer to as conservative futuristic as it looks unique and modern on the exterior. It's easy to tell from a quick glance that it's something new and different, without being over the top angular or bubbly. We had a brief first drive with the Ariya a few months ago, but now we get a chance to spend an entire week with the car, putting it through the paces of daily life.
2023 Nissan Ariya Evolve+ FWD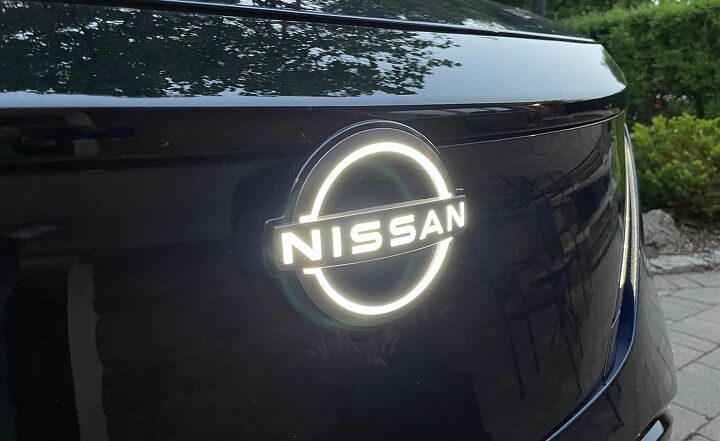 In for review is a mid-trim model, the 2023 Nissan Ariya Evolve+ FWD. It comes with LED lights all around and a cool LED light-up front logo. There's 19-inch alloy wheels that include a plastic wheel covers for enhanced aero. It transforms the multi-spoke alloys into a wind fan design. Wrapped around these wheels are 235/55R19 tires.
For those new to the Ariya, the + in the model's name means it comes with the larger motor and battery than lesser trim levels. The entry level vehicle features a 160 kW AC motor that makes 214 hp and 221 lb-ft. Our upgraded 2023 Nissan Ariya Evolve+ FWD has a larger 178 kW motor up that makes 238 hp and the same amount of torque.
One of the ore surprising aspects of the SUV has to do with the motor's placement. Pop the hood and the electric power unit is there on display, in a similar place to where a conventional gasoline engine would be found.
Refreshingly, Just Enough Power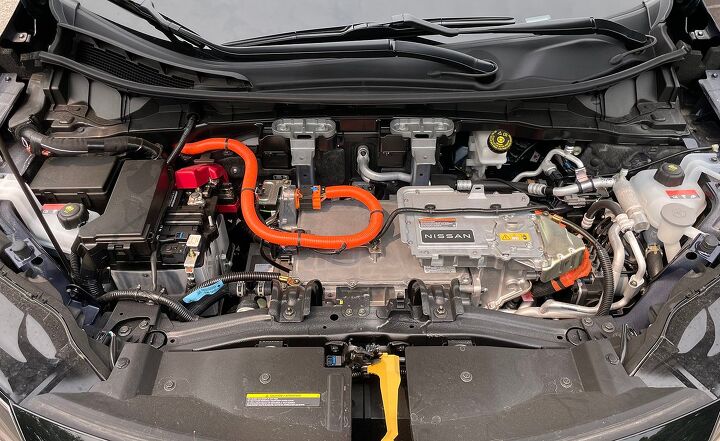 Like most EVs, the Ariya uses a single speed automatic transmission. Drivers can select between ECO, normal, and sport modes which alters the response of the motor and power delivery.
With a curb weight of 4,608 lbs. (2,090 kg) and a modest 238 hp, the vehicle is not a straight-line terror like so many electric SUVs have become. Instead, it has all the power the vehicle needs. Acceleration is plentiful around town and more than adequate on the highway. It's similar, if not better, to many small SUVs.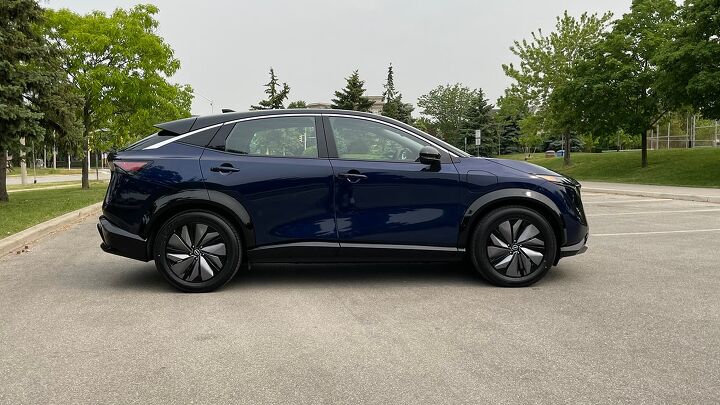 Best of all, power delivery is smoother than any internal combustion engine could ever achieve, a benefit of electrically produced power. It's something we're sure many consumers will appreciate once experiencing it.
Efficiency is More Than Just Range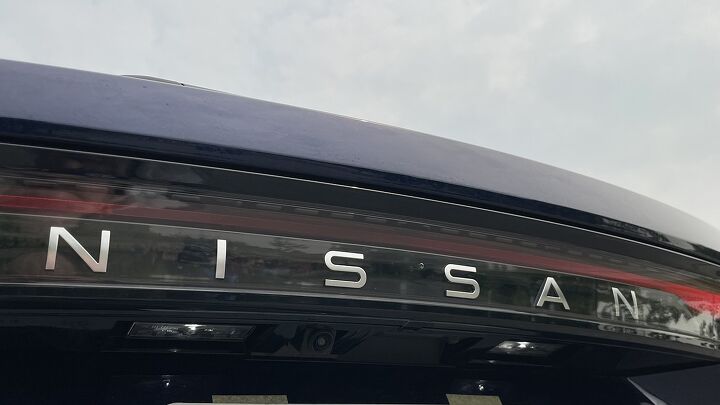 All the EV juice is stored in an 87-kWh lithium-ion battery, which is a step up from the base 63 kWh battery. With a 7.2 kW onboard charger and 130 kW quick charge port, Nissan claims the Ariya can charge from 10% battery to 80% battery in 40 minutes. During winter months, battery performance is helped by an on-board battery heater.
Total range for the 2023 Nissan Ariya Evolve+ FWD is a decent 289 miles (465 km). That's a healthy increase for + models over the 216-mile (348 km) range available on vehicles with the smaller battery. But efficiency is about more than just range. It's also about how a vehicle consumes energy.
For the specification aficionados, the Ariya Evolve+ FWD is officially rated at 105 MPGe (2.2 Le/100 km) city and 91 MPGe (2.6 Le/100 km) highway. In the real world, this related to impressively frugal energy usage. During a 2.5-hour drive on traffic-filled highways and city streets, the battery only dipped down by 20%. We still had 80% battery life left, or technically 10 more hours of driving in similar conditions. Not all EVs are this efficient when idling and/or running at lower speeds.
Drives Like a SUV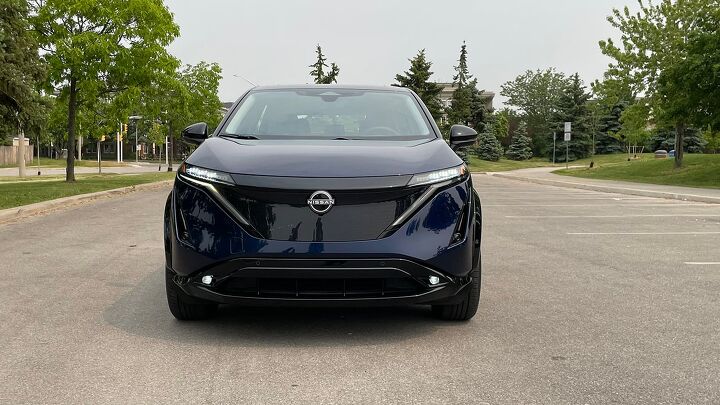 The Ariya is very SUV-like in how it drives. It's not pretending to be a sporty or overly funky. Unlike some in-your-face electric SUVs, this is more of a traditional SUV that just happens to be electric.
It features an independent strut front suspension and multi-link set up in the rear. Steering is light and smooth, tracking straight on the highway with minimal corrections. The vehicle responds to a driver's inputs in a predictable manner and is overall very easy to operate.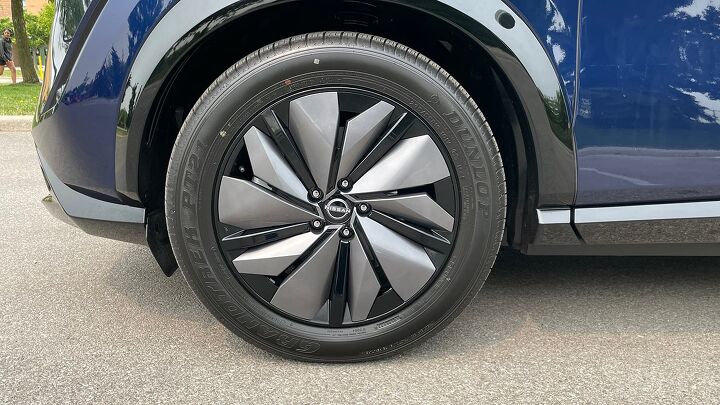 For how little handling and cornering is prioritized on this vehicle, ride comfort is still surprisingly stiff. It could be the large wheels, but with a 55-aspect ratio tire, they should offer enough sidewall to help cushion the ride. Maybe it's a by-product of having to control the vehicle's portly mass.
On the plus side, even though our tester is only front-wheel drive, there's still a decent 7.1-inches (180 mm) of ground clearance included.
Modern, Funky, Airy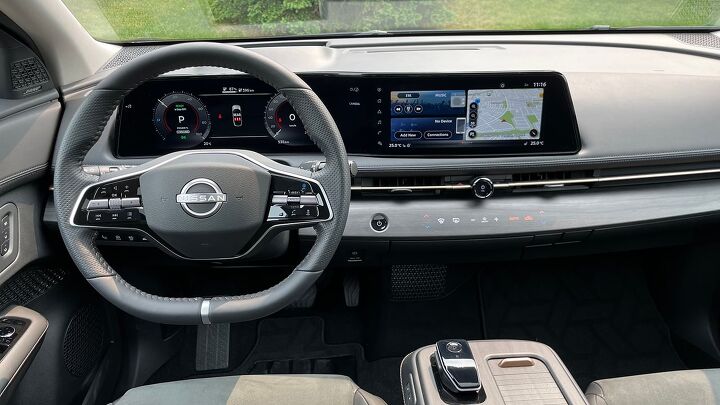 The 2023 Nissan Ariya Evolve+ FWD includes a panoramic moonroof, that combined with the large windows, creates an airy feel inside. Passengers are perched up high like an SUV inside. The seating position isn't as low as found in some other EV crossovers.
Our tester includes power driver and passenger seats, leatherette seating surfaces, a heated leather wrapped steering wheel, heated front seats, and heated rear seats. Headroom on paper is a bit low with 37.9-inches (963 mm) for front passengers and 36.6 inches (929 mm) for those in the rear. We didn't find either area overly tight though for a six-foot adult.
Legroom is more generous, with 42.3-inches (1,073 mm) on tap for those up front and 37.0-inches (939 mm) for rear seat occupants. Making the interior feel more spacious are the flat front and rear foot wells. There's no center tunnel and both rows have a large, connected floor. Like the exterior, it gives this compact SUV an illusion of being more spacious and mid-size-like inside.
Less impressive is the amount of cargo the Ariya can hold. Electric vehicles need somewhere to store the battery and the rear cargo area takes a bit of a hit here. Officially the vehicle can hold 22.8 cu ft (646 L) cargo space behind the rear seats, or 59.7 cu ft (1,691 L) with seats folded down. For comparison, that's about only two-thirds what the slightly larger Rogue and hold.
EVs Need Cool Technology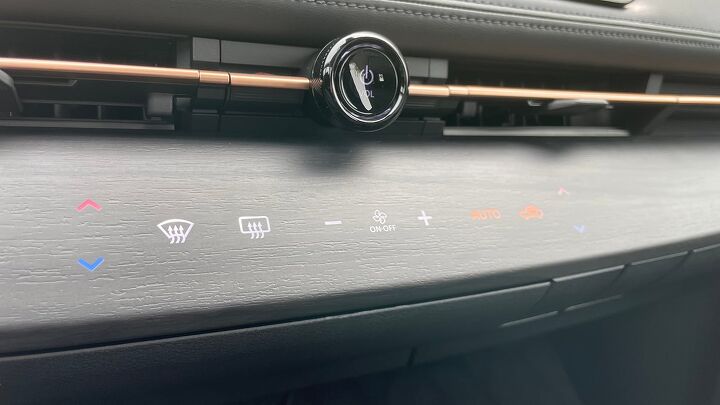 The dashboard and center console are finished in a fake wood surface that have integrated haptic buttons. It's a cool feature and one we like visually. The haptic buttons have drawn ire from fellow testers, but it has been a mostly pleasant experience for us. The buttons on the dashboard worked flawlessly while the ones on the center console did give us a bit of difficulty. Specifically, the drive mode button required multiple taps to change the settings on a few occasions.
While on the topic of the center console, the Ariya features power sliding adjustability for the console that's a bit gimmicky. That stated, having that adjustability so drivers of different heights can proper set their right arm rest is a nice touch. It's a lot like the light up mesh-like squares in the footwells that provide ambient light. It might not be necessary, but we're glad they're there.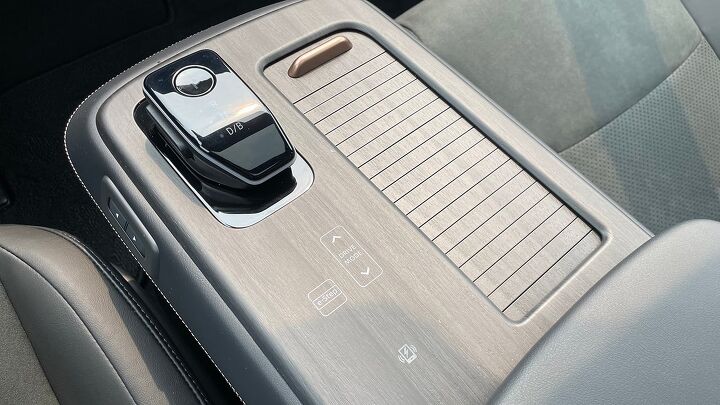 On the more functional front, there's 12.3-inch digital driver information center that's connected to a 12.3-inch infotainment system. The latter includes navigation, NissanConnect services, wireless Apple CarPlay, Android Auto, and available Wi-Fi hotspot. Other standard features on 2023 Nissan Ariya Evolve+ FWD include head up display, a power liftgate, dual-zone automatic climate control, keyless entry with push button start, rain sensing wipers, and wireless phone charging.
Safety and Pricing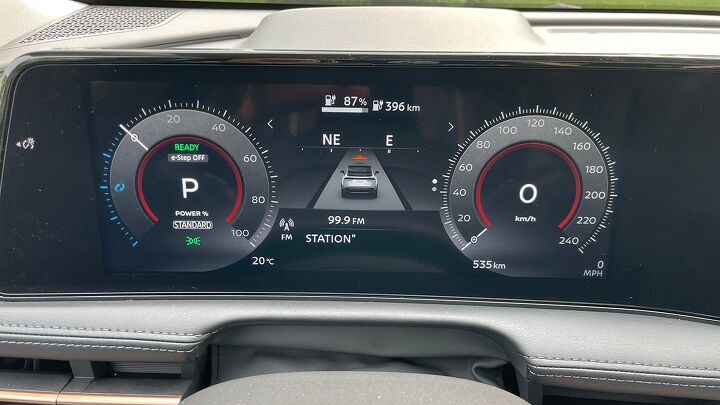 As the Ariya will mostly see duty as a family vehicle, it's well equipped with safety features. Our tester comes with ProPilot Assist, but not the latest 2.0 version. Still, it includes items like adaptive cruise control, forward collision warning, automatic emergency braking, lane departure warning, lane keep assist, blind spot monitoring, rear cross traffic alert, rear automatic braking, around view monitor, front and rear parking sensors, and more.
The biggest stumbling block for a lot of potential electric vehicle adopters remains price. The Ariya is competitively priced against other all-electric EVs but remains more expensive when compared to traditional gasoline or hybrid compact SUVs. Local and/or federal tax credits may help ease the gap though, depending on region.
Currently, a base Ariya starts at an MSRP of $44,525 ($58,888 CAD) including destination charges. As tested, our 2023 Nissan Ariya Evolve+ FWD comes in at $51,875 ($68,043 CAD) after destination charges with the optional Ocean Blue paint.
2023 Nissan Ariya Evolve+ FWD: The Verdict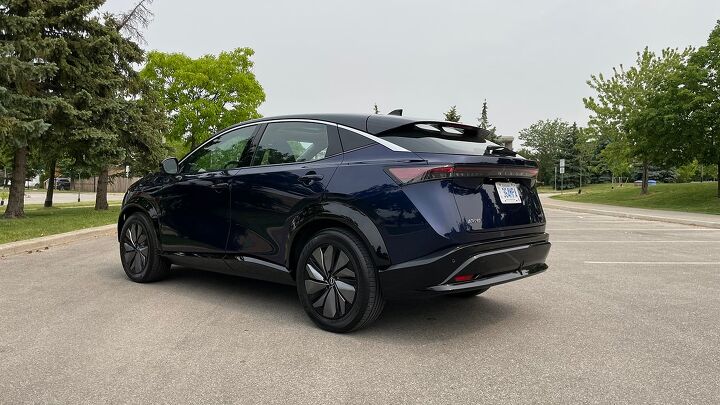 Like the Nissan LEAF, the 2023 Nissan Ariya Evolve+ FWD is a good vehicle that just happens to be electric. The brand has taken the knowledge learned over the past decade of electrification and applied it to this latest EV SUV.
Although it's not the fastest, flashiest, or funkiest EV SUV currently on sale, it's one of the most familiar to operate. It's as plug-in and play as an electric vehicle gets (we apologize for the bad pun).
Easy to drive with a minimal EV learning curve, the Nissan Ariya would make a fine choice for a family looking to make their first foray into the world of electric vehicles.
---
FAQs
What is the range of the 2023 Ariya?
Different configurations of the Ariya are rated for different distances of range. Our test vehicle has the longest range available, 289 miles (465 km).
Is Nissan Ariya FWD or RWD?
The Ariya can be had with front-wheel drive (FWD) or all-wheel drive (AWD). 
Does the Ariya have a frunk?
No it does not. Under the hood is the electric motor. 
Become an AutoGuide insider. Get the latest from the automotive world first by subscribing to our newsletter here.
LOVE IT
Smooth Power
Easy to Operate
Great Efficiency
LEAVE IT
Ride Comfort
Cargo Capacity
Gets Pricey
Published June 27th, 2023 2:25 PM
Popular Articles
Latest Comparisons
Car Buying Tools