7 Views
Top 10 New Car Debuts and Best Concept Cars: Pebble Beach 2017
August 28th, 2017 11:25 PM
Share
We're committed to finding, researching, and recommending the best products. We earn commissions from purchases you make using links in our articles. Learn more here
{ "id": "13285579", "alt": "", "title": "", "video_link": "https://www.youtube.com/embed/u-3Jq4vMDxs", "youtube_video_id": "u-3Jq4vMDxs" }
{ "width": 634, "height": 357, "showRelated": true }
Automakers are continuing to shun traditional auto shows for other consumer-focused events. Monterey Car Week doesn't feature the usual suspects of regular car buyers, but the folks who attend have full pockets and are willing to part with a lot of money to get something high-powered or crazy unique.
The whole week is full of one-off models, limited editions, classics, and other fancy cars. It's like the red carpet at the Oscars, except with cars. Here are 10 of the coolest new car debuts and concept cars from this year's event and don't forget to check out our full coverage of all the week's festivities.
2017 Monterey Car Week and Pebble Beach Concours d'Elegance Coverage
---
10. Lucid Air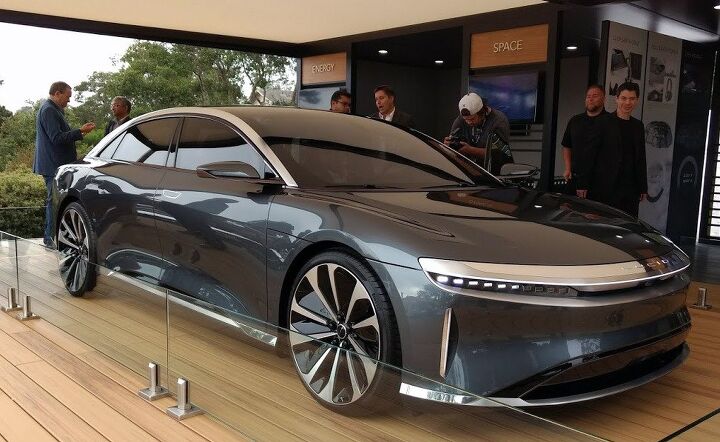 Lucid made quite the statement at Monterey Car Week by displaying a new prototype vehicle to potential buyers. This all-electric luxury car is going after Tesla and it helps that the company had one prototype hit a top speed of 235 miles per hour. The company is currently taking pre-orders on the sedan and is pretty happy with how people are responding to the vehicle. Customers have to wait until 2019 to get their hands on the car and prices range from $60,000 for a 400-hp model with 240 miles of range, to a 1,000-hp model with 400 miles of range that will cost more than $100,000.
---
9. Ken Okuyama Code o-Zero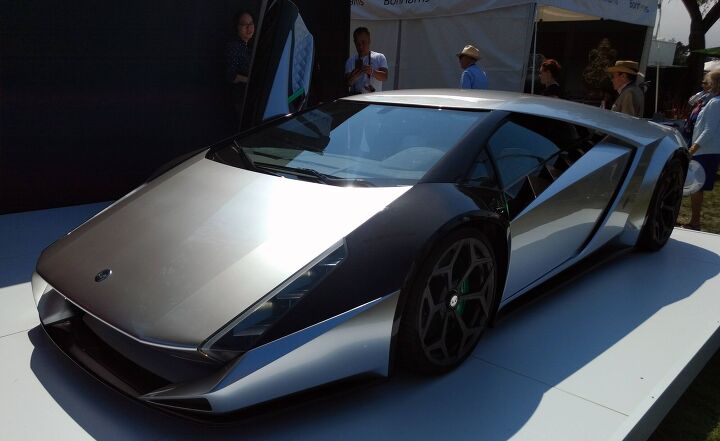 Ken Okuyama is the mind behind the design of the epic Ferrari Enzo and he's been showing off some pretty interesting vehicles at Pebble Beach car shows. This year, he's brought the Kode o-Zero, a car that looks distinctly like a Lamborghini. Its bold wedge shape also hides a mid-mounted Lamborghini V12, and I absolutely love the green accents found on this vehicle. This one-off model is being described as the antithesis to modern sports car design and we can't disagree with that, as it reminds us of all the old supercars from the 1970s and '80s.
See Also: Ken Okuyama Unveils One Off, Coachbuilt Kode 0 Supercar
---
8. Rimac Concept_One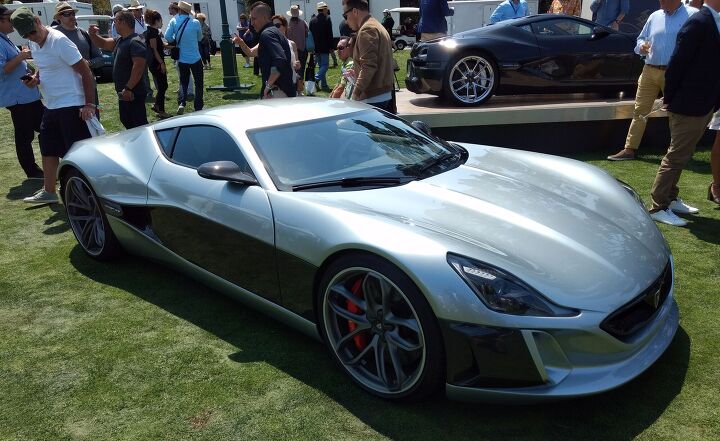 Unlike the Lucid Air, we actually spotted one of these Rimac Concept_Ones on the road and it was really striking to see in motion. What's crazier is that this million-dollar electric hypercar is apparently limited to just eight units. It makes more than 1,000 horsepower thanks to four electric motors and will hit highway speeds in under three seconds. The car has become a bit of a sensation since Richard Hammond from The Grand Tour recently had one in a pretty serious crash.
---
7. Jaguar XE SV Project 8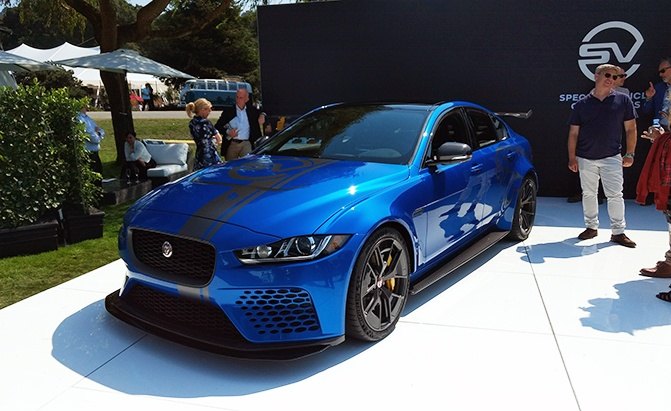 What's not to love about this limited-run Jaguar XE SV that makes almost 600 horsepower from its supercharged V8? Only 300 of these super sedans will be sold and they look ready to hit the track thanks to its amazing aerodynamic bodywork. It also rocks all-wheel drive to keep things moving instead of slipping and an adaptive suspension setup and carbon ceramic brakes should help the car's performance as well. It all sounds too good to be true, and it might be a bit late for you to make a move on one of these $190,000 sedans because with such limited numbers, it's likely they've all been snatched up.
See Also: Limited-Run Jaguar XE SV Project 8 Fits Right in at Pebble Beach
---
6. Pagani Huayra Roadster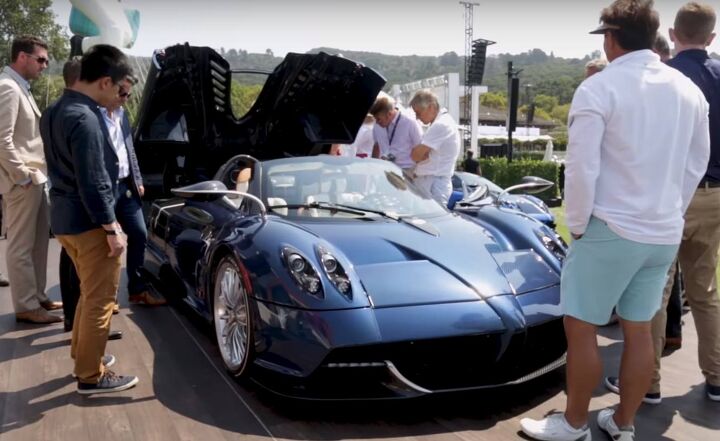 No list at Pebble Beach would be complete without Pagani. This week marked the North American debut of the Huayra Roadster and, naturally, the $2.4-million car still looks as good as it does when we first saw it back in March for the Geneva Motor Show. Weighing less than the coupe, this hypercar is fast, too, using its 7.0-liter AMG V12 to hit highway speeds in less than three seconds. Mr. Pagani also revealed his pet project, the Zonda HP Barchetta.
See Also: Pagani Zonda HP Barchetta is truly the Ultimate Zonda
---
5. Acura ARX-05 Race Car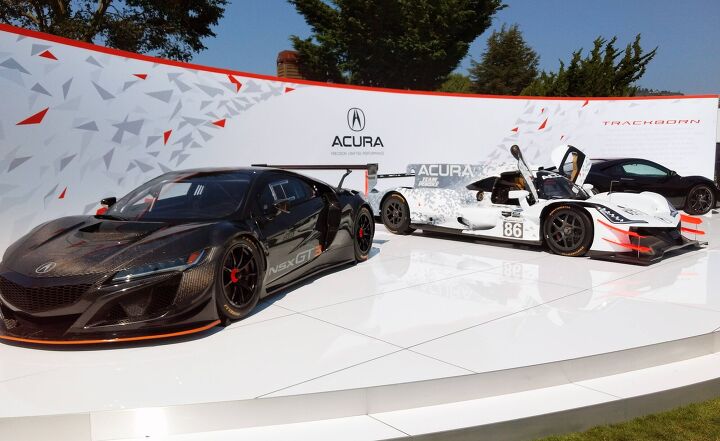 Acura is going to the endurance racing championship and to do that, it needs a whole new prototype race car. That's what the ARX-05 is all about and it will be run by team Penske and feature Dane Cameron and Juan Pablo Montoya at the wheel. Powering this vehicle is a turbocharged 3.5-liter V6 that's not far from what you'd find in various other Acura vehicles. Expect this mean-looking race car to make its competition debut at the Rolex 24 in Daytona.
See Also: Acura Returns to 24-Hour Endurance Racing With This Mean Race Car
---
4. BMW Z4 Concept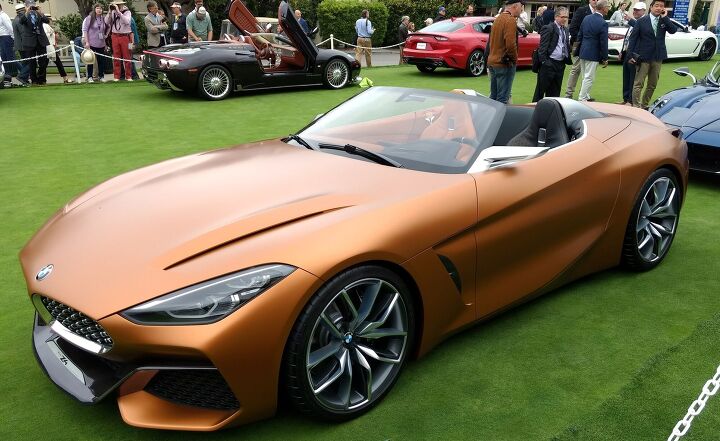 Maybe the California sun is getting to us, but we just had to include more convertibles on this list, so here's the BMW Z4 Concept. This car really helps us imagine how nice it'd be to have a BMW Z4 in our garages in the near future, but we wish there were more details like how much it'll cost and what will be under the hood. There's likely more information to be coming from BMW in the coming months and we might see something very similar from Toyota, which will be also be using this platform for a new Supra.
See Also: This is the Beautiful New BMW Z4 Concept
---
3. Mercedes-Maybach Vision 6 Cabriolet
What's that? Another convertible? OK! This is the Mercedes-Maybach Vision 6 Cabriolet, a high-power, ultra-luxurious electric droptop. Making 750 horsepower, this car features a range of 200 miles, which isn't shabby at all. In case you forgot what the 6 in this car's name means, it represents how long the car is in meters. That's nearly 20 feet long in case you forgot your metric conversions, which is to say this car is simply huge. The gorgeous blue paint finish and eye-catching wheels help it stand out, but the interior has to also be the most lavish I've ever seen on a car, concept or otherwise.
See Also: Mercedes-Maybach Unveils Super Swanky 750-HP Electric Convertible
---
2. BMW 8 Series Concept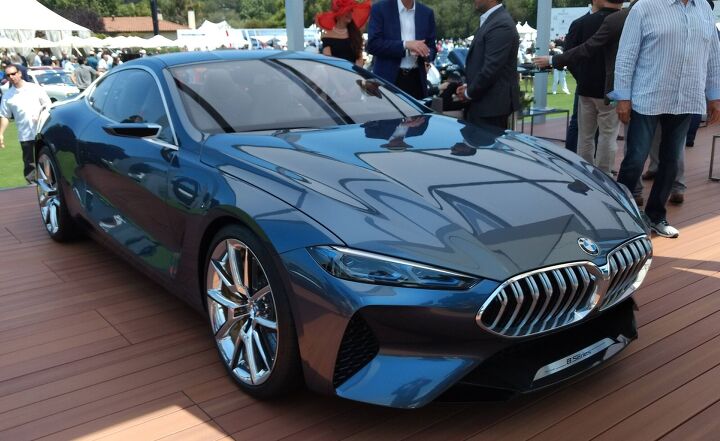 The BMW Concept 8 Series is simply stunning. The folks at the office have all pretty much agreed that the new Lexus LC is one of the prettier luxury coupes out there, but this BMW is helping change some of our minds. Big, bold and beautiful, this concept paints a pretty future for the German automaker's upcoming flagship coupe.
See also: BMW 8 Series Concept Stands Out Among Sea of Supercars
---
1. Infiniti Prototype 9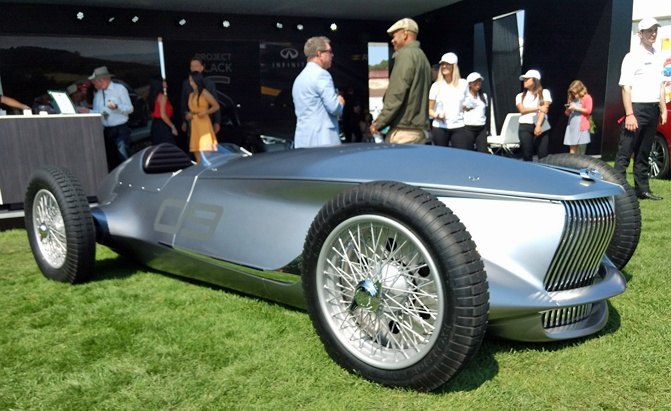 We have to give Infiniti the top spot for coolest debut at this year's Monterey Car Week. The Japanese brand simply stole the show with this pre-war race car-inspired concept car. There are a lot of interesting design cues found in the car, but maybe the most interesting is that somehow the company stashed an electric powertrain in that relatively small body. The bare sheetmetal is such an awesome throwback and the entire thing weighs less than 2,000 lbs, which means this thing should be super fast if it were real. I love wild, pie-in-the-sky ideas and Infiniti really knocked it out of the park with this Prototype 9.
See Also: Infiniti Prototype 9 Blends Old and New With Stunning Results

Sami Haj-Assaad
Sami has an unquenchable thirst for car knowledge and has been at AutoGuide for the past six years. He has a degree in journalism and media studies from the University of Guelph-Humber in Toronto and has won multiple journalism awards from the Automotive Journalist Association of Canada. Sami is also on the jury for the World Car Awards.
More by Sami Haj-Assaad
Published August 28th, 2017 11:46 AM
Popular Articles
Latest Comparisons
Car Buying Tools