4.5K Views
EV With Most Cargo Space: Top 10 List
August 10th, 2022 8:51 AM
Share
We're committed to finding, researching, and recommending the best products. We earn commissions from purchases you make using links in our articles. Learn more here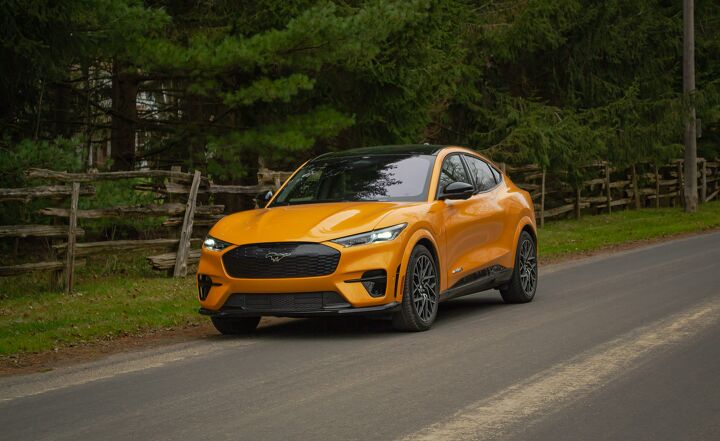 Electric vehicles are no longer novelties. They are fully mainstream, growing in popularity every day.
As more consumers seek out all-electric transportation, queries like 'EV with most Cargo Space' are common place on Google. New EV shoppers aren't willing to put up with compromises just because a vehicle is powered by a battery pack. They still want usefulness and utility.
Luckily, modern EVs are much more advanced than those of just 5-10 years ago. Electric vehicles get more range and recharge faster than ever before, offering all of the comfort, convenience, and space of their gasoline powered counterparts. For those who don't travel lightly, and need a vehicle that can bring along a month's worth of stuff for a weekend getaway, there are now plenty of EV choices.
We have gathered a list of the top 10 all-electric vehicles that offer the most cargo carrying capacity. For vehicles with a standard third row, we have included cargo figures with that third row folded flat.
---
10. Cadillac Lyric / Tesla Model S – 28.0 cu ft.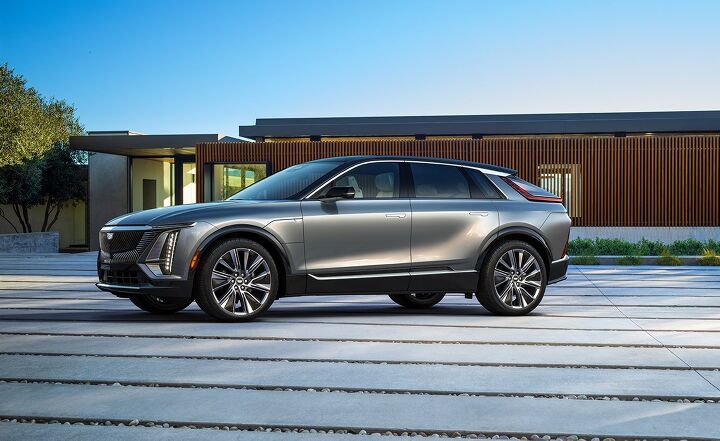 One of the biggest surprises on this list is the Tesla Model S. In a world dominated by EV SUVs, an all electric sedan cracking the top 10 list of EVs with the most cargo space was not expected. But thanks to the car's large size, rear lift gate and front trunk, it is capable of hauling 28 cubic feet of gear. Of course, this only when the optional third row is not installed.
SEE ALSO:
Top 10 Electric Cars with the Longest Range
Tying the Tesla is Cadillac's all-new Lyric electric SUV. Focusing on passenger space and style, the Lyric has a steeply raked rear roofline that eats into cargo space, limiting it to just 28 cu ft. as well.
---
9. Audi e-tron – 28.5 cu ft.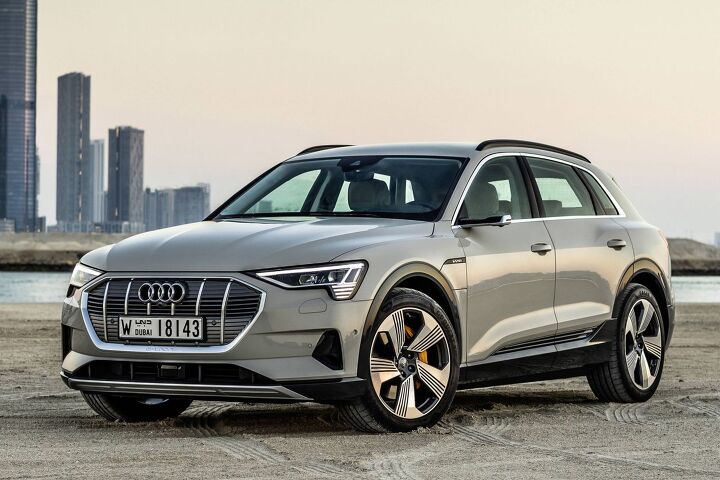 The Audi e-tron is a compact SUV propelled purely by electricity. The best feature of the e-tron is that it gives up zero compromises compared to gasoline powered compact SUVs. In fact, the e-tron's 28.5 cu ft. of cargo capacity is actually greater than that found in a similar sized Audi Q5.
---
8. Subaru Solterra – 29.0 cu ft.
While on the topic of compact EV SUVs, the next entrant on our list is the all-new Subaru Solterra. Although the electric Subie features a steeply raked rear cargo compartment, the vehicle still has a sizeable area behind the rear seats, measuring in at 29 cubic feet total. What's a bit peculiar is that the Solterra's nearly identical corporate cousin, the Toyota bZ4x, only offers 27.7 cu ft. behind the rear seats.
---
7. Ford Mustang Mach-E – 29.7 cu ft.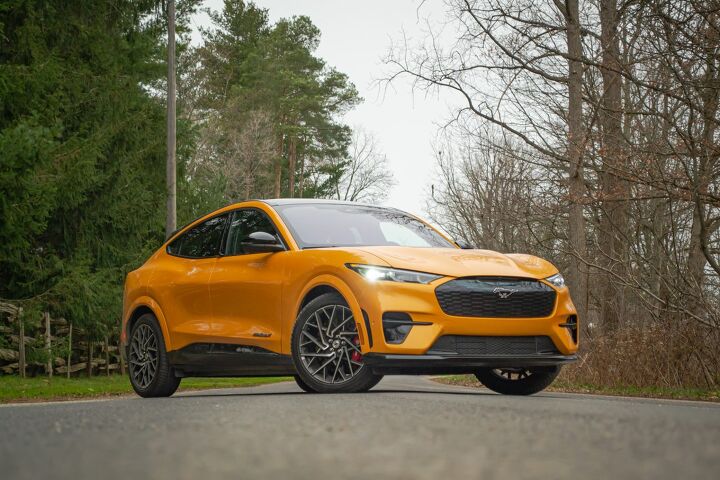 Stepping up a class, the next vehicle is the Ford Mustang Mach-E. Featuring a fastback-style similar to the pony car it borrows its name from, the midsize Mach-E is still capable of carrying 29.7 cu ft. Not exactly class leading, but still good enough to secure 7th place on our list.
SEE ALSO:
Best SUV Cargo Space by Segment
---
6. Volkswagen ID.4 – 30.3 cu ft.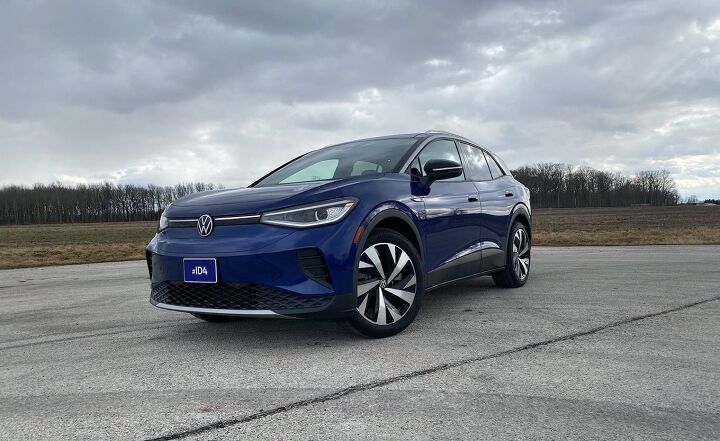 Unlike earlier compact EV SUV entries on our list, the Volkswagen ID.4 has a more conventional, squared-off rear hatchback style. This allows the ID.4 to carry over 30 cubic feet of cargo – making it a great choice for a small weekend getaway. But just because it has increased utility doesn't mean it's any less stylish than its main competitors.
---
5. Rivian R1S – 34.0 cu ft.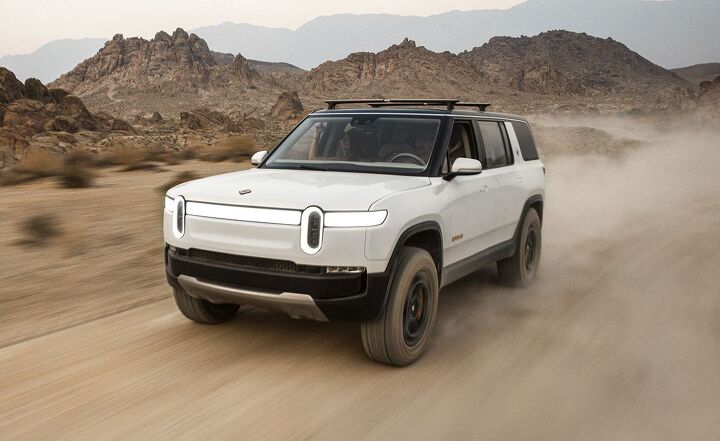 At over 100+ cu ft. of capacity, there is no EV SUV that can carry more gear overall than the Rivian R1S. So what is it doing in 5th place on this list? It all comes down to seating. That triple digit cargo figure comes from a combination of the middle and rear seats folded down as well as various storage bins taken into account. Put the middle row seats back in place and capacity is significantly reduced. Still, it comes in at 34 cubic feet thanks to a bit of additional space located in the front trunk.
---
4. Tesla Model Y – 34.3 cu ft.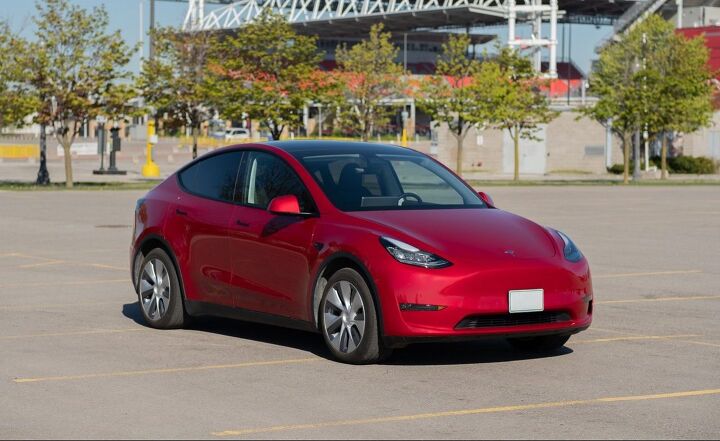 Like many vehicles on this list, the Tesla Model Y benefits from having a front storage compartment under its hood that helps bolster the overall cargo carrying capacity. When equipped without the third row of seating, the relatively small Model Y is capable of hauling nearly 35 cu ft. of cargo. Impressive packaging for one of the EV SUV originators.
---
3. BMW iX – 35.5 cu ft.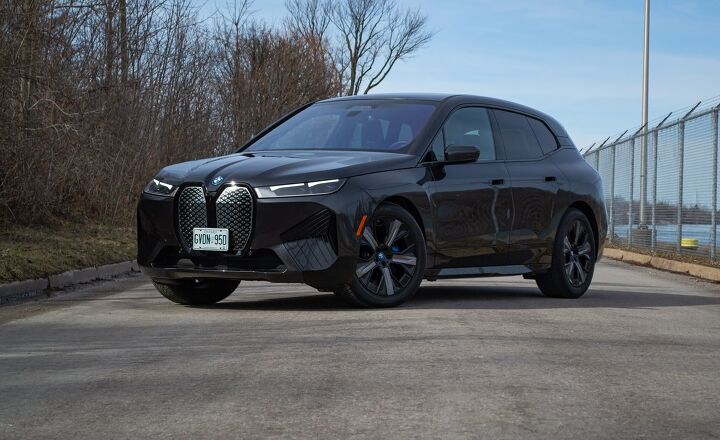 BMW's brand new iX all-electric SUV features polarizing styling. Whether you find it futuristic, awkward, or a bit of both, the iX's shape leads to impressive cargo carrying capabilities. The five-seat EV SUV can haul 35.5 cu ft. of gear behind the rear seats.
SEE ALSO:
The Plug-in Hybrid with the Longest Range: Top 10 List
---
2. Volkswagen ID.Buzz – 40 cu ft.*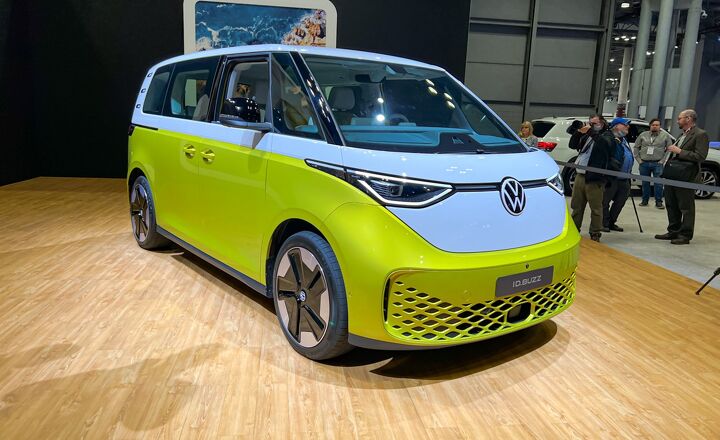 Technically not on the market yet, the three-row Volkswagen ID.Buzz has a reported 40 cu ft. of standard cargo space with the back row seats folded down. That's an impressive number for any vehicle, let alone a moderately sized seven-seater. Its tall, boxy shape leads to this remarkable figure. With the middle seats folded down as well, we figure this will be the new EV cargo carrying champion.
*- estimated
---
1. Tesla Model X – 43.5 cu ft.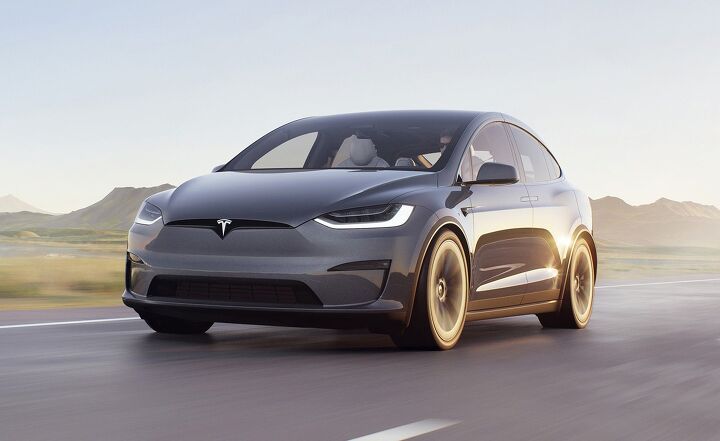 The Tesla Model X takes top spot on our list as the EV with the most cargo space. And by a good margin too. Two factors contribute in its cargo carrying supremacy. First, like the Model Y, there is a large front trunk that helps bolster cargo capacity. Secondly, the Model X can be ordered without the third row of seats, which great increases cargo space behind the middle row. Opt for the Plaid version and not only will you have the most cavernous EV SUVs, but also the most powerful.
Become an AutoGuide insider. Get the latest from the automotive world first by subscribing to our newsletter here.

Mike Schlee
A 20+ year industry veteran, Mike rejoins the AutoGuide team as the Managing Editor. He started his career at a young age working at dealerships, car rentals, and used car advertisers. He then found his true passion, automotive writing. After contributing to multiple websites for several years, he spent the next six years working at the head office of an automotive OEM, before returning back to the field he loves. He is a member of the Automobile Journalists Association of Canada (AJAC), and Midwest Automotive Media Association (MAMA). He's the recipient of a feature writing of the year award and multiple video of the year awards.
More by Mike Schlee
Published August 10th, 2022 8:51 AM
Popular Articles
Latest Comparisons
Car Buying Tools