139 Views
2023 NASCAR Cup Series Southern 500: How to Watch for Free
September 3rd, 2023 2:37 PM
Share
The countdown to the highly anticipated 2023 NASCAR Cup Series playoffs has begun, and fans are buzzing with excitement for the upcoming Southern 500.
On September 3rd, at 6 p.m. ET, the action kicks off at Darlington Raceway under the mesmerizing lights as the green flag drops. Sixteen exceptional drivers will go all out, determined to secure their place in the playoffs' first cut. For the rest, it's a battle for both pride and a share of the prized winnings.
For your convenience, here are the key details you need to know:
What: Cook Out Southern 500 (NASCAR Series Playoff Opener)
Date and Time: Sunday, September 3rd at 6 p.m. ET
Location: Darlington Raceway, Darlington, SC 29532
TV Broadcast: USA Network
As we gear up for the race, we can also anticipate some exceptional analysis from the renowned NASCAR experts. Providing their insights and expertise are none other than two-time Daytona 500 Champion and NASCAR Hall of Fame driver Dale Earnhardt Jr., the esteemed 21-time Cup Series race winner known as "The Mayor" of NASCAR, Jeff Burton, and the Daytona 500-winning crew chief Steve Letarte. With their knowledge and experience, they'll help us navigate the intense competition as drivers fight tooth and nail to secure their spot in the top 12.
Adding to the excitement of the playoffs is the intriguing elimination format. After each set of three races, the bottom four drivers from the initial group of sixteen will face elimination. This means drivers must accumulate as many points as possible before the next cut-off, or risk seeing their championship aspirations for the 2023 season come to a halt. Interestingly, Bubba Wallace claimed the last spot in this year's playoffs, while William Byron currently sits atop the leaderboard.
When it comes to catching all the heart-pounding moments live, the USA Network has you covered. But if you don't have cable or prefer the convenience of streaming, you can watch the playoffs for free with a 5-Day Free Trial of DIRECTV STREAM. Or you can try Fubo (one day free trial) or Sling (no trial, but has a 50% off discount right now).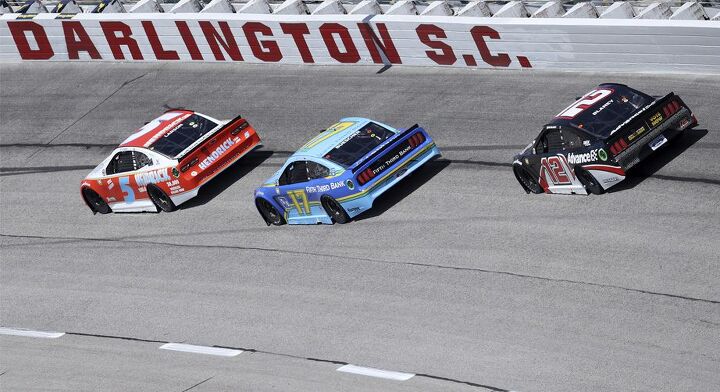 Published September 3rd, 2023 2:37 PM
Popular Articles
Latest Comparisons
Car Buying Tools