653 Views
Kia Rio Cancelled For 2024
August 23rd, 2023 1:28 PM
Share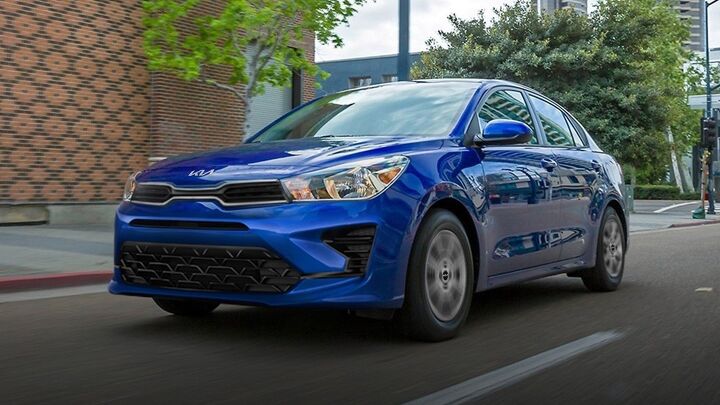 Yet another cheap car bites the dust.
In a move shocking nearly no one, Kia announced that the Rio sedan is officially dead for the 2024 model year. The Rio is the latest in the line of affordable cheap cars canceled in the wake of expensive EVs and small crossovers, with the rumored death of the Mitsubishi Mirage making headlines last week. Surprisingly, the Rio lasted longer than its sister model, the Hyundai Accent, which died in 2022.
Kia's been simplifying the Rio lineup for a while now. First, the brand dropped the ritzy top-trim EX model, and the 6-speed manual transmission way back in 2019. Now during 2023, the Rio has only been available in two trims (one trim for the hatchback), LX and S. Both came with a 1.6-liter four-cylinder, mated to a CVT automatic.
This is certainly a devastating blow to the cheap car market. At $18,815, the Rio was one of the few dwindling offerings available under $20,000 (including destination fees). With the demise of the Accent and Rio, neither Hyundai or Kia offer any model that can be had for less than $20,000. The Kia Soul, Kia Forte, and Hyundai Venue technically slip under the threshold, but their destination fees push them past $20,000.
However, the brand said it does not plan to exit the sedan market. The Monterrey, Mexico plant that currently makes the Rio is being retooled to manufacture two small EVs. It also produces the Forte, and the Kia K3, tha latter of which could come to the US and Canada as a budget sedan offering.
It's not all bad news, but the death of the Kia Rio certainly isn't great news for new car buyers with small budgets.
Become an AutoGuide insider. Get the latest from the automotive world first by subscribing to our newsletter here.
Published August 23rd, 2023 1:28 PM
Popular Articles
Latest Comparisons
Car Buying Tools