901 Views
2024 Ford F-150 Refreshes Looks, Technology, and Engines
September 12th, 2023 8:22 PM
Share
America's Most Popular Vehicle is Updated for 2024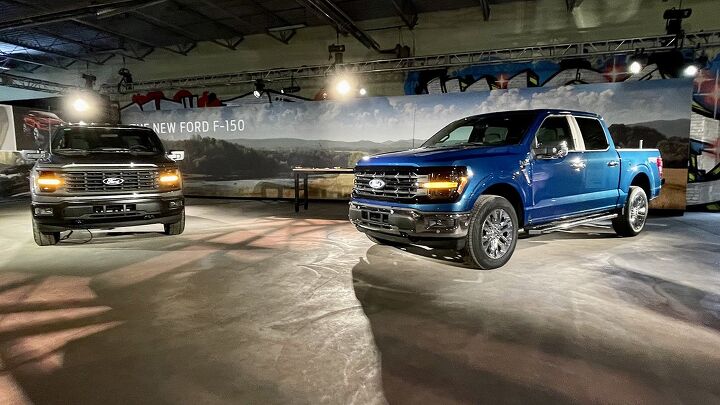 Ford took the wraps off the 2024 F-150, the company's segment-dominating full-size pick-up that delivers a subtle styling update, new technology and a reorganized powertrain and trim lineup.
Given its status as America's bestselling truck lineup for the past 46 years, it would be understandable if Ford elected to keep, essentially, the status quo with the F-Series lineup, but this mid-cycle refresh brings with it a host of changes.
Powertrain Updates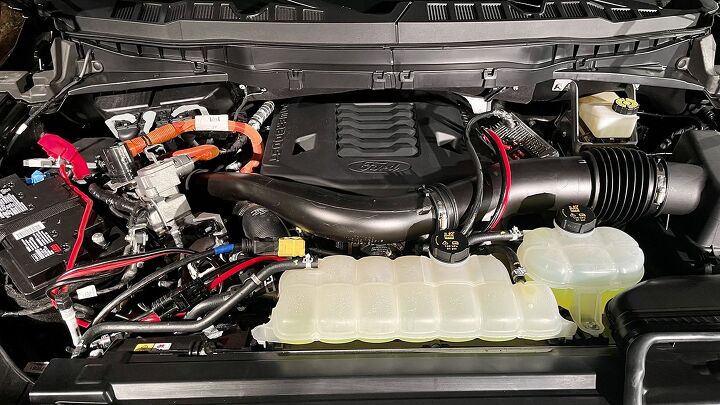 Perhaps most significant changes are those occurring in the powertrain lineup where the 3.3-liter V6 has been dropped and the 2.7-liter EcoBoost V6 (325 hp / 400 lb-ft.) is being slotted in as the base engine.
The 2.7 is joined by two other V6s, a 3.5-liter EcoBoost, and a 3.5-liter PowerBoost, which comes standard with hybrid models. With 430 horsepower and 570 lb-ft., the PowerBoost V6 is the most powerful non-Raptor engine in the F-Series lineup.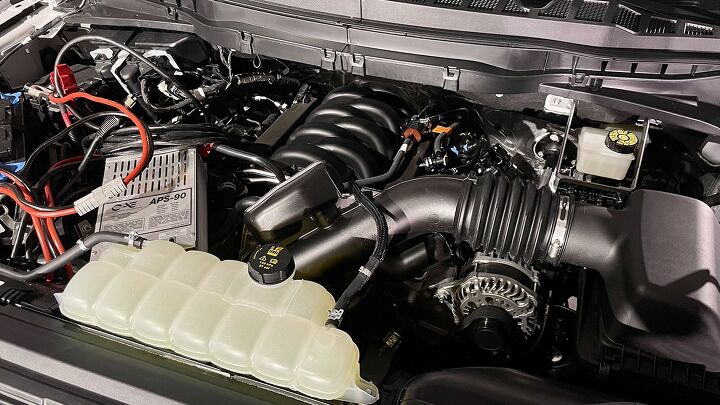 Rounding out the engine lineup is a venerable 5.0-liter V8, along with two engines for the F-150 Raptor – a 3.5-liter High Output V6, and a 5.2-liter supercharged V8. The latter is standard for the Raptor R.
At the time of writing, Ford had not disclosed horsepower and torque numbers for the engines beyond what is listed here, although AutoGuide did ask.
A Few Numbers
On the transmission front, two 10-speed automatics will be offered, including a modular hybrid 10-speed for hybrid models.
Despite not releasing torque and horsepower numbers for the entire F-150 engine lineup, Ford did provide maximum towing and payload figures: 13,500 pounds for the former, and 2,455 pounds for the latter. Both are class-leading, according to Ford.
Slight Change to the Looks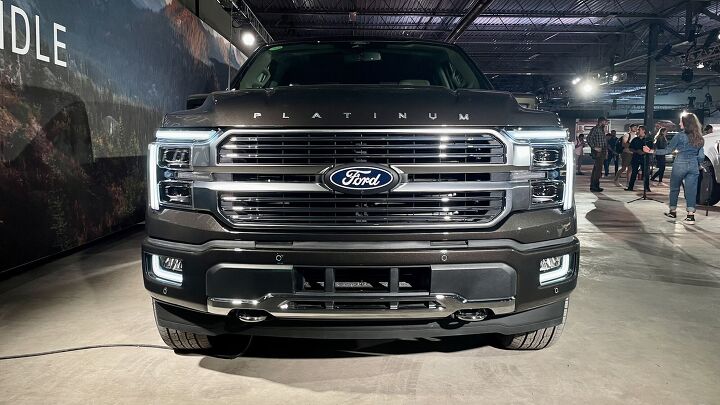 On the styling front, all 2024 F-150s feature a redesigned grille and front end that now boasts standard LED headlights. Some grades, such as from Lariat to Platinum, include a C-Clamp daytime running light signature. Grades below Lariat include a horizontal turn indicator and signature lighting.
Grille styling and materials will vary depending on grade, as will other trim details. The sporty STX, for example, will have electric lime accents throughout the vehicle, while black appearance packages will be available for grades from STX to Lariat. Wheel options are also being expanded, to include different sizes, styles, and finishes, from blacked out to chrome.
Screens, Head Up Display, and Stolen Trucks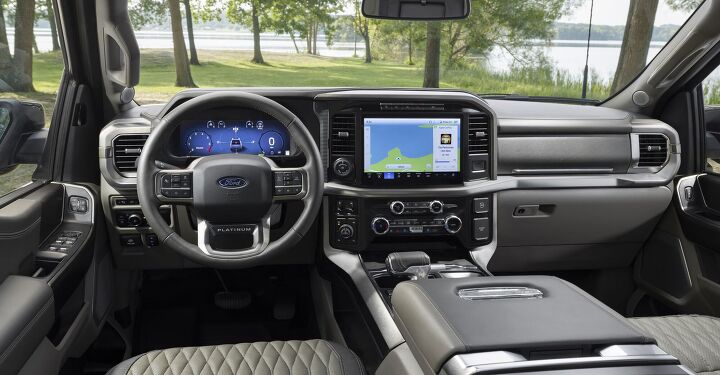 Ford is also outfitting the '24 F-150 with a load of new tech. Beginning in the cabin, a 12-inch LCD touchscreen multimedia display, and a 12-inch digital instrument cluster are now standard across the F-150 lineup.
The cluster screen features a variety of truck-specific graphics and animations that change depending on drive mode and can also display turn-by-turn navigation and off-roading information. New for 2024 is the ability to display two views at once in Tow/Haul, Off-Road and Rock Crawl drive modes. This feature also applies to the F-150 Raptor.
For the first time on F-150, a Head-Up Display will also be available as an option, with specialized views for Ford BlueCruise, Tow/Haul, and Off-Road drive modes.
Another new tech feature of note is Ford Stolen Vehicle Services, which works in conjunction with the FordPass smartphone app. The 2024 F-150 will be the first Ford vehicle in North America to offer the service, which alerts an owner if their vehicle is being tampered with via push notification. If the owner chooses to activate it, location data will be used to help locate and recover the truck. An owner can also contact a 24/7 Ford Stolen Vehicles call center to report their truck as stolen. At this stage local authorities will be alerted to assist in vehicle recovery, with updates being relayed to the owner.
Power to the Outside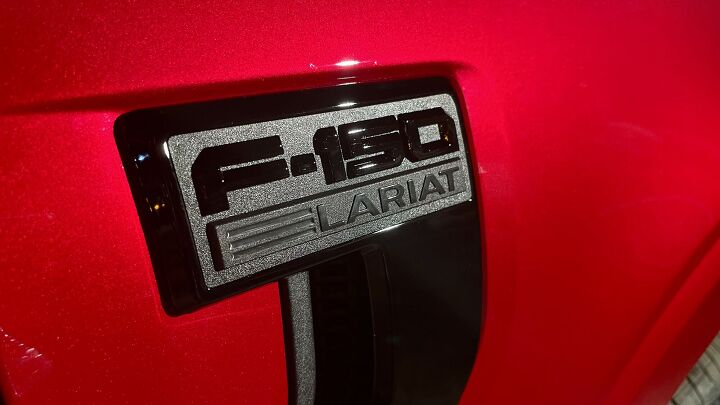 On the outside, tech updates include new power levels for Pro Power Onboard, a feature that enables F-150 owners to use to their trucks to power an array of devices, from space heaters to household appliances, generators, power tools and more.
For the gas-powered trucks, Pro Power Onboard is rated at 2.0 kilowatts, which can comfortably power a football tailgate setup, which includes a television, speaker, blender, mini fridge, and electric heater.
PowerBoost hybrid-equipped trucks are rated at 2.4 kW, which delivers up to 85 hours of runtime on a full tank of gas, which Ford says can power a drive-in movie theater set-up.
The most powerful 7.2 kW option is available on the PowerBoost hybrid trucks, which Ford says can power a framing crew or a metal/welding shop for 32 straight hours.
For Those Who Tow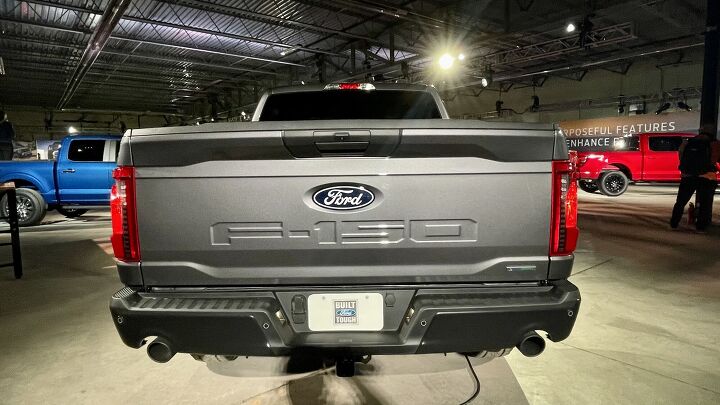 As for trailering, the 2024 F-150 comes with several enhanced features, including Pro Trailer Hitch Assist, which uses the rear camera and corner radars to line up the hitch with the trailer coupler. This is done while also controlling for speed, steering, and braking.
Pro Trailer Backup Assist allows the camera to track the trailer's position while the driver backs up and guides the trailer. The driver rotates a knob left or right while the system performs the steering.
Onboard Scales and Smart Hitch measures the tongue weight to help the hitching process and reduce trailer sway. The Onboard Scales help approximate payload weight in real time, which can be viewed thorough the multimedia screen or via the truck's taillight display.
Pro Access Tailgate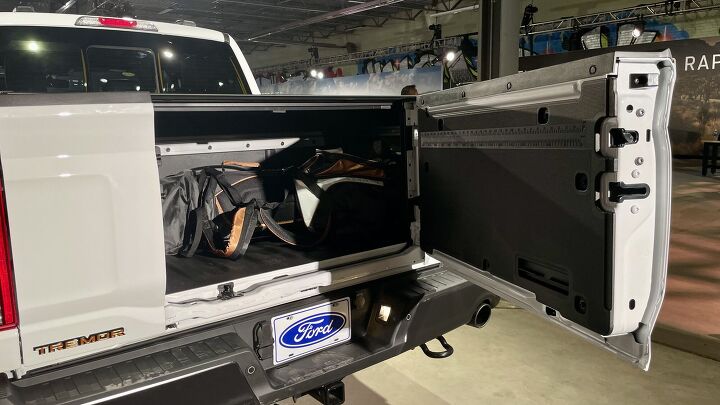 Another big change being rolled out with the 2024 F-150 is the Pro Access Tailgate, which is a section in the middle of the tailgate that swings out from the driver's side to create an opening that is up to 100 degrees wide. Ford accomplishes this by widening the step cut-out and increasing bumper depth.
The rationale for the Pro Access Tailgate is to improve bed access without having to lower the tailgate, and for when the truck is being used for towing, when space is often limited.
The swing out portion uses detents that keep the door in place when it is open at three intervals: 37, 70, and 100 degrees. The Pro Access Tailgate can be opened or closed with one hand, while the key fob button can open or close the entire tailgate. A retractable bumper step is also available to ease bed access.
Don't Forget the Raptor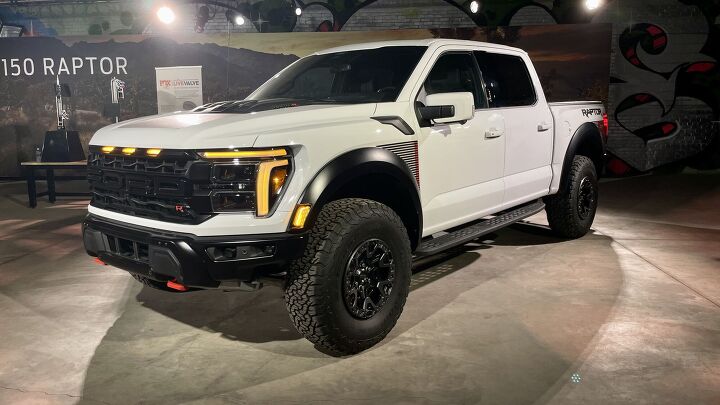 Ford also showed updated versions of the F-150 Raptor and Raptor R, both of which now boast FOX Dual Live Valve shocks which offer standard position-sensitive compression control, and variable rebound control. The '24 Raptor is also available with 35 and 37-inch tires, new front-end styling, including new bumper end caps, and body panel graphics. Shelter Green, an exterior color unique to the Raptor, is also new for 2024.
The 2024 Ford F-150 goes on sale early next year. Pricing and fuel consumption data will be announced closer to launch.
Become an AutoGuide insider. Get the latest from the automotive world first by subscribing to our newsletter here.
Published September 12th, 2023 8:22 PM
Popular Articles
Latest Comparisons
Car Buying Tools