1.1K Views
2024 Ford Mustang EcoBoost Review: First Drive
July 24th, 2023 3:43 PM
Share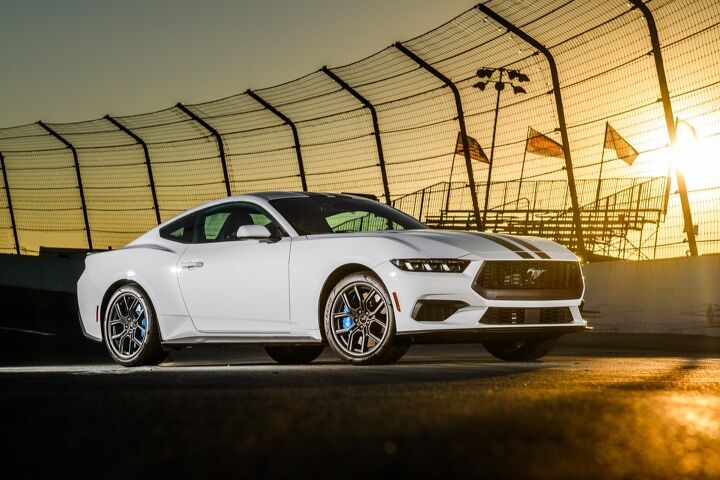 | Love It | Leave It |
| --- | --- |
| Approachable performance | No more manual transmission |
| Slick tech upgrades | Too-light steering |
| Keeping the pony car alive | Loaded models too expensive |
If a pony car can be judged on its approachability, then the 2024 Ford Mustang EcoBoost makes an excellent first impression.
Barely an hour after I've touched down at LAX, I'm headsocked and helmeted behind the wheel of the turbocharged new 'Stang, inside the bowl at Irwindale Speedway. Through no fault of my own—or Ford's, it should be noted—travel got complicated, and that meant skipping the pre-drive walkaround and briefing, and going straight to the autocross course.
Only one of us is hesitant on that first run, and it sure isn't the car.
The whole Mustang lineup sees important performance and tech updates this year, changes that don't dramatically alter the pony car's personality, but broaden its appeal as the last pony car standing. The EcoBoost in particular is embracing its role as a stylish, relatively affordable coupe—just like the original Mustang.
What's new?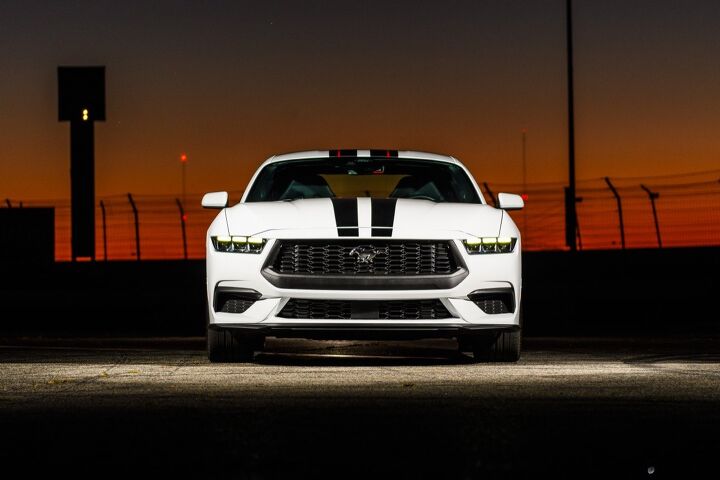 With this seventh-generation 'Stang, Ford has taken one of the most evolutionary approaches to its pony car in its near-60-year history. Like a certain other reskinned icon, this newest Mustang rides on a revised version of its predecessor's platform. That's fine: it means the dimensions are practically identical, and curb weight is up roughly 80 pounds (36.2 kilograms) for each trim, with an EcoBoost automatic coupe tipping the scales under 3,600 pounds (1,633 kg). In an age of 9,000-pound SUVs and BMW's smallest, "purist" model coming in at 3,800 pounds, that's not too shabby.
We've had around 10 months to get used to the new Mustang's looks since it debuted in Detroit. I still haven't. This is still recognizably Mustang-face of course, all forward-leaning nose, gaping grille, and wide headlights. Ditching the upper swage line that used to run through the door handles and provide some concavity to the Mustang's flanks has led to a hint of—whisper it— Camaro feel. The pointier, more dramatic rear shoulder line only enhances those competitor vibes, especially when viewing the Ford from the rear three-quarter. There's no mistaking this for anything other than a Mustang from behind, however, with the three-bar taillight motif getting an angular update for 2024. Wheels range from 17-inchers to 20s.
[detroit-new-car id="new-car-quote" make="ford" model="mustang"][/detroit-new-car]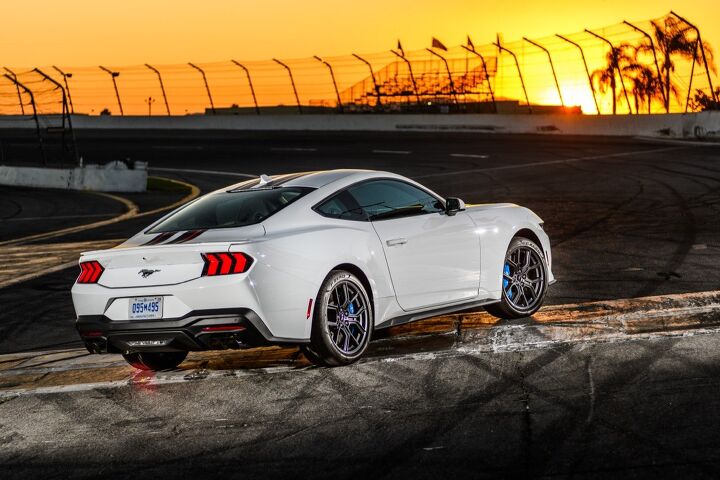 Inside, Ford has thoroughly revamped the cabin, plunking two big screens atop the dashboard, ditching the retro-style steering wheel, and improving material quality. More on that later.
You might've caught my weight reference point being a turbo two-pedal coupe. That's because the manual is now solely available with the V8. The Mustang GT is a story for tomorrow, however; today, we've got some cones to navigate, drifts to initiate, and mountain roads to explore.
Agile, but not much of a talker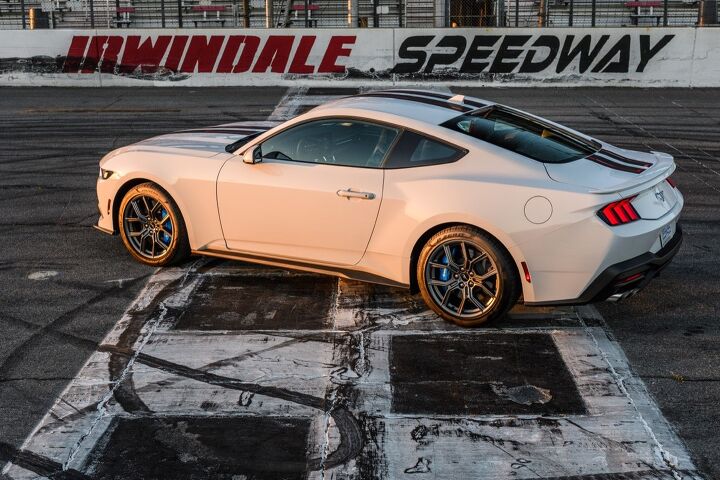 Back to the autocross. The EcoBoost Mustang has a half-dozen selectable drive modes, and Sport Mode is a good match for this tight course. With a classic rear-drive balance, the car goes where it's pointed with minimal fuss, exhibiting sharp turn-in and tenacious grip. Chalk that up to the equipped High Performance Package, which swaps in sticky 255/19-series Pirelli PZero PZ4s at all for corners. The EcoBoost is super predictable, and that's just what an entry-level model should be.
Next up is drifting. Perf Pack 'Stangs gain a chunky lever Ford calls the "drift brake" in place of the simple electronic parking brake button. This setup simulates the feel of an old hydraulic brake, and we're encouraged to yank-and-yeet the Mustang around corners and slide it into a stop box. It's suitably satisfying when done right—and the pros make it look easy—but given the reputation Mustangs already have when around crowds of people, I do wonder about the message here.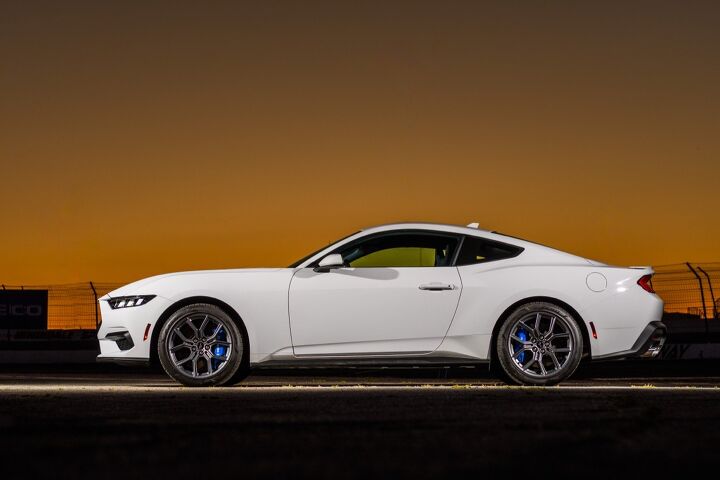 It's the canyon drive that provides the most detailed EcoBoost driving experience. This is a tight, twisty route, the sort that begs for a Miata or GR86. Maybe even a GR Supra. And no, not even the performance upgrades can put the S650 Mustang on the level of the others .The quicker steering ratio does give the nose a more positive feel on turn-in though. But it's simply too big to match the eagerness of those other cars, and the steering too light to provide the sort of feedback you can truly relish. There's a lot of hood up ahead, and placing it between the between the double-line and cliff faces requires some level of trust. The Mustang always delivers, and strikes a good balance between agility up here and comfort on the highway stint back to base, but don't come into it expecting a scintillating sports car.
You do get a sort of hot hatch soundtrack, however, with more base than before and a healthy dose of turbo whooshing. The 2.3-liter now spits out 315 horsepower and 350 pound-feet with both direct and port injection, enough for sharp progress without being overwhelming. It's the torque that dominates the performance, a thick wave shoving the Mustang down the road. Ford has thankfully tweaked the 10-speed's behavior too, with improved logic and quicker shift speeds. We did experience one odd flat-spot where the 'box tried to emulate a CVT and just hung around a small rev range, but otherwise the transmission was unobtrusive. The paddle shifters make for a serviceable pair of conductor's batons too, and if you want any level of control over that transmission, you'll have to check the Perf Pack box to get 'em.
Fuel economy is a darned respectable 26 (9.2 L/100 km) combined without the HPP and 24 mpg (9.8 L/100 km) with.
Modern cabin makeover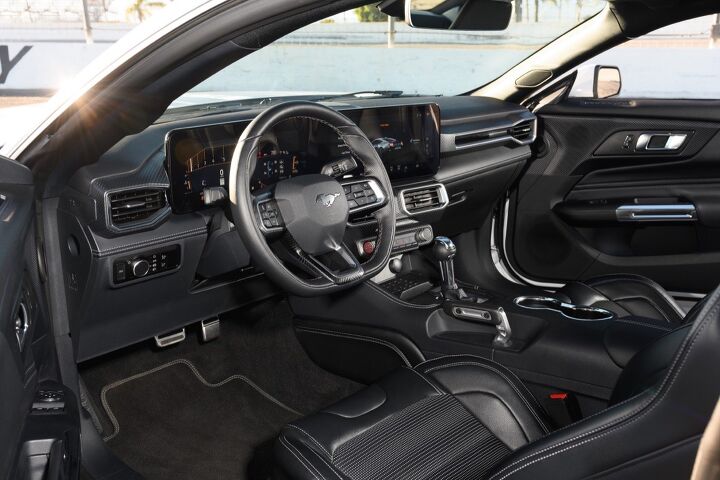 There are bigger changes inside the cabin. Ford talked a lot about needing to reach the younger generations, and satisfying their digital inclinations. Fair. The Blue Oval also tried to link the customization possible in the new Sync 4.0 system to the hot rod customization of the old school. That's a bit more of a marketing stretch, and I'd say it's unneeded: largely, the new tech suite is great, and can more than stand on its own.
While base models get a slightly different, separated-screen approach, our tester has one big pane housing a 12.4-inch instrument display and a 13.2-inch touchscreen. Harnessing the power of Unreal Engine, the setup is super slick, with catchy graphics, plenty of contrast to minimize night-time glare, and yes, huge amounts of customization. The menus are a cinch to navigate, and wireless Apple CarPlay was amongst one of the absolute quickest to pair I've ever witnessed. I appreciate the ability to tailor not just the ambient lighting, but also the gauge displays. The obvious favorite at the event was the Fox Body dial layout. Not only does it swap in a look straight from my childhood, it even switches to a green glow in tunnels or at night. Ford wouldn't commit to future additions, but a spokesperson did say there's nothing stopping the company from offering more nostalgia-drenched themes in the future. Cue the Philip J. Fry impressions.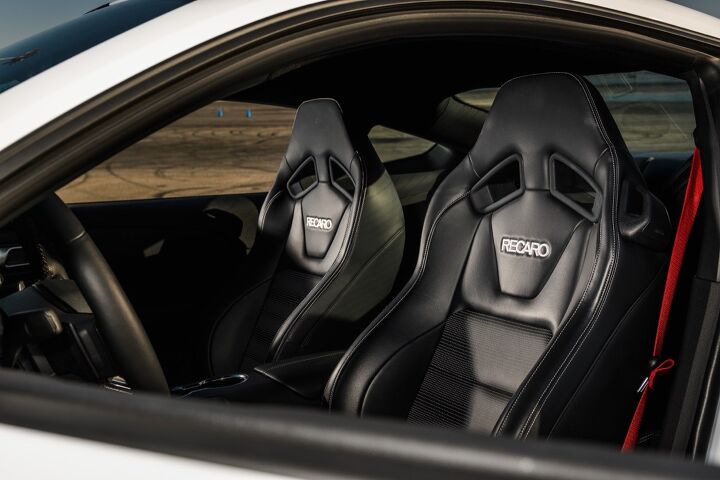 It isn't all good news. The shift to 1s and 0s may make for a cleaner cabin design, but it's too clean: all the climate controls are now on the screen, including the very-necessary-in-97-degrees seat ventilation. As fun as the drive mode animations are too, I feel like they linger a little too long, keeping the dials out of view. Neither my drive partner nor I could figure out how to get the native navigation to prioritize our heading as "up" instead of North, either.
The rest of the cabin is a solid visual upgrade. Base models feature smooth cloth seats, while these up-spec testers have perforated leather thrones. The cleaned-up dashboard both looks and feels better than before, and the view out is still pretty good, too. The screens look huge, but they don't actually block that iconic view out over the acres of hood. Quality-wise, it's wholly in-line with its price point, and easily better than something like a GR Corolla. Speaking of that hot hatch, the Mustang's rear seats are obviously not quite as accessible, but they're more accommodating than they look once you're back there. And hey, at least the Mustang is still available as a convertible, which has a fool-proof operation and about 90-percent of the coupe's noise insulation. The 12-speaker B&O sound system is not this writer's cup of tea, with heavy-handed bass levels.
Dollars and sense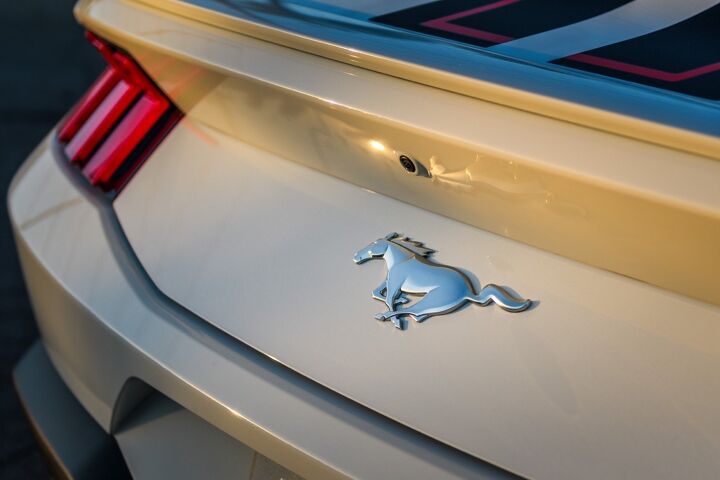 The days of getting a V8 for under $30,000 are long gone. In fact, even the EcoBoost starts north of there for 2024, ringing in at $32,515 ($39,095 CAD) including a notably richer $1,595 ($2,095 CAD) destination charge. Opting for the drop-top bumps that opening number to a much higher $40,615 CAD ($45,995 CAD), though that's because it comes standard with the High (101A) equipment group ($2,600 / $2,600 CAD). Opt for an EcoBoost Premium and you're looking at another few grand.
The well-equipped convertible we threaded through the canyons had a few other standalone options. The well-judged MagneRide suspension ($1,750 / $2,500 CAD) is a great choice for those who aren't planning on exploring aftermarket suspension options. Personally, I could take or leave the active valve exhaust ($1,225 / $1,495 CAD) on the EcoBoost. A similarly equipped convertible would ring in at $52,990 ($61,960 CAD).
Final Thoughts: 2024 Ford Mustang EcoBoost First Drive Review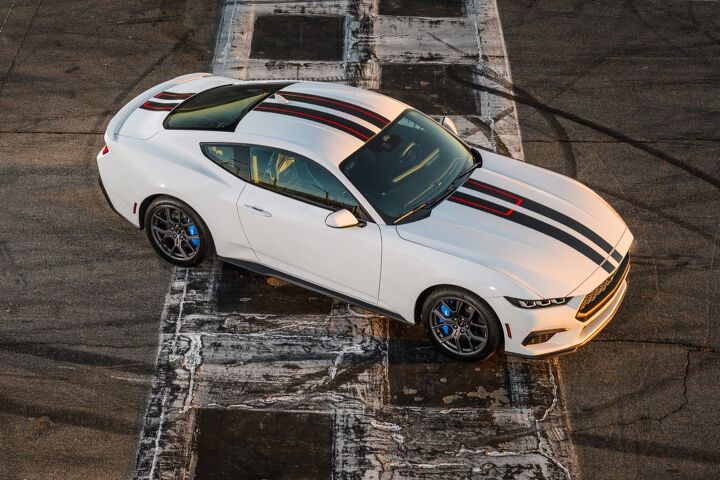 As tempting as it is to favor the hi-po pack, I'd argue the 2024 Ford Mustang EcoBoost is probably better without it. Probably. The HPP sharpens this pony's responses, sure, but it exists in a bit of a no-man's land: not as sharp as purist sports cars like the MX-5 or today's hot hatches, and edging close in price to the much quicker Nissan Z. Ford's insistence on trying to make the four-pot Mustang a sports car doesn't resonate with me, especially now that it's ditched the manual transmission. Enthusiasts will always gravitate towards the GT.
But not everyone wants a 480-horsepower V8 growler, and as an overall package, this seventh-gen EcoBoost is a car I'm happy exists. Coupes are an endangered species as a whole, and Ford is ensuring they're as healthy as ever. The 2024 Mustang is the original's mission statement rewritten for the digital age: approachable, relatively affordable, comfortable, quick, and stylish.
Discuss this review on our 7th Gen Ford Mustang Forum.
Become an AutoGuide insider. Get the latest from the automotive world first by subscribing to our newsletter here.
| 2024 Ford Mustang EcoBoost | |
| --- | --- |
| Engine: | 2.3L I4 Turbo |
| Output: | 315 hp, 350 lb-ft |
| Transmission: | 10AT, RWD |
| US Fuel Economy (MPG): | 22/33/26 / 21/29/24 (HPP) |
| CAN Fuel Economy (L/100 km): | 10.8/7.1/9.2 / 11.1/8.2/9.8 (HPP) |
| Starting Price (USD): | $32,515 (inc. dest.) |
| As-Tested Price (USD): | $52,990 (est, inc. dest.) |
| Starting Price (CAD): | $39,095 (inc. dest.) |
| As-Tested Price (CAD): | $61,960 (est, inc. dest.) |
Published July 24th, 2023 3:43 PM
Popular Articles
Latest Comparisons
Car Buying Tools