2.9K Views
2023 Lexus IS 500 F Sport Performance Premium Review
August 3rd, 2023 1:55 PM
Share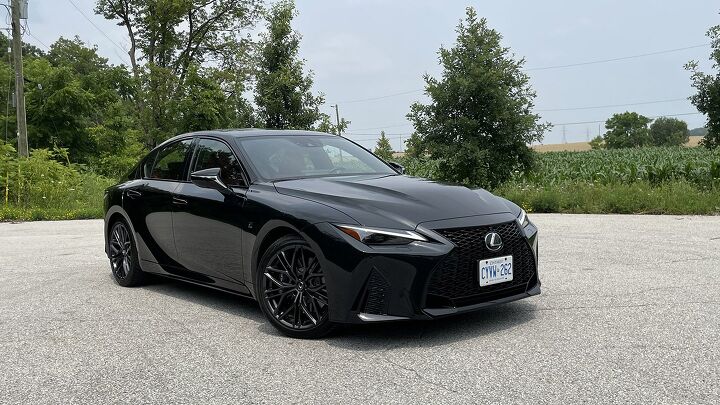 | Love It | Leave It |
| --- | --- |
| Smooth V8 Power | Transmission |
| Price Point | Want More Engine Sound |
| Comfort | Lacks Driving Feel |
Remember when finding a snarling, naturally aspirated V8 in a small luxury sedan was the norm? It really wasn't all that long ago. In 2009, the BMW M3, Audi S4, and Mercedes-Benz C 63 AMG all came with free-breathing eight-cylinder glory. Over the past 15 years though, the trend towards downsizing with electric and/or mechanical boost has replaced these large displacement engines.
But there's still a holdout. The one sedan proudly waving the flag for naturally aspirated V8 engines, even if everyone else has abandoned them. That car is the 2023 Lexus IS 500 F Sport Performance.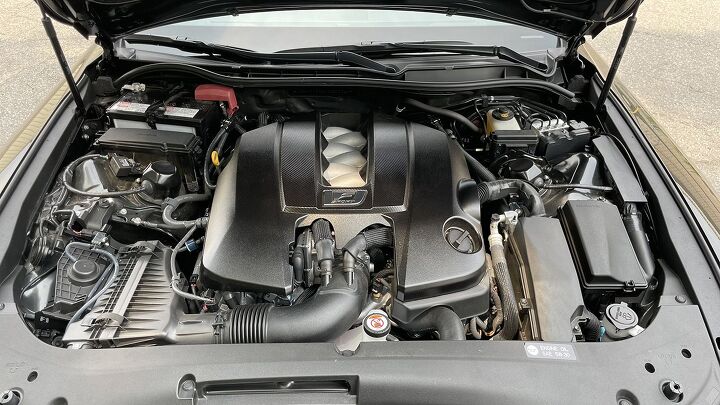 Stuffed under the hood is a 5.0-liter V8 that roars to life with a subtle burble. Making 472 hp and 395 lb-ft of torque, it pairs to an eight-speed automatic transmission and sends power exclusively to the rear-wheels. Like most luxury sedans, the IS 500 features drive modes including ECO, Normal, Sport S, Sport S+ and Custom.
The engine is smooth, with a silky, linear power delivery that only a naturally aspirated V8 can make. Nail the throttle from a dead stop and 60 mph arrives in 4.4 seconds. This is properly quick, but a similarly-powered BMW M3 does it a bit quicker at 4.1 seconds. With a similar curb weight of 3,891 lbs (1,765 kg), most of the Lexus' deficit is due to the transmission.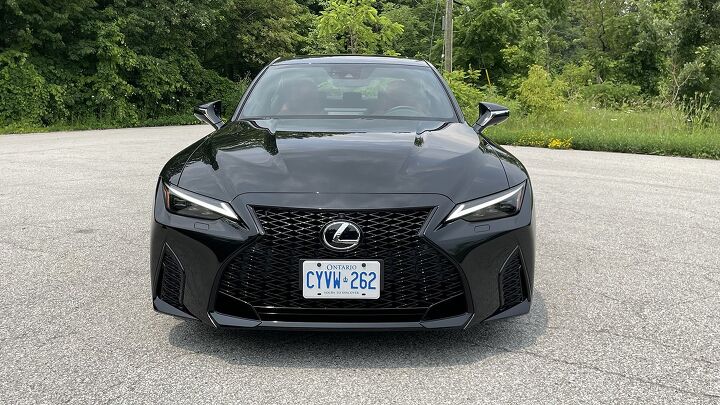 Although upshifts from the eight-speed automatic are adequately quick, there's still a moment's hesitation between changes. With downshifts, it's even more pronounced as the transmission tends to hang between gears. Regardless of drive mode, or if the steering wheel mounted paddle shifters are used, the IS 500 is never rapid to downshift. It diminishes the car's sporty edge as there isn't that satisfying blipping of the big V8 as the car decelerates.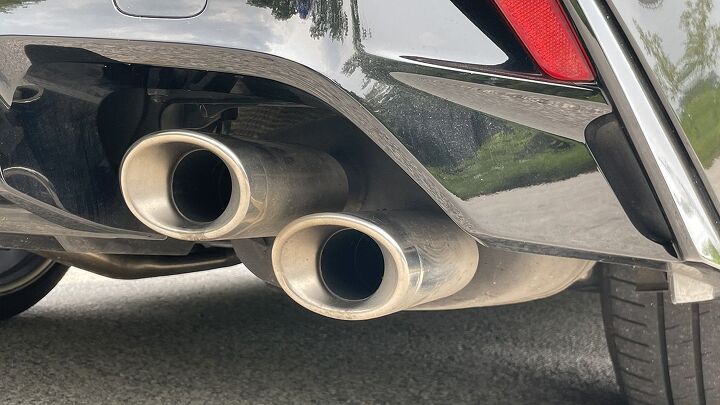 There isn't the accompanying V8 growl when downshifting either. There's no bark or roar as the engine decelerates from higher rpms.
On throttle, the engine will make a throaty, boisterous noise over 3,000 rpms that's quite glorious. But under 3,000 rpm, it's nearly silent. It's a bit of an all or nothing situation depending on which side of 3K the car is on. The drive modes don't have any effect on this either.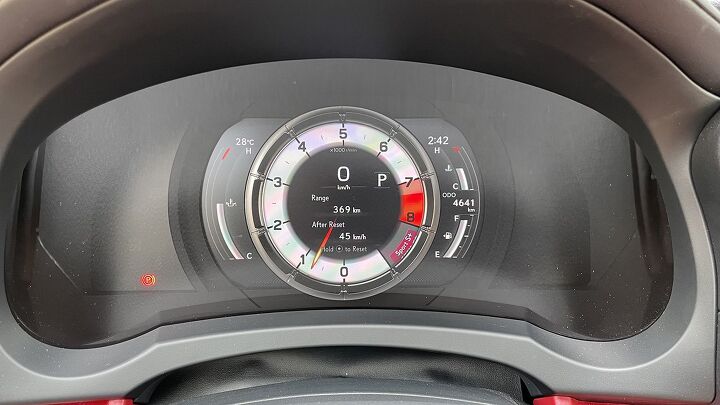 We wish there was a way to increase engine sound at lower rpm. Driving over 3,000 rpm with enough aggression to hear the sweet spot is not sustainable, or comfortable, when driving around town. We wish the IS 500 had a more prominent engine sound like its bigger sibling the LC 500, which is audibly one of favorite V8 cars.
As far as fuel economy is concerned, official ratings are what should be expected from a powerful sedan like this. In the city, the IS 500 is rated at 17 mpg (14.1 L/100 km), while highway figures are decent at 25 mpg (9.3 L/100 km).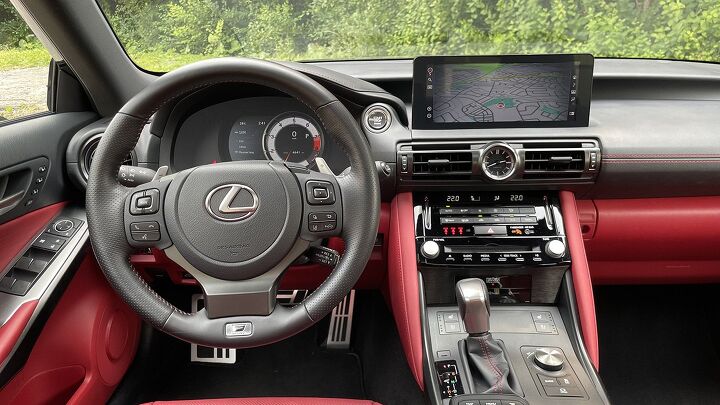 Now in its 9th model year, the current Lexus IS is a holdover in more ways than just what's under the hood. Inside, there are a lot of reminders that this car is nearly a decade old. It uses the much-lamented Lexus touchpad, it still has the once-ubiquitous steering wheel mounted cruise control stalk, and there's even a dash-mounted CD player.
Space up front is more than enough for most adults with 38.2-inches (970 mm) of headroom and 44.8-inches (1,138 mm) of legroom. In the back, things are a bit tighter with just 36.9-inches (935 mm) of headroom and 32.2-inches (818 mm) of legroom. But those numbers are a bit deceiving as there's much more usable space back there than the figures suggests. We easily fit four adults in the IS 500 with decent comfort.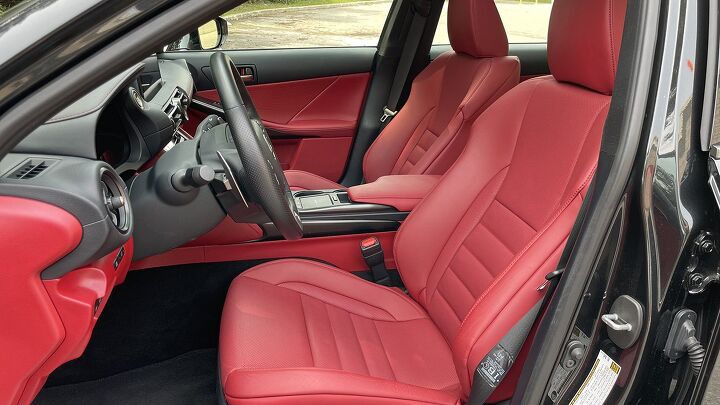 While on the topic of comfort, the front seats are delightful. They may not be real leather, but the NuLuxe material is soft, smooth, and comfortable. The red interior featured on our test vehicle really brightens things up inside and adds some flair to an arguably dated design.
On a technology front, nearly everything one should expect from this class is present. There is a dual-zone auto climate control, a heated steering wheel, a power tilt telescopic steering wheel, a moonroof, rain sensing wipers, a 10.3-inch infotainment screen, and, heated, ventilated, power operated front seats.
The only modern convenience we really missed was the lack of a wireless charging pad. The Mark Levinson 17-speaker, 1,800-watt stereo, made up for that though. So did the car's sliding circle gauge cluster. Even after all these years, it's still a gimmick that brings a smile to our faces.
Mechanical Grip and Ride Comfort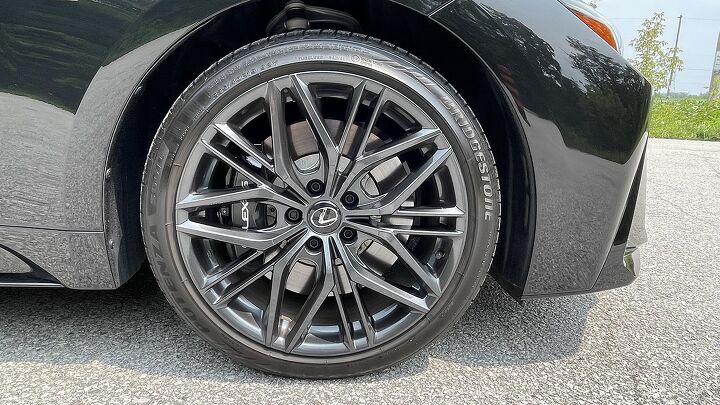 As the name suggest, the car features an F-Sport tuned adaptive suspension that's an upgrade over lesser IS models. It incorporates a double-wishbone front set-up and Yamaha rear performance dampers. More than just suspension improvements, the IS 500 has a Torsen limited-slip rear differential, as well as large 14.0-inch front brake rotors and 12.7-inch rotors in the rear.
There's also a choice of wheels and tires available on the car. Standard are 19-inch Enkie wheels, while a set of BBS 19-inchers are available for an additional cost. Both come standard with 235/40R19 front all-season tires and 265/35R19 all-season rubber at the rear. Either can be upgraded to summer tires, again, for an additional cost.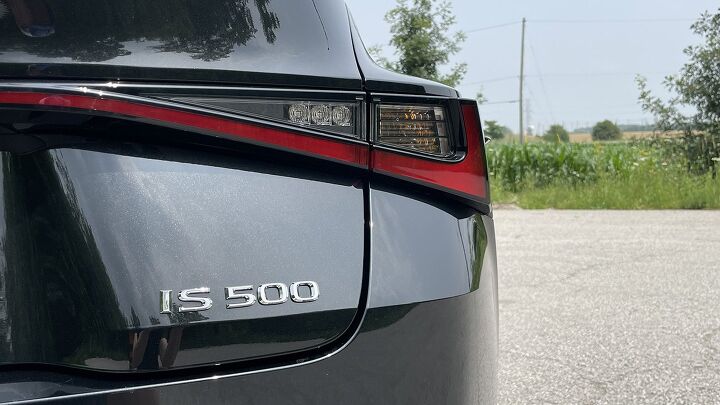 For a suspension and chassis set-up with a performance focus, the smoothness and comfort of the IS 500 is incredible. We can feel the family genes to the buttery smooth setup in the full-size LS 600h.
Despite the serene drive, the mechanical grip is still what should be expected from a car with sporty pretentions. It all works well to provide plenty of bite when aggressively cornering. But it lacks the feel and reflexes of a car like the BMW M340i. Feedback is minimal and despite eating up tarmac in hurry, the driver doesn't get the same reward for driving it hard.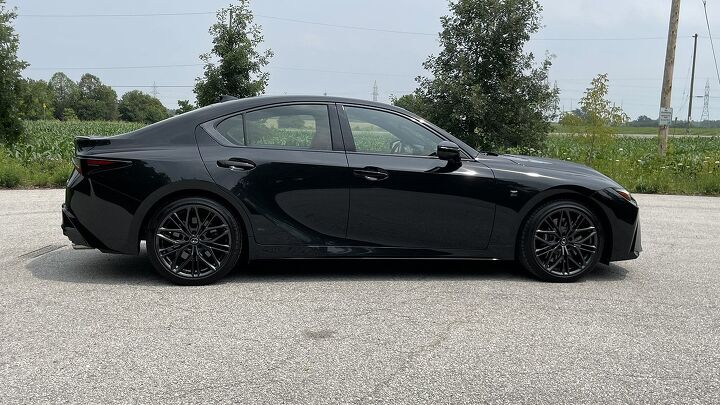 At 187.3-inches (4,758 mm) long, the IS 500 is smaller than a Toyota Camry and nearly identical in length to a Mercedes-Benz C-Class. The car's F-Sport exterior upgrades include unique items such as the bumpers, grille, rocker panels, spoiler, and more. There's also a unique hood with a large bulge to fit engine. Finally, being the Premium trim level, our IS 500 features the tri-LED headlights that add to the vehicle's aggressive persona.
We like the overall look of the IS 500, especially finished in Caviar exterior paint like our tester. The bulging hood and quad exhaust are subtle hints this isn't an ordinary small luxury sedan.
To help keep the vehicle's exterior scuff free, the IS 500 comes with all the latest safety features. Standard is the Lexus Safety System 2.5 which has pre-collision braking, pedestrian detection, lane tracing assist, lane departure warning, lane keep assist, adaptive cruise control, auto high beams, and more. Also included are blindspot monitoring, rear cross traffic alert, reverse auto braking, and an around view monitor.
The Verdict: 2023 Lexus IS 500 F Sport Performance Premium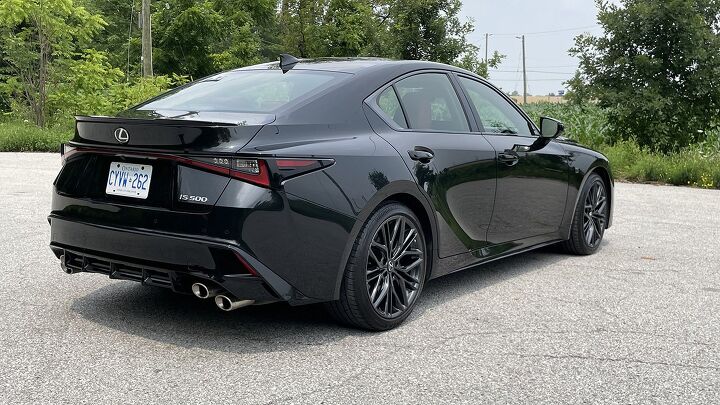 Besides having the lone V8 option in the segment, the 2023 Lexus IS 500 F Sport Performance has another big advantage – price. Starting at $59,420 (all prices including destination charges), the IS 500 lands right on top of the less powerful BMW M340i and Mercedes-Benz C 43 AMG. Even with the upgraded Premium package, at an as tested price of $63,920 ($76,655 CAD), it's still significantly more affordable than the similarly powerful BMW M3.
But the Lexus IS 500 isn't really a full-blown performance sedan the like BMW M3 or upcoming Mercedes-Benz C 63 AMG. It's more of a muscular, high-powered luxury cruiser.
Although it's not without its flaws and showing its age, the punchy IS 500 is an interesting alternative to vehicles like the BMW M340i, Mercedes-Benz C 43 AMG, and Volvo S60 T8 Recharge. Plus, for folks who crave the sensation of a silky-smooth naturally aspirated V8 engine, this is the only game in town.
Become an AutoGuide insider. Get the latest from the automotive world first by subscribing to our newsletter here.
| | |
| --- | --- |
| Engine | 5.0-liter V8 |
| Output: | 472 hp, 395 lb-ft. |
| Transmission: | 8-speed automatic |
| 0-60 MPH: | 4.4 seconds |
| US Fuel Economy (MPG): | 17 city, 25 highway |
| CAN Fuel Economy (L/100 km): | 14.1 city, 9.3 highway |
| Starting Price (USD): | $59,420 |
| As-Tested Price (USD): | $63,920 |
| Starting Price (CAD): | $76,655 |
| As-Tested Price (CAD): | $76,655 |
Published August 2nd, 2023 6:46 PM
Popular Articles
Latest Comparisons
Car Buying Tools