35 Views
The Best Band Saws Help You Cut Right The First Time
April 15th, 2022 9:25 PM
Share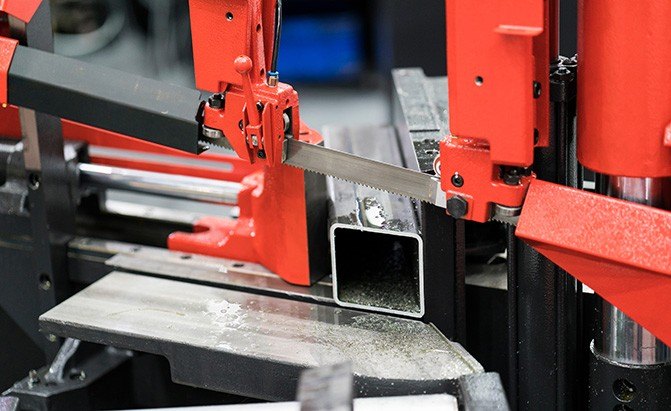 The band saw name isn't exactly secretive, it's a saw that has a blade that is a long metal band. So instead of cutting back and forth like a hand saw, it cuts more like a circular or chain saw. But with a long band, it can cut through larger items with a smaller size than a circular saw and it's much cleaner than a chain saw.
The band saw is one of the mainstay tools of a wood or metal shop, able to handle nearly any style of cut including angles, rips, and cross cuts. But don't think they can only be used at a shop., as a proper band saw can also belong inside your garage. Planning to work with wood or metal on your project car? Building a subwoofer box for your trunk or need to cut some metal tubing? If you're looking for the best band saw for your home shop, this list should have just what you need to make your next project quicker and easier.
For more information on the best band saws, refer to our table of contents.
1. Editor's Pick: JET 14" Deluxe Pro Band Saw Kit (JWBS-14DXPRO)
From JET is a floor-standing band saw with a large 14-inch throat that will let you cut just about anything up to 12-inches high and with a cutting capacity width of 13.5 inches. The cast-iron frame gives it plenty of heft for stability while you're using the saw. The total weight is more than 200 lbs, so it won't be swayed by your cutting through metal or wood. It's also super tough to help make sure the saw is durable for the long haul.
Powered by a 1.25-hp motor, this band saw has a working speed of up to 300 surface feet per minute. The 15- by 15-inch work surface gives you loads of room to hold your largest products. The table can also tilt 10 degrees to the left and 45 to the right to help you get the right angle on every project. The blade guard retracts and adjusts, and has a see through window to help you keep a closer eye on your project with more safety.
| | |
| --- | --- |
| Bottom Line | Floor mount, large throat, strong motor |
2. WEN Metal-Cutting Band Saw with Stand (3970T)
If you're looking to spend more time cutting metal than wood, then this is a saw you're going to want to check out. This option from WEN offers a six-inch wide cutting area (up to four-inches deep) giving you plenty of room for cutting tubing, bar stock, or even angle iron. Three operating speeds—80, 120, and 200 feet per minute—let you adjust your saw speed to match the material you're cutting to get the best result without overheating or dragging, while a 4.6-amp, 3/4-hp motor helps it power through the toughest cuts.
This band saw has a collapsible stand with a handle and solid wheels to make it easy to transport. The saw can be set up on its side or upright, whichever is most handy for your working needs. Just lift the band saw head and attach the table to move to vertical. This saw also offers an auto shutoff feature that stops the saw as soon as you're through the piece you're cutting. WEN says that saves wear, helping make the saw more durable.
| | |
| --- | --- |
| Bottom Line | Vertical and horizontal operation, includes portable stand, auto shutoff feature |
3. SKIL 120V 9" Band Saw (3386-01)
If you're the typical weekend repair person, tooling around in your home shop a couple of times a month, you probably don't need a 200 lb industrial band saw. Instead, consider something like this compact tabletop unit from SKIL, which could be much more budget and operator-friendly. It uses a 59 1/2-inch blade and has a 2.5-amp motor that runs the saw at 2,800 SFPM. It has a nine-inch throat and a maximum cutting capacity just enough for a two by four on its side.
Angle and height changes are easy to make by using rack and pinion adjustments on the table. There is a rip fence for straight cuts as well as a miter for cross cuts, while an adjustable LED work light lets you put the lumens exactly where you need them. If you're worried about keeping the shop clean, a dust port on the side lets you attach a vacuum to capture most of your sawdust.
| | |
| --- | --- |
| Bottom Line | Compact, fully adjustable, has a dust port |
4. WEN 10" Two-Speed Band Saw with Stand and Worklight (3962T)
This saw from WEN offers a floor standing saw that's not as fancy as others the brand has to offer, but it's also much less expensive. The smaller saw has a 10-inch throat that still lets you cut up to six inches deep or 9.75-inches wide. The 14.125- by 12.5-inch cast aluminum work surface gives you plenty of room to make your cuts, while the worktable also bevels up to 45 degrees for more flexibility.
The saw has two-speed operation, either 1,520 or 2,620 RPM, letting you pick the right speed for your saw band and materials. This saw also comes with a host of accessories, including an adjustable work light to let you see your project as well as a fence and a miter gauge. A three-in-one dust port lets you connect your shop's dust collection system to help keep the air cleaner inside. It accepts three different sizes of hose, so it'll likely work with your system.
| | |
| --- | --- |
| Bottom Line | Two-speed operation, includes band and loads of accessories |
5. DEWALT 20V MAX Lithium-Ion Band Saw (DCS371B)
This saw from DEWALT is a great option for anyone who needs their band saw to be more portable than an electrical outlet allows. It has a 2.5-inch cut capacity, letting it handle up to two-inch SCH40 pipe. That'll let you get through smaller wood projects, and it will also let you make cuts in roll cage tubing or box tubing for your racing or off-road project. It weighs just three pounds, making it much easier to use than most portable band saws.
This saw can spin at up to 570 SFPM, which is on the quick side for a portable band saw. This uses the DEWALT 20-volt MAX lithium battery system, meaning that if you're already in the DEWALT system for your other cordless tools, the batteries will interchange. That makes switching jobs or cuts on the go quicker and easier. When it's time for a new blade, tool-free blade changes will get you going again in a hurry.
| | |
| --- | --- |
| Bottom Line | Portable, high speed, light weight |
Types of Band Saws: Benchtop, Floor Standing, or Portable?
If you've got loads of space in your shop, a floor standing band saw is the best option. It stands by itself, allowing you lots of room around the saw for large or long cuts. It also has a heavy base that makes the entire saw more stable for a more precise cut. They're also normally the largest of the band saws.
Benchtop models are ideal if your shop has limited space. Smaller and lighter, you put them on your bench when you need them, and can either leave them on the bench all the time, or put them away under a bench or on a shelf for storage. It takes up less floor space, and less cost, but uses up a lot of your bench if you're not using it.
Portable models are the smallest, but also the most versatile. Primarily designed for cuts to smaller pieces, they let you cut a piece that's already installed. They're also the only choice if you're working more than a cord's length away from the nearest plug.
What to Consider When Shopping for a Band Saw
Power matters. More power can cut through tougher materials without bogging down or stopping the blade. Most of these saws offer half to one-and-a-half hp, which is enough for average projects. If you're going to spend the day sawing through thick hardwood or steel bars, you might want more power.
Yes, you can cut both metal and wood with your band saw. However, you might need to change your blade to suit the material you're cutting. Even different wood types can need blade changes, so this may be something you'll need to get used to. Coarse tooth blades (two or three teeth per inch) cut through materials more quickly, especially thicker materials, but they leave a rougher, more jagged finished edge. Finer blades (six to eight TPI) offer slightly slower cutting but more precise edges, while for thinner metals and thin plastics, an 18-32 TPI blade is better suited to the task.
Weight is important in all kinds of band saws, but in different ways. A floor saw should be heavy with heavy wheels to make it more stable and smoother in operation. A bench saw should be heavy enough for stability but light enough that you can move it on and off of your bench. Lastly, a portable saw should be light so that you can use it throughout your workday.
Dust collection isn't as important as it can be on faster-spinning circular saw blades, because the slow speed is less likely to throw dust around. It still creates dust though, and that can be removed through a dust collection port if your saw has one. You may still need to clean out your band saw on occasion, because of that low speed.
Safety is critical, even with a band saw offering fewer opportunities for injury than some other saws. Look for large stop buttons (and remember where yours is located) as well as adjustable blade guards to help make your cuts even safer. Some saws even offer a keyed power switch, meaning that if children have access to your basement or garage shop, they won't be able to start the saw.
---
We are committed to finding, researching, and recommending the best products. We earn commissions from purchases you make using the retail links in our product reviews. Learn more about how this works.
Photo credit: Aumm graphixphoto / Shutterstock.com
Published August 2nd, 2021 8:01 AM
Popular Articles
Latest Comparisons
Car Buying Tools