4K Views
The Best Car Coolers and Portable Refrigerators for Your Next Road Trip
June 14th, 2023 9:34 AM
Share
No outdoor adventure is complete without food and drink. Grab yourself a car cooler to keep food fresh and beverages chilled.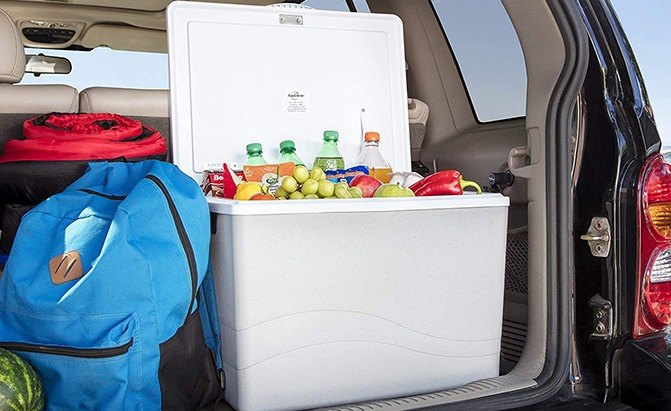 Whether you're striking out on a two-week camping trip or heading to the beach for a picnic, no outdoor adventure is complete without food and drink. That means you'll need a cooler to keep your beverages chilled and food fresh. But even the best coolers can only keep things cold for so long. Eventually, your freezer packs will thaw out, and you'll have to stock up on ice from the nearest gas station or convenience store.
What if there was a better way to keep your consumables cold without worrying about ice melting? Well, there is, and that's by using an electric car cooler. These handy devices have a lot in common with the cooler you probably already have packed away with your camping gear. The difference is you can plug an electric cooler into your vehicle's 12-volt power outlet, which will keep the things inside cool without the aid of ice. You can even use some of the more powerful electric coolers to make ice while you're on the road or at the campground.
Some car coolers can do double duty and keep food warm, too, so you can be everyone's best friend when you arrive at a fall picnic or backyard potluck with piping hot chili. You'll find a lot of variety in the car cooler marketplace in terms of functionality and price.
For more information on the best car coolers and portable refrigerators for your car, refer to our table of contents.
1. Editor's Choice: BougeRV CRPRO25 26-Quart 12V Portable Car Fridge Freezer
If you are in the market for a feature-rich portable fridge, look no further than the BougeRV CRPRO25. This 26-quart fridge/freezer is an ideal companion for your next road trip. It comes with an adjustable temperature setting that lets you set the temperature anywhere from -8 degrees Fahrenheit to 50 degrees Fahrenheit. This means you can use it is a freezer to keep meat and ice cream frozen, or you can use it as a fridge to keep your drinks cool.
Designed to operate quietly, the BougeRV CRPRO25 is outfitted with a user-friendly smart panel to make temperature adjustments, bright interior light, exterior bottle opener, and four tie-down points. But what really sets it apart is a multi-functional storage box which has room for a portable power bank. With the portable power bank installed, you can keep the CRPRO25 running without plugging it into a power source.
Speaking of power, the BougeRV CRPRO25 consumes 45W in MAX mode and just 36W in ECO mode. It also boasts a three-level car battery protection system to help protect your car battery from draining when the voltage is low.
You can save 30% off of a BougeRV CRPRO25 is you use the code BJ30 at checkout.
2. Best Premium Option: ICECO 31-Liter Portable Freezer
None of the coolers on our list illustrate the phrase "you get what you pay for" better than this option from ICECO. You'll pay more for this product, but for your money, you get a cooler that promises better performance and longevity than many other portable powered coolers.
This is a versatile cooler, boasting the flexibility to run on 12- or 24-volt DC current or 110- or 240-volt AC household power. While many of the other coolers we selected for our list are capable of keeping food and drinks chilled or frozen, this recommendation can be set to maintain a temperature anywhere between -7 and 50 degrees Fahrenheit. That means you can easily chill or freeze food that's at room temperature when you load it up without space-hogging ice or freezer packs.
ICECO equips this cooler with a Secop compressor for fast cooling. You can also run this cooler in an eco mode that consumes less electricity and prolongs run time when you're powering it with a battery.
With your purchase, ICECO includes an insulated protective bag and a 12-foot-long DC power cable. The compressor is warrantied for five years, and everything else is covered by a one-year warranty.
| | |
| --- | --- |
| Pros | Great performance, generous warranty coverage; buyers report top-notch customer service |
| Cons | Quite expensive, heavy weight limits portability |
3. Best Storage Capacity: Setpower 53-Quart Portable Cooler
While its price won't be suited to every budget, Setpower's option gets a nod from us for its 53-quart capacity, the most generous of any of the items in our list of the best car coolers.
To give you an idea of its size, Setpower says you can pack 70 soda cans, 42 pint-sized water bottles, or 12 wine bottles in the AJ50 variant. A wire storage basket lets you store delicate food separately from hard/heavy items. You can use this recommendation as a fridge/freezer as well as a cooler. Setpower says the compressor is powerful enough to chill or freeze food and drink from room temperature, and you can set the temperature to any point between 0 and 50 degrees F.
A 38-pound weight means you'll get a bit of a workout moving this cooler around, but it has robust-looking carry handles at either end. Setpower sells this particular cooler with DC (12/24-volt) and AC (110/240-volt) power cables, so you can use this portable cooler at home just as easily as you would in your car or camper. An auto shut-off system with three settings lets you protect your vehicle's battery when running this cooler with the engine turned off.
| | |
| --- | --- |
| Pros | Large storage capacity, cools down quickly, can be used practically anywhere |
| Cons | Expensive, items stored at the top of the cooler don't stay as cold as those in the bottom |
4. Best on a Budget: Ivation 27-Quart Portable Fridge
Here's our recommendation for a basic cooler if you're shopping on a budget. While the first few items in our list are basically portable fridge-freezer units, this Ivation product is a simpler electric car cooler that will keep your food and drinks cool but not frozen.
This is a dual-power cooler that you can run on a 12-volt DC power source—like your vehicle's cigarette lighter—or on 110-volt AC current with the included adapter for household outlets. Both adapters stow in convenient compartments built into the lid.
Ivation says this device will keep drinks as cool as 40 degrees F and can also keep food warm up to 130 degrees F. However, those are its only settings; it can't be set to any temperatures in between those points. The company also says this option will work best if you load it with drinks or food that has already been chilled or warmed up. As some buyers have noted, it will take a long time to cool or heat items from ambient temperature.
While the cooler's capacity is relatively modest, Ivation says it's large enough to accommodate 2-liter soda bottles. This cooler weighs 10.6 pounds, so it's relatively easy to move around even when loaded.
| | |
| --- | --- |
| Pros | Space-efficient design won't take up too much space in your car, a versatile product, affordable price |
| Cons | Best for maintaining temperature rather than changing it, lid-mounted temperature control unit protrudes into the cooler itself |
5. Best Ultra-Portable Cooler: AstroAI 4-Liter Minifridge
Designed to look like an old-fashioned home refrigerator, AstroAI's minifridge is tiny, measuring 10 inches high by 9.45 inches deep and 6.9 inches wide. Its 4-liter internal capacity is just large enough to accommodate six regular-size soda cans, and a weight of fewer than five pounds empty allows for easy transportation.
AstroAI says it designed this little fridge for more than just keeping drinks cold. It's also ideal for storing cosmetics and skin care products, breast milk, and other items that are perishable at room temperature.
This cooler will take items from room temperature down to 37 degrees F in three hours, and you can also use it to keep food or drink hot at up to 150 degrees F. The company makes it clear this product is not designed to warm things up from ambient temperatures but claims your items will stay warm for hours after the device is turned off. Actual cooling and warming performance will vary somewhat depending on the ambient temperature.
This minifridge ships with a 12-volt DC cigarette lighter cable for use in your vehicle and a 110-volt AC adapter, so you can also plug it in at home or in your office.
| | |
| --- | --- |
| Pros | Cute design, convenient size and weight, wide cooling/warming temperature range |
| Cons | Not designed to warm or cool items from room temperature, some buyers complain of noisy operation |
6. Wagan 14-Liter Personal Cooler/Warmer
This option from Wagan is another lightweight cooler—it weighs a scant 8.7 pounds empty. Once loaded with food and drink it will obviously be heavier, but the included shoulder strap leaves your hands free for carrying other items.
This cooler's design lends itself well to serving as a central console in a vehicle's back seat and includes cupholders so your passengers can enjoy drinks on the road. Its capacity is 14 liters. While it's advertised as a 12-volt cooler, Wagan sells an optional AC adapter that lets you plug it into a household power outlet. The standard 9-foot-long DC power cable connects to your vehicle's cigarette lighter.
As with the Ivation cooler discussed above, this Wagan unit works best to keep your items cold or warm but is not designed to efficiently chill or heat your food and drink from room temperature. The company says this cooler's temperature range is 32 degrees F (the freezing point) to 140 degrees F. You can't select any temperatures between those two points, but changing between cooling and warming modes is as simple as flipping a switch. Simple green and red LED indicators tell you at a glance which mode it is set to.
| | |
| --- | --- |
| Pros | Hands-free carrying with shoulder-strap, handy design includes cupholders |
| Cons | No battery-saver function, so you have to turn it off manually when the vehicle is not running, efficiency decreases at high altitudes and high ambient temperatures |
7. Bodega Portable Fridge/Freezer
The 36-liter Bodega car fridge is pricy, but it's less expensive than our Editor's Pick, yet it has four more liters capacity.
To put this model's capacity in perspective, Bodega claims it will hold 41 cans of cola, 21 bottles of water, or ( somewhat humorously) "13 bottles of red wine." The compressor-chilled cooler will operate on 12 volts from your car's cigarette lighter or power port, but it can also be powered by 120-volt or 240-volt current from a wall outlet. The refrigerated compartment includes a divider and independent temperature control for both areas via a phone app. According to the manufacturer, the contents can be chilled down to 4 degrees Fahrenheit. Wheels, interior lighting, and a drain hole are thoughtful touches.
Bodega offers models with a capacity greater than 36 liters which are correspondingly more expensive. The larger 53-liter Bodega seems to be the most widely available.
There were complaints from a few users; most cited poorly-written instructions. Others found that the unit was slow to cool when full. However, most small-capacity refrigerators perform better when maintaining the temperature of pre-chilled contents rather than chilling warm items, in all the Bodega clocked in with a respectable 85% positive customer rating.
| | |
| --- | --- |
| Pros | App-controlled, runs on 12, 24, 120, or 240 volts, dual-zone temperature control |
| Cons | Expensive, some complaints about poorly-written instructions |
8. Koozam K-Box Portable Cooler/Warmer
The 48-quart Koozam K-box electric cooler is one of the larger models reviewed here. It's a thermoelectric cooler, which will keep pre-chilled items cold but won't bring warm items down to 40 degrees Fahrenheit. Like other similar coolers, it can maintain a warm environment too. A removable interior divider helps keep contents under control.
This model has built-in 6-foot power cords that connect with either 12-volt (cigarette lighter style) or 120-volt supplies. The K-Box weighs 17.1 pounds empty; there are wheels, but given their small size, we think they're for positioning the cooler rather than rolling it over long distances.
Gripes about slow cooling and difficult maneuverability marred the otherwise favorable user experiences. The K-Box still managed 81% positive reviews. This model is markedly less expensive than the 53-quart Setpower AJ50 reviewed above, which earned an exemplary 91% positive rating.
| | |
| --- | --- |
| Pros | Large capacity, inexpensive for its size |
| Cons | May be difficult for some to maneuver |
Should you buy a car cooler with a compressor or a thermoelectric model?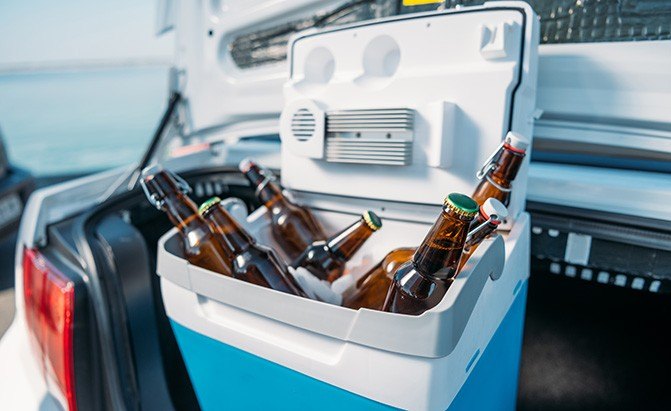 Photo credit: LightField Studios / Shutterstock.com
If you want a cooler that can efficiently chill or freeze food and drink from room temperature, then you should choose one with a compressor, such as one of the products we placed at the top of our list.
A cooler with a compressor is effectively a portable fridge or freezer with proven and effective technology, but you won't get it for cheap. The compressor itself is heavy, so any cooler equipped with one will be more difficult for you to pick up and move around.
A thermoelectric cooler is a simpler, less-expensive device that uses a scientific phenomenon called the Peltier effect to either generate heat, or absorb it and thereby provide a cooling effect. Thermoelectric cooling is less efficient than a compressor-based system, so it won't do as good a job keeping your food chilled as a compressor-type cooler will. However, a thermoelectric cooler will be much less expensive than one with a compressor.
Can you put ice inside an electric car cooler?
Yes, but whether you need to depends on the type of cooler you buy. If you choose one with a compressor-based cooling system, you won't need to pack your food and drink in ice as these coolers are designed to be effective at chilling things down and keeping them at a set temperature.
However, if you buy a thermoelectric cooler, we recommend chilling or freezing your food and drinks ahead of time and then packing it in the cooler and turning it on. You can also pack your items in ice and the thermoelectric cooler function will keep the ice frozen for longer than in a regular cooler.
How long can you leave an electric cooler plugged into your vehicle?
You can run an electric cooler plugged into your vehicle for as long as you want, so long as the vehicle is running, which keeps the battery charged.
When your vehicle is off, be careful not to leave the cooler running for too long because it will drain the battery after two to three hours, which can leave you stranded as the battery may not have enough power left in it to start the engine.
What's the difference between running your cooler on 12-volt DC power and 110-volt AC household electricity?
As far as your cooler is concerned, there isn't much difference. All of these coolers in our list are designed to operate on 12-volt automotive DC power. The ones that can be plugged into a household outlet have adapters, like the one you use to plug a laptop computer into the wall to convert your home's 110-volt AC power to the DC current the cooler requires.
Recent Updates:
June 12, 2023: Added BougeRV CRPRO25 at no 1.
December 29, 2022: Updated product links.
August 30, 2022: Added Bodega as No 6 and Koozam K-Box as no 7.
August 26, 2022: Removed Aspenora and AsrtoAI; unavailable.
June 9, 2022: Removed Koolatron brand due to poor reviews.
June 3, 2022: Removed out-of-stock 40-qt Igloo iceless cooler.
January 19, 2022: Renewed promoted product recommendation.
June 14, 2021: Updated with a promoted product recommendation.
---
We are committed to finding, researching, and recommending the best products. We earn commissions from purchases you make using the retail links in our product reviews. Learn more about how this works.
Photo credit: Koolatron
Published January 19th, 2022 11:01 AM
Popular Articles
Latest Comparisons
Car Buying Tools