110 Views
The Best Father's Day Gift Ideas for the Car Lover
May 2nd, 2023 2:09 PM
Share
We're committed to finding, researching, and recommending the best products. We earn commissions from purchases you make using links in our articles. Learn more here
Gifts to put a smile on your Dad's face.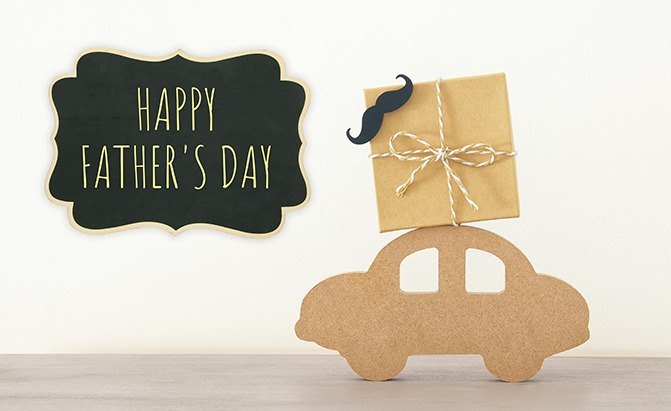 Shopping for a Father's Day gift is never easy, but if your Dad is an automotive enthusiast, then you've come to the right place. Whether he's just commuting to and from work everyday or building a project in his garage, this list covers a wide assortment of gift ideas. As much as we'd all love to show up with a brand new car or a restoration project in Dad's driveway for the special day, we know that's not entirely feasible.
So stop shopping for boring 'ol gifts like coffee mugs, t-shirts, or even ties this year and get something that will surprise your Dad this Father's Day, even if you believe he's got everything he needs. From tools and handy garage upgrades to books and toys, here are our top picks for Father's Day gift ideas for the car lover.
1. Editor's Pick: Keter Rolling Tool Chest
If you shook your head in disgust the last time you visited your Dad's garage because tools were just lying around everywhere, it's time to get him a nice tool chest. Tool organizers are practically a must-have for every car enthusiast and if your Dad is still rocking an old school tool box, check out this rolling tool chest from Keter.
It's not overly fancy, but it's one of the more affordable options out there and its size is ideal for a home garage. Measuring 23.5 inches by 22.1 inches by 11.3 inches, this tool chest features a central locking system so that each drawer stays secure before, during, and after use. Caster wheels on the bottom of the box makes it mobile and convenient to roll around the garage.
The bottom drawer offers deep storage for larger tools, while 16 removable bins and dividers allow your Dad to organize everything just as he needs.
Promoted Product: Gold Shield 5L Car Covers at CarCover.com
Dads are often pretty particular when it comes to things involving the car. That's why he spent all that time washing and waxing it. Help your dad out this Father's Day with a Gold Shield 5L Car Cover from CarCover.com. It makes for a great gift. These premium covers are waterproof and UV and weather resistant, and made from three layers of Polypropylene and a single layer of microporous film to let moisture out and an additional layer of super soft fleece lining that goes against your dad's paint job to keep it scratch free and looking great. The covers are made specific to the car model for an exact fit with a strap and buckle on each end and an elastic band for a snug fit. The covers will protect your dad's car for years to come and have a limited lifetime warranty. Getting one for dad this Father's Day is a great idea, and it will go a long way towards making up for that one time you just couldn't hold the flashlight right.
2. Bosch Power Tools Combo Kit
There are plenty of tools you can get your Dad this Father's Day, but if you need a place to start, take a look at this Bosch Power Tools Combo Kit. The kit includes a 12-volt drill driver with up to 1,300 RPM and a 12-volt impact driver with up to 2,600 RPM. Both tools are extremely compact, with the cordless drill perfect for tight and narrow spaces—like working on a car. It features three integrated LED lights mounted around the head of the driver to help in low-light situations.
The impact driver has the shortest head length in its class while delivering powerful torque, perfect for screw driving, screw removal, drilling applications, and more.
The combo kit includes the 3/8-inch drill driver (PS31-2A), the max impact driver (PS41-2A), 2 batteries, a 30-minute charger, and a soft carrying case.
3. Armor All Portable Wet/Dry Vacuum
Do you remember all of those times you just tossed your trash on the floor of your parents car when you were young? Now is a good time to apologize by getting your Dad a portable wet/dry utility vacuum, like this one from Armor All. The brand's well-known for its car cleaning supplies and this vacuum will help make quick work out of any messes in your Dad's interior.
It's on the smaller side with a 2.5-gallon capacity, which makes it ideal for the home garage. It can also be mounted on the wall to save space when it's not being used. The vacuum is powered by a two-peak-horsepower motor and also has a blower function to blow away debris. Attached is a 10-foot power cord and a four-foot hose, which should give enough reach to clean the entire interior without too much fuss.
For convenience, the vacuum has onboard accessory and hose storage, and Armor All throws in a two-in-one utility nozzle, crevice tool, deluxe car nozzle, detail kit, storage pouch, reusable cloth filter, and foam sleeve filter.
4. Wall Control Pegboard Organizer
If you're looking for a more creative gift idea, Wall Control's Pegboard Organizer likely fits the bill. If your Dad isn't a huge fan of tool boxes and prefers to keep everything more neatly organized and visible, this made in the U.S. metal pegboard is a great gift idea. It's modular, so he can continue adding onto it if he needs more space and outgrows the setup you got him for Father's Day.
The metal pegboard is 10 times stronger than a conventional pegboard according to Wall Control. It accepts conventional 1/4-inch pegboard pegs and accessories, along with Wall Control's slotted tool board pegs and accessories. Best of all, it mounts directly into studs or sheet rock, so no framework is required for installation.
Each unit includes a 16-inch tall by 32-inch wide pegboard panel, a dozen Wall Control standard hooks, four Wall Control medium hooks, four Wall Control U-Hooks, three Wall Control 1x1 C-brackets, a pair of Wall Control 2x2 C-brackets, one Wall Control screwdriver holder and accessory holder, and one Wall Control hammer holder.
There are a lot of dash cams available on the market today, but one of the more affordable and popular units comes from APEMAN. This 1080p full HD dash cam features a 3" LCD screen to deliver clear videos and images for playback. The front boasts a 170-degree super wide angle lens that reduces blind spots so it can capture all the action ahead. It also has a built-in G-sensor that automatically detects a sudden shake or collision, locking down the footage so it can't be overwritten even in a loop recording. This way, any video recording of an accident is preserved.
This dash cam also works great at night, thanks to a f/1.8 large aperture lens, WDR, and HDR technologies—removing the need for an auxiliary light source. Other features on this dash cam include motion detection, seamless loop recording, and parking monitor.
6. Anker PowerDrive 2 Alloy Car Charger
Have you ever heard Dad complain about having a dead cell phone while on the road? If so, it might be time to get him a handy and affordable USB car charger. Unfortunately if you're shopping for one, you probably see an endless list of options. So instead of browsing through all these, just go with this option from Anker, a well-known brand in the charging industry.
Available in black, red, or silver to match your Dad's color preference or interior, this 24W dual USB charger is ultra compact and is designed to take up as little space as possible. A scratch-resistant alloy exterior protects premium gold-plated coils on the inside, which contribute to this charger's efficiency. One downside is that it doesn't support Qualcomm Quick Charge.
Anker includes an 18-month warranty with the charger, and it's one of the most reputable brands out there with fantastic customer service.
7. The Supercar Book for Boys by Martin Roach
Perhaps a book is more fitting for your Dad. The Supercar Book for Boys by Martin Roach is a great choice, available in hardcover so it'd make a great coffee table decoration too. This book is fully illustrated throughout and covers some of the best supercars on the planet. It starts with the 1954 Mercedes Gullwing and goes through decades of supercar history, exploring all sorts of important vehicles within the high-end segment.
If your Dad is a fan of exotic automakers such as Ferrari, Lamborghini, Bugatti, Pagani, McLaren, and Porsche, this is the book for him. With over 200 full color photos and an introduction from Formula 1 racing legend David Coulthard, this is the ultimate guide for a supercar fanatic.
8. Sun Joe SPX3001 Pressure Washer
Does your Dad still wash his car the old fashioned way with a traditional garden hose? Be the best child possible and get him a pressure washer! In 2020, we recommended Sun Joe's SPX3000 pressure washer since it was one of our personal favorites, but for 2021 we're replacing that recommendation with Sun Joe's SPX3001. Equipped with a powerful 14.5-amp/1,800-watt motor, this pressure washer generates up to 2,030 PSI or 1.76 GPM of cleaning power. The company includes five Quick-Connect spray tips so your Dad can take on other cleaning jobs around the house.
A reason why we now recommend the SPX3001 is the onboard hose reel, which can keep 20 feet of high pressure hose organized for quick and easy storage. Like the SPX3000, this model features Total Stop System (TSS), which automatically shuts the pump off when the trigger isn't engaged. This not only helps save energy, but prolongs the pump's life. Also onboard is an extra large 40.6-fluid ounce detergent tank.
The pressure washer includes a 34-inch extension wand, 35-foot power cord with GFCI protection, 20-foot high pressure hose, garden hose adaptor, and needle clean out tool.
9. Chemical Guys 7-Piece Wash & Shine Kit
Now if your Dad already has a pressure washer, that likely means he's a bit passionate about car washing and detailing. So what better way to make him happy than with a cleaning kit? Chemical Guys' 7-Piece Wash & Shine Kit is a nice and affordable package, full of essential car cleaning supplies from an extremely reputable brand. It even includes a wash bucket with a snap-on bucket lid so it can serve double duty as a seat or stool lying around in the garage.
It all starts with the popular Mr. Pink Car Wash Shampoo and the Dirt Trap bucket insert to help filter out the dirty water. The premium chenille microfiber wash mitt makes cleaning the car a breeze, while brake dust and dirty wheels gets tackled with the Diablo Wheel Cleaner. Once he's all done, Silk Shine Dressing makes the tires and interior look new again.
The best part about this gift? You don't even have to worry if he already has some car cleaning supplies. Eventually he'll run out and will need some new stuff, and who doesn't like new stuff?
10. LEGO Technic Lamborghini Sián FKP 37
This year, you can say to your Dad, "I got you a Lamborghini!" and it wouldn't be a total lie. The LEGO Technic Sián FKP 37 might not be a real Lamborghini, but it might be closest to the real thing you can get your Dad this year for Father's Day. Featuring 3,696 pieces, this is one intricate LEGO kit with crazy details, including a V12 engine with moving pistons.
Once it's fully built, it's a 1:8-scale model, measuring over five-inches high, 23-inches long, and nine-inches wide. It sports Lamborghini's vivid lime green color scheme, highlighted by gold wheels and other decorated elements. Other fancy features include an eight-speed sequential transmission, movable rear spoiler, opening front and rear hoods, and detailed disc brakes. Of course, we can't forget the functioning scissor doors.
The best part about this gift? You can spend some quality time with your Dad building it, just like when you were a kid.
Recent Updates
September 8, 2021: Added a promoted product recommendation.
May 30, 2021: Updated the list with new recommendations for 2021.
---
We are committed to finding, researching, and recommending the best products. We earn commissions from purchases you make using the retail links in our product reviews. Learn more about how this works.
Photo Credit: Shutterstock.com / tomertu

Jason Siu
Jason Siu began his career in automotive journalism in 2003 with Modified Magazine, a property previously held by VerticalScope. As the West Coast Editor, he played a pivotal role while also extending his expertise to Modified Luxury & Exotics and Modified Mustangs. Beyond his editorial work, Jason authored two notable Cartech books. His tenure at AutoGuide.com saw him immersed in the daily news cycle, yet his passion for hands-on evaluation led him to focus on testing and product reviews, offering well-rounded recommendations to AutoGuide readers. Currently, as the Content Director for VerticalScope, Jason spearheads the content strategy for an array of online publications, a role that has him at the helm of ensuring quality and consistency across the board.
More by Jason Siu
Published May 30th, 2021 8:01 AM
Popular Articles
Latest Comparisons
Car Buying Tools