4 Views
The Best Infant Car Seat Covers to Keep Your Baby Protected
April 3rd, 2022 4:54 PM
Share
For parents on the go, an infant car seat cover is a must—both to protect your vulnerable baby from the elements and from nosy, germ-ridden cheek pinchers.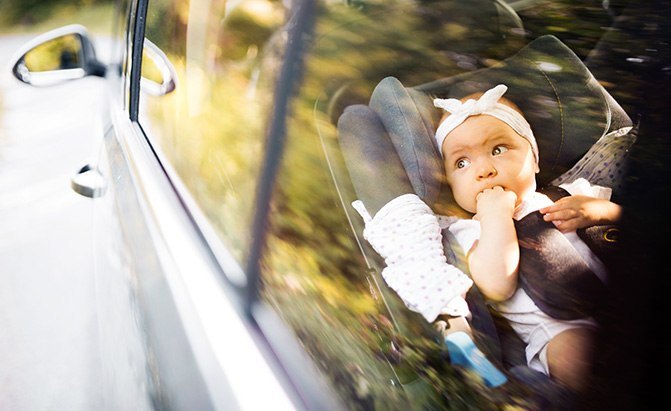 During your baby's first year, one of the most important accessories you'll own is a car seat/carrier. The most important accessory for that accessory is likely an infant car seat cover. Sure, you can use a car seat without the other, but together they transport and shield your precious cargo from adverse conditions as you escort them, waypoint to waypoint, often through hostile territory. The best of these pod-like combinations provide protection from environmental extremes and prying eyes while deflecting laser fire and featuring autonomous propulsion via whisper-quiet repulsorlifts.
Hold up. I accidentally started describing Baby Yoda and the plot of "The Mandalorian" … again, my bad. Still, the metaphor is apt—hover technology and photon blasts notwithstanding. Your parental mission is to get your bundle of joy from home to pediatrician to grocery store and back again while keeping them safely ensconced in the baby-perfect confines of their carrier. Your foes are frigid wind, glaring sun, buzzing insects, and coughing gladhanders.
While it looks perfectly cute on our green-tinted protagonist, Yoda-style puffy coats are a no-go in the real world. Safety experts tell us that any sort of insulated jacket or jumper immediately negates the efficacy of baby seat harnesses in the unfortunate event of an accident. So, let a car seat cover be your kid's blast shield as you engage hyperdr— er, overdrive.
From spiffy shells made for trendsetters to practical options adaptable to winter and summer alike, we've gathered a bevy of our favorite infant car seat covers, so choose your upgrades wisely, no Beskar required, "this is the way." OK. I'm done.
1. Editor's Pick: Copper Pearl Baby Car Seat Cover
Sometimes simpler really is better, and that's the case for our top, all-around pick for infant car seat cover. Bereft of buttons, zippers, mesh screens, and faux fur, the Copper Pearl Baby Car Seat Cover gets one critical thing right: covering up your kiddo from every angle. Though, as it turns out, it gets a lot more right as well, but more on that in a moment.
Essentially a stretchy tube of rayon and spandex, the Copper Pearl cover is smaller at the top (12 inches) and larger at the bottom (28 inches), allowing it to tightly encompass your entire baby seat without slipping down. This cover deftly protects your little one from the elements and prying eyes, but easy access for Mom or Dad is just a tug away: no buttons to fumble, no zipper to snag, no Velcro to awaken a light sleeper.
Parents we talked to praised the simplicity of this style of cover over more fidgety designs. They also extolled the multi-use virtues of this flexible fabric. Marketed as "5-in-1" by Copper Pearl, indeed it can also serve as a shopping cart cover, high-chair cover, and an infinity scarf, though that last one may be a bit of a stretch, pun intended. Our parents advised us that they employed this style of cover whenever a barrier between baby and germs was required, namely a public diaper changing table. At the end of the day, it can be tossed in the washing machine cold cycle and tumble dried on low.
But perhaps its most useful secondary function is as a privacy curtain for nursing in public. Unlike a blanket, the cover is stretchy enough to surround both mother and baby while remaining sufficiently tight to prevent an active child from kicking it off. If the infant needs assistance latching, the top can be further stretched open to get a better view.
Buyers report that despite its expandability, the Copper Pearl cover remains sufficiently opaque, providing the privacy it promises to offer. And, it continues to do so after multiple washings, maintaining its elasticity for a long time. This cover falls squarely in Goldilocks territory: not too thick, not too thin.
As for caveats, user reviews say that this "all season" cover is perhaps a bit better suited to summer weather, and for winter months in northern climes, it is most certainly BYOB—bring your own blanket. A blanket folded over the baby's secured harness is safe, but never buckle a blanket under the belts. Also, while the cover is certainly not rain repellent, it's enough of a barrier to keep its occupant dry during a light drizzle from the car to the house.
Additionally, since fitment can be an issue with any universal car seat cover, owners recommend that if the bottom of this one isn't perfectly taut against the carrier, rolling it up usually fixes the problem. Speaking of fitment, the Copper Pearl cover as an infinity scarf is decidedly "meh" with one user describing it as "frumpy." If you're looking for a simple way to transport it, sliding it folded into the diaper bag is almost certainly a more sensible choice.
| | |
| --- | --- |
| Pros | No fuss, no muss, multiple uses, seamless coverage |
| Cons | Less insulating in winter, not weatherproof |
2. Budget Pick: Moonsea Baby Car Seat Canopy
For parents who want to save some money, this canopy-style infant car seat cover from Moonsea may just fit the bill. Instead of the elastic used in many of the covers on this list, this canopy attaches via two straps to the top of the carrier handle. Featuring a simple slit opening, access to the baby is had through a set of three snaps. It is adorned in a unisex star pattern on the outside with an interior fleece lining the manufacturer describes as "minky."
Billed as a multi-use accessory, the Moonsea cover can be unstrapped to use as an extra blanket, burping cloth, or a nursing cover. One benefit of its uncomplicated design is that it is machine washable and dryable on low heat. That's a good thing since owners note that the white lining is quick to turn dingy.
Not surprisingly, secured only at the top, this cover provides precious little protection from the wind as it tends to flap in the breeze. This same loose style means that an industrious baby can easily get a hold of the curtain and pull it onto its face. User reviews mention that grippier handle straps would be better.
On the plus side, it is constructed of soft and attractive materials, which are best suited to weather ranging from cool to warm. Certainly you'll want extra blankets on hand for use in chilly conditions. Parents also praise the snaps, which open quietly enough not to disturb the infant's sleep.
| | |
| --- | --- |
| Pros | Affordable, unfussy construction, nice materials |
| Cons | Unsecured against extreme weather, easy to grab, gets dirty quickly |
3. Warm Weather Pick: Cozy Cover Sun and Bug Cover
Turning away from multi-purpose and toward focused function, we present the Cozy Cover Sun and Bug Cover for infant car seats as our favorite option for warm weather. Constructed from lightweight material, this cover is a self-supporting canopy resembling a tent. An expansive mesh screen up front offers ventilation and a barrier to biting insects. Up top, a pull-over flap is available to extend across the mesh to provide protection from direct sun, leaving the screen unencumbered on either side in order to maintain airflow.
The Cozy Cover attaches via a "shower cap-style" elastic edge, which enables it to fit on almost all standard baby carriers. The fitment is intentionally snug as an additional measure against bugs while enjoying the great outdoors. The Sun and Bug Cover is available in orange, gray, purple, and pink variations and is weather resistant but not waterproof. When the day is done, the cover is hand washable, and it folds down small to fit in its own circular carry bag.
That portability is notable since you won't want to leave this particular cover permanently attached. Unlike others, it does not feature a flap for easy access, meaning the front of the cover has to be lifted up to access the baby. This limitation means it may not be a good pick if you're looking for a cover to leave installed on the car seat while driving.
Owners report that despite its mesh, this cover can trap a bit more heat than you might think, even in the shade, so keep a close eye on the comfort of your infant. Reviewers also complain of the lack of a tie down for the sunshade flap when not in use, and they say it can be a struggle to get the canopy on and off with the baby inside. Similarly, it's a challenge to squeeze onto larger car seats.
Overall, parents like the panoramic mesh that allows their babies take in the stimuli of the outside world while maintaining protection from the elements and nosy strangers. Katie puts it succinctly enough, "Keeps them mofos off my little one."
| | |
| --- | --- |
| Pros | Spacious, good visibility, packs down to small size |
| Cons | No easy access flap, traps heat, no sunshade tie-down |
4. Stylish Pick: JJ Cole Urban Bundleme
Who says form and function have to be mutually exclusive? If you've got a fashion forward baby in your life who's about to experience their first Midwest winter, consider the JJ Cole Urban Bundleme. Conceived in the style of a parka, this cover is a winter coat for an infant that can't wear a winter coat.
The Urban Bundleme features a soft shearling interior and a quilted nylon exterior with a three-button closure and removeable hood. Additionally, this cover includes an optional back panel also lined in shearling and made with cut-outs for the car seat's safety harness. This design is available in multiple patterns and colors including olive, blush, black, heather gray, and red plaid. It's water resistant and machine washable.
Smaller than some of the other options on our list, the manufacturer states that this cover is sized to fit infants ranging from zero to 12 months. Some owners of the Bundleme beg to differ, however, warning that their babies outgrew it much sooner than the one-year mark. Reviewers also note that it may be necessary to leave the back panel uninstalled in order to ensure secure strap attachment. User feedback indicates that it is far less forgiving with different car seat sizes, and you should be prepared to return it if it doesn't fit.
Overall, buyers indicate that it is plenty warm for bitter northern winters, and they love that they can keep their infants warm and safe without a coat that would interfere with the safety restraints. As for that trendsetting design, what happens when baby meets faux fur? Andrea tells the tale, "My biggest fear happened! My son had a blowout in his car seat and there was poop all over this thing. Thankfully it was no issue to wipe it down with baby wipes in the moment and it was fine going into the washer and dryer."
| | |
| --- | --- |
| Pros | Fashionable, warm, removeable back panel |
| Cons | Small, suitable only for winter, not multipurpose |
5. Rainy Weather Pick: guzzie+Guss 3-in-1 Rain Cover
If you live in the Pacific Northwest or another region where interminable rain is a foregone conclusion, the guzzie+Guss 3-in-1 Rain Cover may be more your speed. Here, the manufacturer takes a top down approach, covering the car seat, carry handle, and all with loads of clear plastic, and just clear plastic. They've decided that if you're using a rain cover, glaring sun isn't one of your top concerns, and if it is, you can still reach in and deploy the umbrella built into your carrier.
This rain cover features two sets of ventilation holes to provide adequate airflow in situations where full cover is otherwise required. When the rain lets up, a sizable panel unzips to allow unfettered access to your baby. The guzzie+Guss fits most major brands of infant car seats and even can be mounted on most pod-style stroller seats and bassinets.
As previously noted, this cover limits access to the carry handle, but user reviews say it really doesn't pose an issue. The fitment is loose enough to grasp the handle through the plastic. Buyers love how well this cover shields their little ones from the elements, including wind. When you're back inside, the cover cleans up well with a damp cloth and is very easy to take on and off. If there is one complaint, it's that after extended exposure to rain, the fabric edging of the zippered panel can become saturated with water.
| | |
| --- | --- |
| Pros | Excellent rain and wind protection, easy to install and remove |
| Cons | Cover limits access to handle, rain can soak through fabric |
For an all-season option, consider the Brica Smart Cover. Taking a cue from midwestern moms everywhere, the Brica dresses in layers, two specifically. For warmer days, this cover's front flap can be fully unzipped, or its mesh layer can be deployed for protection from insects and germy fingers. As the weather cools, a second water-resistant, insulated layer is available as well.
In either case the cover also features an adjustable canopy up top and a handy pocket to store the mesh and insulated panels when not in use. The zippered panel opens wide for easy access to your baby without removing the entire cover, which is installed using an elastic surround that grips the sides of the car seat. When it gets too messy, the Smart Cover is machine washable, but must be air dried.
Buyers praise its high quality build and construction from soft materials, which are weather resistant, if not waterproof. Depending on your location, this carrier may be less all-season when summer weather rolls around. By mid-spring it can start to trap too much heat, even with its breathable mesh panel.
Compared to other covers, user reviews say this one is far less likely to be knocked loose by an overactive kicker. That said, one issue many owners report is that once installed, noticeable air gaps remain on the sides, potentially allowing cold drafts in. Some users have had luck eliminating unwanted wrinkles by fine-tuning the installation, while others are never able to get them to go away altogether. Another complaint: only one color scheme is available, and it consists of a blue zipper, which at least one user decried as "boyish."
| | |
| --- | --- |
| Pros | All-season construction, secure attachment, high-quality materials |
| Cons | Air gaps left on sides, too warm for summer, single color option |
7. Cozy Cover Infant Car Seat Cover
On sale for more than 25 years, the Cozy Cover Infant Car Seat Cover probably has the greatest track record of any product on this list. Weather resistant and insulated, the Cozy Cover is intended for fall and winter seasons and has a stated age range of zero to 12 months.
Like others, this cover attaches via elasticized edge to all standard baby carriers and features a dual-zipper panel that is used to access the infant or allow for extra ventilation. When fully zipped, a circular opening remains, which can be covered with an additional flap when complete shielding from wind, rain, snow, or sun is necessary. Inside, the cover is lined in fleece while the outside can be had in black, charcoal, pink, red, camouflage (green or pink), or quilted textures. The Cozy Cover is machine washable and can be tumble dried.
Reviews from owners say it works exactly as intended when it comes to keeping their babies warm and shielded from the wind. Like practically every other cover, it's weather resistant, but not waterproof. When it comes to fitment, your mileage may vary. Ambitious infants can find a way to kick off the cover despite its elastic grip, and with enough of a reach, babies can even tug the zipper panel open.
| | |
| --- | --- |
| Pros | Time-tested, well-insulated and wind resistant, wide color selection |
| Cons | Less secure than other covers, single-use accessory |
8. AMAZLINEN Stretchy Baby Car Seat Cover
If you've gone through this list and thought, "How about a little from column A and a little from column B?" then you may appreciate this hybrid option from AMAZLINEN. Like the offering from Copper Pearl, this manufacturer's Stretchy Baby Car Seat Cover is all-encompassing, leaving no gap for a draft to sneak through. However, AMAZLINEN adds a few more bells and whistles to the formula.
Instead of relying solely on elastic, this cover employs four snaps, which anchor the top of the cover to the carrier handle. These snaps provide support for two panels, one with a dual zipper enclosure for full access to your infant and one flap that can be opened or closed for additional privacy and ventilation. For storage, the cover can be removed from the car seat and folded into a neat square, which packs away into the pocket of the head flap. The cover is available in several patterns including ones which feature clouds, elephants, and trees, and it's machine washable in cold water.
Owners report that it is indeed an excellent barrier to the wind and prying eyes. As with other thin covers, you will want an extra blanket on hand for chillier conditions. Reviewers praise the "tent effect" created by its attachment to the handle. Unlike other covers, this snapped suspension point creates a more favorable air gap between the fabric and the baby's face.
However, it's with these same snaps that several users have encountered problems. Poor build quality can mean that the snaps rip out of the fabric after only a few uses. Luckily, responsive customer support is quick with a replacement unit if it happens to you. It's also worth mentioning that this cover is another unitasker. Despite its stretchy design, it's not designed to be used as a nursing cover or as a cover for shopping carts or high-chairs.
| | |
| --- | --- |
| Pros | 360-degree coverage, nifty design, inexpensive |
| Cons | Lacking build quality, not multi-use |
9. Penelope Honeysuckle Jagger Car Seat 5-Piece Set
For the parent who thinks of a baby as a good excuse to accessorize, the Jagger Car Seat 5-Piece Set by Penelope Honeysuckle provides the perfect opportunity. The Jagger includes a slipcover, head support pillow, replacement umbrella, and baby lap blanket, which all match, adorned in royal blue.
Meanwhile, the simple one-piece cover attaches via two Velcro straps to the top of the carrier handle. Exterior fabric is 100-percent cotton while internal plush bits are made from 100-percent polyester. Measuring 39.5 inches by 28.5 inches, the cover can double as a blanket, shawl, play mat, or changing area. It's machine washable, but it must be hung to dry.
As a cover, this product provides much less isolation from the elements. Nevertheless, reviewers praise the completeness of the set and its comfort. They do, however, note that the exterior fabric, not meant to touch the baby, is a bit scratchy.
| | |
| --- | --- |
| Pros | Comfortable, matching look, multi-function cover |
| Cons | Limited protection, scratchy exterior fabric |
10. Sho Cute Car Seat Canopy
Rounding out our list is the Sho Cute Car Seat Canopy, an infant car seat cover with more to offer than might be obvious at first blush. Its design is simple: a lightweight canopy of 100-percent cotton, both inside and out with a "Peekaboo Window" cut-out to see what's happening with your baby. Beyond that, the canopy is reversible so if you want to change its look, you can, and it can double as a nursing cover.
This offering from Sho Cute mounts using straps that attach to the top handle and elastic that further secures it to the bottom of the car seat so that it resists windy weather, unlike other canopy-style covers. Built-in loops allow you to hang accessories or toys, though it should be noted that these should always be removed before driving since toys can become dangerous projectiles in a crash or hard maneuver. The cover is machine washable in cold water, tumble dry on low.
Unsurprisingly, the Sho Cute is neither waterproof nor bug proof, but it does a fair job at slowing down both. Its lightweight construction means you'll want to be ready with blankets for fall and winter weather. Overall, parents love this cover, complimenting its spacious interior and that you can peek in without having to lift off the entire canopy and wake the baby.
Among the few complaints are a faint chemical smell out of the box as well as the decibel levels of the Velcro flap at the top, which can disturb a fussy infant. A few also complain that the elastic along the bottom can wear out before long, leaving you to find another way to secure the cover.
| | |
| --- | --- |
| Pros | Simple style, reversible pattern, quick-look cut-out |
| Cons | Elastic that fails, less winter protection, noisy Velcro |
What is an Infant Car Seat Cover?
An infant car seat cover is not, as you might assume, made to protect your car seat (though in certain instances they can do that too). Rather a car seat cover is a barrier of one sort or another made to protect your infant from the deleterious effects of the outside world: germs, harsh weather, bugs, glaring sun, uninvited lookie-loos, you name it.
Specifically in a moving car, warm, fluffy jackets and snowsuits are a no-no. They compress and slip, preventing the infant seat harness from doing its job in the event of an accident. Therefore, it should only be the baby and their regular clothes in a car seat, which is where an insulated car seat cover can come in handy. Blankets over a belted-in baby work, but can slip, especially when it's time to go from the car to the doctor's office. They drag through dirt and slush, blow around in the rain, and are generally a pain.
An infant car seat cover is secured to the car seat in one fashion or another, offering varying degrees of protection. At its base level, a cover lets your infant get some privacy and sleep. However, the most functional of covers provide the insulation of a coat and any manner of other uses once removed from the baby carrier.
How to Install an Infant Car Seat Cover:
Every infant car seat cover is different, so consult the instructions that are included with your specific model. However, covers come in three basic styles: canopy, shower cap, and stretchy.
For canopy-style covers, the product is usually secured using a pair of straps that attach to the top carry handle. Like a loose-fitting tent, the canopy hangs down from this point and should be long enough to fully envelope the exterior of the car seat. Occasionally, additional straps, ties, or elastic are used to further secure the cover.
For shower cap-style covers, a ring of elastic, sometimes combined with a drawstring, makes up the bottom of the car seat cover. This stretchy belt allows the cover to expand to fit almost any standard-size car seat while forming a mostly gap-free seal around the bottom edge. Loosen any drawstrings, if necessary, and use your hands and arms to expand the elastic over the car seat, starting at one end and carefully working toward the other. When the car seat is completely covered, tighten any drawstrings and look for other straps or ties that may need to be secured.
For stretchy-style covers, the entire product has an elastic quality, which allows the cover to envelope the car seat in 360 degrees, creating a form fit. To install, look for the smaller end of the fabric tube. The smaller hole should end up at the top of the car seat when you're finished. Simply stretch the cover down around all sides of the baby seat. When complete, the cover should be taut all around and completely conceal the seat portion of the carrier leaving only a small opening at the top.
---
We are committed to finding, researching, and recommending the best products. We earn commissions from purchases you make using the retail links in our product reviews. Learn more about how this works.
Photo credit: Halfpoint / Shutterstock.com
Published September 15th, 2020 8:01 AM
Popular Articles
Latest Comparisons
Car Buying Tools