400 Views
June 15th, 2023 9:34 AM
Share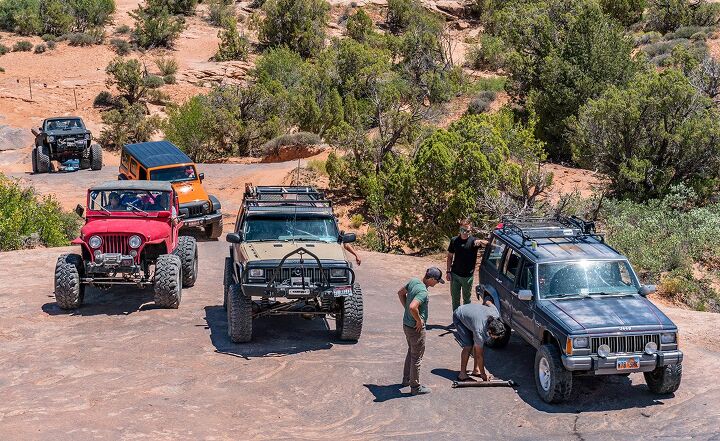 Going doors-off is one of the best parts of driving a Jeep, but it can also be one of the more frustrating. Taking your doors off can make things more complicated when it comes to safety, convenience, and even the law. Fortunately, there are some great Jeep tube doors available that can solve all of those problems but still give you all of the benefits of no doors.
Taking the doors off of your Jeep Wrangler transforms the Jeep experience. Suddenly you're almost as outside in the elements as you would be on a motorcycle or even walking. But there are some side effects of no doors.
No mirrors, for example. Since your Jeep's mirrors are attached to the doors, when you take one off you lose both. That's bad for visibility since you can't see behind or beside you, which makes it bad for safety on the road.
Safety First
Another safety issue is that, well, you can fall out. Maybe that's not a problem for you, but if you've got kids or pets in the back seat, things get a little trickier. The same goes for all of your cargo, which is more than happy to fly out the side when you go around a corner or bounce over that hill.
The last big problem is with the police. The doors can come off, but driving on the road with no doors isn't allowed in some states and provinces. You can end up with a really big ticket. Plus, since your doors are back home in the garage, you might end up having your Jeep towed or impounded.
The best Jeep tube doors solve these problems by giving you an open-air door. They have a mount for the mirror and a basic frame to stop things from falling out, and they should make local law enforcement happy.
Not sure which ones to choose? No problem, we're here to help.
Table of contents
Smittybilt Gen 2 Front Tubular Doors
These are some of the most basic tube doors on the market. That gives you the most possible airflow and lets you see out better than anything short of no doors at all. But that doesn't mean they're basic when it comes to features.
Smittybilt is well known in the off-road world for high-quality parts and accessories, and these are no different. They have an easy-grip handle to make it easier to open and close the doors, especially after a long day on the trail. They also have a durable door bumper and door straps so they don't slam against your paintwork and damage your Jeep or your doors.
Lastly, they have included MOLLE panels that let you attach even more cargo and gear to the outside of your doors. That puts crucial equipment close and hand and easy to get to when you need it.
| | |
| --- | --- |
| Pros | Maximum airflow, door handles, straps |
| Cons | Minimal doors do less to keep you inside, some users report the door straps are too long |
These doors from EAG still give you plenty of that off-road experience, but they have a bit more substance. So that coffee cup you dropped is less likely to immediately blow outside and you get a bit more protection from branches, rocks, and trees.
The tube doors for JK Wranglers also come with their own door mirrors. So you can leave the factory set on your factory doors and not worry about swapping that hardware when the weather turns and the doors go back on.
EAG gives its doors a tough powder coat finish and an OE door latch assembly to make sure they stay closed. You can also pick from several styles for the side panel including a US flag or a spider web.
| | |
| --- | --- |
| Pros | Mirrors included, OE-grade door latch |
| Cons | No door straps, latch only accessible from inside of door |
Fab Fours Jeep Full Tube Door
Fab Fours offers a tube door for Jeeps that isn't just a half door. What's the point? Well, it looks cool, for a start. It also lets them add sun and rain visors to the tops of the doors, and those are fully functional if you have the roof on. It could be the difference between putting the factory doors back on and leaving them at home.
These doors have a convenient pull handle you can access from the outside. They also have a limiting strap to help make sure you don't open the doors too far and smash them against your Jeep.
| | |
| --- | --- |
| Pros | full door frame, outside-accessible latch, upper visors |
| Cons | Mirrors are extra, heavier than factory door |
Tube doors aren't reserved for new Jeeps. Check out these from Kuafu that are designed for the classic YJ models. They are a tubular door that comes with an attached mirror to make swapping them easy. They also have a nylon mesh panel to help cover the door panel which gives them an amazing retro look and feel. These doors scream 1970s and 1980s, but have modern features like powder coating.
| | |
| --- | --- |
| Pros | For older Jeeps, vintage mesh, mirrors included |
| Cons | Latch is inside only, some complaints of mirrors arriving broken |
Aries AR15009 Aluminum Half Doors
These doors are aluminum instead of steel, so they're much lighter. That makes them easier to install and remove, which is a big plus. They're also some of the only doors available that come with a built-in lock and not just a latch. That's great for helping stop theft, because while a crook can still climb over, you've made their job a whole lot harder.
| | |
| --- | --- |
| Pros | Lightweight aluminum, include door locks |
| Cons | Some complaints of tricky latch fitment, no mirrors included |
EAG Tubular Doors for Jeep Cherokee XJ
Don't let Wrangler and Gladiator owners have all the fun, you can drop your doors in your XJ Cherokee, too. EAG makes its tubular steel doors for that crossover fitment, designed to give you the same extra air and visibility.
These doors mount directly to your factory hinges and latches. They also include mirrors so you can still see behind you on the road.
| | |
| --- | --- |
| Pros | Rare XJ doors, powdercoated steel, mirrors included |
| Cons | Some complaints of poor fitment, no door limiting straps |
Bestop 5179835 Black Diamond 2-Piece Fabric Doors
Ok, they're technically not tubes, they're fabric. But there are tubes underneath! And they give you one of the best features of taking your doors off, and that's really the point here. These two-piece fabric doors let you pop off the top half in seconds thanks to hook and loop fasteners. The lower part of the door is much smaller than a standard Wrangler door. It's also just fabric. So you can pop them off once you get to the trail and store them in the back of your Jeep.
These doors have locking latches and will work with most hard and soft tops. You could probably even alter the fabric a little bit so the bottom skins would slide on and off depending on the weather.
| | |
| --- | --- |
| Pros | Removable window, lightweight, fabric |
| Cons | Not a traditional tube door, not cheap |
Published June 7th, 2023 10:17 AM
Popular Articles
Latest Comparisons
Car Buying Tools