22 Views
The Best Side Marker Lights for Your Vehicle
July 17th, 2022 4:07 PM
Share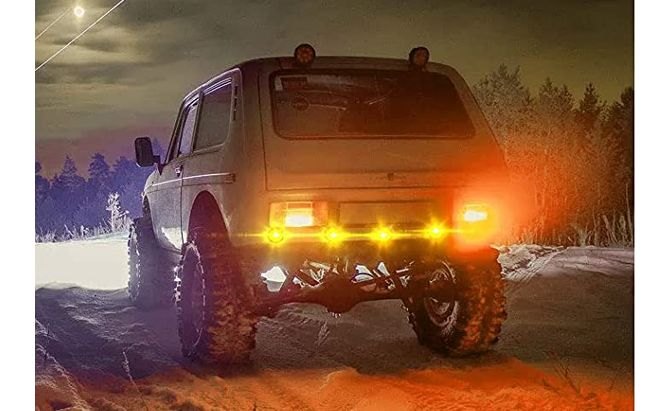 Nothing adds road presence like a set of high-quality side marker lights. Marker lights make it easier for other drivers to see your truck or trailer, which is particularly important if you have a larger vehicle than most on the road.
The side markers help others see where your vehicle starts and ends and can even help you watch your trailer while driving down the highway. Side marker lights look fantastic, and you can use quality units to decorate the grill, roofline, side steps, and fenders of your truck. Trailers with side marker lights are more visible, which reduces the risk of them changing lanes into you.
The best side marker lights are bright, clear, robust, weather-resistant, and affordable. All of the units we've suggested here use LEDs—they are rapidly replacing incandescent bulbs in most side-marker applications.
1. Best for Boat Trailers: Online LED Store Amber LED Side Marker Light
These amber LED side marker lights from Online LED Store are IP67 rated so you can use them on your boat trailer. Photo credit: Amazon.com.
The Online LED Store offers this two-pack of LED side marker lights that are IP67 waterproof rated. They are constructed as a sealed unit, not a multi-piece system. They'll withstand being submerged in up to 39.37 inches of water for as long as 30 minutes, so you can use these on your boat trailer. What's more, they double as a reflector, which helps them achieve a DOT rating, making them legal on trailers that have to comply with national highway standards.
These rectangular markers are cleverly designed with a single stud installation bolt and pre-cut channels for the wiring, which makes for easy installation on most surfaces. They are 2.5 inches deep, though, so they're bulkier than many other side market lights on the market. There are prettier solutions, but these work well in place of most factory original side markers or indicators.
Light comes from a single, ultra-bright LED, and you shouldn't need a resistor to use them as a marker, though you may if you want to employ them as indicator lights.
Key Features
Light source: Single LED
Size: 4.0 by 2.0 inches
Depth: 2.5 inches
Waterproof rating: IP67
| | |
| --- | --- |
| Pros | All-in-one construction, users report easy installation |
| Cons | Bulky, not the most attractive |
2. Best Looking: ALFU Amber Dual-Voltage LED Side Marker Indicator Lights
Alfu's LED side marker lights feature an attractive chrome bezel trim and are available in a range of colors. Photo credit: Amzon.com.
These side markers from Alfu are distinguished by a handsome chrome bezel. Each unit is lit by four LEDs and is compatible with both 12-volt and 24-volt circuits. There are five colors available: traditional amber, blue, green, red, and white, so you can achieve the look you're after.
Be careful selecting blue or red, however, as some laws prohibit those colors on non-emergency vehicles and in certain directions. As a general rule, side marker lights should be amber or white. Red lights should never shine forward, and white lights should not shine rearward.
The wiring process is simple, and IP68 waterproofing means they won't fail in bad weather, but the chrome trim has a tendency to trap dirt, grit, and moisture—this could cause the trim to degrade over time. The installation screws are also not as effective as nut-and-bolt systems.
These compact, stylish markers measure 3.7 by 1.27 inches and are just 0.75 inches high. They're a good value too, with 10 pieces per pack for less than some charge for two lights.
Key Features
Light source: Four LEDs
Size: 3.7 by 1.27 inches
Depth: 0.75 inches
Waterproof rating: IP6
| | |
| --- | --- |
| Pros | Good looking, well priced |
| Cons | Chrome trim can trap moisture, flimsy mounting screws |
3. Best For Large Trucks: Nilight - TL-16 LED Marker Light
Truckers will appreciate the brightness, ease of use, and affordability of these 4.0-inch LED markers from Nilight. Photo credit: Amazon.com.
A simple mounting plate and clip-in 4.0-inch LED marker make for an elegant light from Nilight. The mounting plate adheres in place and serves as a guide for drilling prior to adding hardware.
Each light comes with 9.0 inches of 22-gauge wire in red and black. Unfortunately, you'll need to drill a hole for the wire as there's no slot in the plate to allow you to route wiring on the face of the mounting surface. One solution is to use washers behind the base plate, but that traps dirt and moisture and makes for an unsightly finish.
The length and width of these side markers are 4.0 by 1.33 inches, and they have a depth of 1.22 inches, making them large enough to be seen but compact enough to sit out of the way. They are IP65 rated, which offers less waterproofing than others in the category.
Three bright LEDs provide ample brightness, even though the dark amber tint.
Key Features
Light source: Three LEDs
Size: 4.0 by 1.33 inches
Depth: 1.22 inches
Waterproof rating: IP65
| | |
| --- | --- |
| Pros | Easy to install, two-year warranty |
| Cons | No wire slots, only water-resistant |
4. Brightest Side Marker Lights: LedVillage Amber LED Side Marker
Twelve diodes per light make these amber LED side marker lights some of the brightest available. Photo credit: Amazon.com.
The 5-inch side marker lights from LedVillage pack plenty of brightness thanks to 12 separate LEDs per unit. These markers look good thanks to a chrome bezel that extends its overall width to 6.4 inches, depth and height are 1.7 inches and 0.5 inches, respectively. They require two mounting holes drilled 4.0 inches apart as well as a separate hole for wiring.
The bezel installs over the top of the light itself, but that's optional for a more compact look. They connect with your car's electrical system with two wires with no resistors required and are compatible with any 12-volt system.
LedVilllage claims the lights are waterproof but don't offer an IP rating and some users reported that the lights failed in wet weather. Others say the build isn't as robust as some other options you'll find at this price point. What they lack in ruggedness, though, these lights make up for in sheer brightness.
LedVillage 6.4-inch lights are available in packs of 20 or 30, with an option for red, white, amber, or a combination of all three in the 30-pack variant.
Key Features
Light source: 12 LEDs
Size: 5.0 by 1.68 inches (without bezel), 6.4 by 1.69 inches (with bezel)
Depth: 0.5 inches
Waterproof rating: Not listed
| | |
| --- | --- |
| Pros | Ultra bright, 30 per pack |
| Cons | Requires drilling three holes, flimsy bezel |
5. Best OEM Replacement: Partsam LED Fender Bed Side Marker Lights Set
Limicar's clearance lights offer impressive 180-degree visibility thanks to the tiger-eye design with a raised light housing. Photo credit Amazon.com.

These small and simple side-marker lights are an upgrade over the incandescent bulb marker lights that come factory installed on your dually or as a replacement for your damaged units. The set here is an OEM swap for GMC Sierra and Chevrolet Silverado 2500 and 3500 trucks. You can also use them as side marker lights on any other model or on your trailer, RV, heavy truck, or light-duty pick-up.
Each kit includes two amber lights for the front, and two red lights for the rear, measuring 3.2 by 1.5 inches with a depth of 0.8 inches. They're lit by three diodes each for ultra-bright markers that improve on the factory lighting. They come with a simple plug-and-play wiring connector for the GM units they're designed for, and the backing is 3M's impressive automotive adhesive strip which is effective but can only be installed on warmer days. The lights are IP67 waterproof.
Key Features
Light source: Three LEDs
Size: 3.2 by 1.5 inches
Depth: 0.8 inches
Waterproof rating: IP67
| | |
| --- | --- |
| Pros | Direct fit for GM dually trucks, very bright |
| Cons | Requires warm weather or heated space for installation |
6. Best for Visibility: Limicar Trailer Marker LED Clearance Light
Limicar's clearance lights offer impressive 180-degree visibility thanks to the tiger-eye design with a raised light housing. Photo credit: Amazon.com.
These ultra-bright side markers from Limicar cast strong light in all directions thanks to the clever tiger-eye design. Twelve separate diodes shine out from the housing, with eight angled out away from the center in two directions and four narrow diodes shining directly ahead from the backing.
Each pack contains seven amber lights for forward-facing use and seven red lights to face rearward. The housing is just 1.0 inches high, and half of that is the lens housing. That means light is unimpeded for 180 degrees. The light itself measures 3.94 by 1.93 inches, which makes it one of the larger side markers available. This is a good size for trailers, semi-trailers, and large vehicles like RVs.
Installation requires three holes, two for the nut and bolt posts and one for the wiring. The nut-and-bolt mounting design makes these a more rigid design than screw-in types or stick-on units.
On the downside, these marker lights are only IP65 rated and so less waterproof than other units.
Key Features
Light source: 12 LEDs
Size: 3.94 by 1.93 inches
Depth: 1.0 inch
Waterproof rating: IP65
| | |
| --- | --- |
| Pros | 180-degree visibility; Large, bright lights |
| Cons | Three mounting holes required, could be tougher |
7. Best Red/Amber Combination Marker Light: Amak Amber and Red Square Pedestal Stud Mount Fender
Double-facing pedestal lamps like these from Amak shine amber light forward and red light backward for a road-legal combination marker light. Photo credit: Amazon.com.
Amak's system employs eighteen amber diodes and the same number of red diodes to cast amber light forward and red light backward, which is in accordance with laws for marker lighting on large trucks and trailers. These large pedestal lamps mount on fenders for increased visibility and measure a substantial 4.5 by 4.5 inches. The sides are 2.4 inches deep and feature three amber LEDs, bringing the total to thirty-nine. They include an integrated reflector, as required by road safety regulators.
The pedestals mount via two threaded posts for ultra-secure attachment. However, it is necessary to drill a third hole for the wiring when using the threaded mounting posts. Alternatively, you can use the adaptor plate, which gives you a single mounting point with a larger threaded tube for the wires to pass through.
There are two of these robust and large markers per pack, and you can expect to pay slightly more than other side marker lights for these professional-grade units.
Key Features
Light source: 39 LEDs
Size: 4.5 by 4.5 inches
Depth: 2.4 inches
Waterproof rating: Not listed
| | |
| --- | --- |
| Pros | One-stop solution for fender markers, large, bright |
| Cons | Bulky, expensive |
Side Marker Light Laws
Rules and regulations for side marker lights differ by state, as well as by what type of vehicle you're installing them on. However, there are some more-or-less universal rules. The most common guideline is for lighting colors. In almost all cases, only red lights are permitted to shine rearward, while only amber or white light is allowed to shine forward. The reason for this is so other drivers or road users know which direction your vehicle is traveling.
You are usually not allowed to use blue lights, and especially not blue and red lights together, as those colors are reserved for emergency services.
All vehicles sold in the USA must have side marker lights that clearly identify the outer edges of their body, and the same applies to trucks and trailers. There is no limit to how many lights you're allowed to apply, as long as the lights shine in the correct direction.
Published April 27th, 2022 1:57 PM
Popular Articles
Latest Comparisons
Car Buying Tools