959 Views
The Best Subaru Forester Accessories to Make Outdoor Fun Better
February 27th, 2023 3:45 PM
Share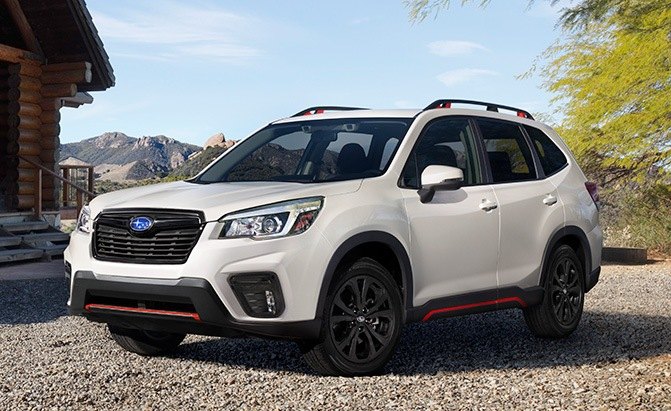 If you're driving a Subaru Forester, there's a good chance that you're planning on getting more out of your crossover than the average buyer. Subaru aims its vehicles at buyers who want to get outside to do more, see more, and experience everything nature has to offer. But even with features from the factory like standard all-wheel drive, sometimes you need more. Although the Subaru Forester offers plenty of utility straight off the dealership lot, there's always room for improvement, depending on your needs.
The best Subaru Forester accessories let you customize your crossover to make it better on and off highway, to help you keep it looking like new, and to give it more utility for your hiking, camping, and other outdoor activity trips. And since many car owners are also pet lovers who have their four-legged friend join them on their journeys, there's even some recommendations to help make Fido more comfortable every day.
For more information on the best Subaru Forester accessories, refer to our table of contents.
1. Editor's Pick: BougeRV Roof Rack Cross Bars
Your Forester probably came with roof rack side rails, but you need something to bridge the gap if you actually want to use them. If so, consider these aluminum roof rack cross bars that fit 2014 and newer Subaru Forester models. Made from aluminum, they're 30 percent lighter than steel, making them easier for installation and removal, and the lower weight lets you carry more stuff on top, too.
No drilling is required for installation as they attach directly to your factory side bars and can then let you hold up to 150 pounds of stuff. From plywood to mattresses, to add-on carriers for kayaks, canoes, and bicycles, these cross bars offer a whole new world of versatility to your Forester. The bars are designed to be installed with a screwdriver and have adjustments to the length so you can move them forward or backwards on your Subaru. They also come with a 12-month warranty.
| | |
| --- | --- |
| Bottom Line | Adds versatility, allows for more rooftop accessories, lightweight |
2. JKCOVER Fuse Box Coin Holder
If you drive a Subaru Forester, you've probably noticed the little panel that seems like the perfect place for storage on the left side of your steering wheel. Except, it's actually just a fuse box door. This accessory from JKCOVER turns the simple fuse box door panel into a much more useful storage cubby. Not only is it the perfect place for coins, but also a great place to leave your keys, your watch, extra phone cables, a garage door opener, or anything else that needs handy and small storage.
Along with replacing the old door with a more useful cubby, it still looks like the original part, and that has two benefits. First, it matches your interior, but second, it looks like the fuse door on every other Subaru meaning that thieves are less likely to try and open it. It also comes with fuse box label stickers so that you don't lose the factory reference label.
| | |
| --- | --- |
| Bottom Line | Replaces a useless factory cover with usable storage space |
3. Napier Sportz Dome-to-Go Tent
A car tent adds a world of versatility to your camping experience, starting with the addition of more space because you can get in the back of your car and keep things like food in there. This tent from Napier offers 8.5 feet of ground space and more than 6.5 feet of height when you stand up. It has two large doors and three mesh windows to allow more ventilation. It's fully waterproofed with taped seams and storm flaps, and setup is said to take just 10 minutes.
Yes, it's attached to your Forester, but you can quickly remove the vehicle sleeve and drive away without taking down the tent or leaving it open to the elements. You can also get in your Forester and close the hatch for safety. Adjustable straps and an elastic vehicle sleeve keep out the rain as well as insects, making your camping experience better than ever. There's also a six-by-six awning for more shade when you're in the great outdoors.
| | |
| --- | --- |
| Bottom Line | Car camping tent that is quick to set up and lets you drive away with the tent erected |
4. RikkiTikki SUV Air Mattress
If you're just looking for an overnight rest in your Forester, then maybe an air mattress designed for SUVs is more your speed. This air mattress from RikkiTikki is designed for vehicle camping, made to fit in the back of an SUV or similarly-sized vehicle. The air mattress has eight different air chambers so you can customize it and inflate it to fit your Subaru (and how you sleep) perfectly.
The mattress is made from PVC for durability, but has a soft flocking material on it to make it more comfortable when you're sleeping—plus it helps make less noise when you move in your sleep. It comes with a two-way electric pump that has a car power plug as well as one for home, if you ever need to use it in the house. The two-way pump lets you inflate quickly, then helps you deflate quickly so you can get packed up and on your way with the mattress in its storage case.
| | |
| --- | --- |
| Bottom Line | Two-way pump, multiple chambers for a custom fit |
5. Bulldogology SUV Cargo Liner
We know your doggo is a good doggo, but we also understand that dogs, especially outdoors, tend to bring along more messes than you would ever have believed possible. The solution is a cargo area liner that protects your vehicle's interior from the mud, fur, and everything else that might have been dragged in while making the drive more comfortable for your dog.
This premium SUV cargo liner for your Forester is designed for quick and easy installation and removal thanks to headrest strap adjustment. It is multi-layered, with the top a waterproof, spill, and stain-resistant one followed by thick padding for cushion and comfort, and ending with a non-skid layer that's meant to keep the liner and your dog in place. Even better, the cover is extra long with bumper flaps so that you can protect your paint from claw marks, while making sure your dog doesn't slip when they're jumping into your Forester. It's even machine washable for when the messes are just too much for a wipe-down.
| | |
| --- | --- |
| Bottom Line | Added cushion, bumper protection, easy install |
6. Subaru Forester OEM Seatback Protector
You've protected your seats, your carpets, and your trunk floor, but there's still one part missing. The backs of your folding rear seats, especially when folded, are vulnerable to mud, sand, and other dirt and damage. This Subaru factory accessory covers the back of your 2014 to 2018 Forester's rear seats with a thick plastic layer complete with a non-skid surface and channels to help make sure any messes stay inside.
Since this is a factory accessory, it comes with two pieces that cover your seatback, but it also has a piece that goes on the cargo floor to cover the opening that happens when you fold the seats flat. That means complete protection of your carpet. The seatback protector also has cut-outs to allow access to the child seat anchors, meaning that while your seats are protected, so are your kids. They attach to the seatbacks with Velcro, as well as straps that go around the headrests.
| | |
| --- | --- |
| Bottom Line | Protects your seatbacks, stops items from falling into mechanism |
7. R5 Automotive Forester Floor Mat Set
Protect your vehicle carpets from mud, snow, slush, salt, and everything else that you drag into your Forester every day with these all-weather floor mats. They're designed to fit your vehicle perfectly thanks to using 3D laser scanning to get an image of the contours and shapes of the floor, then molded to match. It features a textured, non-skid finish that keeps your feet as well as your cargo in place as you drive, but is easy to clean with some soap and water once it gets too dirty.
The three-dimensional design gives deep compartments to trap liquids, oil, or spilled food debris, keeping them from getting on your carpet, and this set covers the front floor, rear floor, even the cargo area and driveline hump in the rear seat. The manufacturer says that the material used is non-toxic, odorless, and that it contains no latex. They'll also work with the factory mat mounting hardware to stay firmly in place.
| | |
| --- | --- |
| Bottom Line | Full set covers front, middle, and rear of vehicle |
8. Black Horse Off Road Push Bar
If you're using your Subaru Forester to head into the woods and down back roads and trails, even if you're careful you could end up having close encounters with brush, trees, and occasionally even wildlife. A push bar, like this one from Black Horse Off Road, is designed to protect the front end of your vehicle from those obstacles. It takes the hit, and possible scratches and dents, instead of your expensive front bumper.
The bar is made from steel for durability and custom fit to work with your Forester, with a black powder coat finish to prevent corrosion and let the bar last the life of your vehicle. No drilling or welding is required for installation, this bar is designed to attach to your Forester using existing factory mounting holes. It can be useful for when you bump into a rock by mistake, or for helping to nudge a fallen tree out of the roadway. It should also hit any obstructions before your fragile oil pan does, giving you time to stop.
| | |
| --- | --- |
| Bottom Line | Powder coat for corrosion resistance, steel for extra protection |
9. Tema4x4 Complete Lift Kit
Need a touch more ground clearance to help you get to the trail? Want to fit some taller tires, even if it's just for the looks? What you need is a 50mm lift that will fit your Subaru Forester and give you an extra two inches of ground clearance. Forget about parking curbs, trail ruts, even snow, dirt, and mud, this kit lets you drive right over them. The kit comes with everything you need to lift your Forester, including spacers for the front and rear, as well as for the trailing arms to ensure proper suspension geometry.
It also comes with the hardware you'll need to install. With this lift, you don't need to replace your factory struts and springs, though that also means that you won't have increased suspension travel. With Subaru's signature long-travel stock suspensions, that likely won't be a problem. Lower heights are also offered if you want to lift your vehicle, but not by quite so much.
| | |
| --- | --- |
| Bottom Line | Increased ground clearance, comes with all hardware |
10. CURT Steel Rooftop Cargo Carrier
Rooftop storage boxes are a great way to add more cargo capacity to your vehicle, but they aren't exactly flexible. If it won't fit in a long, skinny box, you can't really bring it with you. What's the fix? A cargo basket like this one. The CURT universal rooftop cargo carrier is 42-inches wide, 37-inches long, and four inches deep. Simple brackets attach it to your roof rack's crossbars, then you can strap just about anything to it.
From tents to coolers to gas, or even a spare tire, all of it can be easily strapped down to the basket's steel tube construction. Use straps or CURT also sells a net designed to drape over all of your cargo and keep it in place. A front fairing helps reduce wind noise and decreases the aerodynamic drag of the basket. If it's not big enough, you can purchase an extension to make it even longer, and the standard rack comes in two pieces to make it easier to store in your garage or basement when you're not using it.
| | |
| --- | --- |
| Bottom Line | Adds up to 17 square feet of storage, easily removable when not in use |
Find all the latest Subaru Forester reviews, comparisons, and information by clicking here.
---
We are committed to finding, researching, and recommending the best products. We earn commissions from purchases you make using the retail links in our product reviews. Learn more about how this works.
Photo credit: Subaru
Published April 23rd, 2021 8:01 AM
Popular Articles
Latest Comparisons
Car Buying Tools