283 Views
2023 Nissan Z Vs 2022 Chevrolet Camaro Comparison: Blue Meanies
November 11th, 2022 6:19 PM
Share
We're committed to finding, researching, and recommending the best products. We earn commissions from purchases you make using links in our articles. Learn more here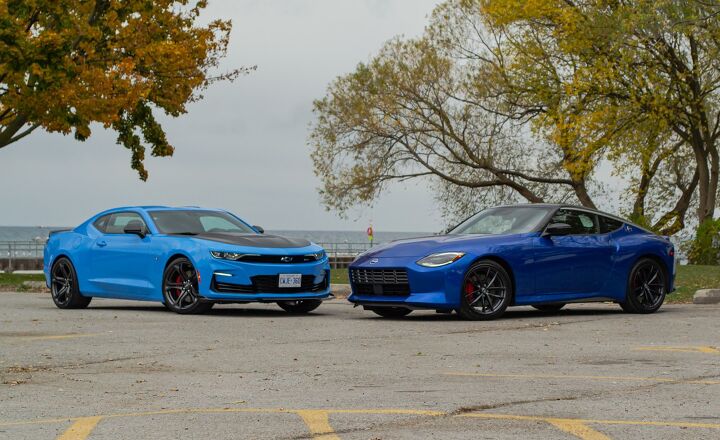 We try to do things a little differently here at AutoGuide. Thus, this odd-couple pairing of the new Nissan Z and Chevrolet Camaro.
We had an earlier comparison involving what are probably both of these cars' respective closest rivals: the Mustang GT and Toyota GR Supra. But that was an automatic-versus-automatic face-off; this one features two manual transmissions. The way managing editor Mike Schlee and I saw it, these two were the better pairing.
Get a Quote on a New Nissan Z or Chevrolet Camaro
And in a lot of ways, they are. Both of these blue meanies offer up at least 400 horsepower through a three-pedal setup, adding an extra layer of interaction in packages that are meant to be enjoyed. One is the pared-back two-seater; the other, the more compromised, occasional-backseat-use pony car.
Or at least, so we thought. A week with both of these cars showed that while they might be competitors, the Z and Camaro offer up two vastly different experiences.
Interior and Cargo Space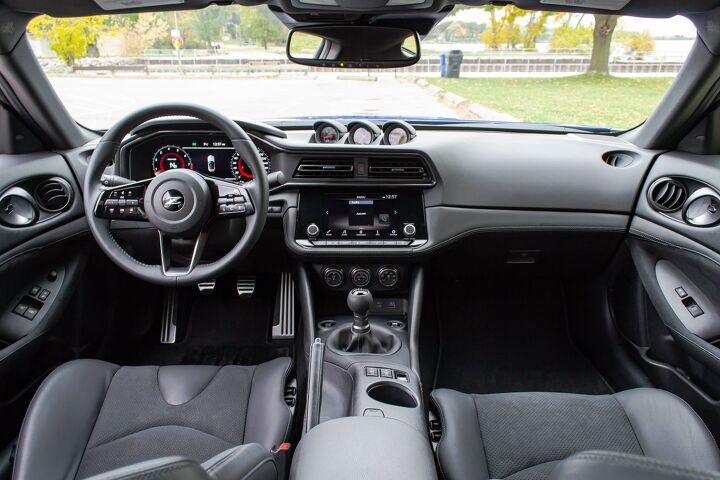 Z: If you've set foot in a 370Z in the last 13 years, the Z's interior should feel like reuniting with an old friend. The dashboard design is new, but continues to house the traditional trio of analog dials up top. Look further down and a modern touchscreen is nestled just above three rotary dials. The door panels are pure 370Z, with the same elliptical door handles. Nissan offers red, blue, and yellow leather interiors (the latter on the limited Proto Spec only), and they do a great job lifting cabin ambiance. This all-black example makes it easier to focus in on problem areas.
SEE ALSO:
2023 Nissan Z Second Drive Review: Zee Grows Up
"Interior materials leave a bit to be desired," says Mike, who starts the week in the Z. "Center console is cheap and still has toggle switch heat seaters from two decades ago." He's not wrong. The afore-mentioned door handles, for example, feel like they could be won from a vending machine. On a 50 grand sports car? A little less plastic wouldn't hurt.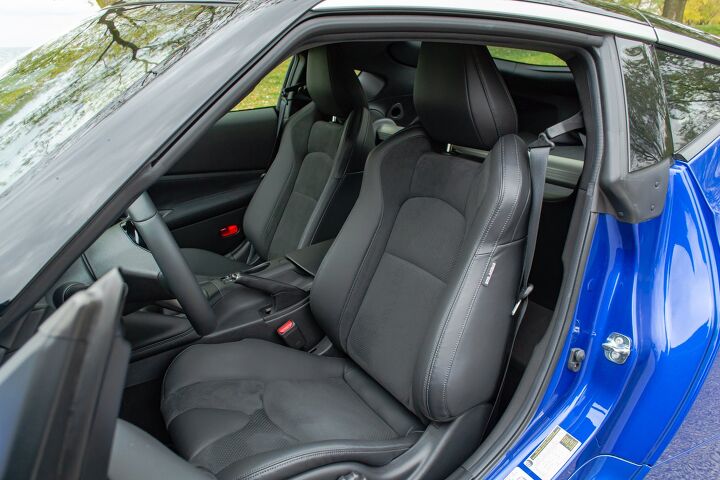 Both Schlee and I dock the Z points for its unusually high-mounted driver seat. With tall torsos, we're both brushing the headliner, and can't find the right angle for the rearview mirror. The inside-set seat adjustments take a bit of getting used to as well, but that's a peculiarity more than anything. The seats themselves are great, not too bolstered but retaining enough support to feel confident chucking it into corners.
The benefit of the Z's hatchback shape is an easily accessible storage space. There's a high lip to contend with, but once you've dropped gear in, the Nissan will hold a surprising amount.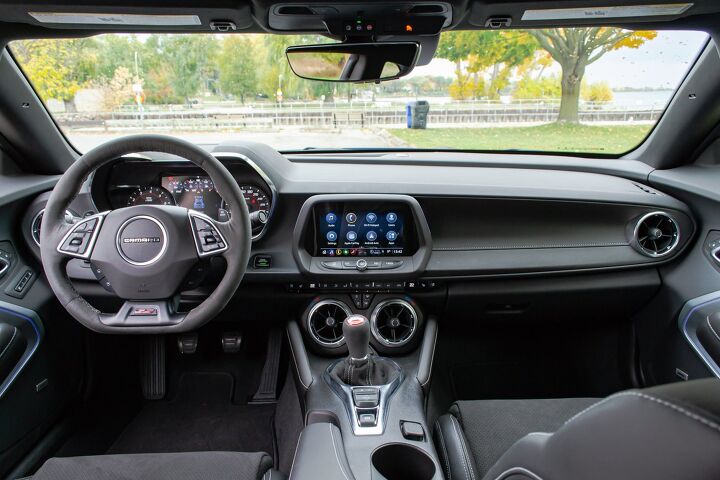 Camaro: The Camaro might be the larger car, but don't think that makes it the easier one to get in. The low roof height and heavily bolstered Recaro seats make it tough; my wife dubbed it her least favorite car I've tested all year solely because of these thrones. Once in, you're locked in place, but you'll need to pull the wheel close, so getting out is just as much of a struggle. The whole time, your eyes line up with the top of the windows, so prepare to lean forward at every stop light.
Material quality is better than the Z, with soft-touch plastics and smart use of Alcantara. We like the absolutely massive lower air vents, and the clever rotational controls to handle temperature. Ambient lighting gives the coupe an elevated night-time feel, too.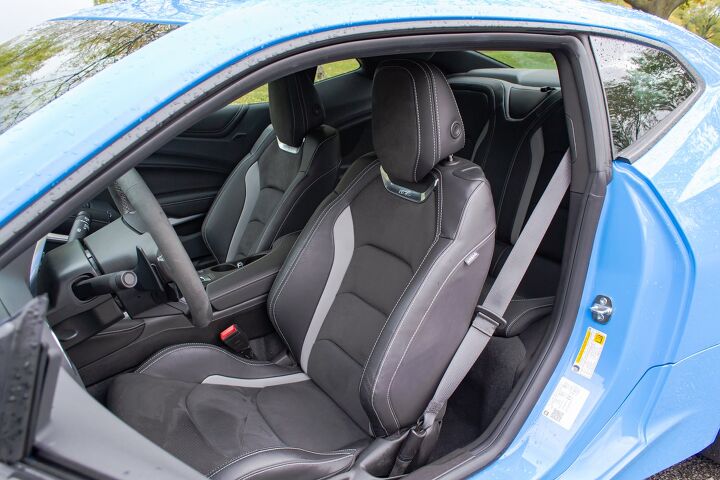 The Camaro's rear seats are best left to grade schoolers or adults you particularly don't like. I almost got stuck back there just snapping photos.
Similarly, the Camaro's trunk isn't too useful, with an awkwardly shaped access point and shallow depth.
Bottom Line: The Z's two-seat layout feels more special, no doubt. Space is a draw: neither car has good sightlines, but the Z's more generous glass area makes it feel airier, while the Camaro has a seating position that doesn't so closely resemble a bar stool. Good luck extricating yourself from the Chevy with any semblance of grace, however. Interior quality is simply better in the Camaro, as the Nissan suffers from too much brittle plastic at this price.
2023 Nissan Z vs 2022 Chevrolet Camaro: Tech and Features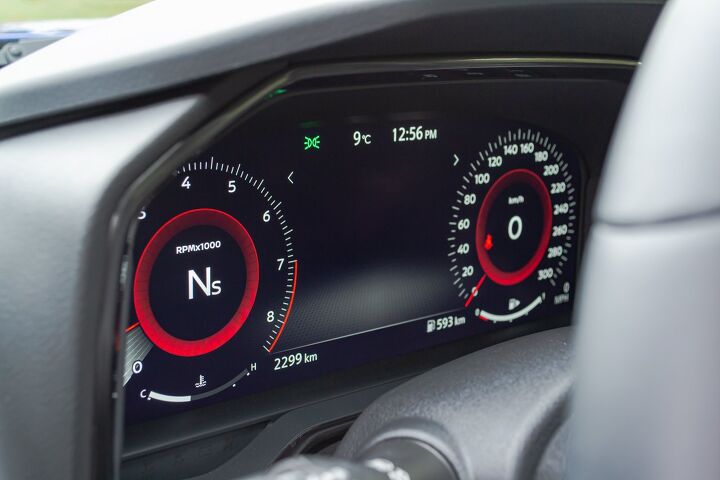 Z: A fun bit of market difference trivia: while the Z Performance trim nets the upsized 9.0-inch touchscreen in the US, the same trim keeps the standard 8.0-inch unit in Canada. That also means wireless Apple CarPlay and Android Auto are off-limits for Canadians. The wired version works fine, as does Nissan's native infotainment. There are two USB ports, one of each type, though no wireless charging pad. Heated seats, but not the steering wheel.
The other big news in the Z is the digital instrument cluster. We've seen similar setups in other modern Nissans, and it's the same great story here. The dials are crisp and easy to read, including the unique performance screen for the Z, which puts the rev counter front and center where it belongs.
Beyond that, the Z employs a decent amount of driver assists. Blind-spot monitoring and rear cross-traffic alert are both indispensable. The Z's rear-view camera is usable but grainy.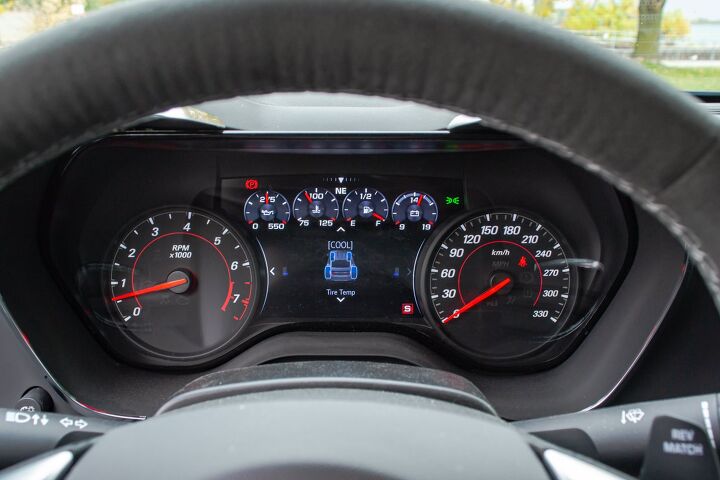 Camaro: Like the Z, the Camaro comes with an 8.0-inch touchscreen. It's a weird one, since it's tilted downwards for reasons known only to Chevy. The actual system is solid, GM's infotainment being simple to use—and now with wireless phone mirroring to boot. The instrument panel isn't fully digital like the one in the Z, yet it offers up myriad levels of info, including important track bits like tire temp, lap times, and more. The analog dials are classic white-on-black, trading whiz-bang newness for faultless legibility.
Above that, a head-up display (HUD) provides additional pertinent info. The HUD is the only one I've experienced in recent memory that remains just as visible with polarized sunglasses, too.
The Chevy thoroughly out-points the Nissan in creature comforts. It adds a heated steering wheel and ventilated front seats, not to mention a better sound system and dual-zone climate controls. On the driver assist front, it matches the Z with the usual automated emergency braking, rear cross-traffic alert, and blind spot monitoring.
SEE ALSO:
2022 BMW M240i Coupe First Drive Review: Focused on Fun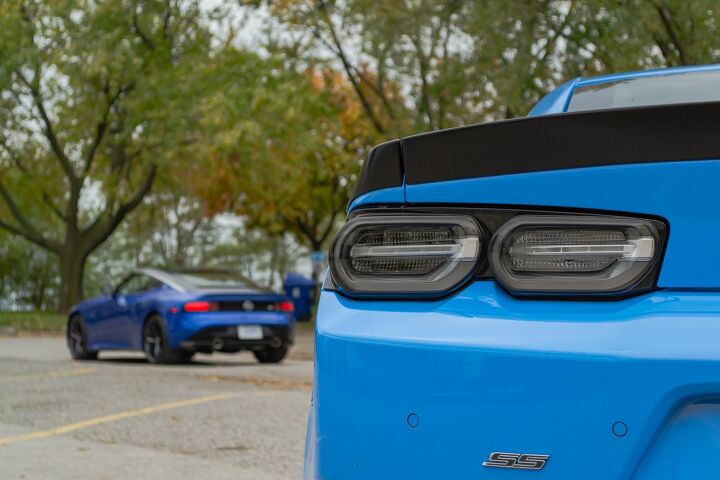 Bottom Line: No doubt about it, the Camaro has the edge here. Banish any idea that American cars are old-fashioned compared to their Japanese competitors; it's the Z that feels dated on the tech front.
Powertrain, Driving Feel, and Efficiency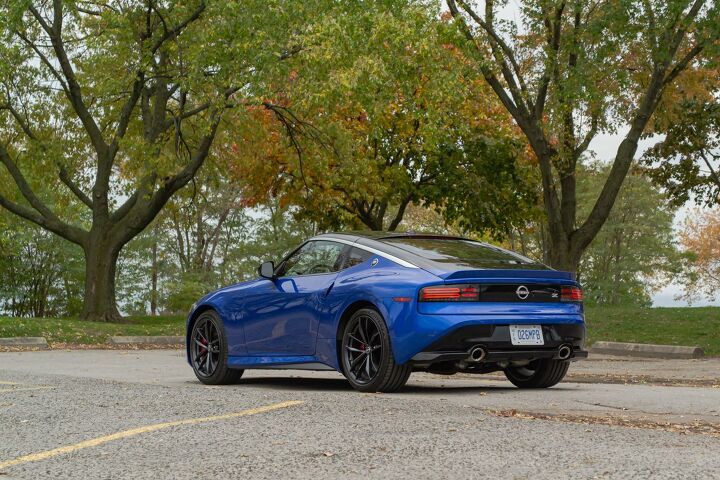 Z: Every 2023 Z makes its power from a turbocharged 3.0-liter V6, resulting in 400 horsepower and 350 pound-feet of torque. A six-speed manual is standard, while a nine-speed auto is optional. Go for the three-pedal setup like this one, and the Z Performance also gains a limited-slip differential. This is a strong engine, with ultra-linear power delivery making it feel like a large-displacement naturally-aspirated unit. We both wish it made a little more noise, however; the auto-equipped model has a raunchier sport exhaust which feels more appropriate.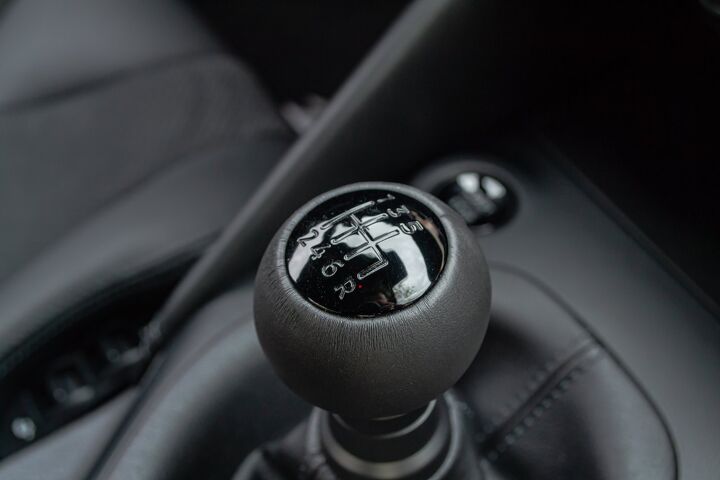 The shifter has reasonably short throws, though the clutch lacks definition. It's one of those setups you operate more on muscle memory than feel. The rev-matching works flawlessly, and we're not ashamed to admit we both use it in stop-and-go. Hey, we're only human.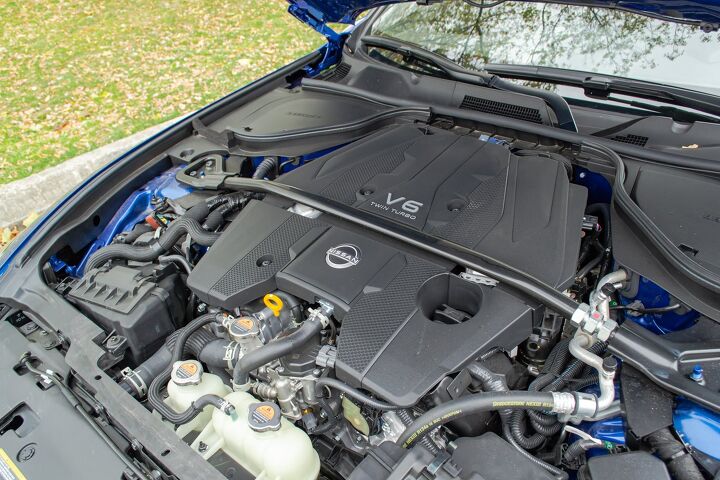 There's reasonable weight in the wheel, though the electronic power assistance makes for little feedback. Steering is quick, but not edgy. Nissan has stuck to a passive suspension setup in the Z, so it has focused on a well-rounded ride. That's the right choice for a car that's likely to see just as much cruising as circuit time, if not more. The Z breathes with the road, soaking up bumps while remaining composed. The brake pedal is positive and progressive in operation.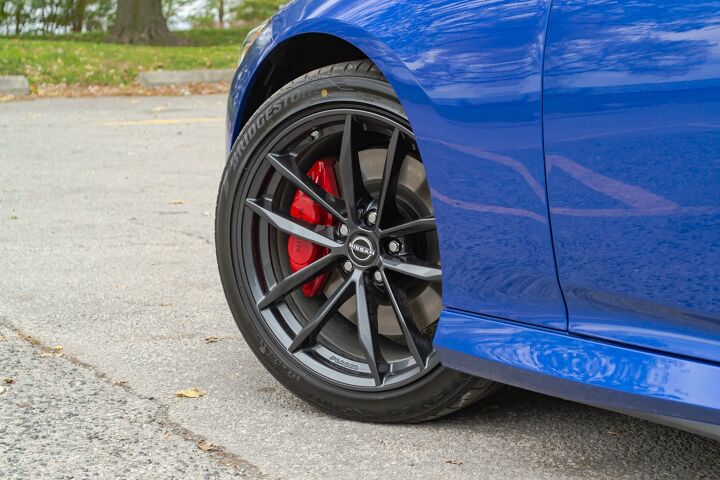 Combine it all together and the Z is one of the most approachable 400-horsepower cars out there. It's friendly and eager to explore, but its limits are lower and hazier than the Camaro's.
Fuel economy figures are the better of this pair, if only just. We're talking 18 mpg city and 24 mpg highway, for an even 20 mpg combined. (Canadian figures: 13.4, 10.0, and 11.9 L/100 km).
SEE ALSO:
2021 BMW M4 Competition Review: Smells Like Success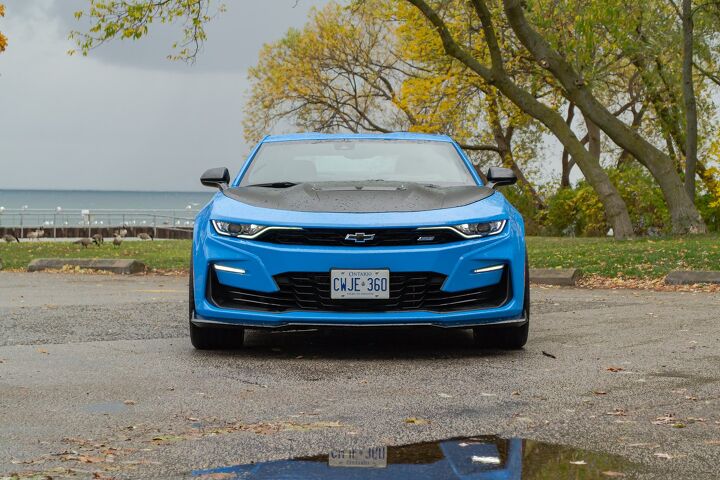 Camaro: This thing is loud. Like, piss off your neighbors and get removed from the holiday card list loud. In Sport and Track mode the Camaro makes more popcorn noises than the local theater on Marvel movie opening night. The 6.2-liter LT1 V8 is a barely-contained animal, so much that it almost seems wrong it only makes 455 horsepower and a matching number for peak torque.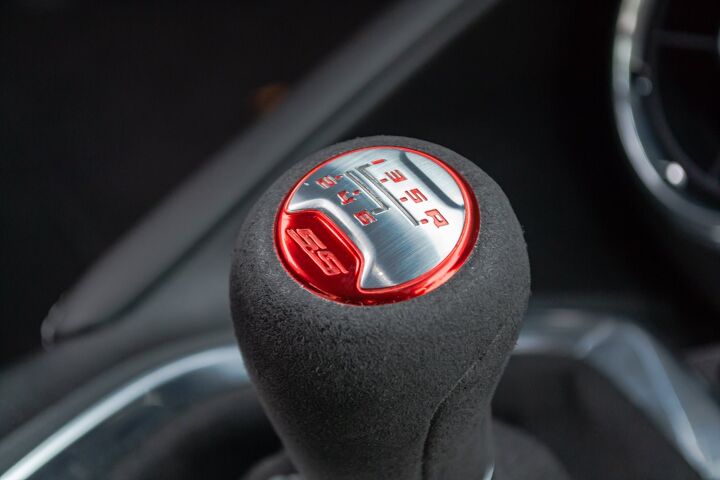 The six-speed Tremec transmission perfectly matches the Camaro's metal attitude. The stubby shifter needs a concerted shove into gears, yet it's so satisfyingly mechanical in operation. As is the case in the Z, there's rev-matching here too, fooling every passerby within earshot into thinking you can heel-and-toe with the best of 'em.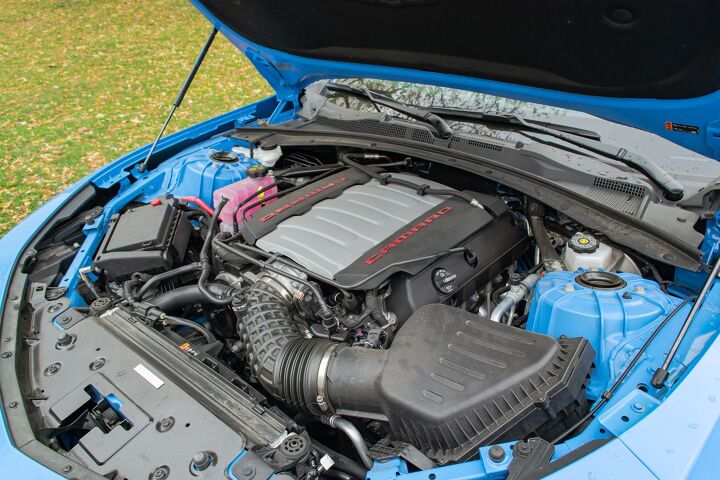 SEE ALSO:
2023 Toyota GR Supra Manual First Drive Review: Sticks the Landing
Confession time, dear reader: I hadn't actually driven a modern Camaro before this. Schlee hadn't driven a Camaro since the previous generation, either. But both of us loved how well the various aspects of this 1LE blended together. The weighty steering is a joy, with good feel and laser precision. It might be a little heavier than the Z, but the Camaro felt nearly as tossable. There's tons of grip from those huge rear 305s—and there'd probably be more too, if they hadn't seen as much abuse as this tester's had. That you can then dive into the menus and adjust the suspension, steering, differential, and other settings is icing on the cake.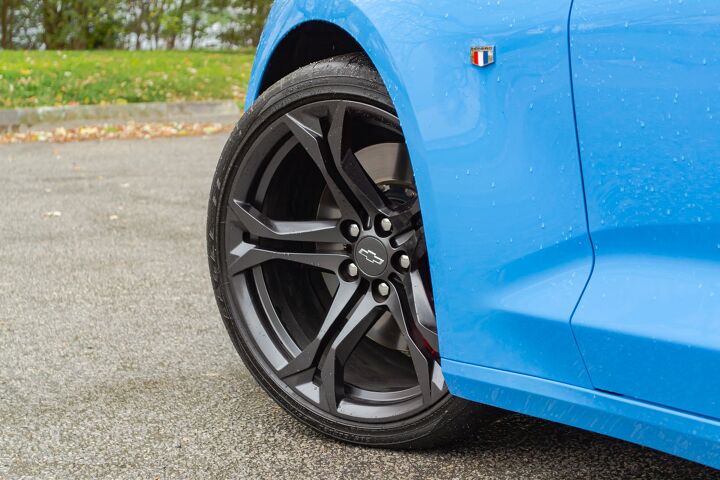 The drawback to this seemingly impossible level of poise for something so large and chunky is that the Camaro rides stiff. Very stiff. Even in its laid-back Tour mode, the adjustable suspension sends more vibrations and thuds into the cabin. The huge tires find any excuse to follow imperfections in the road, so a firm grip on the wheel is a must. The Camaro doesn't believe in rest; it's a Costco-sized can of Red Bull with four seats and an engine to make the Meradalir volcano seem subtle.
All these theatrics hardly affect the costs at the pump relative to the Nissan, at least officially. The EPA rates the Camaro at 16 mpg city and 24 mpg highway, for a 19 mpg combined figure. (Canadian figures are 14.9, 9.9, and 12.6 L/100 km.)
Bottom Line: We're just going to come out and say it: the Camaro is the best-driving circa-400-horsepower coupe you can buy at this price. The Z handles rough roads better, but for everything else, the Camaro is the more thrilling choice.
2023 Nissan Z vs 2022 Chevrolet Camaro: Styling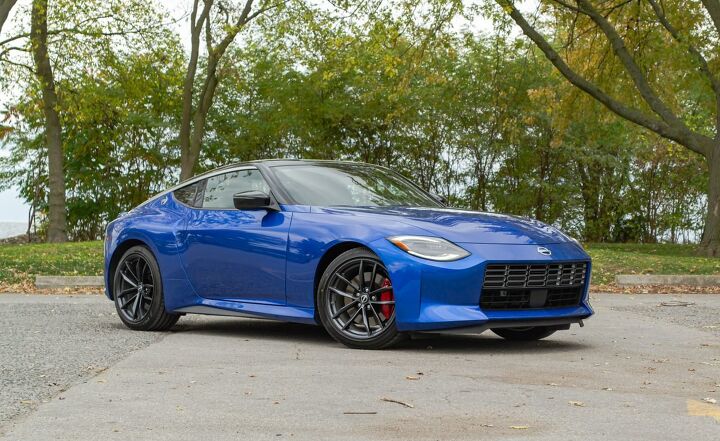 Z: Nissan has knocked it out of the park with the styling of the new Z. There's a maturity here that the 370Z never had, and the various heritage nods are well done. The blue looks ace, too. I had the Z over the weekend, and not since the first Mach-E have I driven something that's drawn so many stares and comments. The long hood, clean surfacing, and wicked-cool taillight design make the Z one of the prettiest sports coupes you can buy.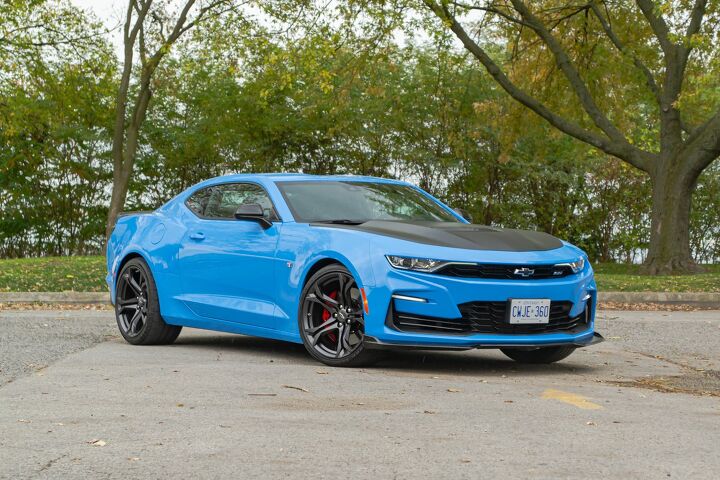 Camaro: I'm sure there are people who like the look of the Camaro. The bright blue paint helps, but beyond that, this just isn't a very attractive car to these eyes. The pair of hasty facelifts a few years ago did it no favors, only adding fussiness. The Camaro sits in an awkward no man's land, not as cohesive and modern as the latest Mustang, nor as unabashedly retro as the Challenger. It does have an excellent stance with those massive 305s filling the arches, however.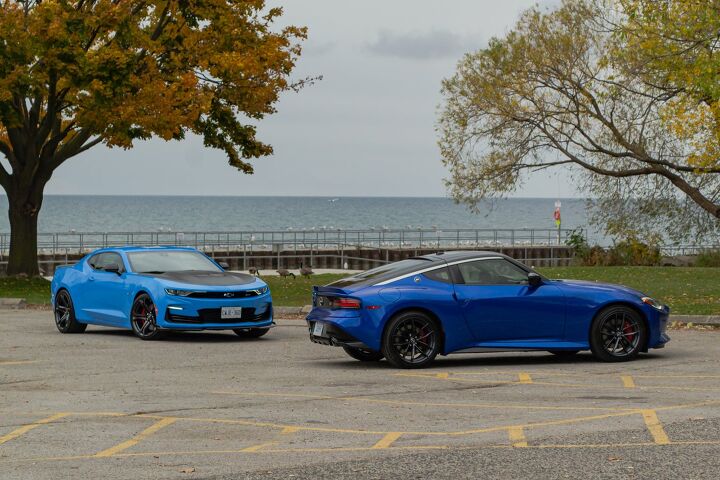 Pricing and Value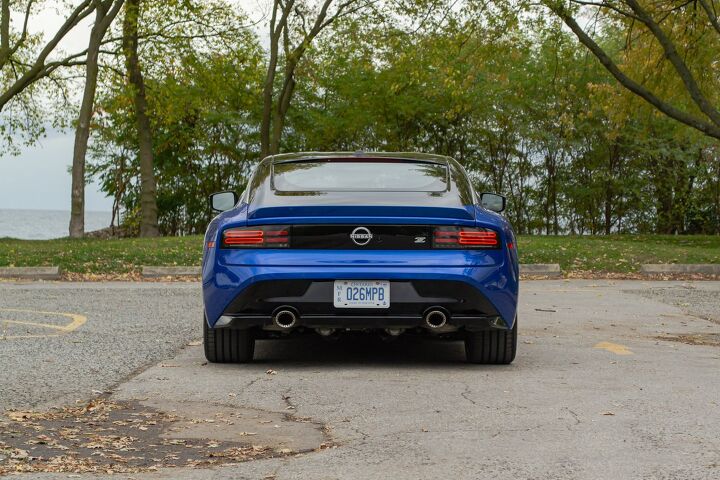 Z: Nissan is keeping pricing super-simple with the reborn Z. Getting into this sharply styled coupe can be done for just $41,015 ($48,448 CAD) including destination—at least in theory, if a dealer isn't adding a bunch of market adjustments. That's for the Sport trim, which sticks to a simpler, cloth-covered interior and smaller wheels, but still gets the sweet 400-horsepower V6. This is the Performance model, which starts at $51,015 ($60,448 CAD). In addition to an upgraded interior, it sees larger wheels, a limited-slip, rev matching, improved infotainment (in the US), and a few other goodies. The only other options are the premium paint choices, and the auto 'box, which is no-cost in the US, but $1,500 CAD north of the border.
Final tally: $52,310 ($61,398 CAD).
Camaro: The Camaro offers dizzying levels of variables, with four engine choices, auto or manual transmissions, coupe or convertible body styles, and numerous options packages. Due to all that, it can be had for far less than the Z, at just $25,395 ($31,498 CAD), including destination. Comparing the turbo-four is unfair, though; the least-expensive V8 option is the LT1, still undercutting the Z at $35,395 ($43,598 CAD).
This one keeps things nice and easy, though: a 2SS with the 1LE Track Performance Package ($7,000 / $8,495 CAD), and the premium Rapid Blue paint ($395 / $495 CAD). Add that all up and you're looking at $51,240 ($61,038 CAD).
SEE ALSO:
2021 Ford Mustang Mach-E GT Review: Quicker, Yet Compromised
Bottom Line: Somehow this Camaro is priced under the Z. It's better equipped, so it's the easy winner here.
2023 Nissan Z vs 2022 Chevrolet Camaro SS: Verdict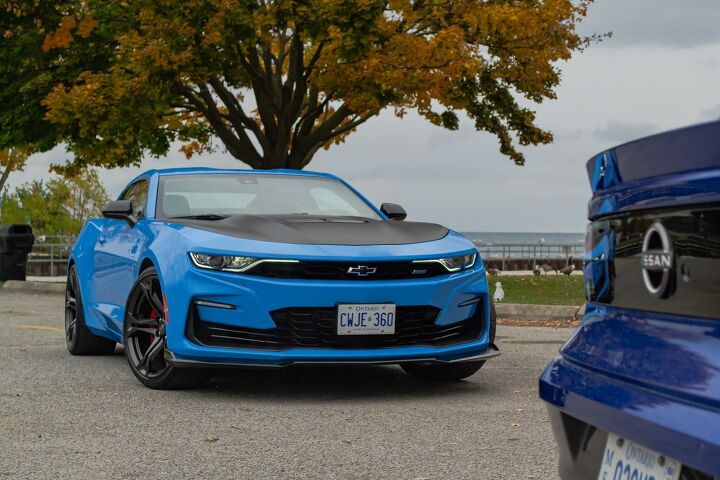 They say hindsight is 20/20. As it turns out, we were right to separate the Mustang and Camaro, as well as the Z and Supra. The Toyota and Chevrolet are kindred spirits, and same goes with the Ford and Nissan.
The new Z is a fine all-rounder. It's quick, looks great, and the hatchback makes it surprisingly practical. The ride is smooth, far less punishing than the Camaro on rough tarmac, but still capable of letting loose on the right roads. It's less intimidating to drive than the big Bow Tie brute, but the Z also lacks the tactile sharpness that makes the Camaro such a blast when pushed. This top-level trim also comes across feeling cheap inside, and lacking in modern features for the price. Nissan has built a great grand tourer, and draped a sports car body on top.
The Camaro is larger, but it's undoubtedly the sports car of this match-up. It's noisy, tough to get in and out, has terrible visibility—and made us grin like idiots all week. This is not the sort of car we'd want to live with all year long, but the Camaro's sweet steering, hefty shifter, and ultra-tractable V8 make it the back-road dream. Schlee sums it up: "name a better equipped, better performing car for the price."
If you need everyday compatibility, the Chevy ain't it, chief. That's the Z's forte. Want a car that (re)ignites your passion for driving, and can embarrass just about anything at the next track day? It's Camaro'clock—and it's our winner of this face-off.
Become an AutoGuide insider. Get the latest from the automotive world first by subscribing to our newsletter here.

Kyle Patrick
Kyle began his automotive obsession before he even started school, courtesy of a remote control Porsche and various LEGO sets. He later studied advertising and graphic design at Humber College, which led him to writing about cars (both real and digital). He is now a proud member of the Automobile Journalists Association of Canada (AJAC), where he was the Journalist of the Year runner-up for 2021.
More by Kyle Patrick
Published November 11th, 2022 6:15 PM
Popular Articles
Latest Comparisons
Car Buying Tools