1.4K Views
Nissan Ariya Vs Hyundai Ioniq 5: Which EV SUV is Right for You?
September 26th, 2022 11:14 AM
Share
We're committed to finding, researching, and recommending the best products. We earn commissions from purchases you make using links in our articles. Learn more here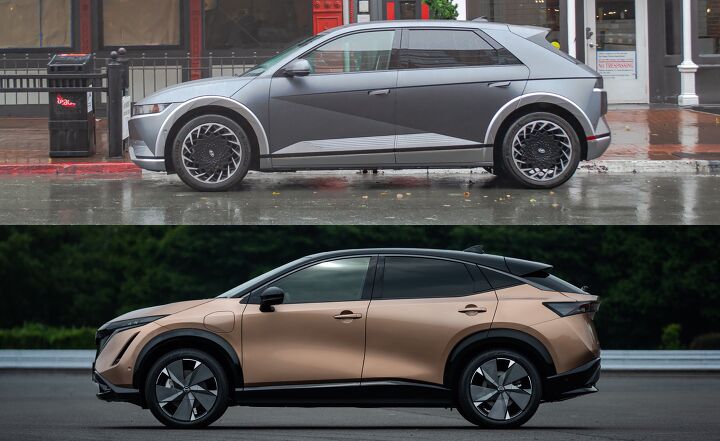 We're taking a deep dive into the features and capabilities of the Nissan Ariya vs Hyundai Ioniq 5.
The midsize follow up to the Nissan Leaf was fraught with delays during its production, but is now finally hitting streets this year. There's proper hype around the release of the company's new EV. Enough, that when combined with production constraints, Nissan has had to restrict orders of the Ariya just months after it was released.
Get a Quote on a New Hyundai Ioniq 5 or Nissan Ariya
Hyundai's Ioniq 5 was also released with ample anticipation. Much of it due to its unique, retro-futuristic design. While deliveries of the Ioniq 5 have already hit the streets, it remains a popular option and new orders still carry a hefty wait time.
Which of these hyped-up EVs deserve your attention and money? We add up the numbers to find out in a battle of the Nissan Ariya vs Hyundai Ioniq 5.
Style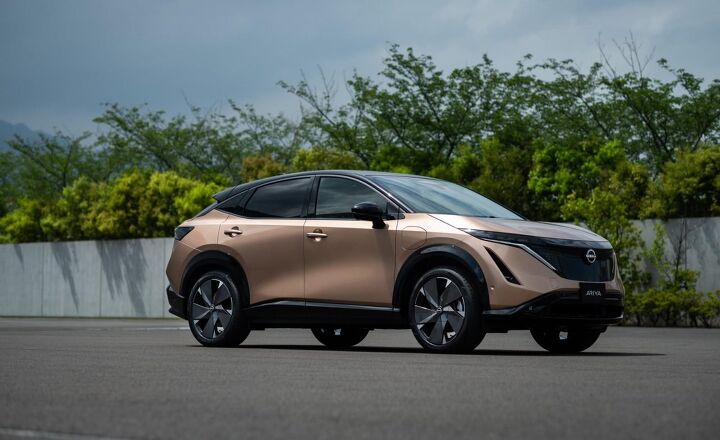 Nissan Ariya: As their second foray into a full EV product, Nissan leaned into what they called "timeless Japanese futurism" as their inspiration for the Ariya. Defined by smooth body panels and minimalist details, it's a departure from the sharp lines and angles of the current line up. The distinct "Shield" grille is now friendlier, lined by the redesigned company logo and slim LED lights. A steep C-pillar creates a sportier shape, concluded at the rear by a one-piece "light blade". The Ariya represents the Japanese concept of "Iki", an aesthetic principle that suggests splendor through whispers rather than shouting.
SEE ALSO:
2023 Nissan Ariya Hands-On Preview: 5 Things We Learned About Nissan's Next EV
Described as a "sleek cafe lounge on a starship", Nissan has their sights on the future but may be exaggerating the Ariya's interior design. The cabin is free from clutter and mostly devoid of mechanical buttons. Attention in the interior focuses on the flat floor layout and a dual-screen cluster/infotainment setup, and also features Nissan's zero-gravity seats.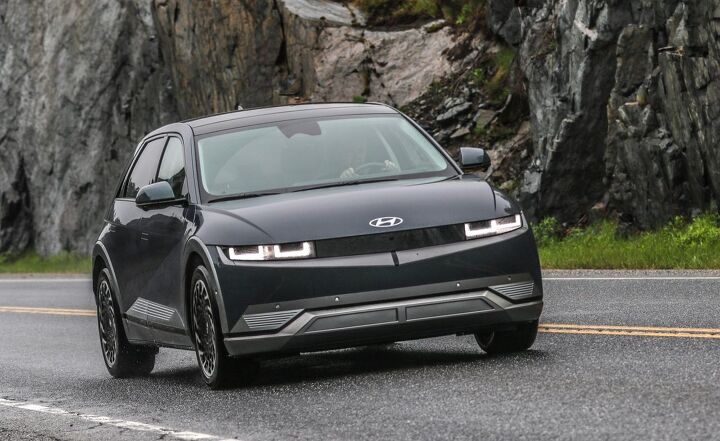 Hyundai Ioniq 5: The Ioniq 5 is all about style. Designed with almost exclusively flat surfaces, sharp angles, and defined edges, the Ioniq 5 may be a signal of what's to come from Hyundai's future lineup. The immediately distinct feature is its Parametric Pixel lights. They're an obvious nod to retro-futurism and emphasizes the Ioniq 5's overall boxy design language. Contrasting wheel arches and side skirts make for a slightly rugged look. The rear continues on the clean design (even eschewing the rear wiper).
The interior design is decidedly less adventurous, albeit still with a focus on comfort. You'll find the same dual 12.3 inch screen set up as its Kia cousin. But with a thick white bezel akin to the first generation Apple iPad. A sliding center console slides front to back, allowing the footwell to open across the cabin and highlighting the flat floor configuration. At the right side of the digital gauge cluster is also a magnetic notice board, to pin up your favorite photos or notes.
Bottom Line: Swoopy versus squared, the Ariya and Ioniq 5 represent two very different takes on futurism. The Nissan may be a more palatable approach for new EV shoppers, veering toward premium luxury. The Ioniq 5 is a blend of retro and sci-fi, but definitely won't blend into the rest of traffic on the road.
Cabin Space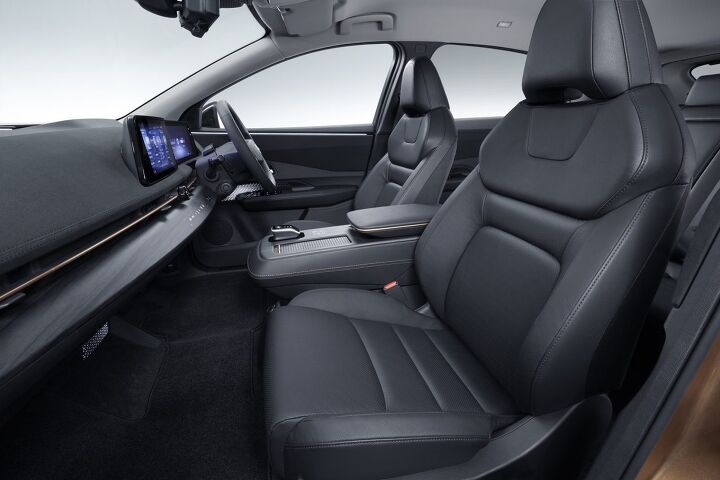 Nissan Ariya: Official measurements for the Ariya's interior are not available yet. But the cabin features a flat floor that is typical of many EV designs. Slim-profile Zero Gravity seats add to the airiness of the interior. Designers have chosen to relocate climate control hardware under the hood, freeing up space on the inside. We're curious to see how spacious the rear seats are, as the sweeping roofline may put a damper on back seat headroom.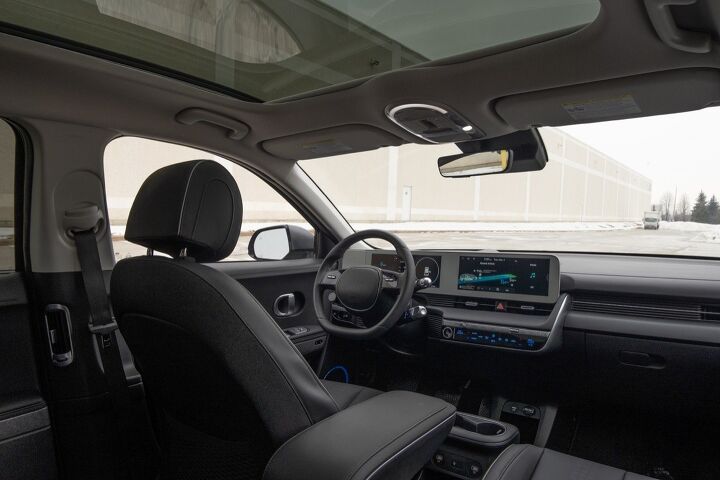 Hyundai Ioniq 5: The cubic Ioniq 5 allows for 39.8 inches (1011 mm) of headroom in the front row, along with 41.7 inches (1059 mm) of leg room, 57.7 inches (1466 mm) of shoulder room, and 53.9 inches (1369 mm) of hip room. In the back, you'll find 38.7 inches (983 mm) of headroom for second row passengers. Plus 41.7 inches (1059 mm) of leg room, 57.7 inches (1466 mm) of shoulder room, and 53.6 inches (1361 mm) of hip room.
Bottom Line: We're keen to see how the swoopy Ariya stacks up to the square Ioniq 5 in interior space as we wait for the official numbers from Nissan to be released.
Nissan Ariya vs Hyundai Ioniq 5: Powertrains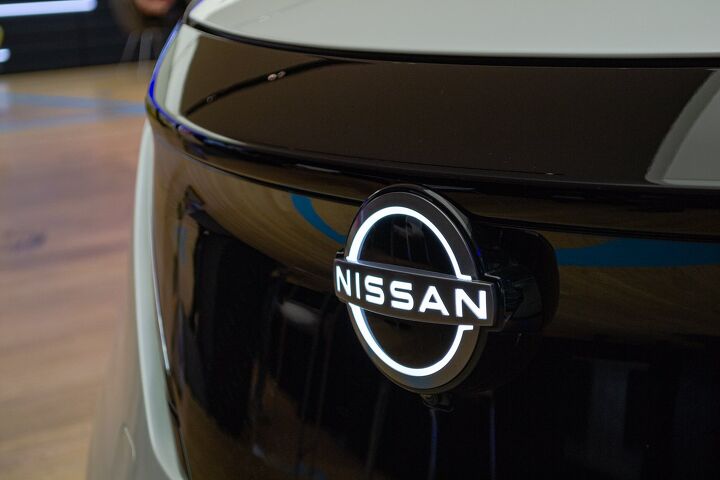 Nissan Ariya: Not all configurations of the Ariya are available at launch. But we know that Nissan will be offering at least two battery sizes. A smaller 63.0 kWh will be in future entry-level cars, while a 87.0 kWh long range battery is found on all US launch cars. Single motor Ariyas will produce 238 hp and 221 lb-ft of torque through the rear wheels. All-wheel drive cars are powered by dual motors with a combined output of 389 hp and 442 lb-ft of torque.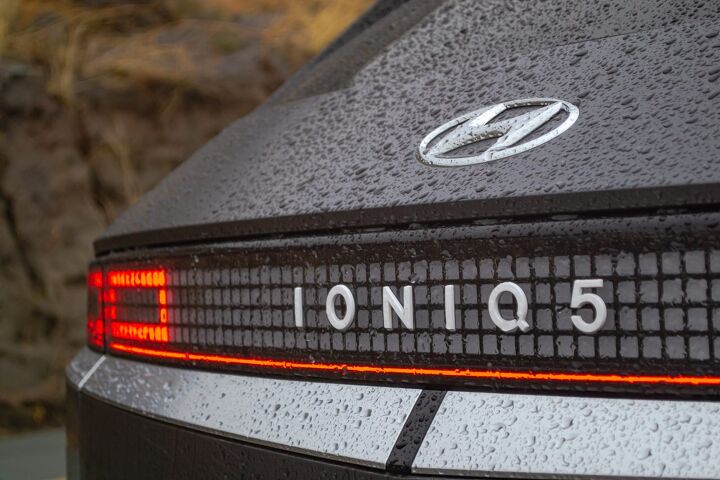 Hyundai Ioniq 5: The Ioniq 5 can be had with two battery sizes and either single or dual motor configurations. A 58.0 kWh battery stands in as the short range option. Longer range options feature a larger77.4 kWh battery. Single motor outputs range from 168 hp to 225 hp, with 258 lb-ft of torque and drives just the rear wheels. The dual motor setup puts out 320 hp and 446 lb-ft of torque.
SEE ALSO:
Kia EV6 vs Hyundai Ioniq 5 Comparison: Sibling Rivalry
Bottom Line: At launch, Nissan has packed the Ariya with larger battery options and more powerful motors than anything Hyundai has put into the Ioniq 5. The Ioniq 5 however weighs less than the equivalent Ariya. Needless to say, we're eager to see how they compare against each other in on-road testing.
Efficiency and Range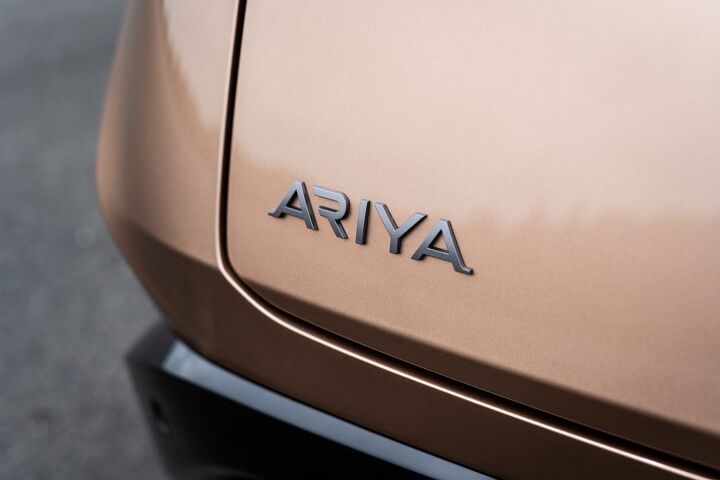 Nissan Ariya: Current Ariya models have an EV range of 265 miles (426 km) up to 304 miles (489 km), depending on how it's configured. To maximize range, buyers should look into the rear-wheel drive Venture+ trim. It has the larger battery pack but omits the extra weight and friction of all-wheel drive. As of this writing, official consumption figures have yet to be released.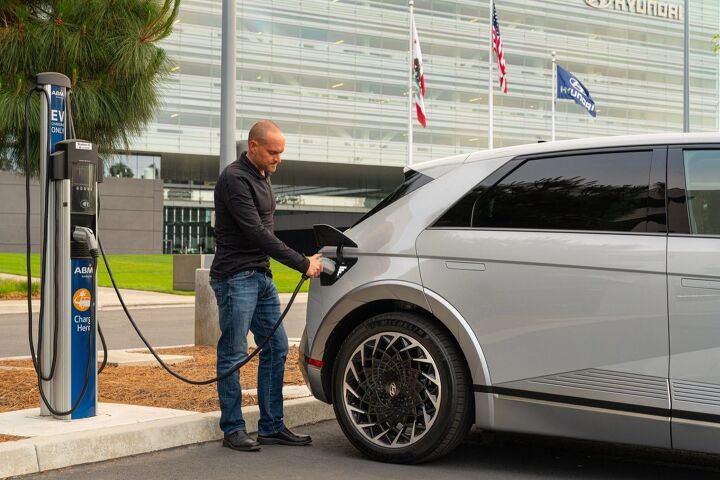 Hyundai Ioniq 5: Depending on how you spec the Ioniq 5, you can get up to 303 miles (488 km) of EV range, or as little as 220 miles (354 km). The most efficient configurations of the Ioniq 5 are rated for up to 132 MPGe (1.8 Le/100km) for city driving, 98 MPGe (2.4 Le/100km) for highway, and 114 MPGe (2.1 Le/100km) combined.
Bottom Line: EV driving range between the Ioniq 5 and Ariya are neck-and-neck when featuring similar powertrains. The tie breaker will come down to how efficiently the Ariya uses its motors and battery.
Cargo and Towing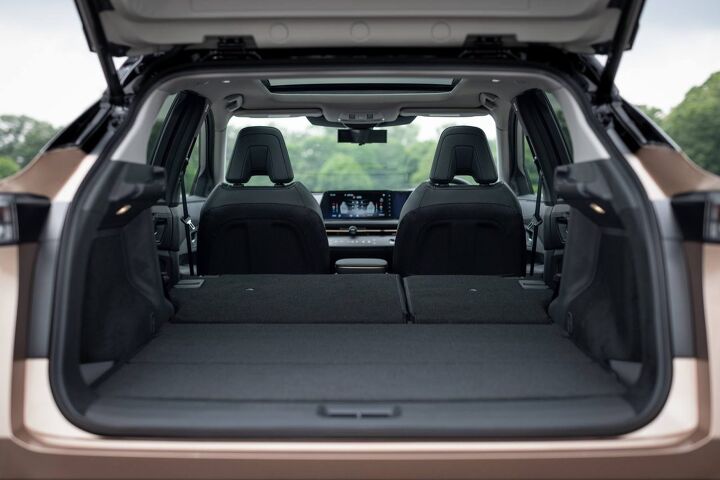 Hyundai Ioniq 5: The Ioniq 5's squared-off design allows for ample cargo room to haul. In the back, there is 27.2 cubic feet (770 L) of storage behind the second row of seats. This jumps to 59.3 cubic feet (1679 L) with the back seats folded down. At the other end, there is also a 0.85 cubic feet (24 L) frunk for smaller items. The Ioniq 5 will also tow up to 2,300 lbs (1,043 kg), but only with the SEL or Limited.
Bottom Line: Nissan's official cargo numbers are not yet available. Still, we can predict the Hyundai will have an edge in hauling and towing.
Nissan Ariya vs Hyundai Ioniq 5: Safety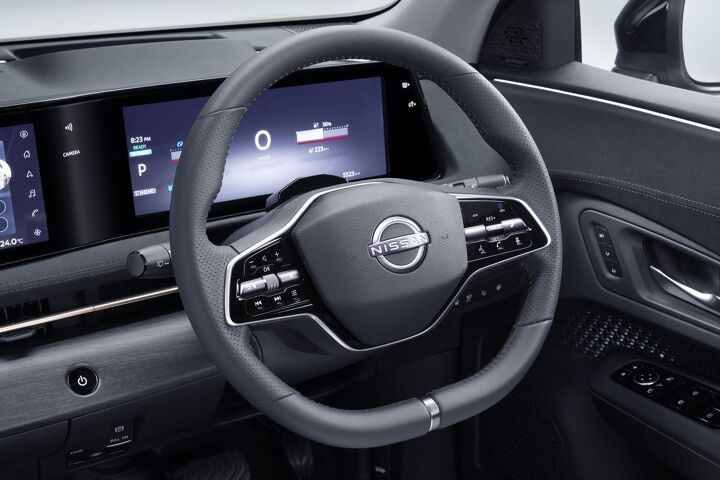 Nissan Ariya: The Ariya comes with an impressive set of safety features, both passive and active. The Nissan Safety Shield 360 uses available cameras, radar, and sonar to guide and alert the driver as needed. It includes Automatic Emergency Braking with Pedestrian Detection, Lane Departure Warning, Blind Spot Warning, Rear Cross Traffic Alert, and Rear Automatic Braking. All Ariyas also come with Intelligent Lane Intervention, Intelligent Blind Spot Intervention, ProPilot Assist, Intelligent Cruise Control, Distance Control Assist, Intelligent Auto Headlights, Intelligent Driver Alertness, and Traffic Sign Recognition. More premium trims also receive a front central seat-mounted supplemental airbag, ProPilot Assist 2.0 and ProPilot Park, and rain-sensing wipers.
Hyundai Ioniq 5: As standard, all Ioniq 5s come with Blind Spot Collision Avoidance Assist, Rear Cross Traffic Collision Avoidance Assist, Parking Distance Warning Reverse, Forward Collision Avoidance Assist, Lane Keeping, Lane Following, Intelligent Speed Limit Assist, Safe Exit Assist, and Smart Cruise Control with Stop & Go. Opt for higher trims, and you can get a Surround View Monitor, Blind Spot View Monitor, Parking Distance Warning Forward, and semi-autonomous Highway Driving Assist.
Bottom Line: Most EVs are jam packed with safety technology these days, especially in this segment of the market. You'll be hard-pressed to pick a wrong car based solely on what it offers in safety features. We consider this one a tie.
Tech and Features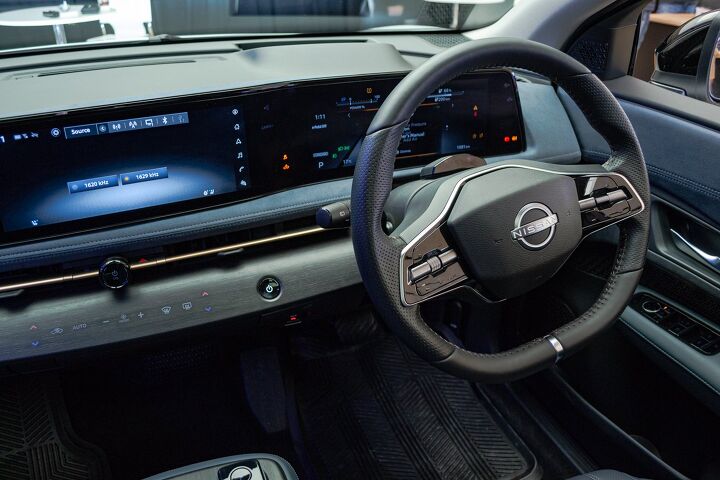 Nissan Ariya: Nissan equipped every Ariya with dual screens to take the place of the traditional cluster and infotainment screen. Wireless Apple CarPlay and wired Android Auto comes as standard, as is a 6-speaker sound system, power liftgate, and over-the-air updates. The Evolve trim adds a panoramic moonroof, heads-up display, motorized slide center console, heated steering wheel, driver's seat memory, front and rear heated seats,wireless device charging, and an 8-way power-adjustable seat for both the driver and front passenger. The Premiere launch trim adds some interior lighting details while the Platinum trim upgrades to leather seating surfaces, power tilt/telescoping steering wheel, front passenger seat memory, cooled seating for the front, and a 10-speaker Bose premium audio system.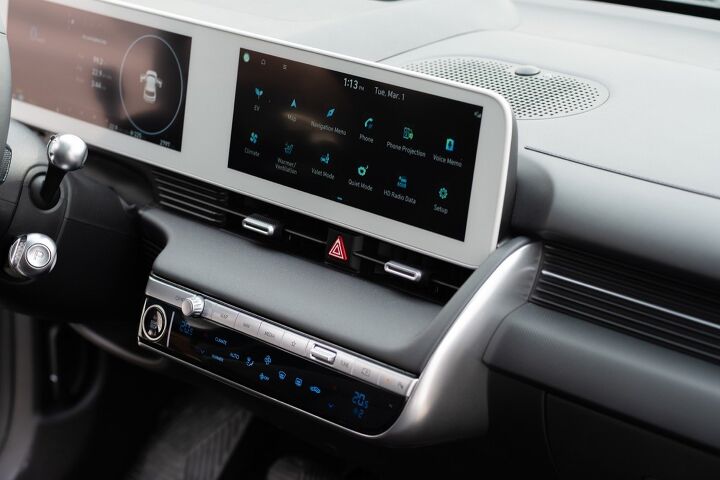 Hyundai Ioniq 5: It's impossible to get a sparsely-equipped Ioniq 5. As standard, every Ioniq 5 comes with power-adjustable lumbar support for the driver, heated front seats, Android Auto and Apple CarPlay, and dual-zone climate control. Upgrading to the SEL adds wireless device charging, a heated steering wheel, ambient lighting, and HVAC vents for the second row. The range-topping Limited version gets an exclusive "Vision" roof, a power-adjustable passenger seat, vented seats for the front, seat memory, driver seat massage, a Bose audio system, and an augmented reality heads-up display system. The Limited also features vehicle to load (V2L) functionality, making your electronics-filled glamping dreams an easy possibility.
SEE ALSO:
2022 Hyundai Ioniq 5 First Drive Review: The Future is Now
Bottom Line: Both vehicles use a side-by-side setup of dual displays as the centerpiece of the interior and offer a ton of equipment, but the Ioniq 5 Limited bundles in more tech for less money than the Ariya Platinum or Premiere.
Pricing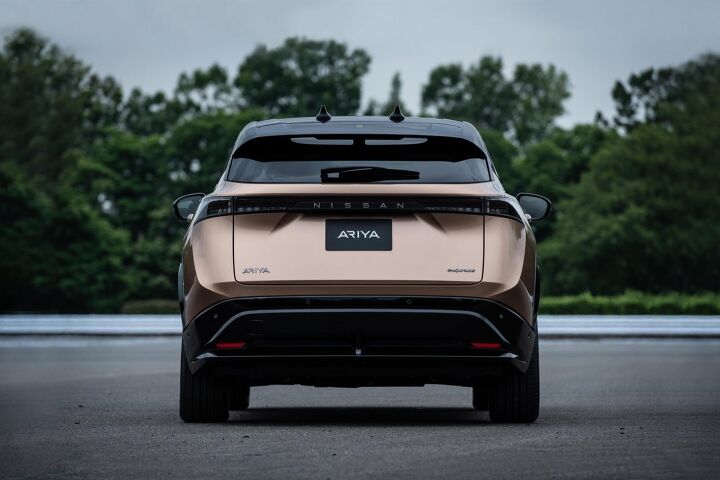 Nissan Ariya: As the Ariya is a brand new vehicle for Nissan, configurations and trims are limited at launch. Four trim levels are available during the reservation period: Venture+ ($47,125), Evolve+ ($50,125), Premiere ($54,625), and Platinum+ ($60,125),. All prices of course including a $1,175 destination charge. Other trims and models with a smaller battery will become available in the future.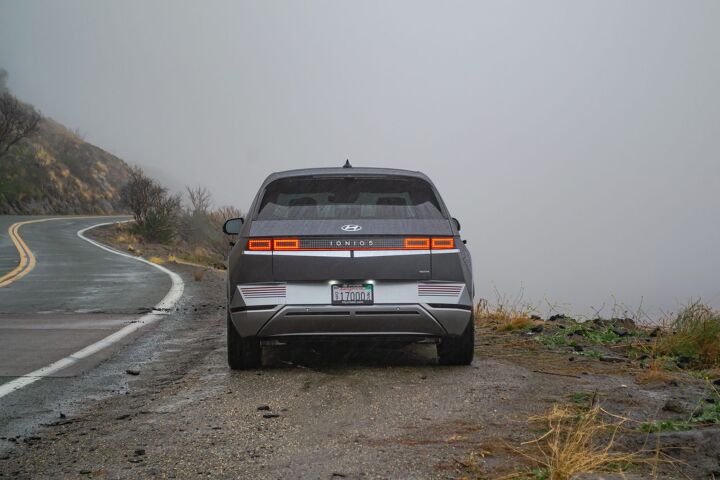 Hyundai Ioniq 5: The Ioniq 5 range splits into three trim levels. All offer either rear-wheel drive or all-wheel drive. The SE Standard Range with the smaller battery is starts at $41,245, including a $1,295 destination charge. Add in a larger battery on the SE and you'll be looking at $45,295. The SEL starts off at $47,545 for rear-wheel drive, and the Limited at $52,395.
Bottom Line: The Ioniq 5 starts off at a slightly lower price than the Ariya. At the other end, the Ariya Platinum commands a hefty amount over the Ioniq 5 Limited but doesn't offer all that much more compared to the Hyundai.
Nissan Ariya vs Hyundai Ioniq 5: Verdict
The Ioniq 5 can be a polarizing design execution that may catch the attention of some, or deter buyers altogether. The Ariya's styling is more conventional, but does lack of cargo space and has a heftier price tag. That puts it at a disadvantage when competing with the Hyundai. Until we get our hands on an Ariya for some real world testing, it's tough to declare an outright winner. But when pitting features and capabilities head-to-head, the Hyundai Ioniq 5 holds the advantage.
Become an AutoGuide insider. Get the latest from the automotive world first by subscribing to our newsletter here. Published September 26th, 2022 11:14 AM
Popular Articles
Latest Comparisons
Car Buying Tools