181 Views
Nissan Pathfinder Vs Mazda CX-9 Comparison
April 6th, 2022 2:47 PM
Share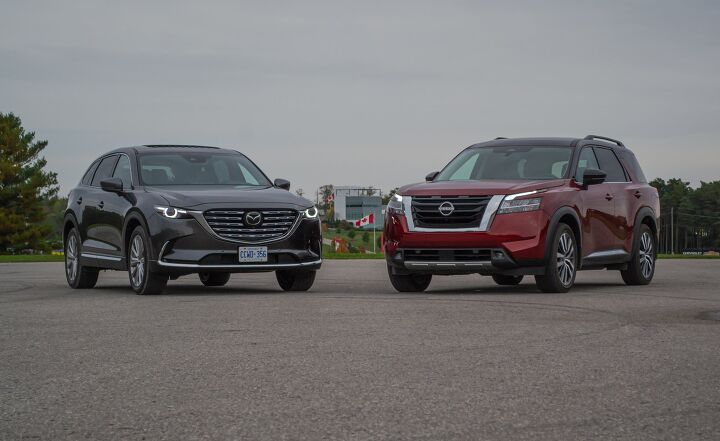 To suggest all-wheel drive three-row crossovers are popular is akin to saying the sun is a bit hot. Or the Montreal Canadiens are off to a bad start this season.
Trawl through any suburban neighbourhood and you'll find hundreds of the things, parked in driveways of mid-century homes and McMansions alike.
Get a Quote on a New Nissan Pathfinder or Mazda CX-9
Which is why it's a big deal when an automaker overhauls their entry in the segment. Nissan gave its Pathfinder a rethink for 2022, draping it in sheetmetal much more angular and truck-like than last year's model, which was lumpen and unremarkable. Mazda treated its CX-9 to a mid-year refresh, hence the decimal point in its name, appending it with updates to the grille and interior trim.
Styling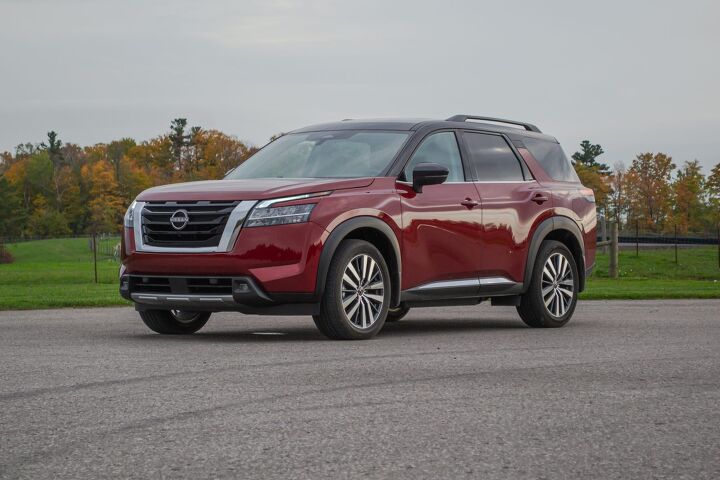 Pathfinder: For the past number of years, the Nissan Pathfinder morphed from a machine wearing a burly off-road image into an unremarkable blob whose primary redeeming feature was easy finance terms. Nissan seems to have acknowledged this, giving the 2022 model a much sterner face and blocky stance. In fact, the company explicitly said the Pathfinder "returned to its rugged roots" when introducing the thing earlier this year.
It's an expressive style, to be sure, wearing a version of the Nissan V-Motion corporate grille which gives the Pathfinder a square lantern jaw. That blocky profile continues around the vehicle where a u-shape character line visually ties together the front and rear wheels. Your author is a fan of the P A T H F I N D E R billboard found on the rear hatch, though that brightwork might not appeal to everyone. That hatch has something of a 'boxed out' style, recalling burlier Pathfinders of the past.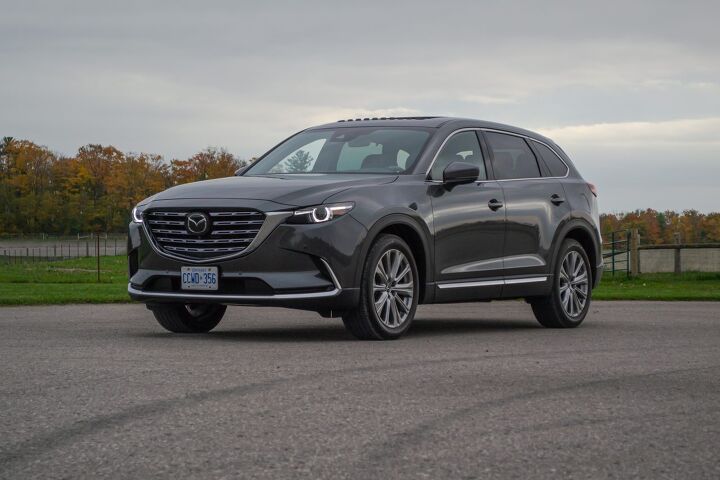 CX-9: All of which stands in stark contrast to the Mazda CX-9. Stylists in Hiroshima imbue all their crossover vehicles with a sleek and sharp look, with many touches like the streamlined headlights and flared front wheel arches being reflected across the line. Audi pulls off a similar trick—with success, we might add—except it can be described as different lengths of sausage rather than different lengths of sushi roll. And, for better or worse, the Mazda's hoodline is far lower than the Nissan's.
Verdict: Styling is always subjective and selecting one of these two is essentially a choice between burly and elegant. Your author will choose the former, though it must be noted he is wearing a flannel shirt as this is being written. Bottom line? Customers are likely to be on one side of the fence or the other; it's unlikely these vehicles will visually appeal to the same people.
Interior and Cargo Space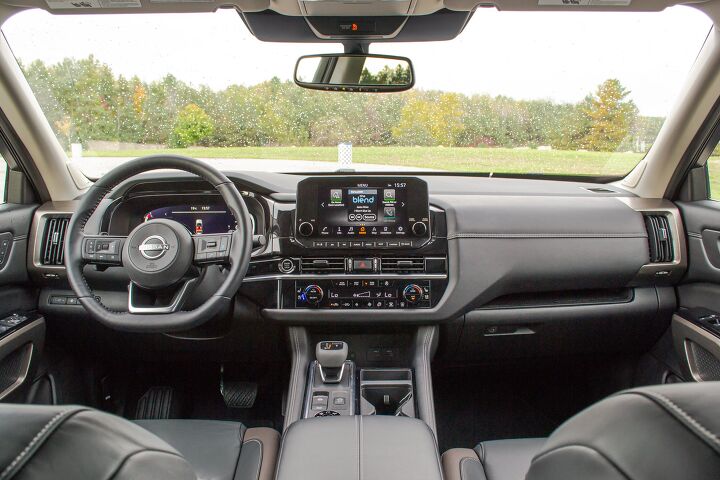 Pathfinder: Nissan has some smart ideas baked into the Pathfinder in terms of cargo versatility. It's dead simple to fold the third row of seats out of the way, a handy and easy-to-use cover conceals some of your items from prying eyes, and the Dip 'n Fold (our name, not Nissan's) second row captain's chairs move seamlessly out of the way to provide easy access to the third row. Up front, parental units are treated to a 9.0-inch touchscreen for infotainment toys, and Nissan's new 12.3-inch digital gauge cluster offers up some display options which are a treat for the eyes. In terms of look, it's blocky—just like the exterior.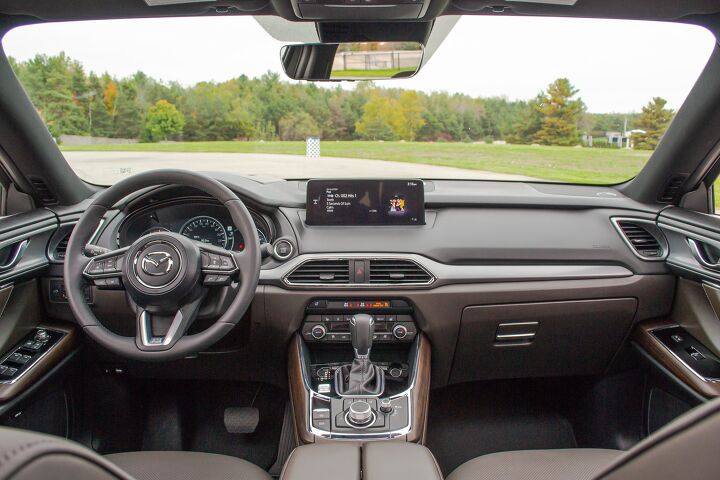 CX-9: Mazda has made a name for itself crafting interior spaces which far outstrip the asking price of their vehicles. This three-row hauler is no exception, featuring gorgeous design backed up by sumptuous materials that wouldn't be out of place in a premium machine from Germany. The Nappa leather-trimmed upholstery is piped and quilted, looking for all the world like something ripped from a six-figure rig. It's worth noting the CX-9 was introduced about five years ago, and its age is showing in a couple of places such as in fussy cargo area covers and folding methods of the seats. The operating system of its infotainment system is quick and has great graphics, though Mazda forces users to twirl a dial instead of poking at a touchscreen in the name of safety.
Verdict: Pathfinder is certainly more practical, with smarter cargo solutions and slick access to the third row. It also has snazzier gauges and its new take on the shift lever works very intuitively while taking up little space on the center console. But the CX-9 has a much more elegant cabin, one which is far more likely to impress the neighbors and—if we're honest—visually age better over time.
Power and Driving Feel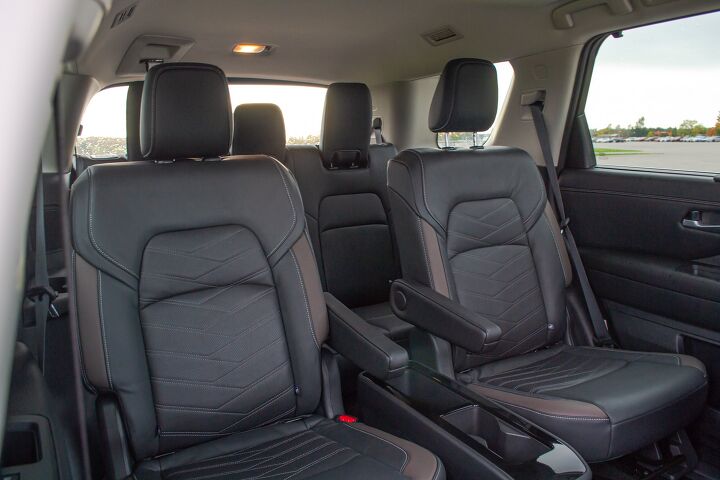 Pathfinder: No matter how much money you spend on a 2022 Pathfinder, it'll features a 3.5-liter direct injection V6 engine making 284 horsepower and 259 lb-ft of torque. Nissan has finally had the good sense to bin its miserable CVT automatic, praise the pharaohs, instead choosing to install a modern nine-speed transmission. This combination works well together, with the gearbox always seeming to select the right cog and providing confidence when passing or merging on the highway. Its ride comfort is on par with anything in this segment. Four-wheel drive '22 Pathfinders are rated at 21 mpg in the city, 27 mpg on the highway, and 23 mpg overall.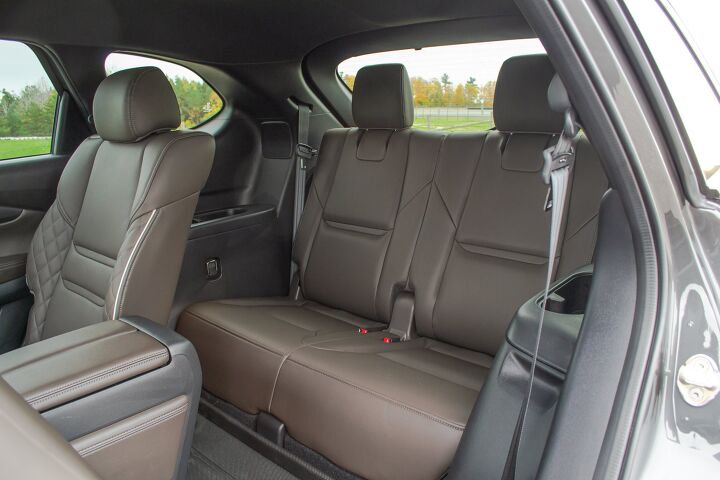 CX-9: This is one area in which Mazda's lack of corporate partner shows through the veneer. Absent a V6 option, the CX-9 is powered by a 2.5-liter turbo four-banger, good for 227 horsepower and 310 lb-ft of torque when fed regular-grade gasoline. Pop for premium (not many people will at today's prices), and those numbers climb 23 and 10, respectively. That is, to be frank, not enough. While the Mazda crowns the Nissan in terms of torque, it's not enough to overcome the horsepower deficit, leading to a machine which feels manic and high-strung at freeway speeds. A six-speed automatic handles shifting duties. All-wheel drive CX-9 machines are rated a 20 mpg in the city, 26 mpg on the highway, and 23 mpg overall.
Verdict: With better power numbers, which directly translate into a better real-world driving experience, Nissan wins this round—no contest. Nothing more needs to be said.
SEE ALSO:
Kia Sorento vs Honda Pilot Comparison: Three-Row Throwdown
Tech and Features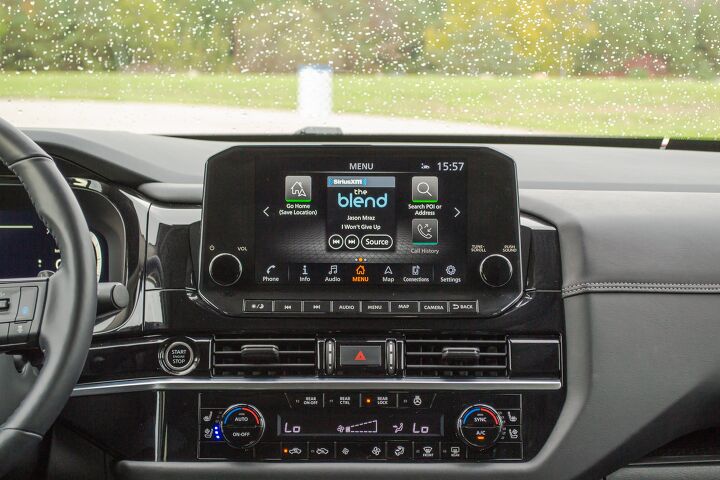 Pathfinder: Even entry-level trims of the new Pathfinder are well-equipped, packing the likes of tri-zone climate control and enough power outlets to charge an army's worth of smart devices. Our top-of-range Platinum-grade tester was loaded to the gunwales with power-operated semi-aniline leather-appointed seats with quilted inserts, captain's chairs in the second row, and natty bronze-metallic interior trim. All seats ahead of the third row are heated, and the front two passengers can cool their posteriors as well.
CX-9: Our compliments about the infotainment system stand, lack of touchscreen while in motion notwithstanding, and the audio sounds good thanks to the 12-speaker Bose-branded system packing Centrepoint surround technology with which our tester was equipped. Add in a power sliding moonroof, paddle shifters for parents who haven't yet given up on their Daytona dreams, plus second-row sunshade for the kiddos and you've a very pleasant cabin in which to spend time.
Verdict: If active-driving aids are high on your list of needs and wants, the Nissan will suffice thanks to its trick ProPILOT Assist tech. This does not mean the Mazda is lacking in safety kit in any manner, just that Nissan has designed a slick suite of highway helpers—all of which can be shut off with the simple press of a button on the steering wheel, by the way.
Safety
Pathfinder: Nissan has been making a lot of noise about its ProPILOT Assist system, a hands-on driver-assist technology which reduces the hassle of stop-and-go highway driving and makes long drives on the open highway easier. It combines steering assist and Intelligent Cruise Control to help manage acceleration, braking, and steering–both in heavy traffic and on the open highway. Our tester added Navi-Link, which uses map data to proactively reduce speed for upcoming freeway curves or junctions and can also help the driver slow for highway exits. The '22 Pathfinder did well in the Insurance Institute for Highway Safety (IIHS) testing but lost a few points for headlight and headrest performances.
SEE ALSO:
Mazda CX-9 vs Toyota Highlander Comparison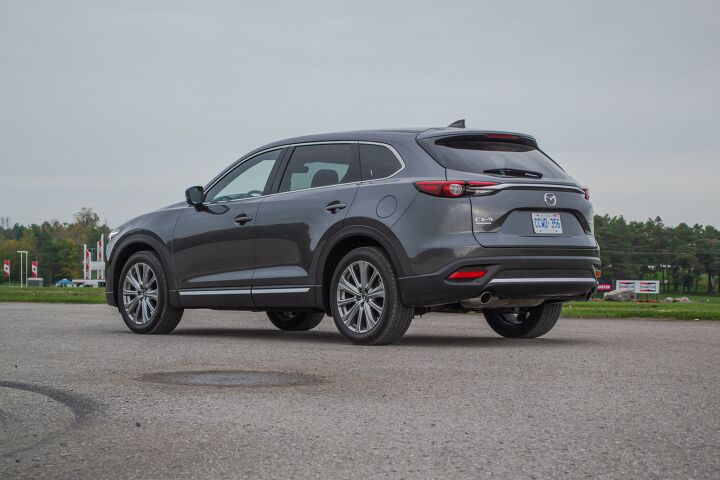 CX-9: Mazda includes a suite of safety features like radar-guided cruise control with stop-and-go functions, brake supports, and lane keeping. It's a step behind what Nissan has on offer in this regard but fulfils the basic expectations of most shoppers. The CX-9 is very highly rated by the crash test dummies at the IIHS, where it earned the coveted Top Safety Pick+ ranking for 2021. In fact, it received the best marks possible in almost every measure.
Verdict: If active-driving aids are high on your list of needs and wants, the Nissan will suffice thanks to its trick ProPILOT Assist tech. This does not mean the Mazda is lacking in safety kit in any manner, just that Nissan has designed a slick suite of highway helpers – all of which can be shut off with the simple press of a button on the steering wheel, by the way.
Pricing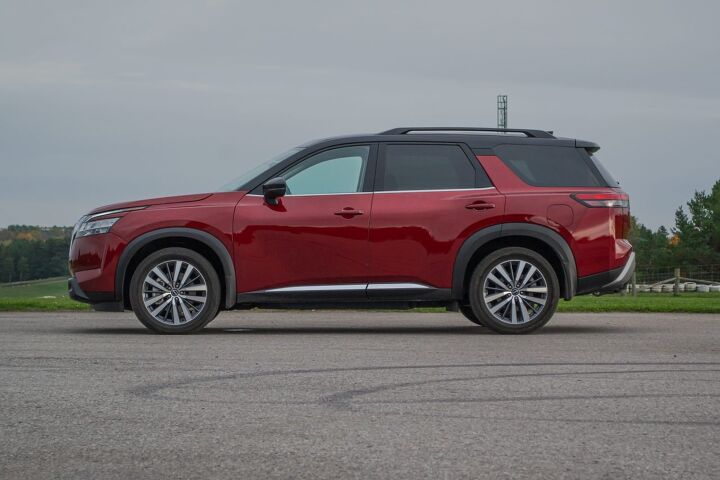 Pathfinder: Fresh off its new-for-'22 redesign, the entry-level Pathfinder S makes a starting bid of $34,855 ($43,998 CAD, with standard AWD), including destination. This brings a host of standard features including the ProPILOT Assist system plus comforts like tri-zone ventilation and x. Our top-of range Platinum model rings the bell at $50,360 ($56,598 CAD) and is the only trim to fit those dandy second-row captain's chairs we spoke of earlier. Every '22 Pathfinder has the same engine and transmission combo, plus power going to all four wheels.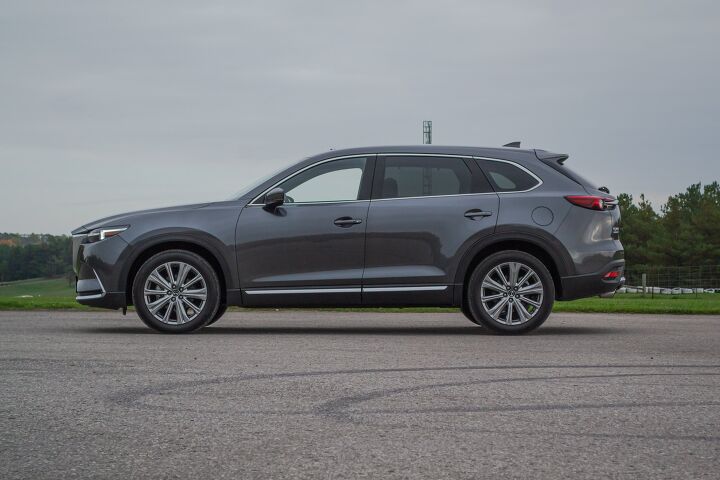 CX-9: Mazda kicks off the CX-9 line with its $37,235 Sport trim ($42,700 GS in Canada), powered by the same engine as our top-rung tester and fitted with all-wheel drive. Moving up the ladder through to our $48,475 ($54,800 CAD) Signature tester brings extra creature comforts like leather seats and more charging points for devices but important essentials like tri-zone climate control and the 10.25-inch infotainment screen are standard across the board (as is the powertrain, remember).
SEE ALSO:
Kia Sorento vs Toyota Highlander Hybrid Comparison: Suburban SUV Showdown
Verdict: Hiroshima beats Nippon in terms of straight up numbers, with Mazda reliably undercutting Nissan by a couple thousand bucks at each step on the trim ladder.
Verdict: Nissan Pathfinder vs Mazda CX-9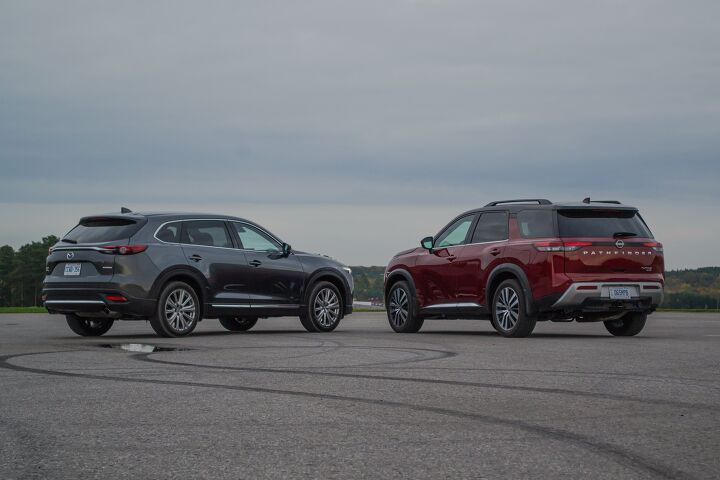 In this head-to-head, Nissan provides a more pleasing powertrain and practical cargo solutions while the Mazda offers a snazzier interior style at a marginally lower price. With exterior styling that's polar opposites of each other, we think this is one case in which looks will play a large role in which of these two get selected to sit in a suburban driveway.
Either way, you're guaranteed to be off to a better start than the Canadiens.
Become an AutoGuide insider. Get the latest from the automotive world first by subscribing to our newsletter here.
Published November 20th, 2021 11:13 AM
Popular Articles
Latest Comparisons
Car Buying Tools