83 Views
Toyota Corolla Cross Vs. Honda HR-V: Which Small SUV Is Right For You?
June 13th, 2022 10:38 AM
Share
We're committed to finding, researching, and recommending the best products. We earn commissions from purchases you make using links in our articles. Learn more here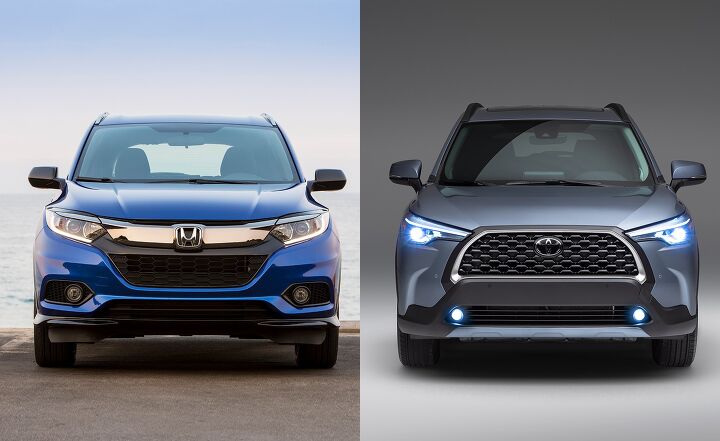 As competition in the small SUV market continues to heat up, Toyota has made a major play to try and capture the attention of younger buyers with the new-for-2022 Toyota Corolla Cross.
A more budget-friendly compact alternative to Toyota's popular RAV4, the Corolla Cross is no less handsome or well put-together, but it starts several grand below the RAV4, making it a much more palatable option for those with less disposable income.
Get a Quote on a New Toyota Corolla Cross or Honda HR-V
Of course, the Corolla Cross has entered a rather crowded market, which already hosts numerous compact SUV models from the likes of Ford, GM, Jeep, Subaru, Volkswagen, and more. Among all these is the Honda HR-V – a small utility vehicle from one of Japan's most beloved manufacturers, which has been on the market longer and carries a lower price tag. Just how well does Toyota's new Corolla Cross stack up against Honda's well-regarded HR-V? Let's take a look.
Powertrain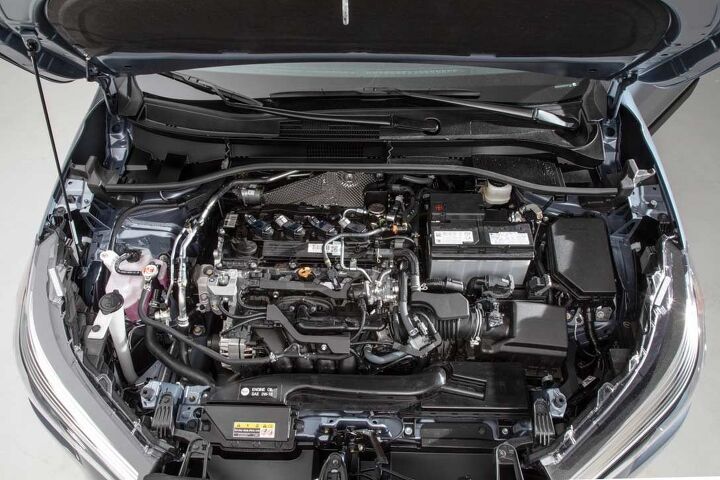 Toyota Corolla Cross: Powering the new Corolla Cross is a 2.0-liter inline-four-cylinder engine packing up to 169 horsepower and 151 lb-ft of torque, thanks to dual camshafts and variable valve timing, which is plenty of motivation for a vehicle of this size. That thrust is sent to the front wheels via a continuously variable transmission (CVT) with shift mode, and all-wheel drive is an option across the entire model range.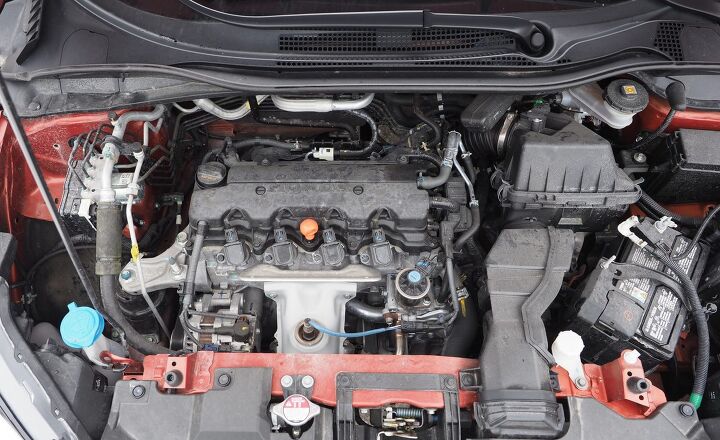 Honda HR-V: Honda's HR-V serves up as much as 141 horsepower and 127 lb-ft of torque courtesy of a 1.8-liter four-cylinder engine – underwhelming numbers on paper, but sufficient for such a small, lightweight subcompact vehicle. As in the Toyota, the motor is backed by a continuously variable transmission (CVT) with Sport mode. All but the bottom LX trim level are equipped with paddle shifters so you can select a ratio on-the-fly. All-wheel drive is an option on all trims, while front-wheel drive comes standard.
Bottom Line: As good as Honda's i-VTEC system can be, the HR-V's 1.8L is just less plucky, power-dense, and satisfying than the Corolla Cross's 2.0L four-pot – not that either vehicle offers sportscar levels of driving pleasure. That said, acceleration is pretty much dead even between the two, which is to say that in neither case are you going to have much passing power at your disposal. Opting for AWD on either vehicle results in significantly slower acceleration. All-in-all, we consider it a draw between the HR-V and the Corolla Cross in the powertrain department.
Fuel Economy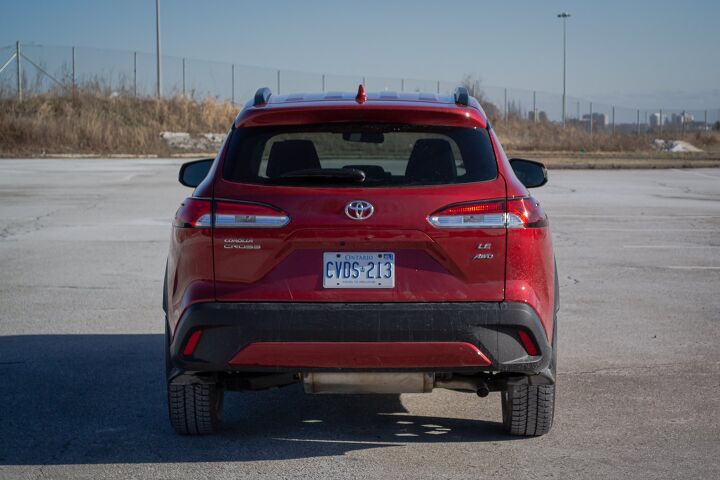 Toyota Corolla Cross: Maybe the Corolla Cross's greatest party trick is its ability to return remarkable fuel efficiency figures for its size. The SUV is rated at 32 mpg combined in FWD guise, from 31 mpg city and 33 mpg highway. With AWD fitted, the Corolla Cross still manages 29 mpg city with 32 mpg highway, for 30 mpg combined.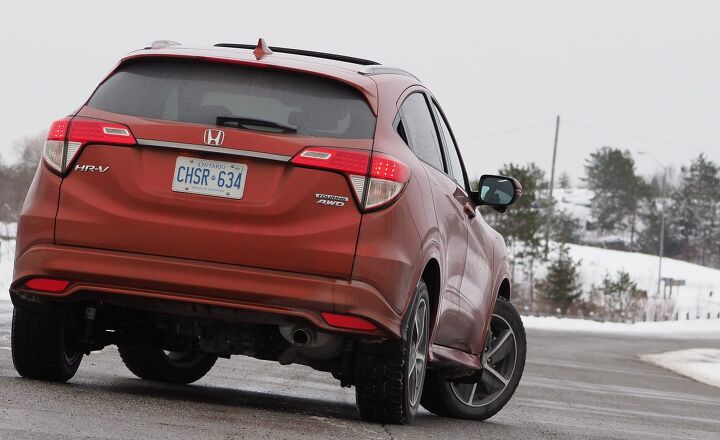 Honda HR-V: The Honda HR-V manages decent performance with regard to fuel economy, returning up to 30 mpg combined, from 28 in the city and 34 in the highway for front-wheel drive models. All-wheel drive capability drags those numbers down to 29 combined for the entry-level LX model, or 26 mpg city, 31 highway, and 28 combined for the Sport, EX, and EX-L..
Bottom Line: The Toyota Corolla Cross is the clear winner when it comes to fuel economy, posting more impressive fuel efficiency despite its larger, more powerful engine and extra size and weight. Perhaps the tables will turn with the arrival of the all-new, 2023 Honda HR-V later this year, but for now, the Corolla Cross is on top when it comes to fuel efficiency, and that meager 2 mpg difference could add up to significant savings over the life of the vehicle.
Technology and Features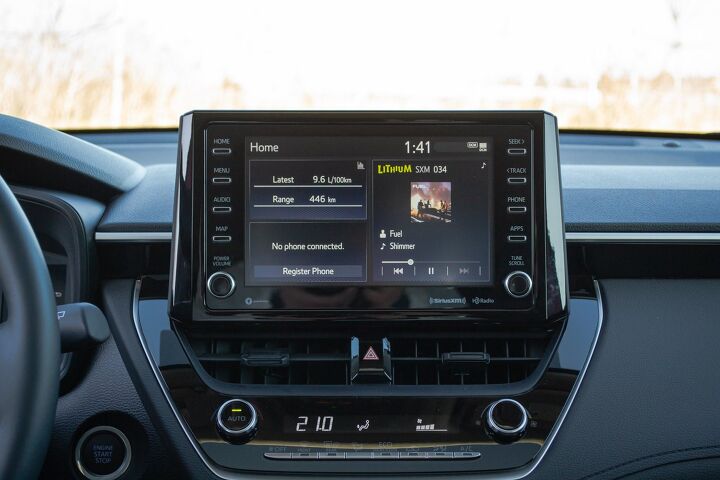 Toyota Corolla Cross: The Toyota Corolla Cross has one crucial ace up its sleeve when it comes to tech: standard Toyota Safety Sense 2.0 across the entire model line. That means that whether you opt for the top-tier Corolla Cross XLE or the entry-level L, you get pre-collision alert with pedestrian detection, lane-keep assist, steering assist, auto high beams, and distance-pacing cruise control with road sign detection. Oddly, though, blind-spot monitoring and rear cross-traffic alert are standard only on the mid-tier LE and the top-of-the-line XLE.
SEE ALSO:
2022 Toyota Corolla Cross Second Drive Review: What's in a Name?
As for multimedia, the Corolla Cross boasts either a 7.0- or 8.0-inch LCD touchscreen, depending on trim, and both Apple CarPlay and Android Auto are standard. The infotainment system is Amazon Alexa-compatible, too. On the two higher trim levels, a JBL audio system is available with nine speakers, including a subwoofer, and a discrete amplifier.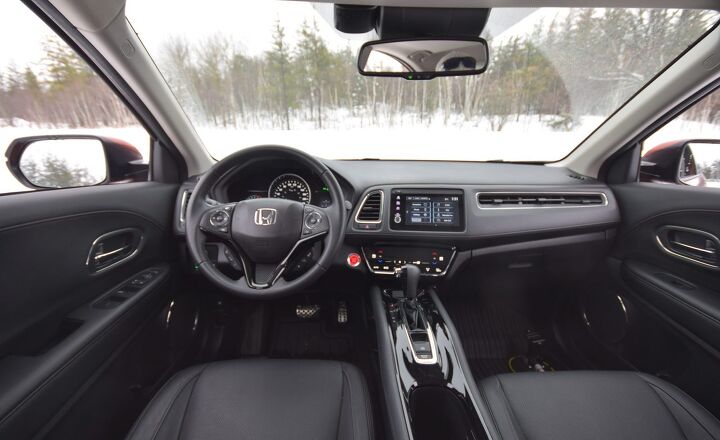 Honda HR-V: The 2022 Honda HR-V isn't as generous with its active driver assistance systems as the Corolla Cross. That's liable to change with the arrival of an all-new HR-V for 2023, but for now, the really good Honda Sensing driver assistance technologies – adaptive cruise, lane-keep assist, automatic emergency braking, blind-spot monitoring, auto high beams, etc. – are all reserved for the upper-tier EX and EX-L trim levels.
Multimedia options in the HR-V aren't exactly earth-shattering, either. The base LX trim level gets you a 5.0-inch color touchscreen with a 160-Watt, four-speaker audio system, and disappointingly, no Apple CarPlay or Android Auto integration. Sport, EX, and EX-L models all get a 7.0-inch touchscreen with Apple/Android integration and 180 Watts of sonic goodness, with either four (Sport) or six (EX and EX-L) speakers, but only the top two trims offer SiriusXM and HD Radio compatibility.
Bottom Line: We can't truthfully call multimedia a selling point in the 2022 Honda HR-V. That's not to say there's anything wrong with the infotainment options on offer, but the HR-V is handily outdone by the Corolla Cross's bigger touchscreens, impressive JBL audio package, and standard Apple CarPlay/Android Auto integration.
It's another mark in favor of the Corolla Cross – or against the HR-V – that Toyota has decided to make its active driver assistance system suite standard across the entire model line. Lane-keep assist and adaptive cruise control are immensely popular features, and their absence from the lower trim levels of the Honda is significant.
Safety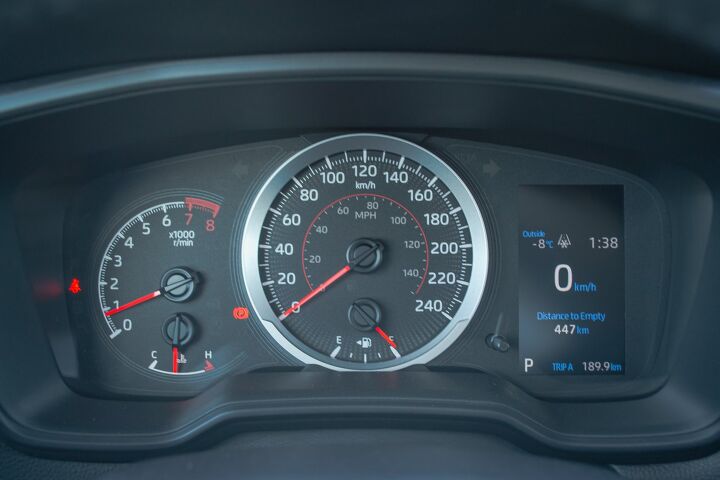 Toyota Corolla Cross: The Toyota Corolla Cross is an Insurance Institute for Highway Safety (IIHS) Top Safety Pick Plus award winner for 2022, and it's hard to find fault with the vehicle from a safety perspective. To win the award, a vehicle needs to earn top marks in all crash test categories, and it needs to have a top-rated frontal collision mitigation system and Good headlights. The Corolla Cross manages all of this, and it looks good doing it.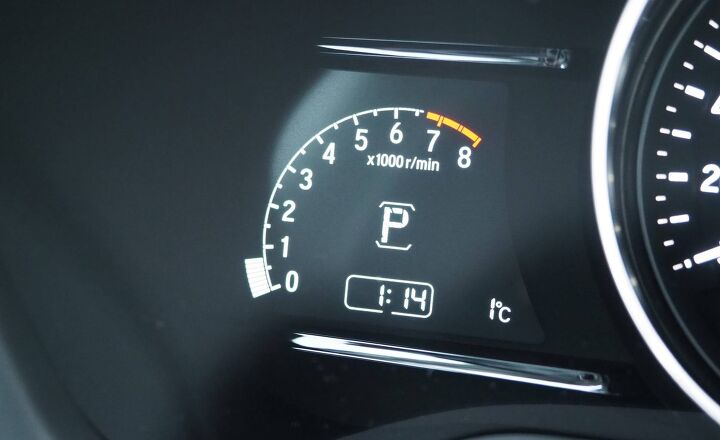 Honda HR-V: It's unusual these days to see a modern vehicle on sale in North America perform poorly in any crash testing category, but that's just what the 2022 Honda HR-V did. The IIHS rated the HR-V "Poor" for its performance in the updated side impact crash test, suggesting that in that particular sort of collision, at least, the HR-V's structure is just a bit too dated to pass muster. The vehicle earned top marks in every other crashworthiness category, but its headlights were also rated "Marginal" or "Poor," depending on the trim.
Bottom Line: We have little doubt that the Honda HR-V is a perfectly fine, safe place to be most of the time, but as a Top Safety Pick Plus recipient, the Honda HR-V is that much safer – at least according to some of the best metrics we have available. It's hard to find fault with a vehicle that earns the highest possible rating in every single crash test category. It's even harder to accept a "Poor" crash test rating this far into the 21st century.
Cabin Space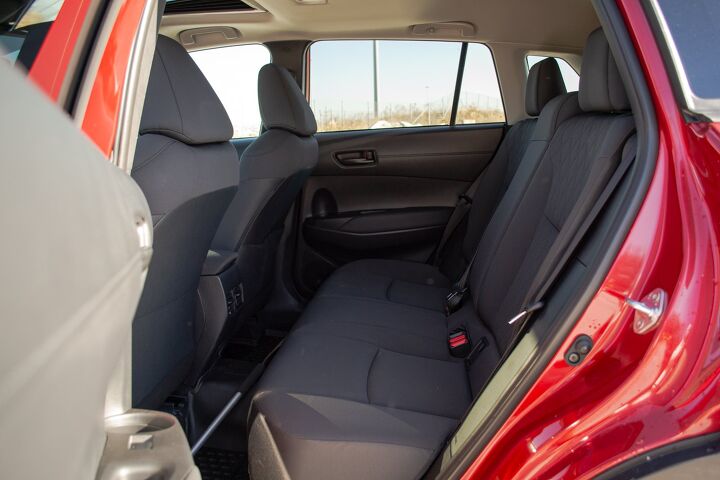 Toyota Corolla Cross: Things can get a bit tight in a fully packed Corolla Cross. The vehicle affords passengers a bit less space than others in its class, and that comes out most directly in a meager 32 inches of second-row passenger legroom and 43.8 inches of second-row hip room. In every other regard, the Corolla Cross is perfectly accommodating, with up to 38.6 inches of headroom up front on sunroof-equipped models, or 39.5 inches without a sunroof, plus a full 42.9 inches of front-row legroom. In all, the Corolla Cross advertises as much as 94.9 cubic feet of passenger volume in the cabin.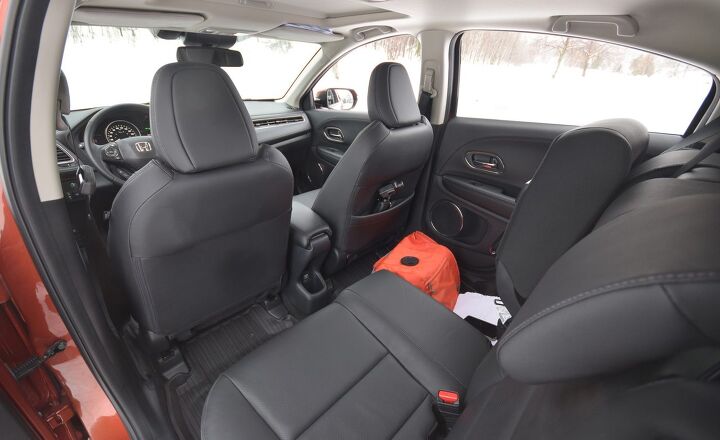 Honda HR-V: The HR-V is an excellent example of doing more with less. Despite its diminutive subcompact size, the Honda HR-V serves up just over 100 cubic feet of passenger volume, with ample enough space in both rows of seating. Just look at the measurements: 39.3 inches of second-row legroom, along with 47.4 inches of hip room and 38.3 inches of headroom; 41.2 inches of front-row legroom, with 39.5 inches of headroom on the LX and Sport trims, and 37.6 inches on the EX and EX-L. The HR-V is an exercise in efficient packaging, managing to make the most of its small size and deliver a surprising dose of roominess.
Bottom Line: Most car shoppers who "try on" the Toyota Corolla Cross in the showroom probably aren't going to find it overly cramped, but the Honda HR-V is the obvious choice if you put a premium on passenger volume. Honda's subcompact SUV offers significantly more room to spread out than the Corolla Cross can manage, and impressively, it does this while occupying a smaller exterior footprint.
Cargo Capacity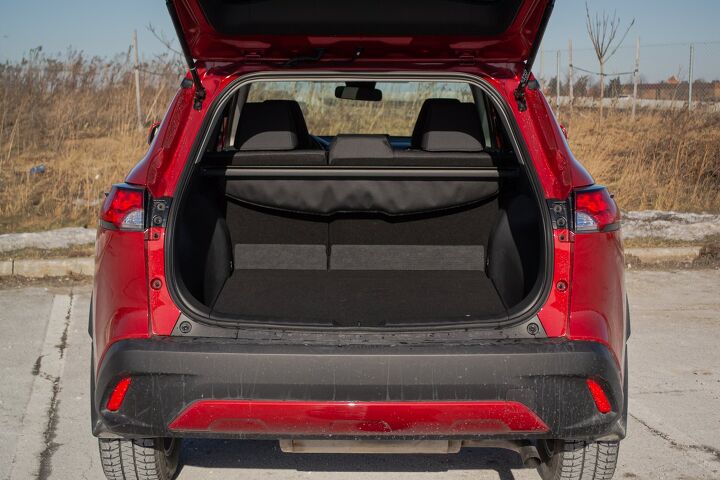 Toyota Corolla Cross: Toyota's compact Corolla Cross is neither the most capacious nor the most space-limited vehicle in its segment when it comes to cargo volume. It offers up to 26.5 cubic feet of cargo space behind the rear seats, which is plenty enough for everyday use. Fold the rear seats flat and that figure climbs to 66.8 cubic feet.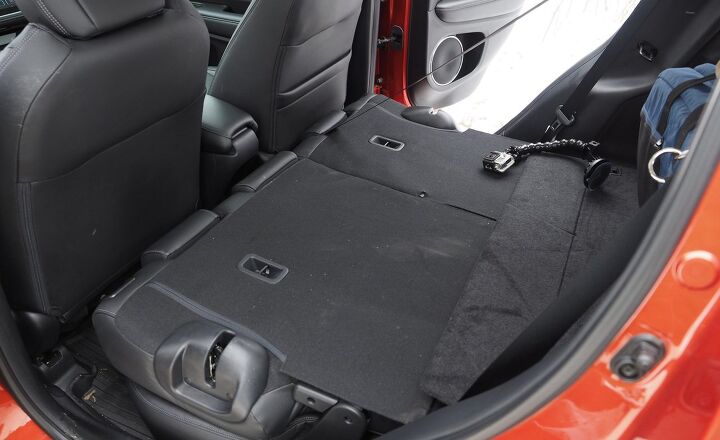 Honda HR-V: Cargo volume is where the Honda HR-V's subcompact size starts to prove limiting. Behind the rear seats, there's a total of 24.3 cubic feet of volume in the FWD HR-V, and 23.2 cubic feet in the AWD version. Folding the rear seats extends the usable cargo space to 58.8 or 57.6 cubic feet, respectively.
Bottom Line: There's obviously a marked difference in the cargo capacities of the Corolla Cross and Honda HR-V – enough so that you're going to feel it every time you load up for family vacation. Now, don't get us wrong; the HR-V is still plenty practical, and depending on your situation, it could be all the vehicle you could ever need. Still, we have to give the nod to the Toyota Corolla Cross here.
Styling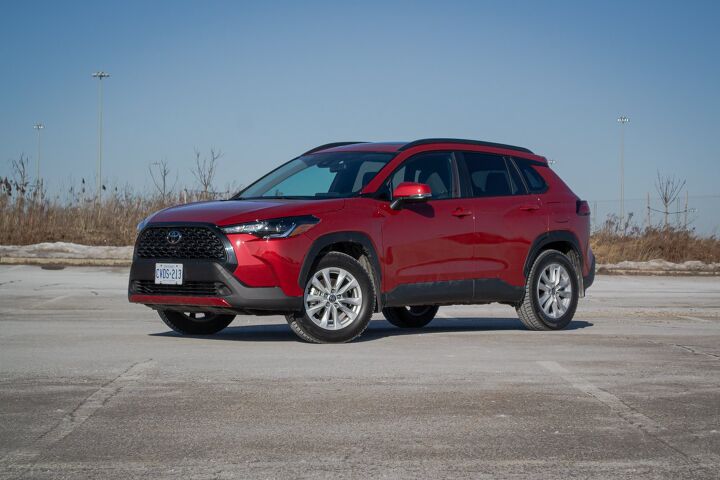 Toyota Corolla Cross: The 2022 Toyota Corolla Cross is a brand new design for Toyota, but at a glance, it fits in nicely with the rest of the lineup in terms of aesthetics. It has an angry scowl with a big, downturned frown-shaped grille framed by two piercing, cunning headlamps, and a long, broad-shouldered sense of proportions similar to the RAV4. Black plastic cladding isn't abundant, but it's there, imbuing the Corolla Cross with just a bit of ruggedness.
Inside the cabin, the Corolla Cross is pleasing enough without being "standout." That's not necessarily a bad thing. Toyota has employed the latest go-to strategy of placing the center stack controls high up near the base of the windshield to keep the driver's eyes from wandering too far off the road, and the floating infotainment touchscreen looks quite at home in this context.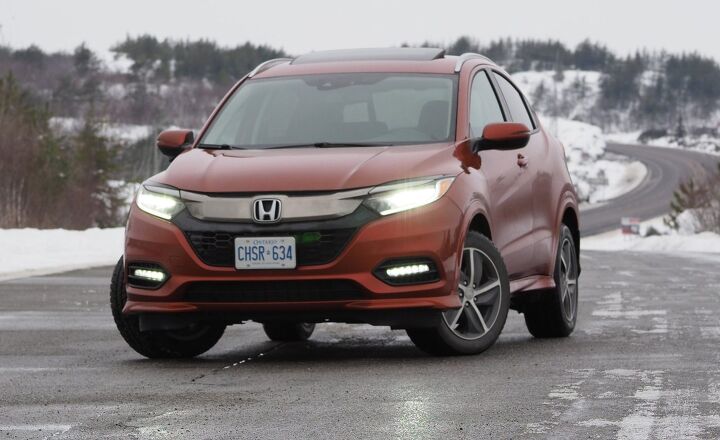 Honda HR-V: It's important to keep in mind that the 2022 Honda HR-V's design has been around quite a bit longer than the Corolla Cross's, because it shows. The outgoing HR-V looks upright, dated, and maybe a bit dorky, with a shape rather devoid of character and a front fascia we could swear was taken straight from the Honda Fit. Granted, as strange as it sounds, that's not all bad; there's something to be said for an effortless-looking vehicle with no pretense.
Unfortunately, the inside of the 2022 HR-V is just as dated-looking as the outside, with no floating infotainment screen, and a drab, uninspired-looking dash that reeks of "budget vehicle." The floating center console looks awkward, and if the cockpit has any redeeming feature, it's the huge speedometer dead center in the instrument panel.
Bottom Line: The outgoing 2022 Honda HR-V is at a clear disadvantage when it comes to styling: it's a far older design, and looking at it, that much is obvious. At the same time, it's a design that doesn't really put on any airs, and that's refreshing in its own right. The Toyota, by comparison, is a fair bit more angular and angry-looking, and arguably more than it has any right to be.Pricing
Pricing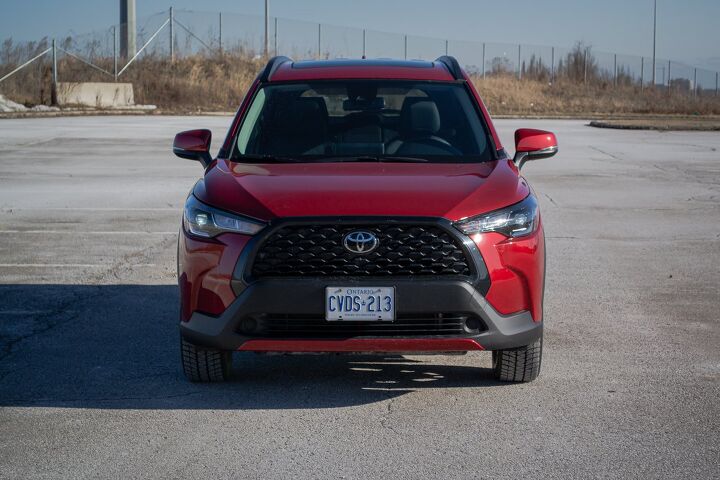 Toyota Corolla Cross: Starting at just $22,445 for the base L trim, the Toyota Corolla Cross is quite well-positioned in the compact SUV space. You get a lot for the money, and tacking on a very reasonable $1,300 to the MSRP unlocks all-wheel drive. Even the top-of-the-line XLE starts as low as $26,575, only just cresting $30k with AWD and the optional premium Audio Plus package, which adds a power liftgate, moonroof, JBL audio, and adaptive headlights.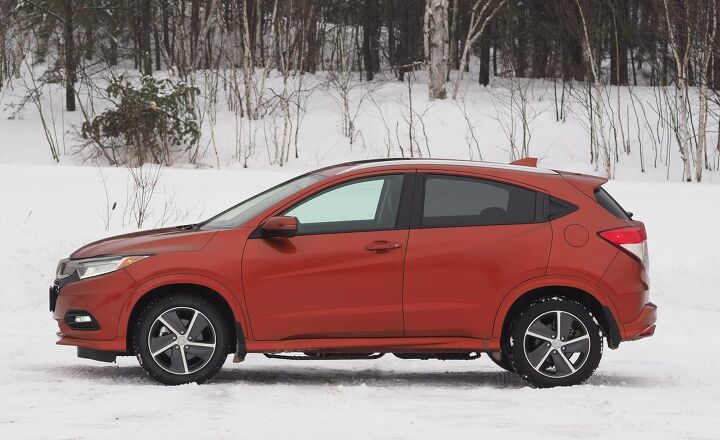 Honda HR-V: The 2022 Honda HR-V comes in a bit cheaper than the Corolla Cross, with a starting MSRP of $21,870 for a base LX model with no bells and whistles. Unfortunately, you need to step up to at least the EX – two steps above the base-level trim – in order to get access to Honda's active driver assist features. That's a $25,070 proposition, at a minimum. AWD can be added to any trim for an extra $1,500. The top-of-the-line EX-L model, starting at $26,670, can just exceed $31k if you decide you simply have to have AWD and big 18-inch alloy wheels.
SEE ALSO:
2020 Honda HR-V Review
Bottom Line: While the Honda HR-V is technically cheaper than Toyota's Corolla Cross, the gap isn't quite so large as you might expect given the Toyota's bigger powerplant or its impressive list of standard features. Granted, not everyone needs or wants standard active driver assistance features like lane-keep assist and distance-pacing cruise control. But while the Honda HR-V technically wins out with its lower starting price, the Toyota Corolla Cross is undeniably a better value.
Conclusion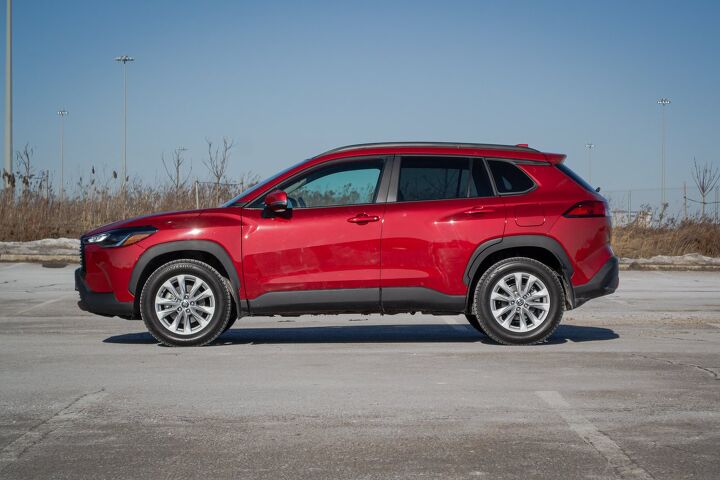 Toyota has succeeded with the Corolla Cross, delivering a practical, efficient, handsomely styled compact SUV with plenty of content at a price it's easy to get behind. But that doesn't mean that Honda hasn't also succeeded with the HR-V. The Honda is slightly less expensive than the Toyota, and only fares slightly less well in categories such as cargo space and fuel economy. It even offers a more accommodating second row, which isn't easy to pull off given the HR-V's tiny exterior dimensions.
Ultimately, though, the Toyota Corolla Cross is probably the smarter buy. The Corolla Cross offers more standard tech, better fuel economy, more power, more torque, and more cargo capacity than the HR-V, for only a bit more money. The tables may turn when Honda introduces its all-new HR-V, but for right now, Toyota's Corolla Cross takes the gold.
Become an AutoGuide insider. Get the latest from the automotive world first by subscribing to our newsletter here.

Aaron Brzozowski
Aaron is a freelance writer, videographer and car enthusiast based out of the Detroit area. He has a special affinity for the Porsche 944 series, and once owned a Volvo 240 sedan with a Weber carb in place of the factory EFI system. His work has appeared on AutoGuide, GM Authority, /Drive, and VW Vortex, among other sites.
More by Aaron Brzozowski
Published June 13th, 2022 10:38 AM
Popular Articles
Latest Comparisons
Car Buying Tools