575 Views
Toyota Corolla Hybrid AWD Vs Mazda3 AWD Comparison
June 2nd, 2023 7:34 PM
Share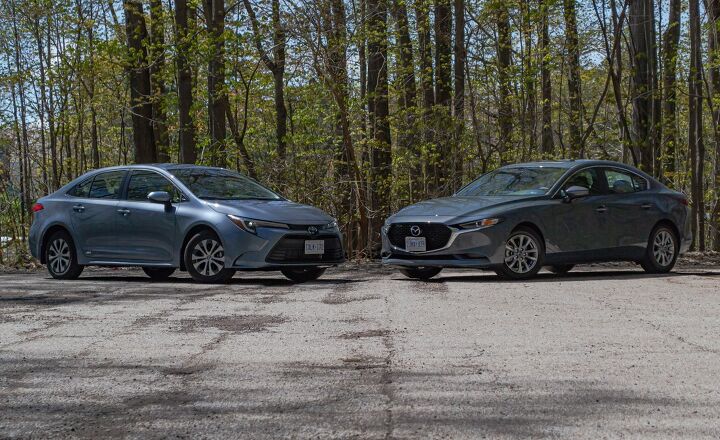 What you are looking at are the only two AWD compact sedans on the market.
It's true: the Toyota Corolla Hybrid and the Mazda3 sedan carry the torch, now that the Subaru Impreza has gone hatch-only for 2024. The only other choices are to move up a size or head to SUV town—and even some of those are just skipping AWD altogether.
Despite representing 100 percent of this particular niche, the Toyota and Mazda are quite different in execution. The Corolla saw an update for 2023, improving the hybrid powertrain and adding AWD for good measure. Meanwhile the 3 has been offering all-paw grip basically since this generation launched, and continues to hold a reputation as the driver's choice in the segment. Managing editor Mike Schlee and I spent a week with these two opposing forces to see which does the job better.
Get a Quote on a New Toyota Corolla or Mazda3
Interior and Cargo Space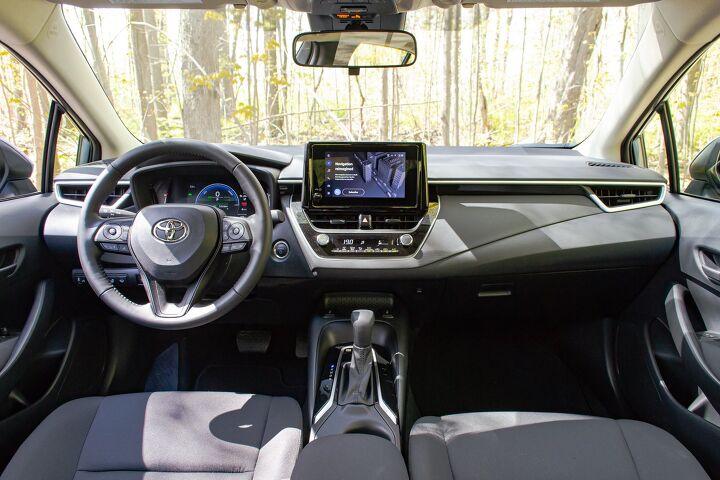 Toyota Corolla: Just as they solve the problem of AWD compacts in different ways, the Corolla and Mazda3 approach the idea of cabin minimalism in their own ways.
The Corolla dashboard protrudes, with a large diagonal slash breaking up what would otherwise be a sea of plastic. A small collar below the infotainment screen keeps climate and audio controls in close reach. Down below, a small cubby can hold a cell phone, though there's no wireless charger in this humble LE trim. Plastics are uniformly gray, and pretty brittle along the door panels. It's all solidly screwed together, but there's little surprise and delight in the Corolla.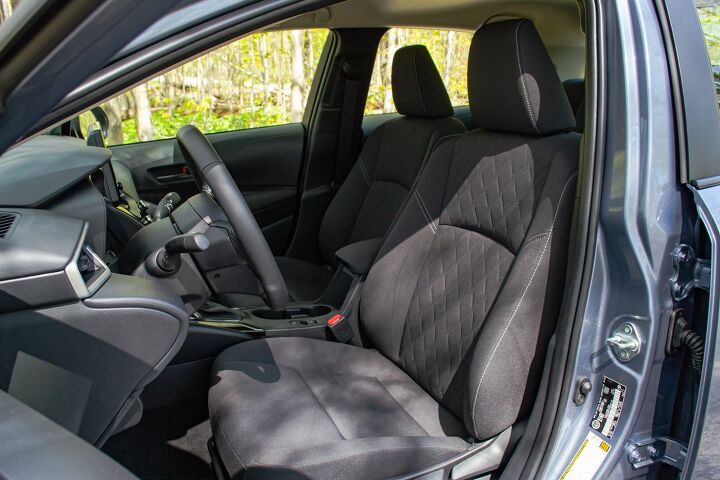 The cloth seats are a little flat in the cushion, but otherwise are built for comfort, with light bolstering and a squishy nature. On paper, these two offer very similar levels of space for up to five folks. The sunroof-less Corolla has an advantage in headroom up front, with 38.3 inches (973 millimeters) of the stuff. Legroom is an enormous 42.0 inches (1,067 mm).
Slip into the rear and second-row passengers make do with about an inch (25 mm) less headroom. Legroom shrinks to a tight-ish 34.8 inches (884 mm) on paper, but in practice we found it the more adult-friendly back bench. The window line is lower, improving the feeling of space, and the transmission tunnel doesn't intrude on legroom as much as it does in the Mazda3. The cushion sits at more of an angle too, improving thigh support.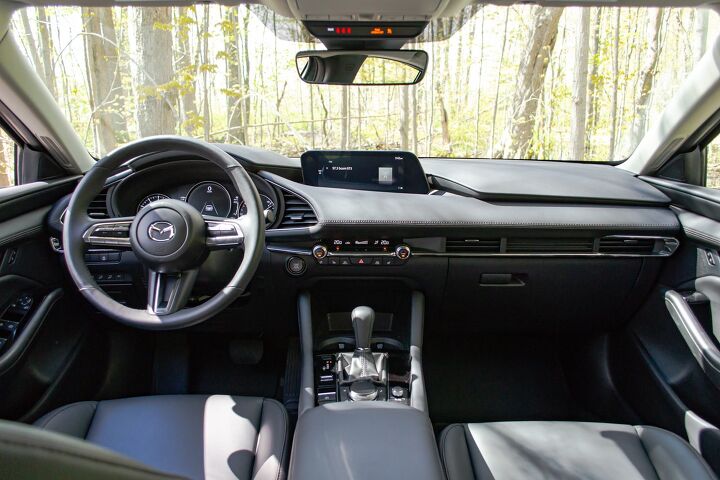 Mazda3: This Mazda3 has been with us for five model years now, and it still sets the bar for cabin ambiance. This mid-trim model has the leatherette dashboard, and it's a pretty setup, all low-profile subtlety with smooth, almost organic layering. We still like how the infotainment screen rises out of the surrounding landscape. Mazda also keeps its climate and audio controls all centralized, and it one-ups the Corolla with dual-zone auto climate control. It skips out on a wireless charger too, and the space ahead of the cupholders is very tight. Both cars have heated steering wheels here—the benefit of the Canadian market—but we both prefer the thin, smooth rim of the Mazda.
Front row comfort is high in Mazda-land. The well-sculpted seats provide a good balance of support and comfort, and it has a slight edge in legroom with 42.3 inches (1,075 mm). That's balanced by a headroom deficit: 37.6 inches (954 mm), but there's a sunroof!
We've dinged the Mazda3 for a tight second row before, and guess what? Nothing has changed there. It's not terrible, but it's surely the most cramped bench in the segment. The combined pinch that is a rising window line and dipped roof line make it feel particularly claustrophobic. Even though the on-paper stats favor the Mazda's head and legroom (36.7 and 35.0 inches / 931 and 891 mm, respectively), it never feels as spacious as the Toyota. The sizeable transmission hump practically eliminates the idea of going three-wide, too.
Bottom Line: We're going to assume you're not regularly shuttling two or three adults in the back row of your compact AWD sedan. If that's the case, the Mazda's nicer digs are impossible to deny.
Toyota Corolla Hybrid AWD vs Mazda3 AWD: Tech and Features
Corolla: For 2023, Corolla has adopted Toyota's latest infotainment system. It's stylish, simple to learn, and quick to respond, making it a huge step up from both prior Corollas, and Mazda. There are some tough drawbacks, like the constant reminder you haven't paid for a navigation subscription, and the cluttered nature of some audio pages, like SiriusXM. Wireless Android Auto and Apple CarPlay are both standard.
Beyond that, the Corolla comes with four USB ports, though one is maddeningly tucked up on the underside of the dashboard. This being a Canadian model, there are two-stage heated front seats and a heated, leather-wrapped steering wheel.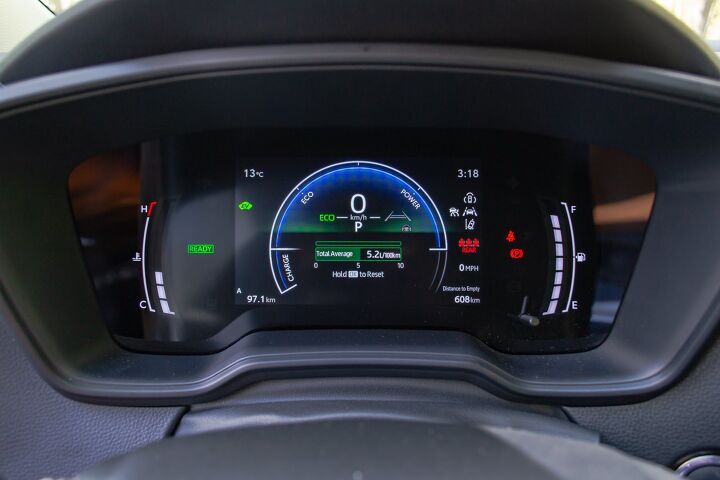 Hybrid models come with a unique layout in the instrument panel, with the 4.2-inch central screen recalibrated to show more electrified info.
Toyota Safety Sense 3.0 is standard on the 'Rolla, including full-range adaptive cruise control, lane-keep assist, road sign recognition, auto high beams, and blind spot monitoring with rear cross-traffic alert. They all work as expected.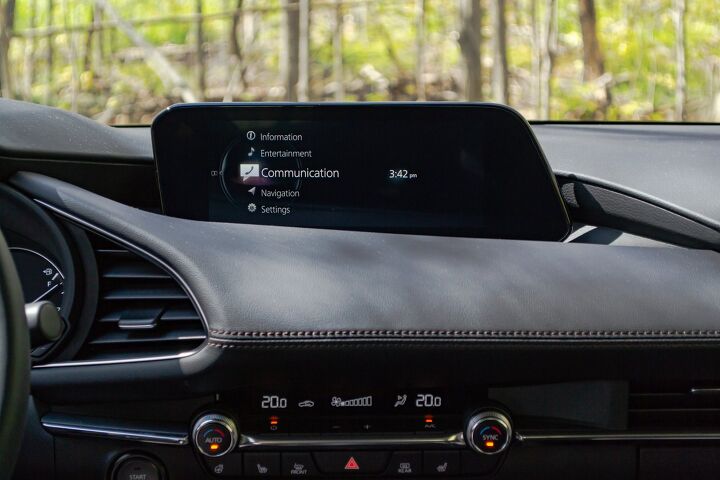 Mazda3: You know what we're going to say here. It's the same thing we've covered time and time again with Mazda: its ultra-basic infotainment. Yep, it doesn't take long to get used to the rotary controls with the native system. But it's not great for customers, and all that logic goes out the window with (wired) CarPlay or AA. It's not the most responsive setup either. There are just two USB ports, and they're both up front.
The Mazda also lags behind the Toyota in terms of its instrument cluster, with less customization and information available.
Everything else is nearly par: the Mazda has heated front seats and steering wheel, too. Its driver assists work just as well as the Toyota's, with stop-and-go cruise control, lane-keep assist, and automated emergency braking. The 3 does miss out on road sign recognition, however.
Bottom Line: The Toyota claws back some points here, with the more user-friendly infotainment system. Everything else is a wash between these two.
Powertrain, Driving Feel, and Efficiency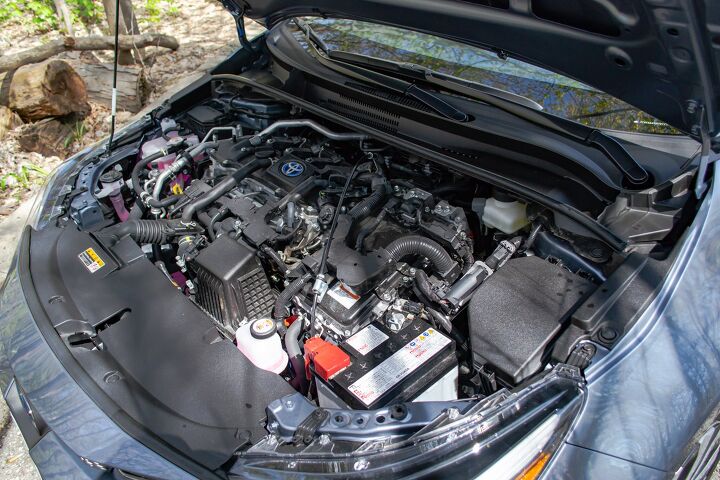 Corolla: The Corolla Hybrid pairs a 1.8-liter inline four with an electric motor up front and a 40-horsepower motor out back. The important figure is a combined 138 horsepower; as is usual with its electronically controlled continuously variable transmission (e-CVT), Toyota doesn't quote a torque figure. The motors pull their juice from a lithium-ion battery pack.
In daily use, the Hybrid feels at least as muscular as the 169-hp 2.0-liter in the gas 'Rolla. The instant-access torque keeps it riding the wave in urban centers, only really starting to feel thin when passing on the highway. Here the engine bursts on, grumbly at the idea of getting out of bed. The Corolla excels in the city, where careful throttle application can keep it running on electrons more often than you'd expect.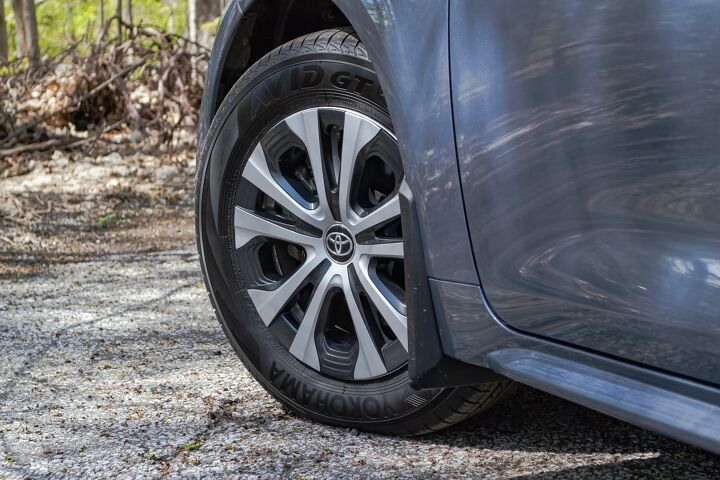 The tiny 195/65 15-inch tires make it clear: the Corolla is geared towards comfort and efficiency. Nonetheless, it's a tidy handler, going where it's pointed via the light steering. The brake pedal is consistent and positive, too. Ride quality is very good, those chubby sidewalls sanding away the edge in all but the largest potholes. You feel the body roll in corners, though.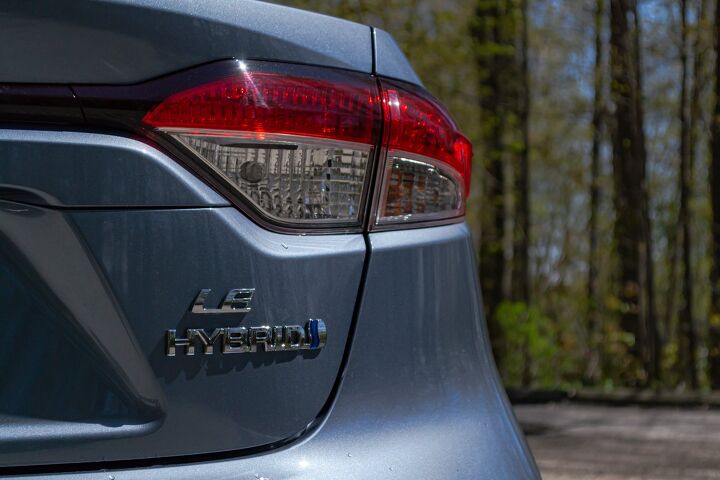 Then there's the fuel economy. Even driving with little care for big figures, the Corolla returned an easy 46 mpg (5.1 L/100 km), barely shy of its 48 mpg (4.9 L/100 km) combined rating. An earlier drive in the week saw it comfortably top 60 mpg (3.9 L/100 km).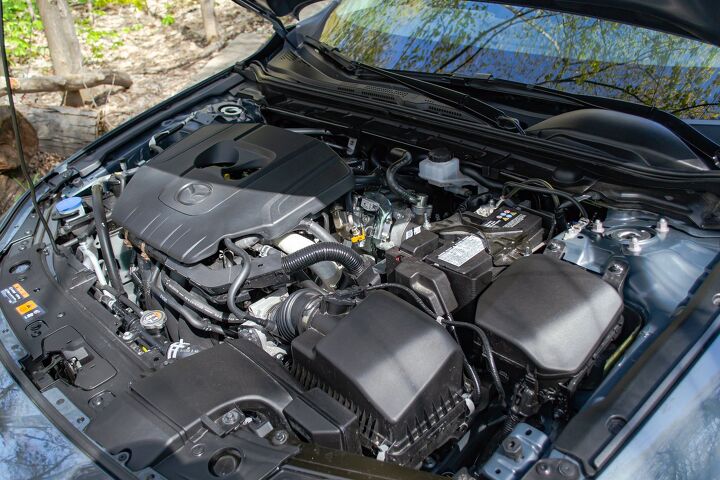 Mazda3: This particular Mazda3 tester comes with the 2.5-liter inline-four and all-wheel drive. That's an easy pairing in the US, as every 3 comes with this larger-capacity engine, now putting out 191 hp and 186 pound-feet for 2023. But Canadians can still spec Mazda's remaining four-door car with the smaller 2.0-liter. Not with AWD, mind. No matter the number of driven wheels, the transmission has six speeds: auto or manual with front-drive models, and auto-only for AWD.
The big-block of the compact segment still impresses. It's powerful and responsive, finding its stride where the Corolla starts to lose its breath. The six-speed auto is feeling its age, particularly with its high cruising rpms, but does good work in most other situations.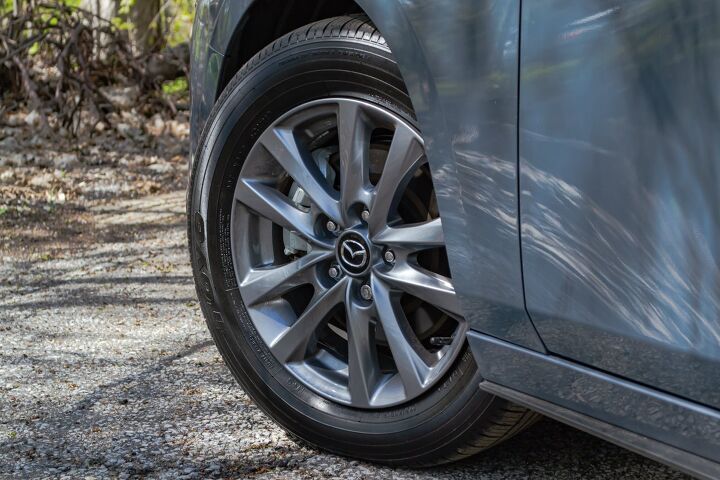 This eager engine is paired with well-weighted, communicative steering. A progressive brake pedal rounds out a compact package that still remains fun to drive. Like the Toyota, the Mazda doesn't send power to the back until it detects slip, which keeps it operating as a pointy front-driver for most situations. There's more of an edge to the ride than in the marshmallowy Corolla, but this modestly-tired (205/60 16s) 3 rides with more fluidity than the sometimes crashy Mazda3 Turbo.
All this fun comes with a penalty at the pumps. Officially, the AWD Mazda3 is rated at 26 mpg city, 35 mpg highway, and 30 mpg combined. That's on 18-inch wheels however; a discrepency we'll get into in the pricing section. Canadian figures for this tester are 8.8, 6.6, and 7.9 L/100 km, respectively. We hovered right around those figures for the week.
Bottom Line: What do you prefer: camel-like efficiency, or a responsive drive?
Toyota Corolla Hybrid AWD vs Mazda3 AWD: Styling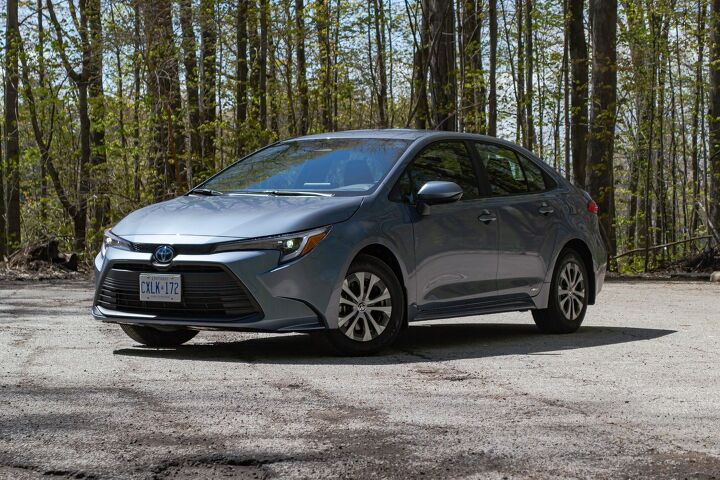 Corolla: The Corolla saw a very subtle facelift for 2023. The Hybrid LE looks much the same as before, with tweaked headlights being the most noticeable change. The sheer number of these things on the road has dulled the impact of the shape—and the rental-spec Celestite paint doesn't help—but this is the most visually interesting Corolla in decades. The big front bumper intake and squared-off rear bumper gives the Corolla sedan just a hint of touring car vibes.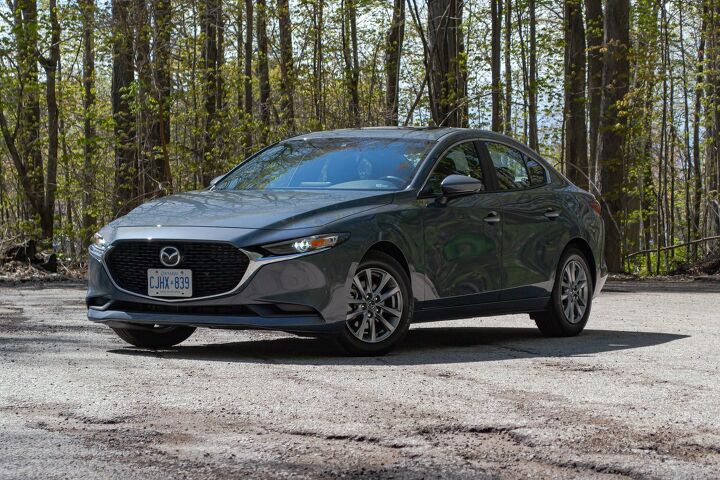 Mazda3: Handsome as ever, the Mazda3 is a classy compact act. The low nose and tasteful chrome grille accent lift it upmarket, and there's an elegance to the clean flanks and tidy rear. The sedan still has a chunky ol' C-pillar, but it's nothing like the hatchback's car-hiding swell of sheetmetal. These 16-inch alloy wheels just kind of exist though, don't they?
Bottom Line: Neither of these cars are doing their best work in these dull paint colors. We prefer the Mazda's subtle upmarket vibes over the Corolla's your-Uber-has-arrived look, but hey, your tastes may vary.
Pricing and Value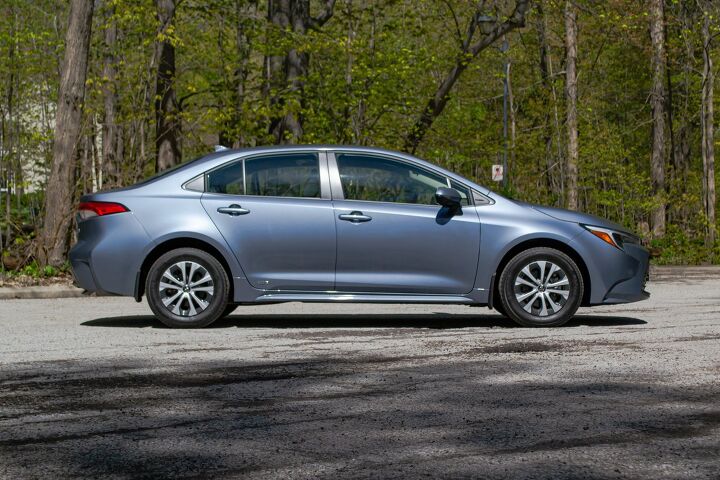 Corolla: Both of these Canadian-spec testers don't have exact US matches, but the Corolla gets closest. Basically, this is the Hybrid LE AWD, which rings in at a wholly affordable $25,545 ($29,250 CAD), including destination. Canada gets a few extra perks on top, including heated seats, a heated (and leather-wrapped) steering wheel, and blind-spot monitoring with rear cross-traffic alert. American buyers can add those last two items as part of either the Convenience or Premium Packages ($1,340 or $2,190, respectively), which also add remote keyless entry, 16-inch alloys and, in the latter's case, a power moonroof.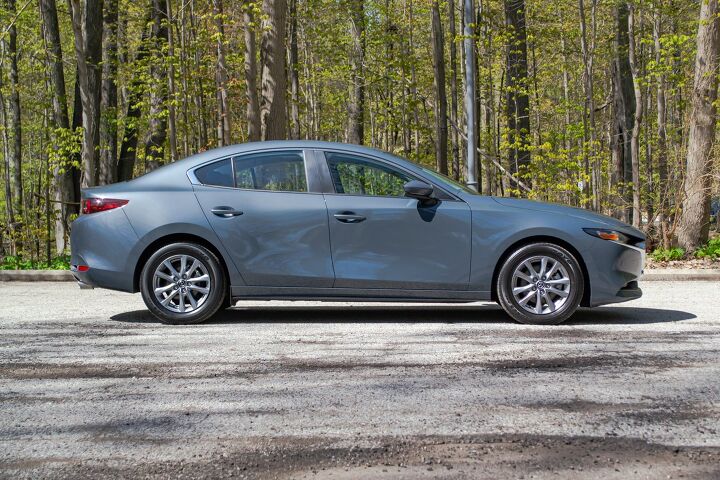 Mazda3: Canada's AWD-loving nature means you can get it on the Mazda3 in almost all trims. This GS tester is roughly equivalent to the US market's Preferred trim, but AWD only comes on-stream with the Premium ($30,565, including destination). That's a big price gap, but you then get a lot more goodies, including heated front seats (with power adjustment and memory for the driver), 12-speaker Bose sound system, and full leather.
Our Canadian-spec tester rings in at $32,345 CAD.
Bottom Line: As you can see, the Mazda is pricier, either by a bit in Canada, or quite a lot in the US if you're set on AWD. The trade-off is a much nicer cabin and, South of the border, much more standard kit.
Toyota Corolla AWD vs Mazda3 AWD: Verdict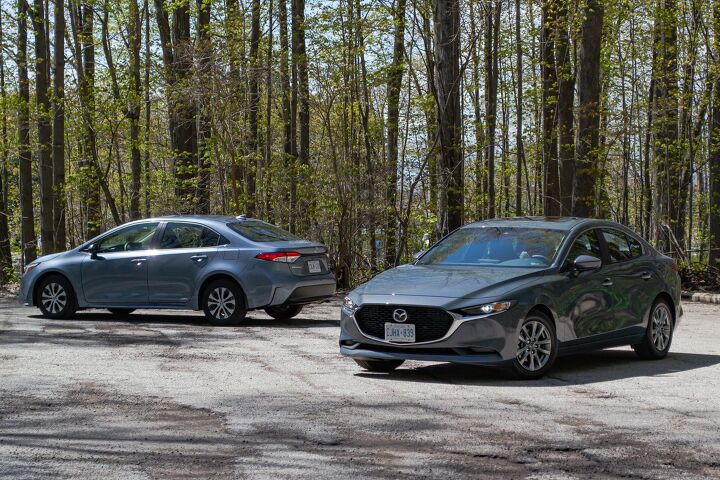 As we suspected heading into this, these two small, AWD sedans offer very different experiences. So different, in fact, that we can't crown a winner: in the face-off between Toyota Corolla and Mazda3, it's a matter of priorities.
If you're looking for sensible, the Toyota Corolla is basically a kale smoothie in a gray wool suit. Stellar fuel economy and a ride that smothers imperfections are its strong points. Just don't be surprised if folks confuse you for their Uber.
The Mazda3 continues to be the driver's choice, even in this more prosaic form. Not only is the drive more engaging, but the interior still treads closer to premium territory. You'll have to make do with only okay fuel economy however, and back-seat riders won't like it.
Schlee would splurge on the Mazda and accept the efficiency hit; I'd pocket the savings, at purchase, during, and (likely, once you consider depreciation) after ownership. No matter which you choose, it can be a winner.
Become an AutoGuide insider. Get the latest from the automotive world first by subscribing to our newsletter here.
Published June 2nd, 2023 7:33 PM
Popular Articles
Latest Comparisons
Car Buying Tools