345 Views
JuiceBox EV Charger Hands-On Review
April 16th, 2022 11:33 PM
Share
We go hands-on and install a JuiceBox EV charger to see how it tackles a Jeep Wrangler 4xe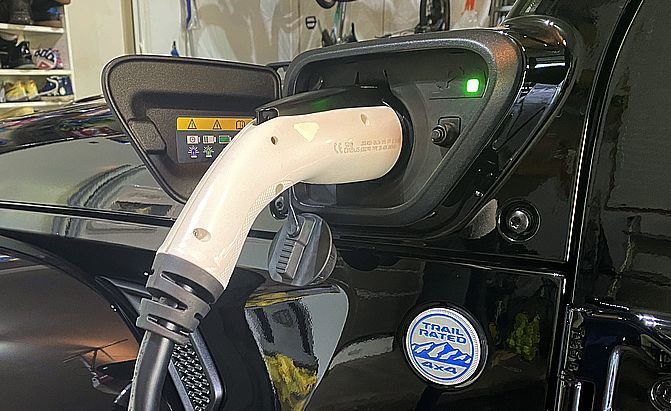 Editor's Note: When Neil Rosenzweig over at our Outdoors group was dissatisfied with the factory charger that came with his Jeep Wrangler 4xe, AutoGuide arranged for him to receive a JuiceBox EV charger to test and review. Neil was not compensated for his review.
I'm a first time EV owner and as a result, a first-time home charger user and owner. Back in June when I brought our Jeep Wrangler 4xe battery hybrid home, I thought it would just be easy enough to use the Gen1 charger that came with it. However, after plugging in the 4xe every day for the first couple of months and letting it charge for 12-plus hours on a completely drained battery, I started to question if it was worth the wait—and quickly decided it wasn't. I found myself looking in the garage, checking on and watching for all the blue lights on the dash to light up, letting me know how much the battery still had to go. The process was painful. This wasn't what the future of the automobile was supposed to be like.
It was time for an upgraded charger.
| | |
| --- | --- |
| Pros | Easy to set up, app enabled, WiFi, locking bracket, Alexa and Hey Google-enabled |
| Cons | Heavy charging cable, WiFi connectivity issues, buggy app |
Table of contents
Why a JuiceBox EV charger?
As a first time EV owner, you may be wondering why I chose a JuiceBox? I started doing my homework on EV charging the day I ordered the 4xe and since I was going to have eight to 10 weeks, I read a lot. I spent hours on sites like
Jeep Wrangler 4xe Forum
, and other EV sites, gathering insights about what others like myself were experiencing, and looking for suggestions from other knowledge-seeking individuals. For me, it was going to come down to ease of use and reliability, but as I continued to research, I was surprised by how sophisticated EV charging had become. While there are plenty of reviews and articles (including
an in-depth look from AutoGuide
), a couple things seemed to be consistent about the JuiceBox products:
Easy to set up and use.
Ability to track usage via the app.
Reliable.
Wi-Fi connectivity.
A JuiceBox 32 EV charger is plenty for overnight charging of full EVs, and more than enough for the battery in my Wrangler, but JuiceBox went all-out and sent a 40-amp JuiceBox 40. It also didn't hurt that a couple friends with full EVs, as opposed to plug-in hybrids, said JuiceBox was the way to go. They were on their second and third EVs and had spent a lot of money over the years on other charging solutions. I was able to learn from their mistakes.
Ultimately what pushed me to JuiceBox was the following:
I was not going to need to install a separate electrical circuit, as the JuiceBox 40 could charge the 4xe's 17.4kWh battery from 1% to 100% in two hours.
The ability to schedule charging times.
Notifications when the car was completely charged.
Tracking my charging history and KW usage within the app.
The ability to share the load for an additional charger on a single circuit, if I have the future need.
The three-year warranty.
Delivery and Installation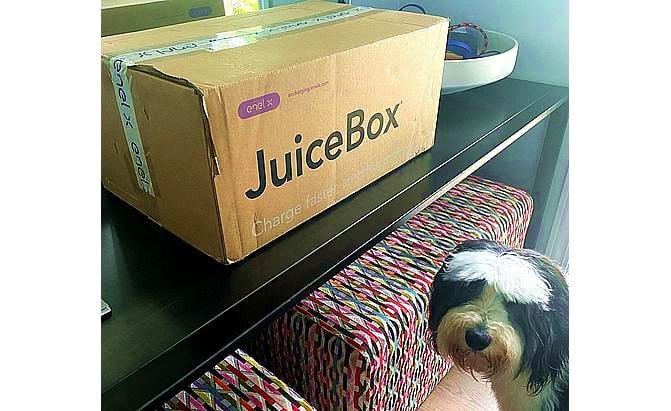 Tito is not amused.
Once the JuiceBox charger arrived, I couldn't wait to open the box. As excited as I was for it to arrive, my dog Tito thought it was something for him. I expected a bunch of parts, and that assembly was going to be needed. To my surprise, the only assembly was going to be attaching the supplied bracket to the wall and setting/locking the JuiceBox to the bracket, before downloading the app and plugging the unit in. In addition to the JuiceBox, the box included:
A wall plug with several feet of cable.
A 25-foot cable with connector and holster.
A step-by-step instruction manual.
A cheat sheet with step-by-step guidance to download the app (IOS or Google Play) and set up an account.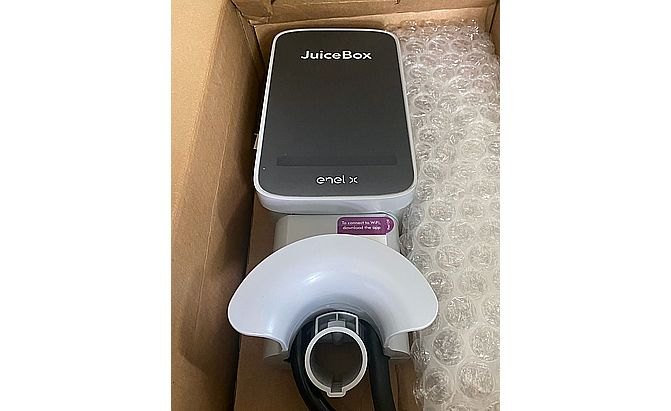 From the time our electrician finished running the electrical to the garage, I followed the instructions for WiFi set up and was charging the 4xe in under 20 minutes. As anyone who has installed an EV charger in the past few years has probably experienced, the most difficult and time-consuming part of the process was getting time on the electrician's calendar to install the NEMA 14-50 plug outlet as our house did not have one in the garage. The wait was many weeks, so I recommend planning well ahead, especially if you're purchasing or own a fully electric vehicle and you require significant charging on a daily basis.
Using the JuiceBox App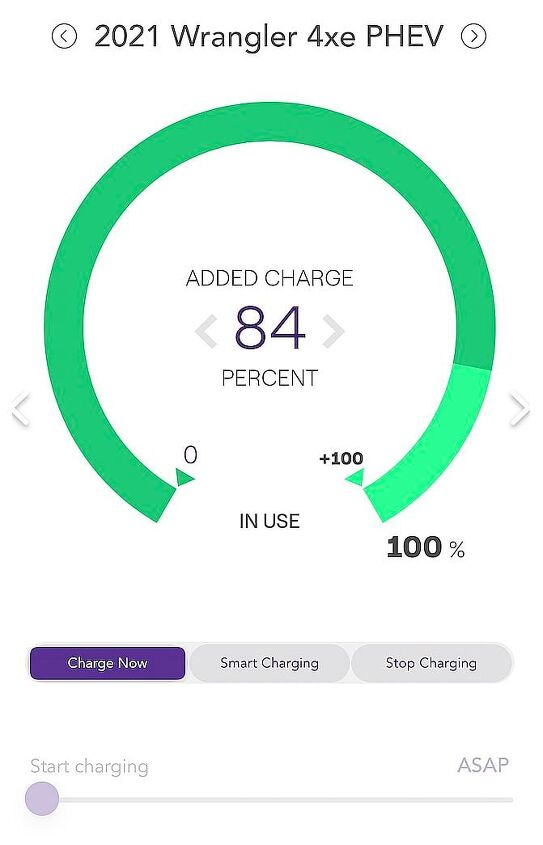 Once you download and install the EV JuiceNet app and create an account, the process is very simple. It's important to point out that you need to go through the app setup before plugging in your JuiceBox. After connecting to WiFi, JuiceBox recommends waiting 10 minutes before plugging in your vehicle, as it will check its firmware version and perform any necessary updates.
In our house, we have been thrilled with the ease of the JuiceBox in charging our 4xe and the ability to track our usage with the app. Since instillation, we have been able to:
Charge our 4XE efficiently.
Start and stop the charging sequence with ease.
Set a charging schedule so that we charge on non-peak hours.
Save a tremendous amount on gasoline.
Conclusions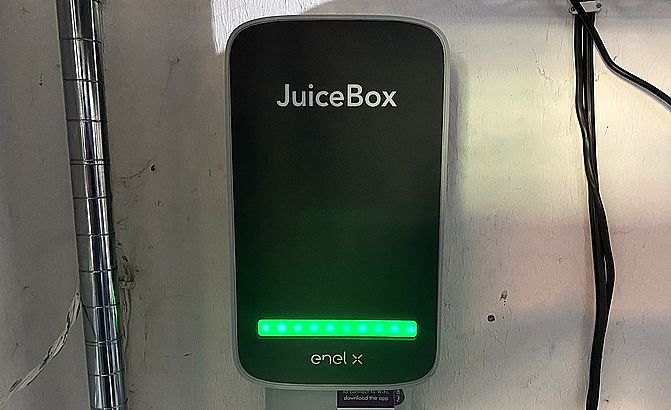 As I said up front, if everything was this easy to use, there would be less stress in making decisions and trying new things. Now I'm able to be fully charged in approximately two hours and back on the road without having to use any fuel.
Thank you, JuiceBox, for developing a consumer friendly product that made adopting an electrified vehicle truly easy. It's no wonder this product came so highly recommended.
JuiceBox 32 Specs
| | |
| --- | --- |
| Power output | 32A, 3.5 kW at 110 VAC; 7.7 kW at 240 VAC |
| Power Input | Single phase 110 - 240 VAC ~ 60Hz |
| Input Cabling | 2.0-foot input cable with NEMA 14-50 plug, OR 2.5-foot hardwire pigtail |
| Output Cabling | 25-foot with SAE J1772 standard plug |
| Dimensions | 7.6" (173 mm) x 18.6"(474 mm) x 5.6" (141 mm) |
| Weight | 15 pounds |
JuiceBox 40 specs
| | |
| --- | --- |
| Power output | 40A, 4.4 kW at 110 VAC; 9.6 kW at 240 VAC |
| Power Input | Single phase 110 - 240 VAC ~ 60Hz |
| Input Cabling | 2.5-foot input cable with NEMA 14-50 plug, NEMA 6-50 plug, OR 2.5-foot hardwire pigtail |
| Output Cabling | 24-foot with SAE J1772 standard plug |
| Dimensions | 7.6" (173 mm) x 18.6"(474 mm) x 5.6" (141 mm) |
| Weight | 15 pounds |
Can I Charge My Hyundai Kona EV With a JuiceBox EV charger?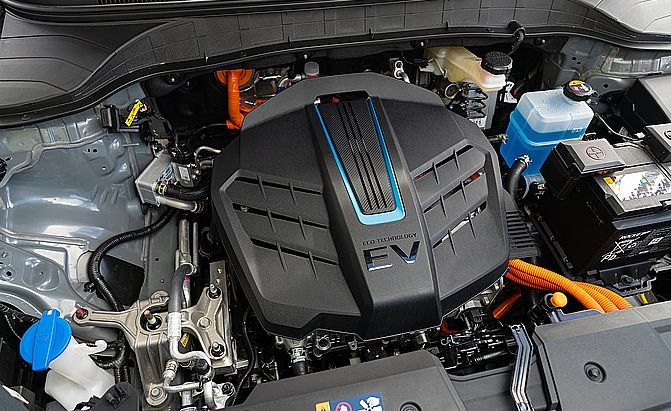 Photo credit: Hyundai
You can charge a Hyundai Kona—and every other EV and plug-in hybrid—with a JuiceBox electric car charger. Even Tesla, which really wants you to live in it's proprietary ecosystem, Apple style, can be charged with Tesla's own J1772 adapter.
Figuring out which models use which technology can be very confusing. Many automakers sell models with the same name in gas, hybrid, plug-in hybrid (PHEV), and all-electric varieties, and EVs are both introduced and discontinued almost monthly. Most, but not all EV and PHEV models are sold in both the US and Canada, but boutique and startup manufacturers like Lucid, Rivian or Fisker might have different timelines for different countries, or not sell certain models there at all. The US and Canada hypothetically have rationalized standards for vehicles, meaning the same set of standards applies in both countries, but in practice, actual approval to sell a car may not be so easy.
Recent Updates:
October 25, 2021: Added specifications for additional models.
---
We are committed to finding, researching, and recommending the best products. We earn commissions from purchases you make using the retail links in our product reviews. Learn more about how this works.
Photo credit: Neil Rosenzweig for AutoGuide.com
Published September 30th, 2021 2:00 PM
Popular Articles
Latest Comparisons
Car Buying Tools