24 Views
2018 Audi A5 Cabriolet and Audi S5 Cabriolet Review
February 11th, 2021 9:47 AM
Share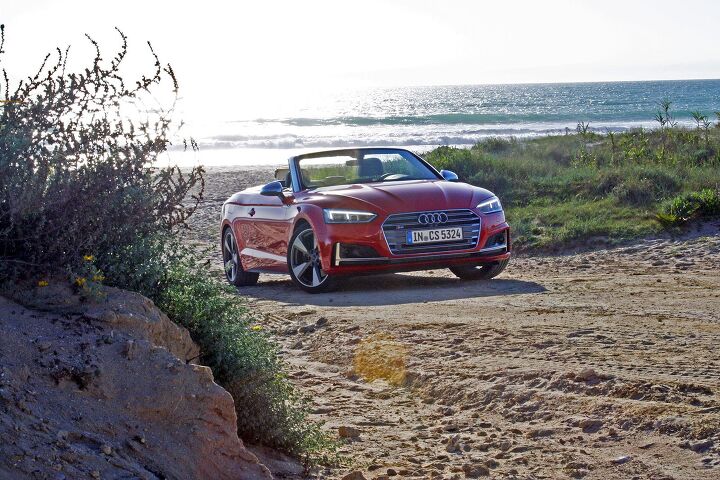 It takes a certain kind of person to want a convertible.
Unapologetic, extrovert, Thelma and Louise types hell bent on getting noticed and having adventures that will make killer stories later. Ripping through the Spanish countryside driving the all-new 2018 Audi A5 and S5 Cabriolets, people are trying to sneak photos of our convertibles, cheering us on, and generally doing double-takes. And this isn't even a supercar. It's amazing what lopping the roof off a coupe can do.
ALSO SEE: 2018 Audi A5 and Audi S5 Review
The 2018 Audi A5 Cabriolet and Audi S5 Cabriolet are classy, yet still know they are brawlers underneath their conservative new suits. Where the old A5 had the proportions and poise of an American muscle car, the new ones are distinctly European — leaner and more stylish, if a bit less brash. This generation of A5 is all-new from bumper to bumper and this redesign brings a lighter yet stiffer chassis, which results in a more direct and balanced drive, as well as all the fantastic technology we've come to expect from Audi. More importantly for the Cabriolets, Audi has taken notice of the common complaints drivers have about owning convertibles and fixed them.
ALSO SEE: Where is Audi Made?
A More Convenient Convertible
Audi has applied some real engineering solutions to make the Cabriolets more convenient, addressing many of the negative traits that used to make driving them not as practical or comfortable as their coupe counterparts. Starting with the star of the show, the fully automatic soft top now has better sound, heat and cold insulation. With the top up, the Cabrio is now far quieter inside, and even with the top down, it's easy to carry a conversation with your passengers without having to shout, especially with the wind screen in place.
In that same vein, new microphones built into the seat belts right where it hits your shoulder make it easier to have a phone conversation over Bluetooth or use the voice commands for Audi's infotainment system even with the top down. It's nice not having to shout like some sort of barbarian.
FAST FACTS
| | |
| --- | --- |
| Engine: | 2.0L turbo 4-cyl (A5); 3.0L turbo V6 (S5) |
| Output: |  252 hp and 273 lb-ft; 354 hp and 369 lb-ft |
| Transmission: |  7-speed DCT (A5); 8-speed tiptronic (S5) |
| US/CAN Fuel Economy (MPG): |  Not yet available |
| US Price: | Starts at $49,600 (A5); $62,300 (S5) |
| CAN Price: | Starts at $60,400 (A5); $70,700 (S5) |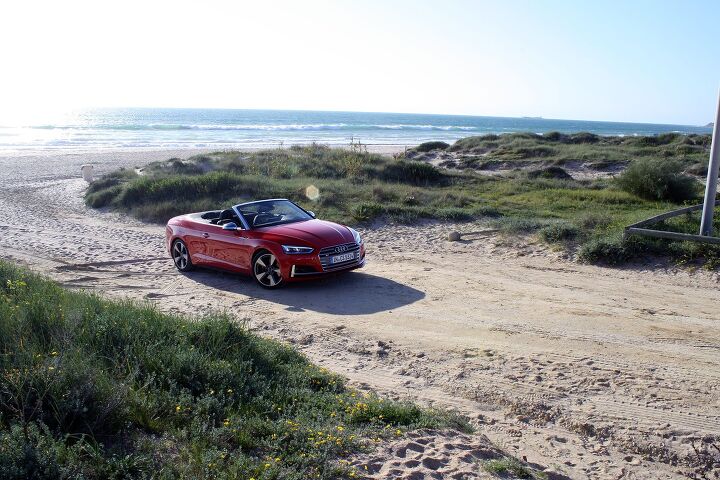 The fully automatic soft top takes just 15 seconds to open and 18 seconds to close and can be operated at speeds up to 31 mph (50 km/h). New to the Cabrios are one-touch buttons that drivers can use while in motion so they don't have to keep their finger on the switch to open or close the top. Older convertibles required the car to be in park and the handbrake to be applied before letting the driver open or close the roof.
Other common complaints with convertibles are the lack of space for passengers and cargo, and Audi has also addressed that. The new generation Cabrios are two inches longer than the ones they replace, which results in more shoulder and leg room for all passengers, even in the back. Cargo capacity is rated at 13.4 cubic feet (380 L) with the top closed and 11.3 cu-ft (320 L) with the top open, both higher figures than the previous A5 and S5 Cabrios and more than what's offered in the BMW 4 Series Convertible. Even with the top open, I was easily able to fit two carry-on sized pieces of luggage, two coats, and a big backpack in the trunk.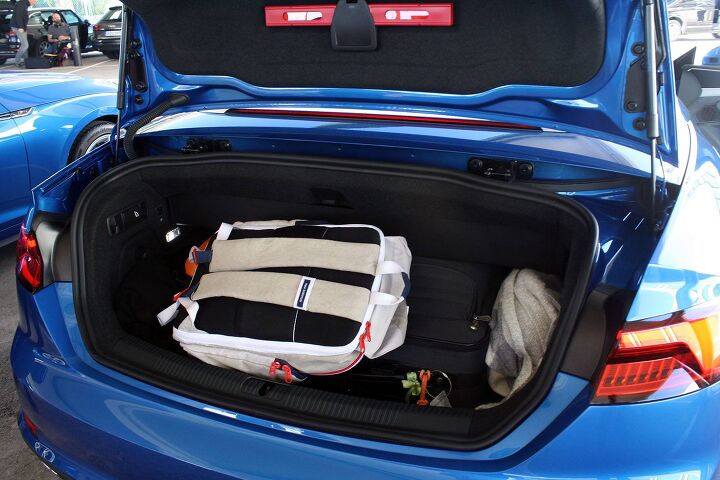 Blind spots are usually a big issue when convertible tops are up, but the Cabrios seem to have even better visibility than their coupe counterparts. New side mirrors also make blind spots even smaller.
The other fantastic addition to the Cabriolets is a new neck heater (similar to Mercedes' AirScarf) under the headrests in the front seats that blows warm air at you to keep you comfortable on those crisp days when you still want the top down. It feels like a hug from a warm ray of sun and has three levels of intensity.
A Whole New Personality
Giving the A5 a convertible roof gives the car a whole new personality, almost even more so than the new chassis it rides on. Although the Cabrios are about 88 pounds (40 kg) lighter than they used to be, Audi says they are the stiffest in their class. Torsional stiffness is also up by 40 percent.
Combined with the lighter weight and new stiffness, the new engine options also help to give the car more precise driving dynamics and a more athletic feel. Both the Cabrios feel poised and unflappable when driven hard, handling corners with surprising ease, while I was also able to navigate parking garages, tight Spanish roundabouts, and little towns without getting nervous.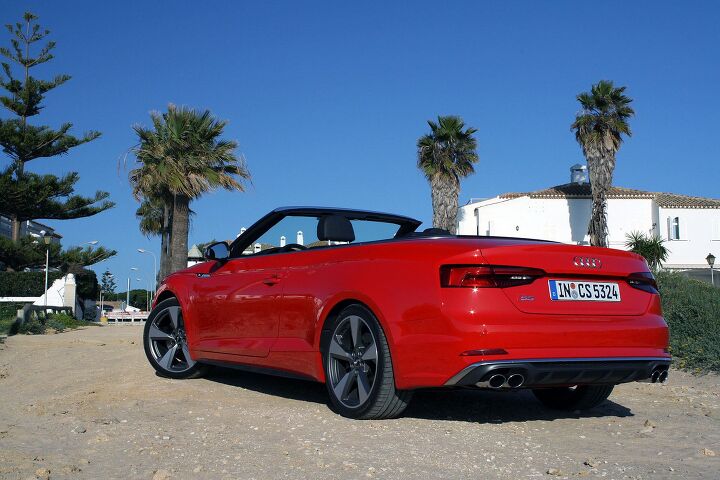 North Americans get two engine options for the Cabriolets while Europeans get two additional diesel models. The A5 Cabriolet is powered by Audi's ubiquitous 2.0-liter turbo four-cylinder with 252 horsepower and 273 pound-feet of torque. That engine is paired to a seven-speed dual-clutch automatic transmission. Although 252 horsepower might not seem very substantial, the generous torque and snappy, smooth transmission make it a non-issue. Accelerating to pass slower traffic or merging onto the highway are easy.
The S5 Cabriolet, however, has more urgency and makes acceleration even more effortless. Powered by a turbocharged 3.0-liter V6, it outputs an ample 354 hp and 369 lb-ft of torque while being paired exclusively to an eight-speed tiptronic transmission. In normal driving, it has a rear-drive bias, sending 60 percent of the torque to the rear wheels and 40 to the front. Up to 70 percent can be routed to the front wheels, and up to 85 percent can go to the rear. Torque vectoring also increases stability in corners and makes the handling more direct.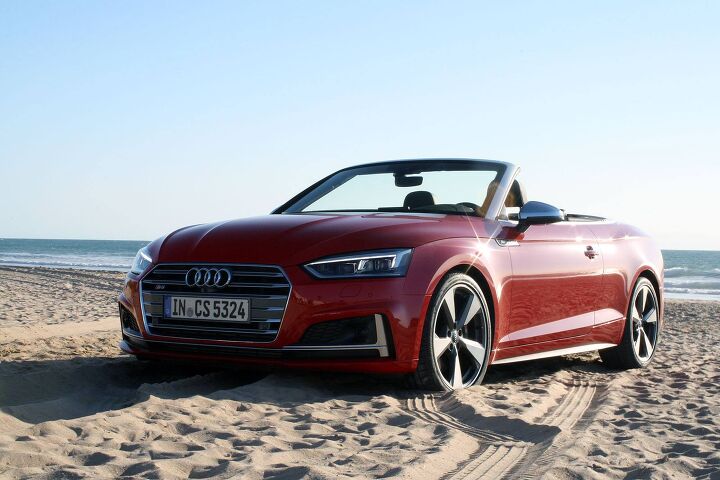 Both the A5 and S5 Cabrio feel much more balanced than they used to and their lighter weight really helps the convertibles feel more alive and even playful. Although steering feel isn't sports car engaging, the heavier setup is precise and intuitive. Both engines have broader, more linear power bands and pull strongly throughout the rev range, displaying just a hint of turbo lag when you put your foot down. Both engines are both more powerful and more fuel efficient than the ones they replace and the torque doesn't drop off as sharply higher in the rev range.
In Dynamic mode, the S5 even sounds pretty good, sounding off a big "woof" after enthusiastic downshifts, although the sound from the V6 feels slightly manufactured and makes me long for the rude and growly V8 in the RS5.
Terrific Tech
Of course, the Cabriolets are now available with all the latest technology Audi has to offer. Starting with the customizable Virtual Cockpit digital dashboard, the display is crisp, responsive and pretty easy to use with the steering wheel-mounted controls. A useful head-up display and traffic sign recognition are also available.
ALSO SEE: A Deep Dive into Audi's Beautiful Digital Dashboard
The MMI infotainment system, although simplified and more streamlined than before, is more user-friendly, but still requires a bit of a learning curve. A touchpad on the rotary dial allows drivers to draw in letters to input addresses and contact names or numbers, so you can keep your eyes on the road because you don't need to scroll through to select letters. The system is also compatible with Apple CarPlay, Android Auto and wireless charging. The electronic shifter that springs back to center after making a selection is quite annoying to use, but drivers will get used to it.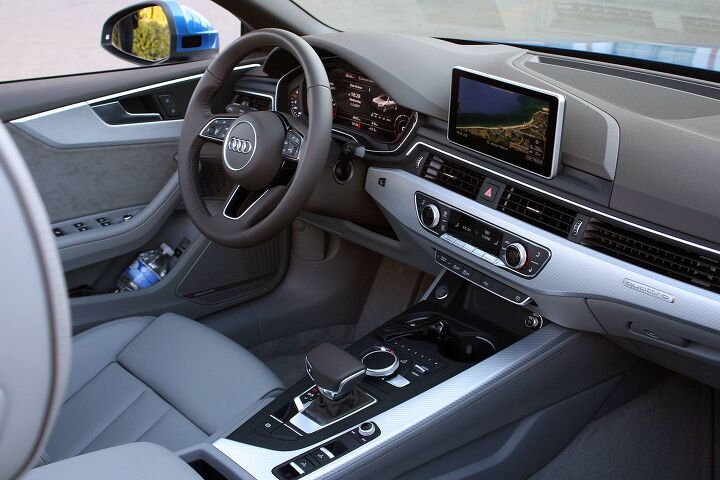 Up to 30 driver assistance systems are offered, including a top-down 360-degree view camera, adaptive cruise control with stop-and-go capability, rear cross traffic alert, automatic emergency braking, active lane assist, collision avoidance and more. The Cabrios are also connected to the internet, meaning they can communicate with other Audis and infrastructure like traffic lights to get traffic updates, warnings about road hazards and speed limits. The LTE connection also allows the car to act as a wifi hotspot.
The comfortable interior is, of course, up to Audi's quality standards, its obsession with detail being very obvious. Everything from the switch gear to the build quality and materials feel luxurious and substantial, while the layout itself is logical and attractive.
The Verdict: 2018 Audi A5 Cabriolet and Audi S5 Cabriolet Review
The A5 and S5 Cabriolets benefit the most from their newfound lightness and tighter, more precise driving dynamics. Many convertible diehards, however, will really come to appreciate how Audi engineered some real solutions that fix some of the nagging downsides of having a convertible.
Thelma and Louise would be pretty proud to trade their old Ford Thunderbird for the Audi A5 or S5 Cabriolet, and it's just as up for adventure as they were. Wearing all the bug splatter we acquired driving through the Spanish countryside proudly like badges of honor, the Cabriolets still look smart, their sense of adventure still shining brightly through the grime.
[Update: This review incorrectly stated that the A5 Cabriolet came standard with front-wheel drive and a six-speed manual transmission. In fact, these features are only available in Europe. The error has been fixed.]
Discuss this story on our Audi Forum
LOVE IT
Smooth, precise, athletic driving
Great convertible technology
Great interior
LEAVE IT
Expensive options
Might want to hold out for the crazier RS5 Cabrio
Published March 3rd, 2017 8:00 AM
Popular Articles
Latest Comparisons
Car Buying Tools