22 Views
February 11th, 2021 9:46 AM
Share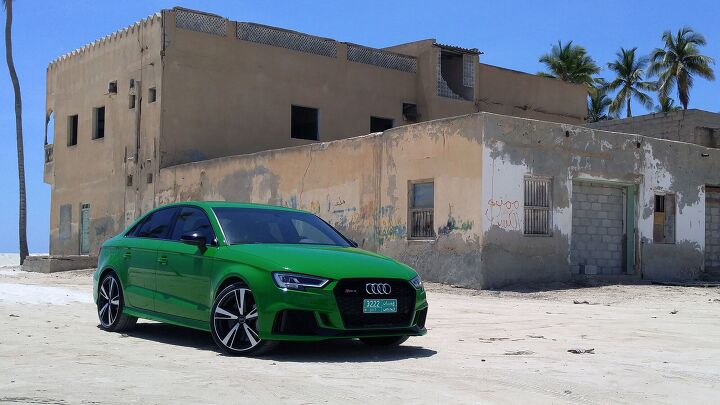 This bright green Audi RS 3 sedan I'm piloting is a very fast small car that makes awesome, playful noises. But unlike Audi sport models of old, this one can slide through corners up and down the Dhofar mountains of Oman.
If you think too hard about all that, it may boggle the mind. Who goes to Oman to test drive an Audi? And aren't these cars typically offered with a drab color palette of grays, whites and blacks, making them easily mistakable for a VW Jetta? How did the company put so much speed and style in such a small package, and how on earth is a car with a pedigree and loyalty to grippy all-wheel drive sliding like a real-wheel-drive car?
Affordable, fast and a bit of a throwback
It's clear that with the RS 3, the most accessible vehicle in the Audi Sport catalog, things have changed dramatically. Starting at around $60,000 USD ($62,900 CAD) this is the most affordable vehicle Audi Sport will offer, and instead of just mailing it in with a pretty fast and stiff version of the A3/ S3, the folks at Ingolstadt went all out, harnessing the brand's motorsports heritage by sticking a turbocharged five-cylinder engine under the hood. This is the same engine that sees duty in the new TT RS coupe, with the same 1-2-4-5-3 firing order as the original Audi racing legend, the Ur-Quattro.
FAST FACTS
| | |
| --- | --- |
| Engine: | 2.5-liter turbocharged five-cylinder |
| Output: | 400 hp, 354 lb-ft of torque |
| Transmission: | Seven-speed dual clutch |
| 0-62 MPH: | 4.1 seconds |
| Fuel Economy: | N/A |
| Price (USD): | $60,000 (est.) |
| Price (CAD): | Starts at $62,900 |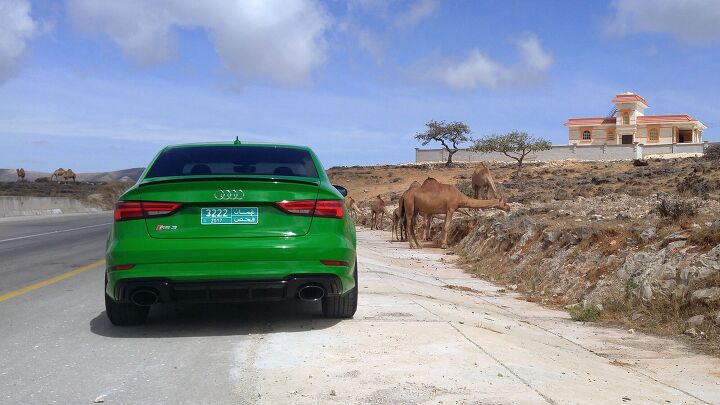 With 400 horsepower, this thing is extremely quick and sounds unique. Highway speeds happen in just 4.1 seconds thanks to a quick-shifting seven-speed dual-clutch transmission and the Quattro all-wheel drive certainly provides plenty of grip in straight-line affairs. The noise, the speed and the particular hue of our test car drew attention from many… except the unfazed camels that cluttered the remote roads of Oman. They must be Mercedes or BMW fans….
ALSO SEE: Where is Audi Made?
How does an AWD compact slide?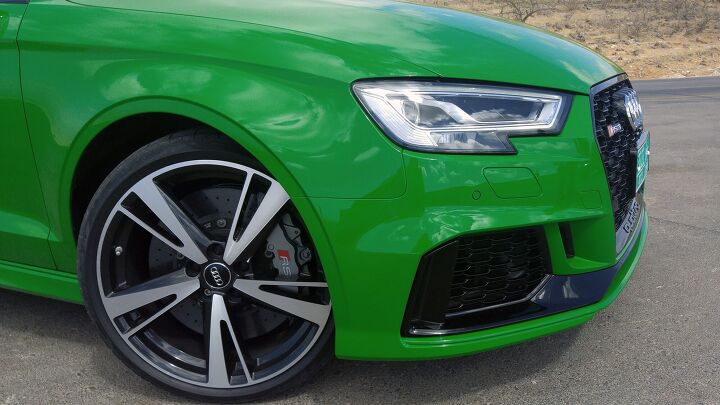 But what about that strange moment of humorous sliding in the mountains? How can this all-wheel drive compact manage that? Interestingly enough, our car was fitted with optional staggered tires, which means the rubber at the front and rear had different widths. Typically you see cars with wider rear tires than front, something that usually looks more intimidating and provides more grip in the rear end, to prevent oversteer, but in this case, it seems like the RS 3 features staggered tires in the opposite setup: wider 255-width tires in front, and thinner 235 width at the back. Keep in mind that this is the optional setup, while the standard arrangement is 235 all around.
As a result of this staggered setup, the rear end felt more playful and lively, in comparison to what we usually expect from these all-wheel-drive cars. It's a subtle thing that will really appeal to the enthusiasts and potential track junkies, who want the ability to slide the car at will.
SEE MORE: 2018 Audi RS3 Sedan Video, First Look
It's a ton of fun, and it reminds me of one of the RS 3 rivals, the BMW M2. However, the M2 is a coupe and features rear-wheel drive instead of all-wheel drive, things that help the RS 3 stand out as a more practical, daily drivable vehicle. Another rival, the Mercedes-AMG CLA45 is also outgunned. This Mercedes car is curiously described as a four-door coupe, which is to say it has four doors but the rear seats aren't very accommodating. The CLA is also quite loud in terms of design and exhaust note. In comparison, the RS 3 shows its advantages here by being more reserved and versatile. The exhaust is adaptive, so when the car switches into the comfort or automatic driving modes, that singular exhaust note is muted, like those quiet and sleeping camels on the side of the road. Just like that, the car becomes anonymous.
About that bright green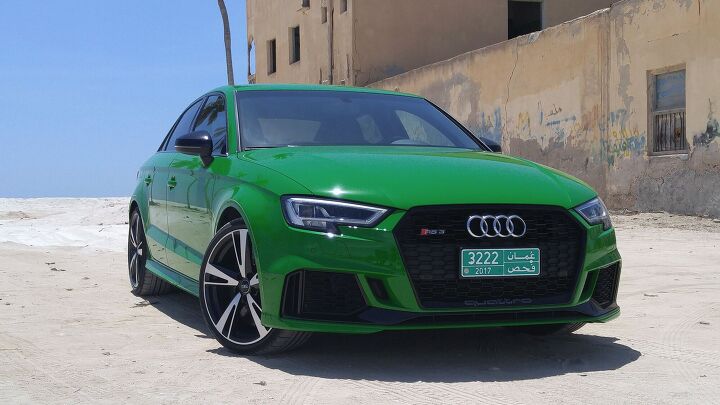 Then again, it's hard to be anonymous with this bright "Viper Green" paint finish, which gained plenty of attention around the sandscape of Salalah, Oman. While photographing this vehicle at a lookout at the top of the mountain, a tour guide with a group of German tourists wanted to get a closer look at this compact Audi, ushering us to snap a photo of him and the car like it was his. If he wanted to, he could order a custom-colored Audi RS 3 of his own, which is a part of the brand's Audi Exclusive Customer Program, which allows buyers to finish their car in "virtually any exterior color." The program also offers a bevy of different interior colors and trims as well, so customers can tailor the car's design as they see fit.
Another way the RS 3 surprises is with its steering, which is heavy, responsive and actually has some feedback, which is a criticism I had with the BMW M2. Changing the drive modes allows the driver to adjust the feeling and responsiveness of the vehicle. Standard on the RS 3 is the adaptive magnetic suspension setup, which can firm or soften up the ride as desired. The optional suspension upgrade is a fixed suspension setup found in a sport package, and buyers can also up the ante with a set of grabby and resilient carbon ceramic brakes if they so desire.
Customizable and Accessible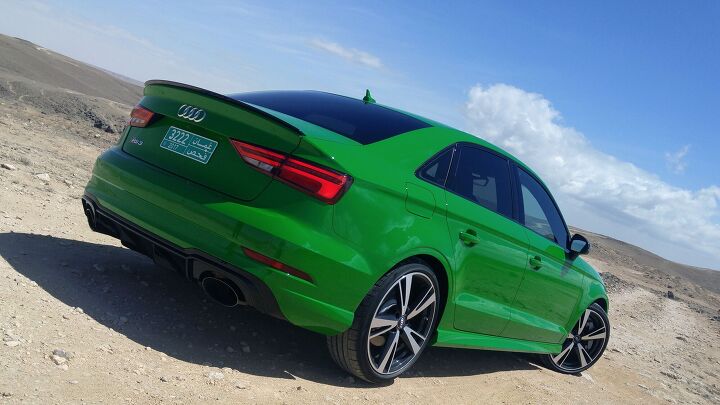 Another nice feature is the ability to mix and match different settings of the car, meaning you can have a lazy throttle and quiet exhaust and match that to a responsive steering setup and firm suspension. Or change it however feels natural for you. This is a fantastic luxury and one that will be really appreciated even if you're not a hard-core driving enthusiast that knows how many times Audi won Le Mans in the past 10 years. (Answer: Seven times, just in case you were wondering.)
So the RS 3 drives fast and loud if you want it to, and is a blast up the winding mountain road, even though it uses the same versatile MQB platform that underpins a number of cars. While the car shares many components with the Audi TT RS coupe, the platform is also shared with cars like the Volkswagen Golf, Tiguan and even the upcoming big SUV from VW, the Atlas.
SEE MORE: 2016 Volkswagen Golf R Review: Quick Take
This car is nothing like that latter trio though, in both driving dynamics and high-tech offerings. Standard fare is the informative Audi Virtual Cockpit that puts a massive 12.3 inch digital display in front of you, but does more than just show you the engine speed and speedometer. It can show a map and navigation instructions as well.
That Virtual Cockpit and its navigation display proved to be helpful when my co-driver decided to switch up the tunes, and changed the main display of the infotainment system to something more media related. Don't blame him though, the standard 705-watt, 14-speaker Bang & Olufsen audio system is very good, at least for when we wanted to hear something other than the exhaust note. Available via a Technology package are features like active lane assist, which will pull you back into a lane, as well as adaptive cruise control with stop and go. Audi pre-sense collision warning system and a high-beam assist are also included in this package.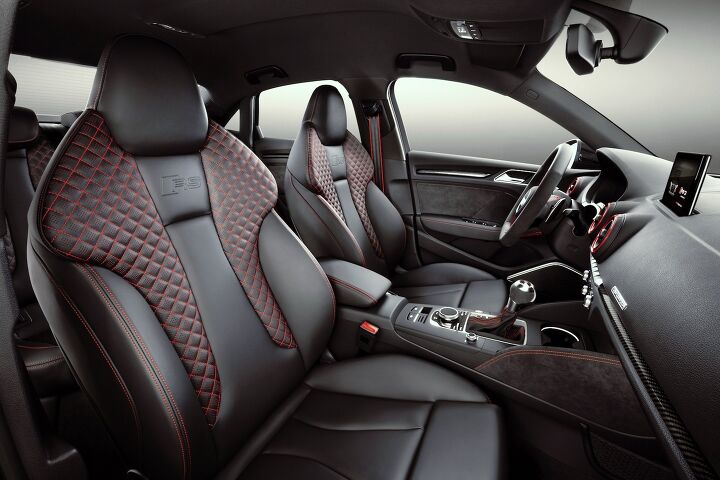 The interior is less exotic than the exhaust note, or the hue of our specialty spec paint job, but it does the job. If you've been in an A3 before, little has changed here. It's a clean design, with a motorized infotainment screen that can pop up out of the dash when you need or tucked away when you don't. It feels fairly premium, with soft plastics around the cabin and nicely bolstered seats that feature diamond-stitched leather. Another promising advantage this car has over the previously mentioned CLA45 AMG and BMW M2 is that it has great visibility and sightlines, a good thing to have when flipping through the many mountain switchbacks in Oman, not to mention keeping an eye on those camels.
The Verdict: 2018 Audi RS 3
Fun, loud, fast and well appointed, the RS 3 slots right between the Mercedes CLA45 AMG and BMW M2, and is far more liveable compared to those products.
The Audi Sport brand is looking to double the number of RS models in its lineup by early 2018, and that may scare some buyers into thinking that such vehicles will be watered-down abominations with too much power and harsh driving dynamics. However, as the new RS 3 shows, the automaker can deliver a car that can suit practically any lifestyle or driving preference. And that they can deliver cars that aren't just fast, but fun too.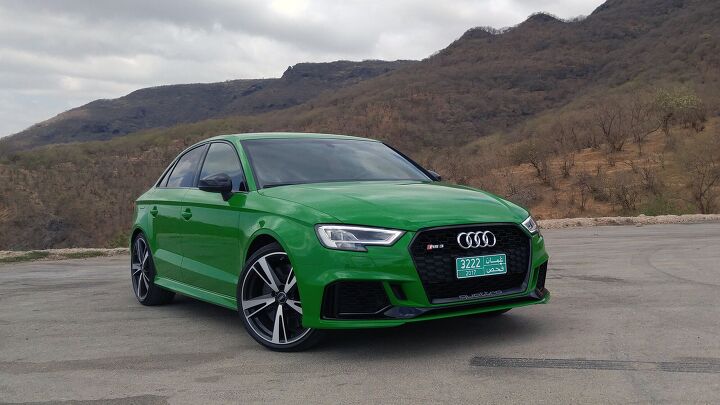 LOVE IT
Fast
Sounds great
Price
Exclusive colors
Fun to drive!
LEAVE IT
Understated interior
Pretty expensive (for a compact)
Camels weren't impressed
Published March 23rd, 2017 8:50 AM
Popular Articles
Latest Comparisons
Car Buying Tools