9 Views
2018 Buick Regal TourX Review and First Drive
February 4th, 2021 3:45 PM
Share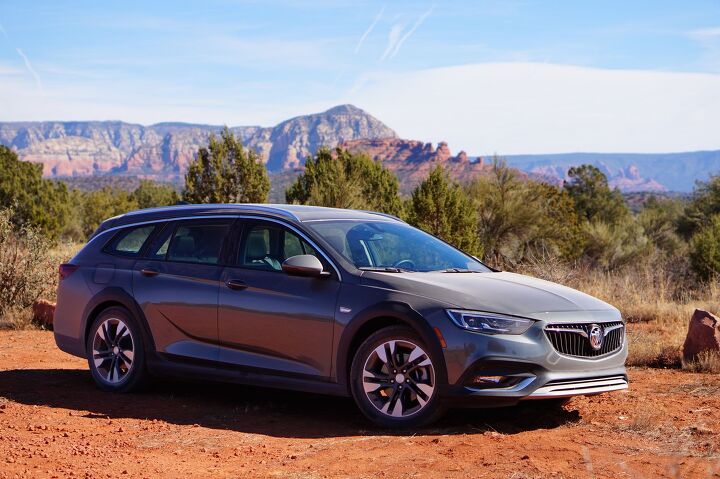 Conformity is the killer of creativity and feeling a streak of inspiration, Buick is doing something different by offering a wagon. It's no secret that wagons aren't selling, but it's believed that they will make a bit of a comeback and when they do, Buick will be ready.
The 2018 Buick Regal TourX is one of the American automaker's latest offerings and even though it doesn't call it a wagon, instead preferring to classify it as a crossover, there's no getting around the fact that it is indeed a wagon, and it's better because of it. "Wagon" shouldn't be a dirty word — this practical bodystyle makes so much more sense for most people's needs. Buick is making a very strong case that anyone who is outdoorsy and prides themselves on doing things differently should consider a wagon instead of a typical crossover.
Besides being practical, this wagon is legitimately handsome. Buick has been hiring a lot of younger, forward-thinking designers and it really shows. The proportions are just right on this sleek wagon and its restrained yet confident style makes it easy to like and will help it age gracefully. Tasteful chrome flourishes in just the right places, subtle body cladding, and lines that aren't in your face all make the TourX stand out in a sea of overwrought design.
So Much Practicality
Crossovers get all the love for a few reasons, one of them being cargo capacity. The Regal TourX can hold 32.7 cubic feet of cargo with the second-row seats up and an enormous 73.5 cu-ft with the seats folded flat. That's enough to fit a whole bicycle without taking off a wheel, but the overall utility is somewhat hampered by wheelwells that take up a lot of space in the trunk area.
FAST FACTS
| | |
| --- | --- |
| Engine: | 2.0L turbo 4-cylinder |
| Output: |  250 hp, 295 lb-ft of torque |
| Transmission: | 8-speed auto |
| Cargo Capacity: |  32.7/73.5 cu-ft |
| US Fuel Economy (MPG): | 21 city, 29 hwy, 24 combined |
| US Price: | Starts at $35,995 |
| : | (All pricing includes destination/Car is not available in Canada) |
The TourX's trunk also comes with cargo tie-downs that can slide lengthwise on rails and an electronic release to flip the sear seats down (but they have to be put back manually). The hatch can be opened hands-free and instead of waving your foot around like a crazy person trying to find the sensor, the TourX shines a Buick badge on the ground exactly where you need to wave your foot to open the trunk.
And if you prefer to use a bike rack, the Regal TourX (which is not available in Canada) comes standard with roof rails. The wagon's lower height makes it much easier to install and load roof racks than a taller crossover. If you use roof racks at all, this alone is a huge reason to opt for a wagon instead of a CUV.
ALSO SEE: Buick Continues to Embrace Weird Cars
Another reason people flock to crossovers is all-wheel drive. The TourX comes standard with all-wheel drive and a twin-clutch rear differential that can theoretically send 100 percent of the power to either rear wheel. Most AWD systems send power equally to the rear axle, but can't split it from left to right. This means that if three wheels have no traction, the TourX isn't as likely leave you stranded. Doing some light off-roading in Sedona, Arizona, hammering the gas on a dirt and gravel road from a standstill resulted in zero hesitation from the AWD system in finding traction. In another experiment, we even had just three wheels on the ground and the TourX was able to get going again with no problems.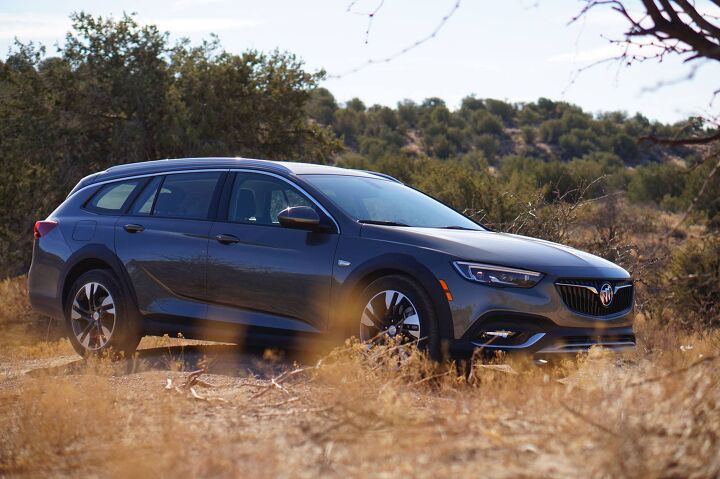 Driving Dynamics
The hallmark of any Buick is that it's comfortable, smooth, and quiet. A lot of attention has been paid to making sure the TourX continues this tradition, but better driving dynamics are also now part of the equation — the same stiffer suspension that makes it corner better, however, contributes to a choppier ride over rough roads that won't be like the Buicks you might remember. I'm happy to make that sacrifice because the Regal TourX has far better driving dynamics than many crossovers I've driven recently — it's not sporty, but it's confident and hits a sweet spot of being comfortable without being sloppy. With surprisingly crisp and responsive steering, you tend to forget that there's all that trunk behind you. The other benefit of the twin-clutch rear differential is that torque vectoring helps you power through a corner with more confidence by sending more power to a wheel that needs it instead of using the brakes like other systems do.
ALSO SEE: 2018 Buick Regal Sportback Review
This wagon is powered by a 2.0-liter turbocharged four-cylinder with 250 horsepower and 295 pound-feet of torque. It's not a fast car, but it gets to highway speeds without much drama. The engine seemed to struggle a bit climbing steep grades while in the higher altitudes of Arizona, but any car would be taxed in these conditions. The eight-speed automatic also experienced some jerky shifts but pretty much works as expected with well-timed and quick shifts. Fuel economy is rated at 21 mpg city, 29 highway, and 24 combined, and the smooth start/stop system helps as well.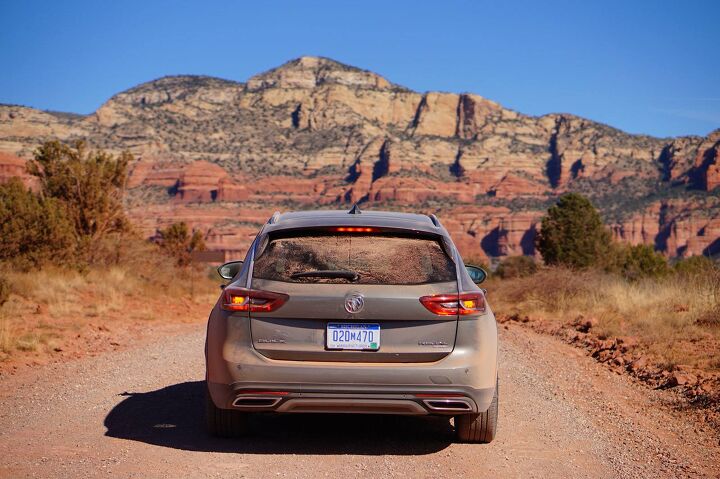 Smart Interior
Like the exterior, the interior has a clean, restrained style. The whole setup is user-friendly and intuitive, but comes off as a bit bland and too much like other GM products. Still, fit and finish is solid and the materials used have mostly luxury leanings.
The TourX comes standard a 7-inch touchscreen infotainment system with Apple CarPlay and Android Apple compatibility and is available with a 4G LTE connection that can turn the wagon into a wifi hotspot. The infotainment system is easy enough to use but is already starting to look dated and could benefit from further simplification and cleaner graphics.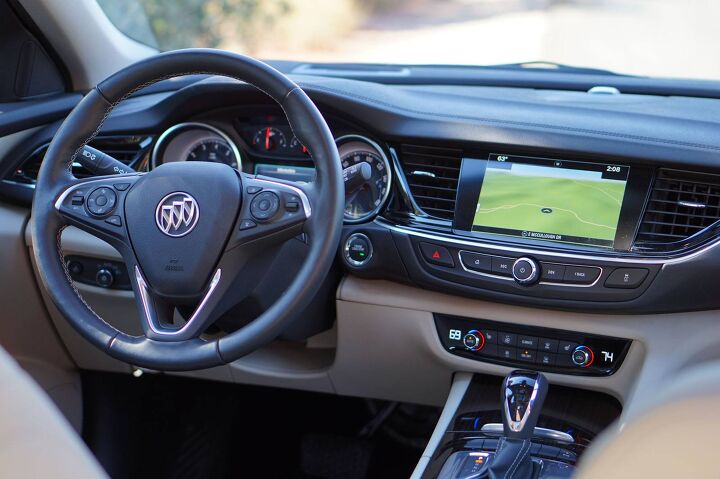 Pricing
Buick positions itself as an "attainable luxury" brand and prices its cars accordingly. The Regal TourX starts at $29,995 (all pricing includes destination), and a very generously equipped top trim model will go for $41,600, which includes all the tech and features you'd want like a huge moonroof, adaptive cruise control, lane keep assist with lane departure warning, forward collision alert, forward emergency braking and pedestrian detection, rear cross traffic alert, blind spot monitoring, wireless charging, adaptive headlights, a premium audio system, navigation, memory front seats, heated steering wheel and front seats, and more.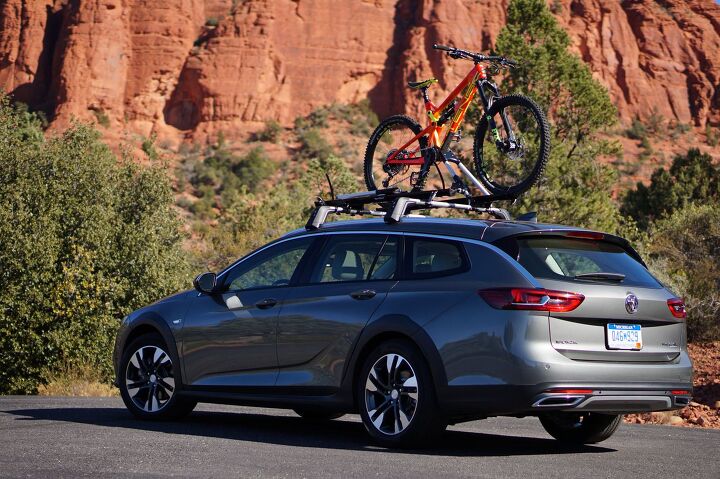 The Verdict: 2018 Buick Regal TourX Review
Buick has positioned itself in a unique niche that we firmly believe shouldn't be a niche — more people should be buying wagons because they can do nearly everything a crossover can do except conform and get lost in a parking lot. The Regal TourX is a pretty car that is smartly packaged, easy to like, and attractively priced; any crossover buyer would be wise consider this, if not any car with a wagon bodystyle.
Discuss this article on our Buick Forum
LOVE IT
Handsome, restrained, confident style
Standard AWD
So much cargo capacity
Good driving dynamics
It's different
LEAVE IT
Interior is too much like other GMs
Infotainment could be streamlined
Published January 29th, 2018 9:04 AM
Popular Articles
Latest Comparisons
Car Buying Tools