109 Views
2019 Infiniti QX50 Pros and Cons
February 3rd, 2021 11:19 AM
Share
The 2019 Infiniti QX50 is a significant product for Nissan's luxury brand.
Not only is it all-new for this model year, but it brings a lot to the table in the very competitive luxury compact SUV segment. Make sure to read our full review, but here is a quick overview of the pros and cons of this new crossover.
2019 Infiniti QX50 Pros and Cons
Pros
Beautiful Interior: The interior in the top of the line QX50 Essential trim is probably the best one in its segment and gets major points for design and attention to detail. The combination of cream quilted leather and a dark turquoise suede trim detail is just so beautiful and luxurious that it looks like a high-end living room. I really appreciate that Infiniti is doing something different that sets them apart from its competitors. It's a cohesive design that is also functional and very pleasing to the senses, but the two-screen infotainment setup takes some getting used to.
FAST FACTS
| | |
| --- | --- |
| Engine: |  Turbo 2.0L 4-cylinder |
| Output: | 268 hp, 288 lb-ft of torque |
| Transmission: | CVT |
| US Fuel Economy (MPG, AWD): | 24 city, 30 hwy, 26 combined |
| CAN Fuel Economy (L/100 km, AWD): | 10 city, 7.8 hwy, 9.0 combined |
| CAN Price: | Starts at $44,490 |
| US Price: | Starts at $36,550 |
| : | (Does not include destination) |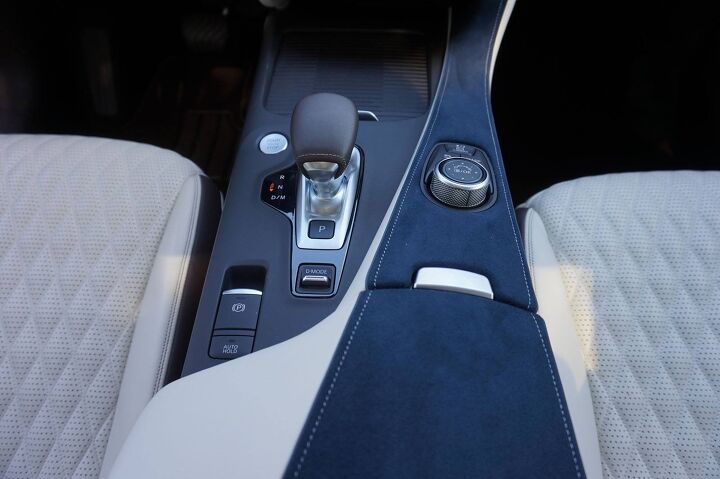 Huge Cargo Capacity: One of the problems with the vehicle that came before the QX50 (the EX) was that it didn't have much room for cargo or passengers. The QX50 fixes that problem handily with 31.4 cubic feet of cargo (1048 liters) in the trunk and 60 cu-ft (1699 liters) with the seats folded. Both of those figures are more than what the Acura RDX offers, and more than the BMW X3 in the trunk but less with the seats down. The back seats can also slide forward to increase room in the trunk.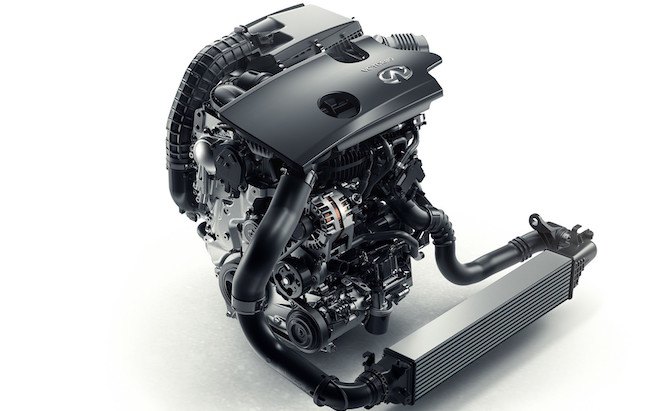 Efficient New Engine: The new Infiniti QX50 is powered by a turbocharged 2.0L four-cylinder with variable compression. It outputs 268 hp and 288 lb-ft of torque and with AWD, it is rated to get 24 mpg city, 30 highway, and 26 combined (10 L/100 km city, 7.8 highway, 9.0 combined). Most engines have fixed compression ratios, but the QX50 can seamlessly lower or raise the stroke of the pistons depending on the conditions and what the driver wants. Do they need more fuel economy (high compression) or do they need performance (low compression)? This engine can do both. In practice, it works seamlessly, and gets good off-the-line and passing power without sacrificing fuel economy too much. Its power delivery is not exciting, but it's quick enough that it doesn't make you feel like you need more power.
ALSO SEE: Infiniti Introduces World's First Variable Compression Ratio Engine
Tech: ProPilot Assist is the brand's suite of safety and driver assistance technology. It enables stuff like adaptive cruise control and lane keep assist, but requires you to have your hands on the steering wheel. Other tech available includes lane departure warning and prevention, a head-up display, blind spot monitoring, distance control assist, forward emergency braking with pedestrian detection, and more. The adaptive cruise control worked well enough, feeling natural and intuitive in its acceleration and braking, though I'm not usually a fan of steering assist because it still feels like I'm fighting against it. One of my favorite features was the top-down 360-degree parking camera.
Cons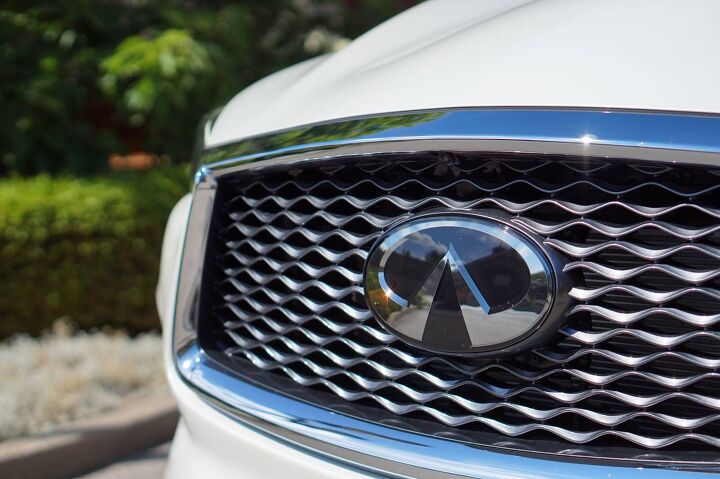 Noisy: Although the new high-tech variable compression engine is efficient, it does not sound very good. Not that a luxury crossover needs to sound good, but it should be quiet and the QX50's four-cylinder makes a racket under full throttle acceleration. It doesn't help that the CVT drones and these two elements combined make the car sound awful. A luxury vehicle should, at the very least, be quiet and the noises the QX50 makes is very unbecoming of a luxury car.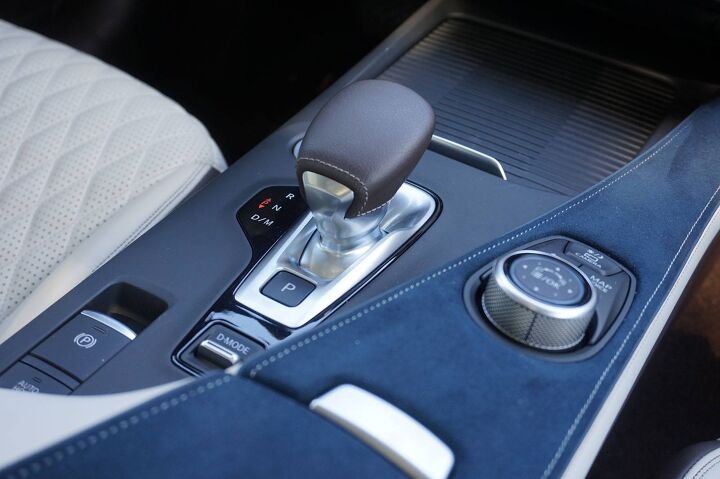 CVT: Besides being noisy, the CVT saps a lot of the fun from the drive and feels somewhat unrefined. There's a lack of smoothness that's hard to ignore. Again, putting it in sport mode helps things, but the better driving dynamics come at the expense of fuel economy.
ALSO SEE: 2019 Infiniti QX50 Review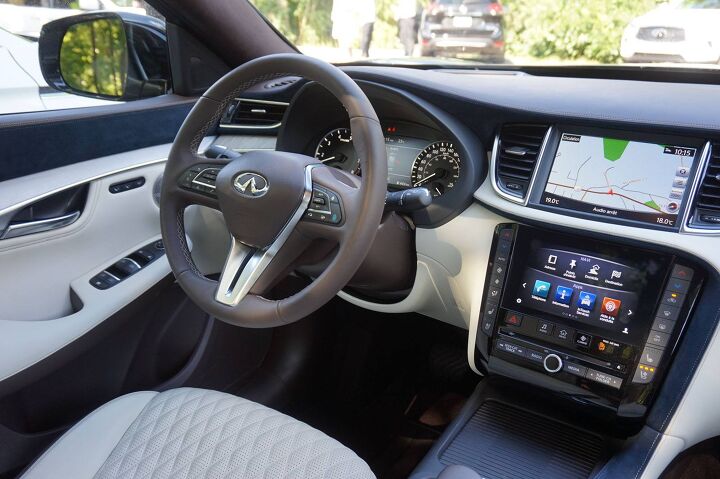 Light Steering: In the regular driving mode, the steering is far too light and can pretty much be operated with one finger. This was probably a choice by Infiniti, but the super light steering doesn't help it feel like a true luxury car. Putting the CUV in the sports driving mode helps make the steering heavier and more responsive, so I ended up driving it exclusively in sport mode.
The suspension is also softer, which means that it leans a bit more in corners than it used to, but it pays off in terms of comfort and soaking up rough roads.
This crossover is definitely geared more towards comfort and not sport, which is totally fine, but a definite negative for someone who was looking for the super sporty driving dynamics of the QX50's predecessor, the EX.
The Verdict: 2019 Infiniti QX50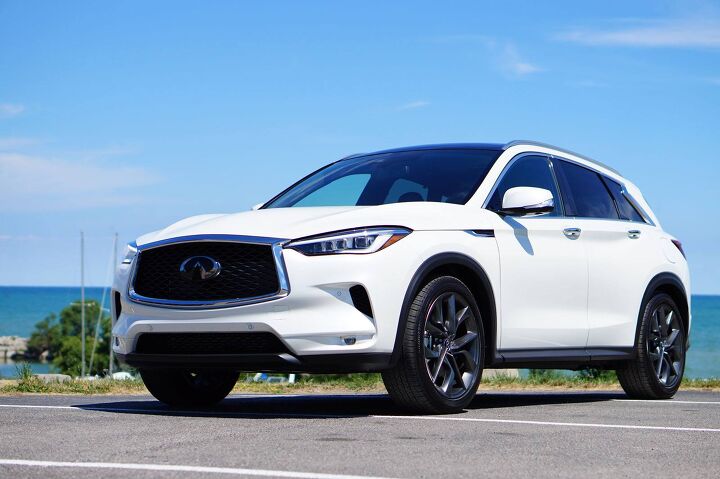 Although some driving enthusiasts might miss the fun personality and sporty dynamics of the EX, the QX50 is a better crossover for a wider audience. None of the negatives mentioned here are deal-breakers, and the positives are very strong. The topline interior alone is a great reason to buy it, but in general, it's a well-packaged crossover that positions itself smartly in a very competitive segment.
Discuss this article on our Infiniti Forum
Published August 15th, 2018 8:30 AM
Popular Articles
Latest Comparisons
Car Buying Tools