14 Views
2019 Infiniti QX50 Review and First Drive
February 4th, 2021 3:45 PM
Share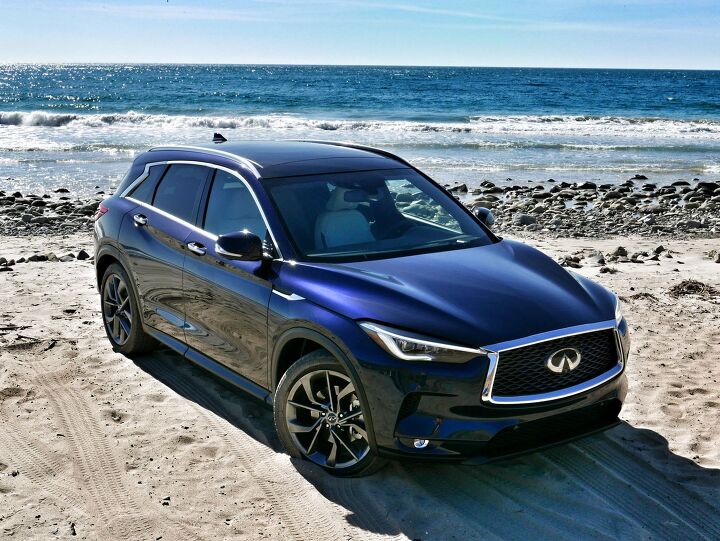 Transforming a weakness into a strength is how smaller automakers grow bigger.
Doing so by choosing the path of innovation also happens to make an organization smarter in the process. Take all of the above and throw in a dramatic re-think in presentation and execution, and you've got the 2019 Infiniti QX50, the embodiment of the latest and most compelling small SUV strategy at a luxury brand that is currently poised mid-people mover pivot.
The previous QX50 (formerly the EX35) was a throwback to the early days of Infiniti's emphasis on the first word in the term "sport-utility." Essentially a tall-riding wagon sitting on a spry rear-wheel-drive platform, the vehicle was a hoot to drive but lacked anything resembling the interior space offered by the competition, relegating it to the back of the pack for family-size shoppers.
The new model represents a complete transformation of Infiniti's perspective on how to best lure practical-minded premium shoppers back into its showrooms. Where once the QX50 danced and darted with a throaty V6 roar, it now has a downsized turbo whoosh and a grown-up personality more interested in coddling than curdling the blood. While some might lament taming the crossover's fire, it's a move that positions Infiniti to serve a much larger contingent of customers.
ALSO SEE: 2018 Infiniti QX80 Review
New Compression Ratio, Who Dis?
The redesigned SUV also offers the opportunity for the Japanese nameplate to show off its engineering chops by way of its new variable-compression engine technology. The 2019 Infiniti QX50 is the first vehicle on the market to offer a motor that can change its compression ratio on the fly, allowing it to seamlessly shift between efficiency-minded and high-power operating profiles. It's a unique approach to solving the real-world thirstiness of peaky small-displacement turbo motors, with the company claiming a 35 percent increase in combined fuel mileage (unofficially posted as 27 mpg for front-drive models and 9.0 L/100 km for AWD models) as compared to the outgoing six-cylinder model.
My one-day drive route through the Hollywood Hills down to Malibu didn't deliver the conditions required to verify Infiniti's advertised efficiency, but it did provide me with the perfect proving ground for validating the QX50's ability to carve out a new spot for itself at the compact luxury crossover table.
Smooth-Sapping CVT Crashes VCT Party
"Variable compression turbo" is a term that won't resonate with the vast majority of would-be Infiniti owners, which is why it's a good thing this internal combustion unit is entirely transparent in its operation. There's a gauge accessible via the digital dash display (and paired with a boost level indicator) that will tell you whether compression is being adjusted for "eco" or "power," but fundamentally, the Infiniti QX50's 2.0-liter four-cylinder acts like any other turbocharged engine with the pedal matted.
FAST FACTS
| | |
| --- | --- |
| Engine: |  2.0L 4-cylinder turbo |
| Output: | 268 hp, 288 lb-ft of torque |
| Transmission: | CVT |
| US Fuel Economy (est MPG): | 27 (FWD combined) |
| CAN Fuel Economy (L/100 km, AWD): | 10 city, 7.8 hwy, 9.0 combined |
| CAN Price: | TBD |
| US Price: | Starts at $36,550 |
| : | (Does not include destination) |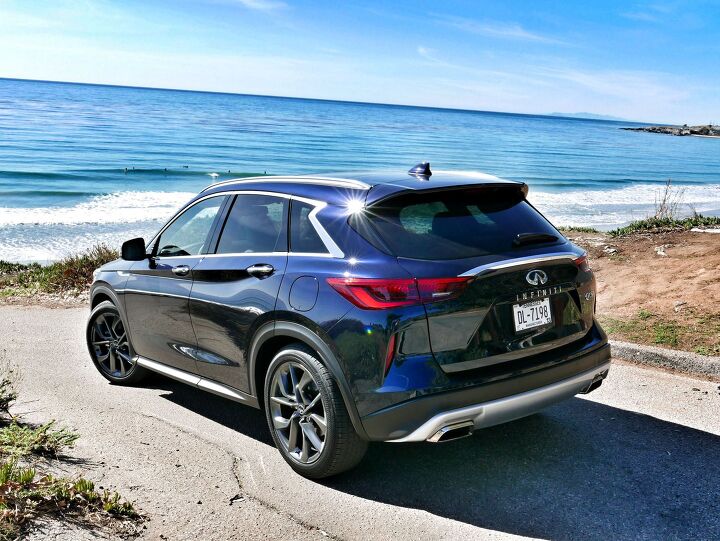 Infiniti has rated the VCT engine at 258 horsepower and 288 pound-feet of torque, numbers that put it behind the V6 model it replaces but are very near class-leading for the current crop of small four-cylinder crossovers. Perhaps more importantly, the hefty torque figure is available almost immediately off-idle, helping the QX50 feel quick in the majority of driving situations during the daily commute.
Mated to the VCT is another play on that acronym's same three letters, a continuously variable transmission (CVT). It's here, and not under the hood, that I encountered the weakest link in the QX50's package. With the drive mode selector set to "standard," the gearbox demonstrated a distinct lack of smoothness when transitioning from initial take-off into steady-state cruising. You can iron this out by selecting "sport" mode's more responsive throttle, but then you're trading in fuel economy in the process.
ALSO SEE: Infiniti Introduces World's First Production-Ready Variable Compression Ratio Engine
Steering wheel shift paddles are available to snap through virtual gear ratios, and an active engine braking system is also available, but, truth be told, the Infiniti is less engaging to drive than it was in its previous incarnation. Aside from a bouncier-than-expected suspension tune, the steer-by-wire system installed in the QX50, combined with its CVT, lend themselves to comfort-oriented driving rather than thrill-seeking.
Tricky Gadgets
The fully digital steering also figures into the QX50's suite of active safety features. In addition to its lane departure mitigation system, blind spot monitoring, and automatic front and rear collision avoidance capabilities, the crossover debuts the ProPilot Assist system for Infiniti. This allows the vehicle to follow traffic ahead, automatically adjusting cruise control speeds as well as steering inputs as long as the driver maintains their attention on the road ahead (and their grip on the wheel).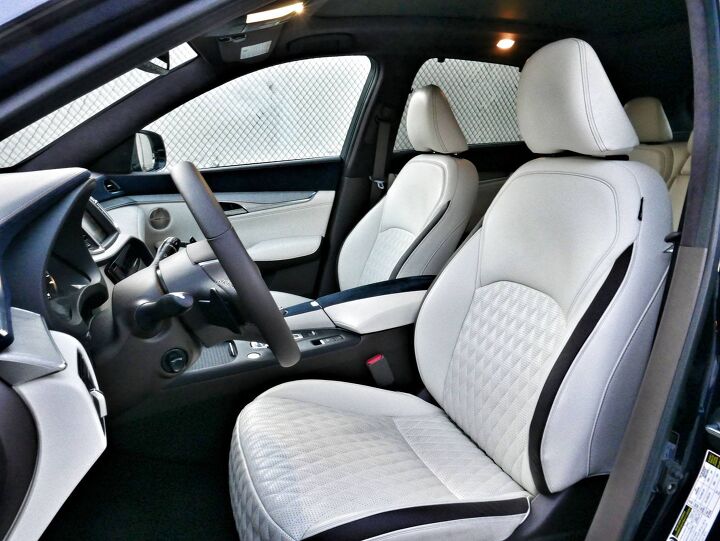 In theory, engaging ProPilot Assist is as simple as tapping its assigned blue button on the steering wheel. In practice, however, it also requires you to set a cruise control speed, and during my drive, it would frequently deactivate itself at lower speeds when dealing with L.A.'s crawling freeway traffic. Infiniti engineers didn't have any definite answers as to why this occurred but did mention that during merge situations, it's possible for the system to lose track of the vehicle ahead of it and default to a no-follow state.
Outstanding Interior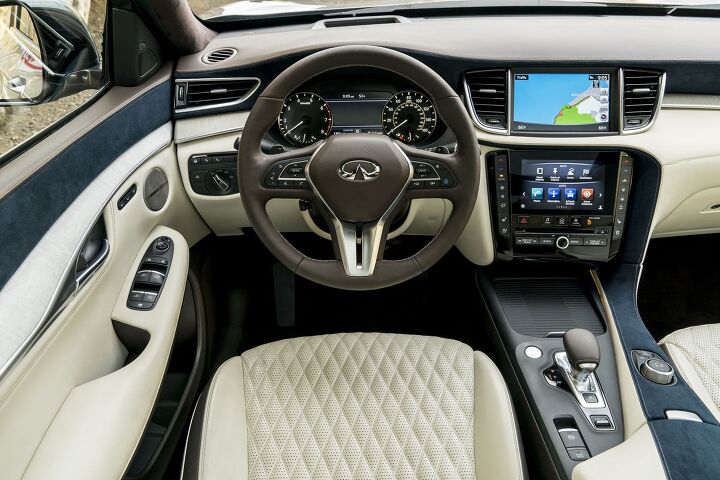 The 2019 Infiniti QX50 gets big but stays small. Clocking in at eight inches shorter than the mid-size Lexus RX, the QX50 nevertheless delivers nearly 10 cubic feet more cargo space with the rear seat folded flat. Load that second row with friends, family, or amazingly cute doggos that you've abducted from the park, and the Infiniti claims there's more storage space between the seatback and the hatch than you'll find from BMW X1, Audi Q5, or Mercedes-Benz GLC. On top of its trick powerplant, one of the other most important upgrades are the vast tracts of usable space made possible by the QX50's all-new platform.
Hand in hand with the crossover's wide open spaces comes a cabin treatment lifted almost directly from the gargantuan QX80's lookbook. Opt for the top-most Essential trim level and you'll have access to exceptionally high-quality leather wrapped around elegant door panels, dash, and seats, with an Ultrasuede headliner that can be matched with contrast-colored Ultrasuede console and door accents by way of the Autograph package
ALSO SEE: Infiniti's First Fully Electric Vehicle Will Arrive in 2021
It's an interior tour-de-force that easily crests the best available from the German contingent while leaving its home country competitors in the dust. Infiniti also makes use of a dual-screen infotainment attack that is relatively easy to find your way around (with the top panel defaulting to a large digital clock for vehicles that don't feature nav). If you're not willing to spend the near-$60,000 in the U.S. (Canadian pricing has not yet been announced) required to go full-Essential, the more affordable $36,000 base model is still a very nice place to spend some time out on the road.
The Verdict: 2019 Infiniti QX50 Review and First Drive
Even if the 2019 Infiniti QX50 had been outfitted with a traditional turbocharged engine, it would still be the most astute product in the entire Infiniti portfolio. The automaker has taken the size, power, and features that the luxury SUV crowd craves and presented it in a package that's easy on the eyes and, without doubt, a cut above the interior fit and finish of any rival. Variable compression certainly flutters the hearts of engineers (while simultaneously stuttering the pulse of service managers), but it's everything else about the QX50 that's going to make it the best-selling model wearing the Infiniti badge.
Discuss this article on our Infiniti QX50 Forum
LOVE IT
Best compact luxury crossover cabin available
Big boost in cargo and passenger room
Innovative engine promises both power and efficiency
LEAVE IT
CVT tuning saps fun and smoothness
ProPilot Assist not intuitive or consistent
$20k price swing between top and bottom models
Published February 1st, 2018 11:00 AM
Popular Articles
Latest Comparisons
Car Buying Tools