14 Views
2019 Infiniti QX50 Review
February 2nd, 2021 8:40 AM
Share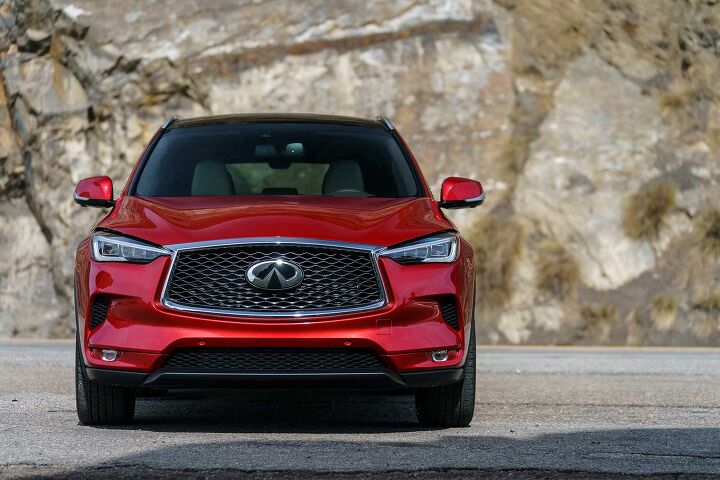 I've known my friend Stephan since before kindergarten.
He, like I, grew up in the wilds of rural Michigan, an hour-plus by car north of Detroit, in the forests and farmland on the fringes of Oakland County. Primarily raised by his Ukrainian grandparents, he lived a mile or so away from my childhood home, down the same tree-lined dirt road.
FAST FACTS
| | |
| --- | --- |
| Engine: | 2.0-liter turbocharged four-cylinder |
| Output: | 268 horsepower, 280 pound-feet of torque |
| Transmission: | continuously variable automatic |
| U.S. Fuel Economy (MPG): | 24 city, 30 highway, 26 combined |
| CAN Fuel Economy (L/100 km): | 10.0 city, 7.8 highway, 9.0 combined |
| U.S. As-Tested Price: | $59,585 including $995 for delivery |
| CAN Base Price: | $46,662 including $2,172 for delivery |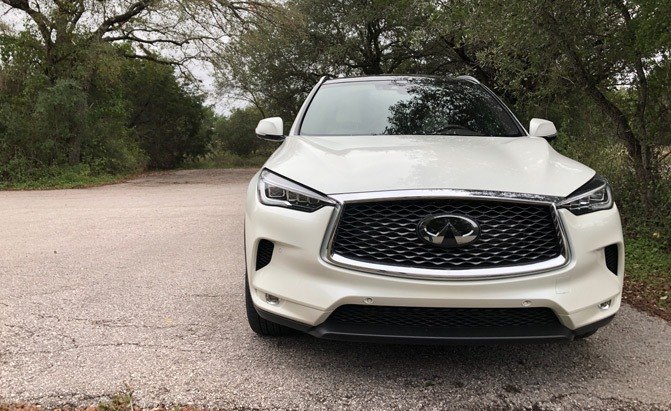 We spent much of our early years together, swimming in their ponds, sledding during winter months, and playing Nintendo whenever we needed a Mario Bros. fix, everything children of the '90s relished, like a fresh pack of Dunk-a-Roos and an ice-cold Squeezeit. We also never passed up an opportunity to play on the abandoned agricultural equipment stashed in the back corner of his grandma and grandpa's property. Today's safety-obsessed helicopter parents would NOT approve, but we survived unscathed, for the most part.
As time progressed, Stephan moved across the country with his dad, chasing after work in the computer-aided-design field, a pursuit that brought them briefly to the Carolinas, Seattle and beyond. Fortunately, we stayed in touch, helpful when he moved back to Michigan for high school and college.
SEE ALSO: 2019 Acura RDX vs Infiniti QX50 Comparison — VIDEO
Given our near-lifelong friendship, it should have been no surprise last summer when Stephan, who now calls Austin, Texas home, sheepishly asked me over the phone to be best man at the wedding he and his fiancée Liz scheduled for late in the year. A joyous occasion to be sure, though the first thing that came to my mind wasn't, "I'd be honored!" or "Oh, I'm so happy for you guys!" rather, it was fear. "Great, now I've got to give a speech," was the first thing that selfishly came to mind, oh, and worries about arranging transportation.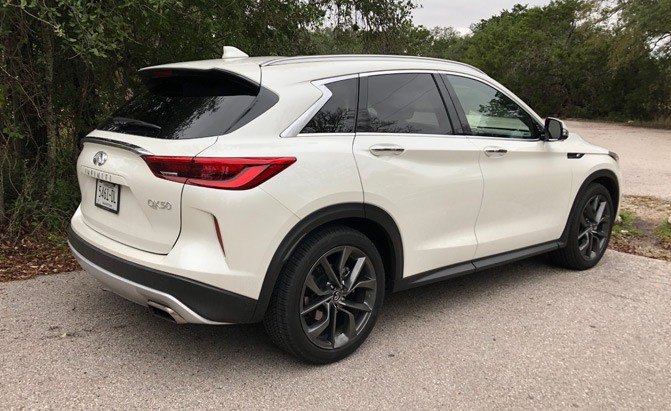 Fortunately, the latter of these concerns was addressed with minimal effort. Friends at Infiniti happily provided a QX50 for me to enjoy the few days I'd be down in The Lone Star State, an upscale midsize crossover that proved to be a perfect companion while running various wedding-related errands. The former issue proved much more stressful. Crafting my post-ceremony toast gobbled up copious after-work hours and took more revisions than I'd care to admit.
Even dressed in white paint (the specific hue is called Majestic White), a color that tends to obscure design features and is notoriously difficult to photograph, the QX50's graceful, windswept bodywork impressed from every angle. There's a tastefulness, an elegance to it that's absent in many vehicles. This sophistication makes rival models from Lexus and Acura look robotic at best, at worst like they were designed by some wannabe futurist.
The QX50 in question was also gussied up with the $2,000 Autograph Package, which brightened the interior up with soft and snowy quilted semi-aniline leather seating surfaces augmented by blue Ultrasuede accents, a material employed to great advantage on the dashboard, door panels and even atop the center console where it asymmetrically curved along the generously padded armrest. Brandishing these upgrades, the vehicle dazzled everyone that rode in it. Even soft-spoken Stephan seemed impressed by the QX50's comfort and spaciousness the day we hit up several food trucks for breakfast tacos and a bit of morning barbecue. Hey, when in Texas you've got to go for the brisket, digestive consequences be damned!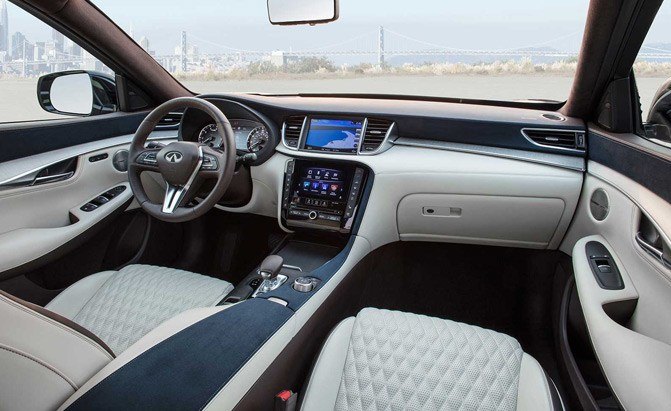 If there's a downside to this opulent cabin, it's certainly the infotainment system. A dual-screen affair found in other Infinitis, it feels like the user interface on each display was designed by a completely different team. The menu structure is also quite unintuitive, though at least designers provided hardware buttons for many common functions like the heated and ventilated seats, climate-control system and audio volume.
Along with luxury, performance is another feather in the QX50's cap, with its standard variable-compression 2.0-liter turbocharged four-cylinder engine delivering rapid acceleration and impressive efficiency. Smooth running and quiet, the KR20DDET provides 268 horsepower with 280 pound-feet of torque with premium-grade petroleum distillates onboard, the recommended fuel.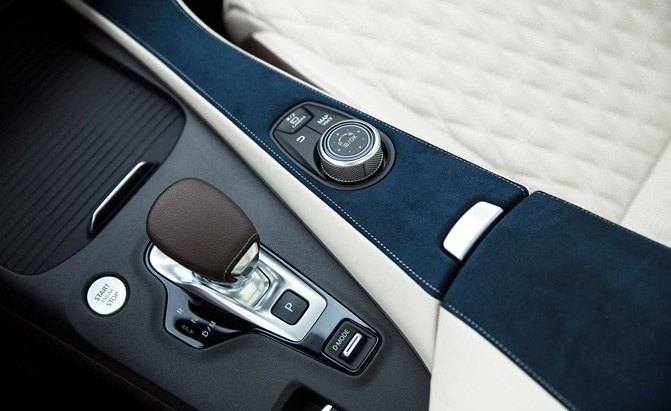 According to Uncle Sam, this vehicle should stretch a gallon of gasoline 24 miles (10.0 L/100 km) in urban driving and 30 (7.8 L/100 km) on the highway. Combined, expect it to average 26 (9.0 L/100 km). Forego the optional all-wheel-drive system (it's standard in Canada) and both the highway and combined ratings increase by one mpg.
Hitting with authority at low rpm, this engine made navigating the Texas capital's notoriously dense traffic a breeze. Darting around slow-moving trucks or quickly slotting into a small opening in rush-hour congestion was no sweat.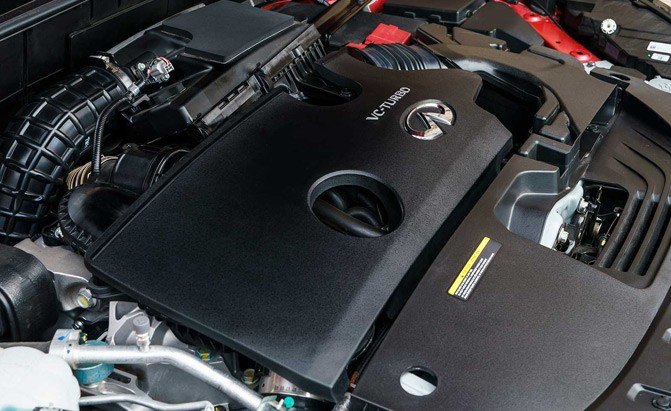 Less impressive than the engine was this vehicle's continuously variable automatic transmission. CVTs have gotten quite good in recent years, including Nissan's. The Japanese automaker was a pioneer, one of the first to widely implement this efficiency-aiding drivetrain technology in America. Unfortunately, there's work to do fine tuning the QX50, as it surged and sagged unnaturally while accelerating. At times the "gear changes" it simulated to reduce engine droning were unexpectedly rough, strange for a transmission without any fixed ratios. These issues conspired to deliver an unrefined driving experience, which is out of step with this vehicle's luxurious styling, interior appointments, and lofty sticker price. Curiously, this is not an issue I've noticed in other Nissan products employing essentially the same powertrain.
ALSO SEE: CVT Transmission Pros and Cons
When it comes to pricing, this test model stickered for just shy of $60,000, a rather steep sum. Fortunately, the Infiniti QX50 starts around $38,000 in base form ($46,662 CDN), including delivery fees, a much more-attainable figure.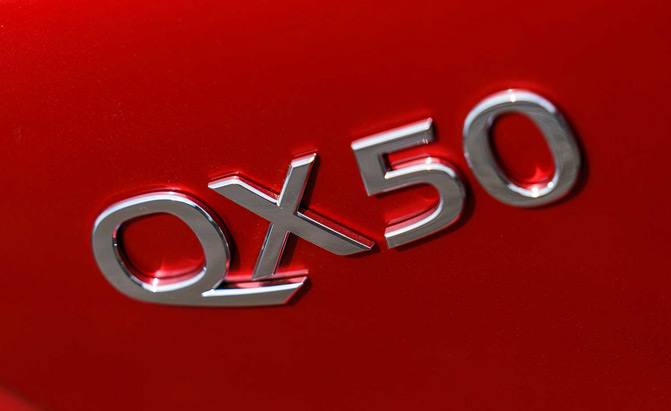 For enhanced traction, all-wheel drive was also included, though it was of little utility in the Austin area, which is known for its humid, scorching-hot summers and temperate winters. If nothing else, it provided a dose of extra confidence the day of the ceremony when it rained and was unseasonably chilly.
SEE ALSO: Infiniti QX80 Review
Offsetting much of that drivetrain aggravation was the available $2,000 ProACTIVE Package, which includes things like lane-departure warning, a head-up display, automatic high beams and more, like ProPILOT Assist, the automaker's brilliant adaptive cruise-control system with lane-centering. This feature is astonishingly good, braking and accelerating as required by traffic conditions, and even keeping the vehicle in the middle of its lane, all with minimal driver intervention. This would be a godsend on long trips, which are quite common for residents of a gigantic state like Texas. I used it extensively on our dive to visit Hamilton Pool after the big event, a breathtaking rock-and-water formation west of Austin.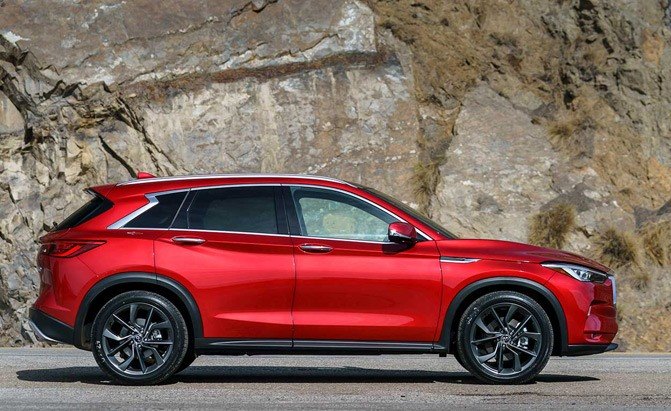 The wedding was scheduled for Veterans' Day (Thank you for your service!), a regrettably cold and soggy time, though the QX50 helped keep spirits high and passengers toasty thanks to its standard tri-zone climate control. I was also surprised to discover the vehicle's off-white paint nearly matched the bride's, dress, a family heirloom rendered in a cream-colored material.
ALSO SEE: 2019 Infiniti QX50 Pros and Cons
The Verdict: 2019 Infiniti QX50 Review
As fate would have it, the big day went without a hitch, aside from the two that GOT HITCHED. Whether pressed into wedding service or used for more everyday purposes, the Infiniti QX50 proved more than capable. It's a beautifully styled and solidly built crossover that's just as at home shuttling a bride and groom as it is idling in an overflowing Costco parking lot.
As the icing on the cake, even my rambling toast went over well with the crowd, and most importantly, the bride, all the stress and worry, at last, melting away. But hey, it's the least I could do for my oldest friend.
Discuss this review on our Infiniti QX50 Forum
LOVE IT
Powerful, smooth engine
Breathtaking interior
Beautiful styling
Fuel efficiency
LEAVE IT
Confounding infotainment system
Annoying transmission
Published June 3rd, 2019 1:24 PM
Popular Articles
Latest Comparisons
Car Buying Tools