46 Views
2022 Infiniti QX60 Review: A True Luxury Crossover
April 18th, 2022 1:58 PM
Share
FAST FACTS
| | |
| --- | --- |
| Engine: | 3.5 L V6 |
| Output: | 295 hp, 270 lb-ft |
| Transmission: | 9AT, AWD |
| US fuel economy (MPG): | 20/25 |
| CAN fuel economy (L/100KM): | 11.9/9.5 |
| Starting Price (USD): | $47,875 (inc. dest.) |
| As-Tested Price (USD): | $64,090 (inc. dest.) |
| Starting Price (CAD): | $54,995 |
| As-Tested Price (CAD): | $66,282 |
Before Infiniti attached the QX prefix to all of the brand's SUVs, there was the JX35. Introduced for the 2013 model year, the JX was a high-end luxury crossover based on the Nissan Pathfinder platform.
I drove the JX35 when it first came out and although it was a nice family vehicle, my biggest take-away was that it felt more like a fancy Pathfinder than a true Infiniti product. Even after the name change to QX60 for the 2014 model year onwards, it never shook that feeling for me.
Get a Quote on a New Infiniti QX60
Now, nearly ten years later, there is an all-new 2022 Infiniti QX60. Based once again on the equally new Nissan Pathfinder, the question is, does the new generation QX60 succeed in feeling like a proper luxury SUV, or just a fancy Nissan Pathfinder? Spoiler alert – if you read this review's title, you probably already know the answer.
And it's an answer I spent a lot of time analyzing. Normally, when reviewing a vehicle, we are loaned it for a one week evaluation period. But due to a perfect storm of circumstances, I was granted access to a 2022 Infiniti QX60 for three weeks over the holiday season.
2022 Infiniti QX60 – Interior Confort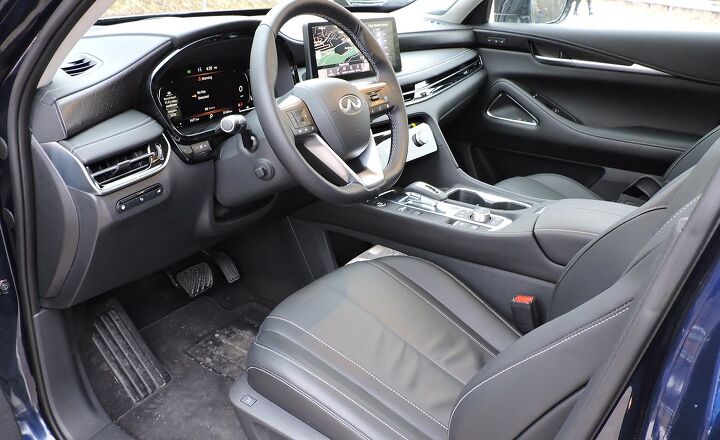 For review I have the Sensory AWD trim level with a few extras added on. The Sensory is one step below the top of the line Autograph and lacks the quilted leather but does retain the middle row bench. The latter I fully utilized over the holiday season when I loaded up the vehicle with two families for a trip to visit my parents. Four adults and three adolescents fit with space to spare in complete comfort. Everyone appreciated Infiniti's spring-loaded one touch button that has the second row seats tilt and slide forward; the two kids in the third row couldn't wait for us to reach our destination so they could hit the seat-back mounted buttons.
The front bucket seats are large and proved to be comfortable over moderately long journeys. They are heated, cooled, and feature a massage function on Sensory and higher trims. From the driver's seat it feels like being perched in a command post. The various screens offer an abundant amount of customizable information that gives the driver everything they need. The low dashboard and flat hood give a large angle of view that aides visibility and confidence behind the wheel. The large side mirrors and tall front nose do create some closeup blind spots, but the 360 degree camera can assist in showing the driver things they can't otherwise see.
2022 Infiniti QX60 – Technology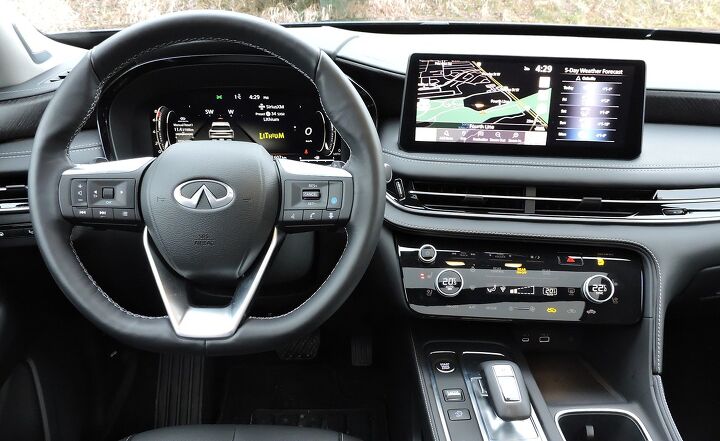 I like how the infotainment widescreen is integrated into the vehicle design. Although it does stick up out of the dashboard, it does not feel out of place or as an afterthought like some similar setups do. It blends in with the digital gauge cluster that can be set with traditional virtual meters, or with smaller meters that allow copious amounts of information. My tester featured head up display, an item I always appreciate.
Of course the SUV comes with all of the latest safety and connectivity technology including ProPILOT Assist and Infiniti InTouch. A few notable other features I appreciate are the motion activated rear lift gate, the wireless charging Apple CarPlay/Android Auto, and the smart rearview mirror. The latter surprised me as I have never been a fan of rearview mirrors that can display video. But I forced myself to use this feature during my stint with the QX60 and the more time spent with it, the more I appreciated it; especially in bad weather, at night, or when the vehicle was full of occupants.
The one feature I came away unimpressed with was the Bose 17 speaker system. Call me jaded from experiencing too many high end audio units, but this was merely adequate and not overly memorable.
2022 Infiniti QX60 – Ride Comfort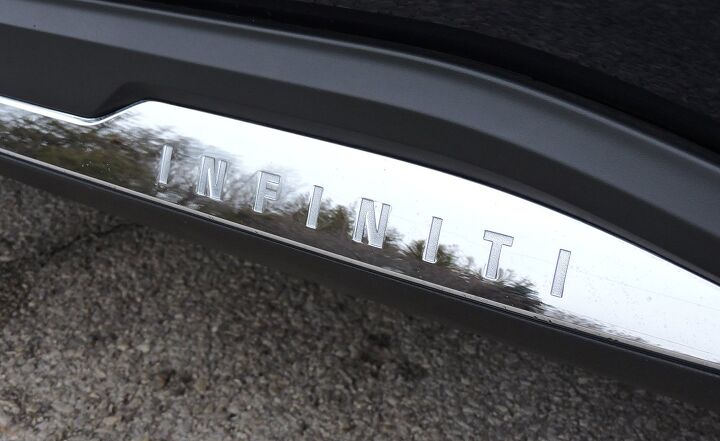 The body structure of the new QX60 has that intangible solid feeling that's hard to describe, but instantly recognizable behind the wheel. The suspension is dialed in exactly how it should be for a vehicle like this. It is not wallowing or overly soft, but also isn't jarring. It absorbs bumps while still keeping the driver aware of the current road surface and conditions. It's balanced more on the comfort side than prioritizing vehicle responses, but this is not a performance SUV, nor is it intended to be one.
The QX60 is a vehicle built for families that want to be transported in comfort and luxury, and don't care about lateral g forces or gapping their neighbor's Audi A4 from a stoplight. It doesn't want to be driven hard, and isn't at home operated in this manner. If aggressive driving is not part of your driving persona, then the QX60 is a fabulous match. It loves to eat up miles of road without fatiguing the driver or its occupants.
2022 Infiniti QX60 – Driving Impressions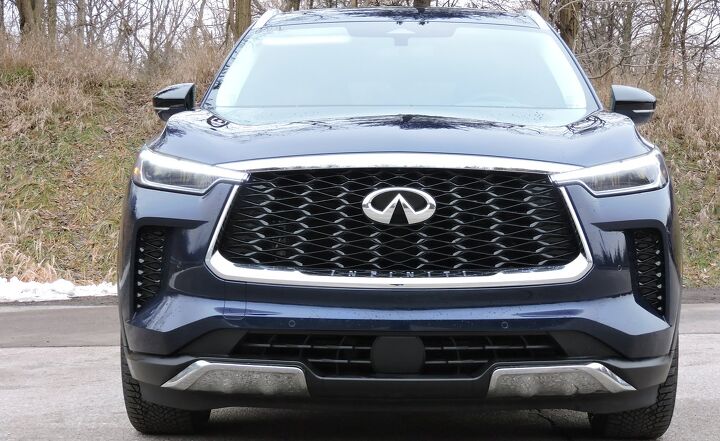 Reinforcing this notion that this is not a performance SUV is the single, hidden exhaust outlet. It is attached to the venerable 3.5-liter VQ-series V6 that continues to do duty in the QX60, generating 295 hp and 270 lb-ft of torque. This engine used to be a darling of the automotive world, but time has passed it by and it lacks the low end grunt of many of its competitors, evident by the maximum torque figure that doesn't arrive until nearly 5,000 rpm.
The inclusion of the new nine-speed automatic transmission should appease all of the detractors of the previous continuously variable automatic. Especially since it is still rated to tow 6,000 lbs. when properly equipped. Unfortunately, the new nine-speed may not the best match for the V6 engine. In normal driving, it behaves perfectly fine and goes about its work, undetected in the background.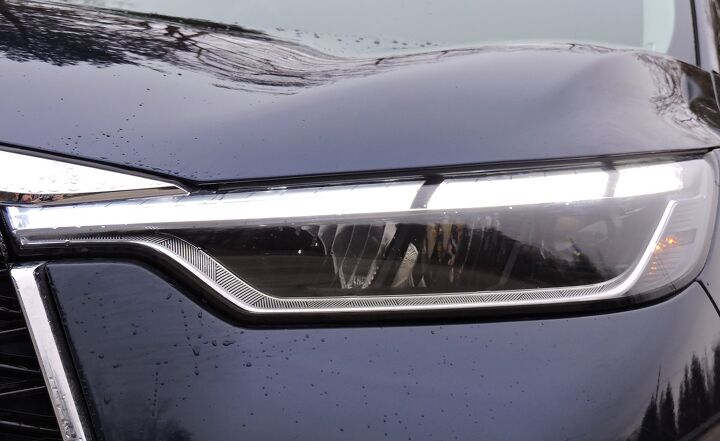 But when a decent burst of power is needed, it's slow to respond. Moderate throttle inputs will not induce the transmission to gear down and the engine lacks the mid-range torque to adequately accelerate up to highway speed while in a higher gear. Give the throttle a larger input and the transmission will abruptly down shift multiple gears, unleashing plenty of power to get up to highway speeds. But it's an all or nothing proposition, one that can be jarring to a family full of passengers enjoying an otherwise smooth drive. The old CVT allowed a more modular application of power and smoother driving experience.
The QX60 does have drive modes, and the Sport mode alleviates this transmission issue completely, and in fact is a better suited match to my driving style. But it also adversely affects fuel economy. While on the topic of drive modes, the snow mode does a great job keeping rpms down and traction to the wheels with quick upshifts. During a snowstorm, it performed flawlessly and coupled with the Continental IceContact winter tires that were equipped, the Infiniti never missed a step.
2022 Infiniti QX60 – A Few Issues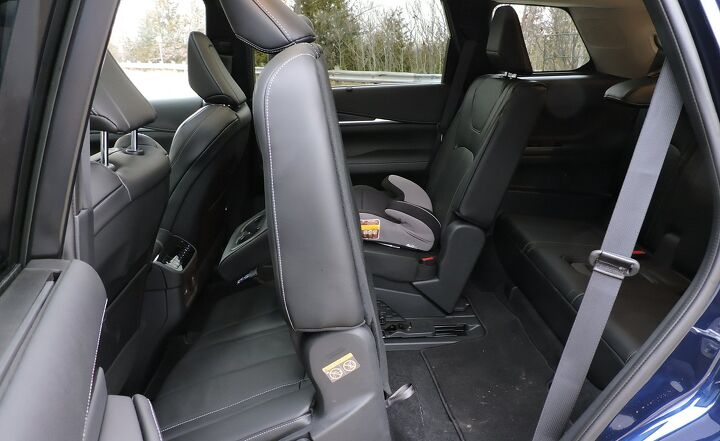 Aside from the transmission quirk when merging up to highway speeds, I did experience two other issues. Wind noise was higher than expected for a premium crossover, but this may be a byproduct of the rest of the vehicle being so quiet, wind noise was more noticeable.
The other minor inconvenience was a random one-off occurrence. The rear seat seatbelt sensor went off suddenly during a drive, stating my 6-year-old was no longer buckled in. Rest assured he has, but the QX60 was certain he was not. We pulled over and had him switch to the other outboard seat in the second row, and that sensor also stated he has not buckled in. But it never happened again during dozens of drives – just that one time.
2022 Infiniti QX60 – Conclusion
I won't divulge into the Infiniti's styling too deeply as looks are a personal preference. But for me, the exterior adds to the premium feel, as the blocky, chiseled QX60 looks far more modern and luxurious than the bulbous outgoing model. Infiniti really did their homework with all aspects of this vehicle and have turned out a well executed product.
The Acura MDX and Lexus RX should be worried, as the new Infiniti QX60 is a serious threat. It succeeds in separating itself from its mainstream cousin. It's an excellent choice for families looking for a luxurious three row crossovers whose priorities are comfort, ease of use, and features.
---
FAQs
Is the Infiniti QX60 Discontinued?
No, not only is the QX60 not discontinued, it is entirely new for 2022. 
How much will the 2022 Infiniti QX60 cost?
The entry level 2022 Infiniti QX60 begins at a price of $47,875 with destination charges included.
Who owns Infiniti?
Infiniti is part of the Nissan Automotive group. 
Become an AutoGuide insider. Get the latest from the automotive world first by subscribing to our newsletter here.
LOVE IT
Ride Comfort and Handling
Driver Position
Sharp Styling
LEAVE IT
9-Speed Transmission
Wind Noise
Published January 19th, 2022 2:54 PM
Popular Articles
Latest Comparisons
Car Buying Tools