3.7K Views
The Best Snow Tires and Why You Absolutely Need Them
January 10th, 2023 1:58 PM
Share
Here's what you really need to know about snow tires, because winter is here.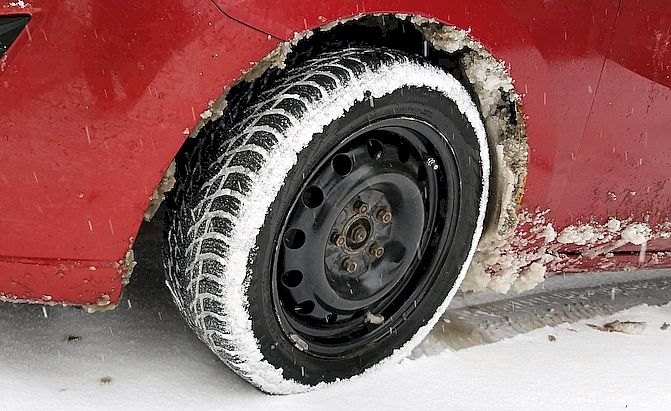 Living in Vermont, I've gone through snow tires like some people eat mints. Even a decade ago, there were only a few snow tires that I'd have been willing to call "serious" winter tires—Bridgestone Blizzaks, Nokian Hakkapeliittas, Michelin X-Ice, a few others. And I stuck with them, buying them (usually Blizzak tires) generation after generation, and for every car.
But in the last few years, the quality of winter tires has improved dramatically. Maybe it's the snowier weather and less predictable winters much of the country now sees, maybe more people are more educated about why they need the best tires for snow, or maybe tire companies are just putting more R&D into their snow tires.
Today, the best snow tires are much easier to find. For instance, Bridgestone Blizzaks WS-series were my go-to snow tires for years, but they're not available in the 225/60R18 that my Magnum RT takes, which more a SUV/light truck size than a passenger car tire. So right now I'm running General Altimax Arctic R12 XLs on the Dodge; and last year when Blizzaks to fit my wife's Mazda5 were sold out we went with the Nokian Hakkapeliitta R3s you can see above. But we also just started a long-term test of the new and so far excellent Michelin X-Ice Snows, which are looking like they'll earn a place on the list soon, too.
To make sure we're bringing you the best winter tires, AutoGuide has partnered with independent tire dealer (and Champcar Endurance series racer) Jay Condrick from Boston Mobile Tire to supplement our anecdotal experience with professional advice. Fortunately for our credibility, Jay agrees with our picks for the best tires for snow: "You really can't go wrong with a Blizzak, a Michelin or a Nokian," he says, all of which make it into our top three.
See our Table of Contents for more discussion about why you should be using snow tires, but in brief: Cold weather and snowy conditions impact your ability to do anything on the road. Not just the obvious things like braking or cornering, but you can lose control when trying to accelerate if you're driving in winter conditions without the best snow tires.
Even if you have all-wheel drive, winter tires will improve your car's performance and your safety on the road. According to a study by the University of Michigan, "Stopping-distance performance of winter tires on packed snow is typically about 35% shorter than all-season tires and 50% shorter than summer tires."
But each tire is like a snowflake itself, with unique qualities that make them different from one another. Some perform better in deep snow, while others work best on ice. Some regions allow studded tires, while others don't. Some have rugged and aggressive tread patterns, and have varying amounts of smart slits in the tire, called sipes, which help with grip as well. Snow tires generally do not have treadlife warranties.
Any of the snow tires on our list will be far better performers in winter than all-season tires, so read through for the specific reasons we like them.
1. Editor's Pick: Bridgestone Blizzak WS90
The Blizzak WS90 is one of the most dependable and popular snow tires on the market, and it comes with a trick feature: as it wears down, it more or less turns into an all-season tire. The special multi-cell compound in the tread only penetrates to an extent, and as the tire gets toward the end of its lifespan, you use it up but keep the effective tread pattern. The soft compound won't last long and doesn't perform well in warmer temperatures like a true all-season tire, however.
Bridgestone designed WS90 series Blizzak tires to be used on compact cars, coupes, sedans, and minivans, but other models of the Blizzak are available for different vehicles like SUVs. I've bought three sets of Blizzak tires (two sets of WS80s and an earlier WS60) for different cars, and they got me through Vermont winters with ease.
What makes the Blizzak so good is the combination of its circumferential and lateral grooves, which are designed to direct water, slush, and snow away from the contact area. There are also the 3D zigzag sipes, which give the tire extra biting edges. Additionally, the tire uses a next-generation compound that features a water-loving hydrophilic coating and microscopic bite particles. These are some of the best winter tires you can get, but they come at a significant price. They're among the very best and priced like it.
If there's a downside, it's that the fat, aggressive tread is squirmy and soft, although we've found it also helps soften winter potholes.
| | |
| --- | --- |
| Pros | Great traction in the snow, lots of options for mainstream vehicles, highly rated |
| Cons | Pricey, no extra warranties. As a soft and aggressive winter tire, they'll wear fast in warmer weather |
2. Editor's Pick, SUV/Light Truck: Michelin Latitude X-Ice Xi2 i
Studless snow tires for crossovers and SUVs is one of the most competitive categories of winter tire. Michelin's X-Ice, Yokohama's iceGUARD and the Bridgestone Blizzak DM-V2 all perform exceptionally well. Between the three, the Blizzak tire is probably the best pure bad weather snow tire; the Yokohama geared more toward cleared roads; and the Michelin the best all-rounder, offering superior dry-road handling, longer tread life and great grip in cold, wet conditions, as well as the best in the pack on ice.
Michelin's directional snow tire uses what in now an industry-standard silica rubber compound to stay flexible at cold temperatures while still performing as it gets above freezing. It achieves an R speed rating (106 MPH sustained) with twin steel belts reinforced by spirally wound polyamide cord. Wear bars indicate when deep snow performance has degraded.
You can see heavy Cross Z sipes in the photo, which snow tires use to create micro gripping surfaces on snow and ice. Deep groves and large tread blocks squish water and slush out of the way, helping the tire stay in contact with the road. They're also used to stiffen the shoulder blocks, which give this snow tire dry road handling more in line with all-season tires.
The Michelin Latitude X-Ice Xi2 i is Green X certified, meaning it has lower rolling resistance, longer tread life and is manufactured with environmentally friendly processes.
| | |
| --- | --- |
| Pros | Drives like an all-season tire, great wet and ice performance, wide variety of sizes |
| Cons | Not intended for season-long deep snow |
3. Best for Deep Winter: Nokian Hakkapeliitta R3
If you live in Canada or a northern US state, at higher altitude, or anywhere else that the roads might not get well cleared, you're in the market for what we consider a pure snow tire. That's not really an official category, we'd just say that any of the best snow tires that prioritize getting through snow and ice over dry road performance.
Nokian's Hakkapeliitta R3 isn't their ultimate winter tire—that's the R10, but studded snow tires aren't legal everywhere, including some very snowy places like Minnesota, Wisconsin; and in some Canadian provinces you can't use them before November, which is likely to be after snow falls.
We've driven on R3s through a full Vermont winter now, and they performed with the very best. Computer-optimised Arctic Sense sipes work in a symmetrical tread pattern to grip on multiple winter road surfaces, and pump sipes literally pump water off the surface of the tire. It's not a studded tire, but the rubber compound incorporates Cryo Crystal 3 particles with microscopic sharp edges that are continually exposed as the tread wears down, and literally grab on to ice like tiny studs. The center rib and tight blocks stiffen the tire for cornering performance.
| | |
| --- | --- |
| Pros | Terrific deep winter performance in bad conditions, huge range of sizes |
| Cons | Will wear fast if you leave it on in warm weather, loud and soft |
If there's a direct competitor for the Hakkapeliitta R3, it's Pirelli's studless ice and snow tire, the magnificently named Ice Zero FR. The "Zero" is clearly a callback to epochal Pirelli PZero, interpreted as a real deep winter tire with a focus on handling. They use a special winter compound and unusual diamond tread pattern with lateral sipes that takes up the center block, transitioning into shoulders with longitudinal 3D sipes. In comparison to the R3s, you're giving up a little bit of grip in the very worst weather, and more than getting it back on dry and wet winter, early spring and late fall roads.
The Pirellis come in a huge 14- to 20-inch range, meaning they'd be perfect for that old Audi 90 Quattro that's just longing for a blast in the snow. They're also offered as an Ice Zero Run Flat winter tire, which Pirelli puts in the Performance Winter/Snow tire category, presumably because of the stiff sidewalls required for run-flats. There's also a very aggressive studded version. While drivers report excellent treadlife, Pirelli doesn't offer any kind of treadlife warranty. They do have an excellent unlimited time/prorated depth workmanship and materials warranty, and an industry-standard one year or first 2/32" of wear uniformity warranty.
We're honestly not sure why more people don't use Pirelli Ice Zero FR snow tires, aside from they seem to be affected by current global supply chain issues and can be in short supply, so you might have to shop around.
| | |
| --- | --- |
| Pros | Excellent fall/spring performance, long lifespan, sportier than the competition |
| Cons | Loud, expensive |
5. Yokohama iceGUARD iG53
The Yokohama iceGUARD iG53 is the brand's most ecologically friendly winter tire with their "BluEarth" branding, and features a triple-action, high-density tread compound with unique materials that let the snow tire handle different cold weather situations. Like other tires on this list, the Yokohamas feature locking sipes that improve cornering stability. In fact, the iceGUARD iG53 seems to be perfectly suited for light ice and snow covered roads, but not ideal either for deeper stuff or primarily cleared highway driving. They're available in some pretty interesting sizes, even down 15 inches, but as with many Yokohama snow tires there's nothing bigger than 19 inches, meaning driver of larger SUVs and crossovers will have to look elsewhere.
Yokohama iceGUARD iG53 snow tires come with an industry-standard one year or first 2/32" of wear uniformity warrant, and five-year workmanship and materials warranty, with free replacement for first year or 2/32" of wear, then prorated to 2/32" remaining depth.
These snow tires don't offer the performance of the best snow tires in the category, but they're also not priced like them. Don't get us wrong—they're still far better in the snow than even the best all-season tires. If you don't do a lot of long-distance winter driving and are likely to put most of your miles on within 30 miles of your house, these might be the perfect affordable snow tires for you.
| | |
| --- | --- |
| Pros | Locking sipes, available in 15 inch diameter, 30 day test drive warranty |
| Cons | No large sizes, not great on highways |
6. Dunlop Winter Maxx WM02
Dunlop's original Winter Maxx tires were...adequate. They were their first attempt at snow tires, which they hoped would be both affordable and high performance. They were certainly affordable.
With the second edition WM02s, they have dramatically improved bad weather handling, with an aggressive tread pattern suited for slush, snow, and ice. The tread pattern is broader to spread out loads and provide more grip, with wide circumferential grooves and lateral notches help evacuate water and slush from the contact patch. The sipe density has been increased to create additional biting edges, providing provide traction in snow and on ice. Construction is typical twin steel belt and a spirally-wound, polyamide reinforcement ply.
Their size range has increased as well, going all the way down to 13 inches, but topping out at 18. Their warranty is better than average at six years on workmanship and materials with free replacement for first year or 2/32" of wear, then prorated to 2/32" remaining depth; and a standard one year or first 2/23" unifomity
| | |
| --- | --- |
| Pros | Good snow performance, small sizes, good warranty |
| Cons | Below average dry performance |
7. Continental WinterContact SI
The SI in this snow tire's name refers to Snow and Ice, which points to the conditions that it's best suited for. Like the best snow tires on this list, the WinterContact SI features a special compound that's designed to stay flexible in cold weather, which is excellent for maintaining traction and grip in such conditions. There are many multi-angled zigzag sipes, which help in the wet, slushy and snowy conditions, and "Traction Groove Technology" base-of-the-groove ridges provide additional three-dimensional snow-biting edges to improve braking traction in deep snow.
The tire also features a tread depth indicator, so that drivers know what kind of traction is available in the snow. Continental Tires are a bit more expensive, but they come with a lot of benefits, like a one-year uniformity warranty, one-year road hazard warranty, a 60-day trial, and six years of workmanship and materials warranty. Drivers report getting excellent life from these, provided you're diligent about not driving in warmer weather.
| | |
| --- | --- |
| Pros | Good for snow and ice |
| Cons | Loud, limited availability |
When Should I Use Winter Tires?
A big concern about winter tires is when to put them on. All-season and summer performance tires lose effectiveness at around 45°F/7°C, which is about the same temperature you can see your breath. As soon as you start noticing your breath in morning, it's time to switch tires. Likewise, the soft compounds and big tread blocks of the best snow tires wear out quickly as it warms up. Winter tires should be installed when daytime temperatures drop below 50°F/10°C, and well in advance of the first snowfall. Start planning on removing them when nights get over 40°F/4°C.
If you live in an area where lots of people use snow tires every winter, inevitably you'll see someone driving around on them on a warm summer day. Even if you can afford to destroy your snow tires like this, it's not safe to do so. Winter tires are very good at dealing with subzero temperatures, but can very easily overheat and fail in hot weather, either dropping chunks of tread, which we've seen happen, or blowing out entirely.
Are Off-Road Tires Good Winter Tires?
Some truck owner may consider leaving knobby all-terrain or off-road tires equipped all year long, even in snow and winter weather. This isn't necessarily a bad idea, because all-terrain tires have deep tread blocks that can help tires get some traction in snow. Furthermore, they're tough and can withstand the potholes and cracked pavement that can occur in winter weather. But they're terrible in braking and emergency handling on dry roads, and have very limited lifespans.
Regular all-terrain rubber isn't as flexible or grippy as winter tires in the cold weather. The large tread blocks and stiff rubber can actually degrade handling performance on ice and in cold, dry conditions. As a result, dedicated winter tires are better suited for snow and ice.
One last thing to consider is winter-rated all-terrain tires, which are pretty much all-terrain tire with winter compounds. These are respectable winter warriors, capable of tackling heavy snow covered routes, and even the slush and mud that follows in the warmer weather.
Why Do You Need Winter Tires?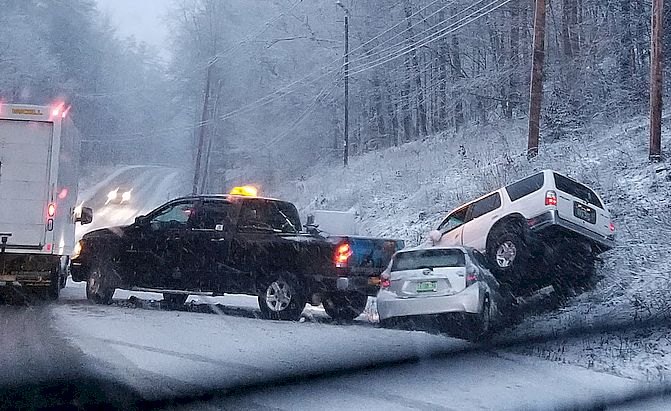 Photo credit: David Traver Adolphus / AutoGuide
In colder temperatures, tires, even all-season ones, get hard and stiff, which impact their ability to maintain traction. They're less grippy, which is a big problem if you want to maintain control on the road.
It might be hard to understand how much grip is lost when a tire gets cold and freezes, but imagine walking around on a skating rink using winter boots and then imagine it again in a pair of slides. Since frozen tires are limited in terms of sidewall flex, they're far more unpredictable on rough or snow-rutted roads. And when a tire freezes up, it's prone to faster tread wear and damage.
Snow tires use a different compound with lots of silica, which allows them to stay soft and flexible in cold weather. The winter tire compound is stickier in these temperatures too, meaning they'll give you much better control in snow and ice than normal tires that aren't designed for those conditions. Winter tires also feature specially designed tread patterns that provide more surface area to contact the road and provide superior grip.
Winter tires not only improve your performance in the snow, but add confidence and safety. Insurance companies may reward drivers who switch to seasonal rubber with discounts.
The subject has been studied a lot to help dispel myths that winter tires are just a big conspiracy. A recent study conducted in Canada showed that winter tires greatly decreased the braking distances when compared to all-season tires, no matter the type of vehicle. Another study showed when a car is traveling just 30 mph in winter conditions, that winter tires can reduce your stopping distance by up to 25 percent, or between two to three car lengths.
Tires are how a car connects with the road. The most advanced all-wheel drive or stability control won't do much if your car has no grip. When there's ice on the road, or if it's covered with slippery snow, the right tire will help deal with those situations.
Some drivers think that they can get away with just using two winter tires specially placed on a car's driving wheels. This isn't a very effective tactic and can cause problems when cornering. When two different sets of tires are used, one end of the vehicle will likely lose traction during cornering situations. Your car throws a check engine light when the gas cap isn't closed tightly, do you really trust its traction control and stability system to figure out what to do with two different sets of grip? And some vehicles, including many Jeep models, are notorious for expensively blowing out AWD and 4WD systems when run on mismatched tires.
How to Store Winter Tires
One of the biggest issues when it comes to seasonal tires is storing them. How do you store your extra tires? There are a few key steps to take to store your tires:
First, clean the tires before putting them away. Dirt and other things that sit on tires for a long time can damage and degrade the rubber, so cleaning them first is important.
After washing them, wrap them up. Putting the tires in a bag will help the oils in the tires from evaporating. There are also tire totes to help make this easier.
Find a dry cool place to store them, preferably not outside. If your tires are on wheels, you can stack them without too much worry, just be sure to be careful so they don't fall over.
If they're not on wheels, you can store them upright. Some recommend hanging tires, which is ideal for tires on wheels, but those that aren't can get misshapen if they're placed on hooks for too long.
If that's too much work, many tire shops, dealerships or mechanics offer storage of your tires. They ensure the tires are in a dry, cool place and are kept in good condition.
Do You Need Winter Tires Even if You Have AWD?
All-wheel drive doesn't give your car super powers to overcome physics. Even cars with all-wheel drive should have winter tires. AWD systems do help provide some stability and traction to get going in slippery conditions, but it doesn't do anything when hit the brakes. Winter tires provide the friction to do that, reducing stopping distances hugely.
Going up or down a snowy hill, even with an all-wheel-drive system, can be dangerous. A set of winter tires provides the grip necessary to drive safely in any situation involving snow and ice.
How Do Winter Tires Work?
Winter tires are a completely different breed of rubber compared to all-season and performance tires. Winter tires use materials like silica that are more pliable at frigid temperatures, which is critical. The tread of a tire needs to hug the road surface in order to provide maximum grip. Silica is also hard and abrasive, and the tiny fibers make thousands of tiny surfaces that create gripping friction not just on ice, but cold, dry road surfaces as well.
Beyond the unique compound, winter tires feature aggressive tread patterns and siping. Sipes are small slits and grooves that are cut or molded into the tread of the tire. Winter tires have much more of these than all-season tires because they increase the surface area, which improves the grip and biting edges of the rubber.
Winter tires also have knobbier and more aggressive tread, which helps with traction, too. Snow grips to snow, and having a way to grip the snow while dispelling water improves grip.
Recent Updates
11/09/2021: Updated Yokohama to iceGUARD iG53. Updated Pirelli to Ice Zero FR. Removed Goodyear from recommended tires. Added Nokian Hakkapeliitta R3. Expanded FAQs.
11/08/2021: Added Michelin Latitude X-Ice Xi2
11/03/2021: Updated Blizzak WS80 with WS90
10/21/2021: Added a promoted product recommendation
10/12/2021: Updated product information
08/24/2020: New product recommendations
---
We are committed to finding, researching, and recommending the best products. We earn commissions from purchases you make using the retail links in our product reviews. Learn more about how this works.
Photo credit: David Traver Adolphus / AutoGuide
Published November 9th, 2021 4:01 PM
Popular Articles
Latest Comparisons
Car Buying Tools