5.1K Views
The Best Replacement Brake Rotors and Why You Need Them
January 17th, 2023 1:24 PM
Share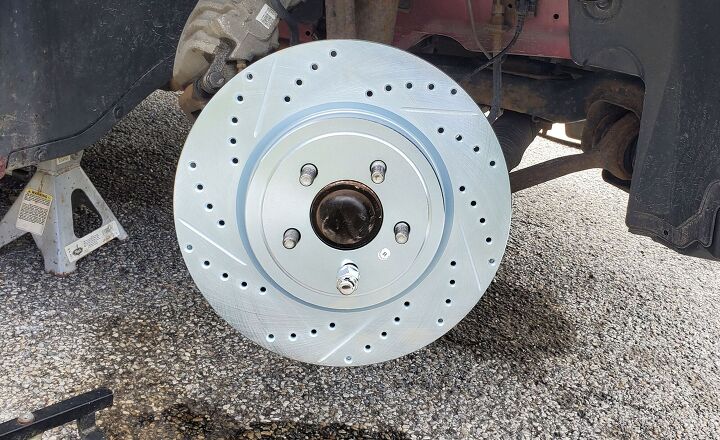 It's hard to think of a more important automotive component than brakes. The ability to stop your car quickly, consistently, and repeatedly without losing control is crucial to keeping you and others safe out on the road. If your braking system isn't well maintained, your chance of being involved in something "unfortunate" increases significantly.
Your braking system features multiple components starting with a brake booster and master cylinder, which pressurize hydraulic brake fluid in your brake lines, operating the pistons in the brake calipers. The calipers then squeeze the brake pads against the rotor, creating friction that slows your vehicle down by turning forward motion into heat.
Buying your brake rotors (also called brake discs) online, even if you plan on having them installed professionally, will save you money in the long run, as repair shops and dealerships will, if nothing else, have a minimum hourly labor charge for a job that won't take them long.
Grabbing the cheapest rotors you can find isn't the best idea if you decide to do this. In this article, we'll show you some of the best aftermarket brake rotors offered for regular, everyday vehicles. We'll also answer some of the most common questions consumers have shopping for brake rotors, leaving you ready to pick the best rotors for your ride.
1. Editor's Pick: ACDelco Gold Brake Rotors
ACDelco's Professional series line of brake rotors are well-made, inexpensive, and coated for rust prevention, making them a good choice for the commuter who just wants a straightforward replacement brake rotor.
Different types of Professional series rotors are available, each intended for different vehicle models, so if you're considering these rotors, ensure you are getting the right model that will fit your vehicle.
ACDelco is a well-known purveyor of OE-quality replacement parts for General Motors vehicles, so you can buy these rotors knowing they will offer factory-like quality and braking performance. They are also ready to be installed out of the box.
| | |
| --- | --- |
| Pros | OE-like quality, coated for rust prevention, inexpensive |
| Cons | Will only fit certain vehicles |
2. Brembo UV Coated Brake Rotor
Brembo is one of the biggest names in high-performance brakes. The company makes discs for sports and racing cars, but it supplies automakers with brakes for a huge range of regular cars too. It uses top-quality metals to help reduce problems like pulsing, warping, and fading. Brembo also has high levels of quality control
This means that the rotors might be more expensive than some other brands, but you make up for that with performance and features.
What features other than stopping? Brembo's UV coating is highly resistant to corrosion, helping your rotors last much longer. It also requires less energy to make and apply, and has no volatile organic compounds. So it's the green choice as well as the choice when you need to stop in a hurry.
| | |
| --- | --- |
| Pros | High quality coatings, top brake parts manufacturer |
| Cons | Higher price, may not have sizes for lower-priced vehicles |
Bosch's QuietCast rotors are another OEM-style brake rotor that aims to deliver factory-like quality and braking performance without being too expensive. If you want an OEM quality brake rotor but want to save a bit of money, Bosch QuietCast rotors are worth checking out.
Bosch QuietCast rotors are heat-flowed castings to ensure consistent wear and quiet operation. They will fit just like an OEM rotor would and come ready to install. They will perform as advertised and shouldn't give you any trouble regarding installation or operation.
We'd suggest these rotors to anyone looking for a replacement set of brakes for their commuter vehicle.
| | |
| --- | --- |
| Pros | OEM look and quality, ready to install, good price |
| Cons | Protective coating doesn't last very long |
4. ACDelco Advantage Rotors
ACDelco Advantage rotors are similar to the Professional series coated rotors above but are much less expensive. The Advantage line is available in both coated and uncoated, which can save a few extra dollars if you need to.
This is about as simple and straightforward as replacement non-OE brake rotors get. They are made of multiple metal alloys and come ready to install, with no machining, balancing, or any extra work required.
These rotors will perform as you need them to and provide a relatively good quality replacement for your factory brake rotors. Just make sure they fit your vehicle: ACDelco parts are typically intended for GM vehicles.
| | |
| --- | --- |
| Pros | Near OE quality, inexpensive |
| Cons | Not coated |
5. DuraGo Premium Electrophoretic Brake Rotor
Don't get too confused by the "Electrophoretic" name given to this brake rotor set from DuraGo—that's just the corrosion-preventing coating that they are covered in.
This brake rotor set aims to be highly corrosion resistant, which may make them good if you live in an area with harsh weather and long winters. They come ready to install and promise to provide smooth, vibration-free performance.
We wouldn't hesitate to recommend these to anyone looking to replace the factory brakes on their commuter vehicle. They are less expensive than OEM brakes, will perform well, and hold up over time.
Like always, ensure these brakes will fit your vehicle before you order them. Amazon's built-in 'Will it Fit?' tool for this is extremely helpful.
| | |
| --- | --- |
| Pros | Corrosion-resistant coating, inexpensive |
| Cons | Lesser known manufacturer |
6. Centric Parts Premium Brake Rotor
This premium brake rotor from Centric Parts is a coated rotor that aims to prevent rust and corrosion.
A unique part of this rotor is the machine finish. With a textured surface (that will eventually wear away, it should be said), these brakes will look nice when first installed. They also have black-painted cooling vanes and a black-painted center part, enhancing their appearance.
These rotors are good quality and will come in at about half the price (or less) of OEM rotors. They provide smooth, strong stopping performance and will provide plenty of miles of service while before warping or requiring replacement.
If you drive aggressively or have a faster or heavier vehicle, you may experience some wear after using these brakes for a while. They are a budget product, so if you're not driving a relatively cheap commuter car, we'd look at higher-quality brakes.
As always, ensure these rotors fit your vehicle before you buy them.
| | |
| --- | --- |
| Pros | Look good, inexpensive |
| Cons | Not good for any sort of performance driving |
7. Wagner Premium E-Coated Brake Rotor
Wagner's coated brake rotors are simply an alternative to other very similar products like the coated rotors from Centric and DuraGo above. They have a similar design, a similar price tag, and similar braking performance.
Rotors like these won't decrease stopping distances over your factory rotors, but they are a budget-friendly alternative to OEM replacement rotors, which are quite a bit more expensive. You may trade some build quality in for the lower price, but rotors like these are perfectly fine on less expensive commuter cars.
Wagner's budget brake rotors are coated for corrosion and rust protection and feature a black-painted center for a more high-quality look. They are less expensive than a lot of other cheap, coated rotors as well, so if you really hate spending money on car parts, they could be the ideal rotors for you.
| | |
| --- | --- |
| Pros | Very inexpensive |
| Cons | Build quality leaves something to be desired |
8. Raybestos Advanced Technology Disc Brake Rotor
Don't be put off by the name – these brakes contain no asbestos or anything harmful. They are just simple, alloy-coated rotors.
While these are a bit more expensive than other comparable budget rotors for daily-driven cars, they are of good quality and are well-suited to stopping heavier vehicles.
The Advanced Technology rotors are Raybestos' mid-grade rotors. They are coated in corrosion-preventing material and are designed to provide smooth and quiet braking performance.
Raybestos says these rotors are well-suited for fleet vehicles as they are offered for trucks and SUVs, will last quite a long time, and aren't expensive to replace.
| | |
| --- | --- |
| Pros | Great quality, suited for heavy vehicles |
| Cons | A bit more expensive than other budget rotors |
What are the Different Types of Brake Rotors?
There are two types of brakes: disc brakes and drum brakes. Drum brakes aren't used on very many production vehicles anymore, so it's likely that your car has disc brakes.
There are also different styles of disc brakes. Most cars have smooth rotors, while some have slotted rotors with grooves cut into their surface.
Slotted rotors are said to dissipate heat better, which could reduce brake fade in hard driving scenarios. Such as when you are going downhill with a heavy vehicle or when you are on the race track.
Drilled rotors have holes drilled into them and look to provide improved brake cooling, similar to slotted rotors. They also allow water to escape the brake's surface better, which can lead to improved braking performance in the rain, but this isn't relevant on the road – only on the race track. There also drilled and slotted rotors that have grooves and holes drilled into them.
While drilled and/or slotted rotors can improve braking performance, many consumers want them because they look cool.
Should I Change my Brake Pads With my Rotors?
While you can change only your rotors and leave your existing brake pads, you shouldn't. It makes sense to change both at the same time.
You will already have to take apart your brake assemblies to install the new rotors, so may as well throw some new pads on there while you are at it. A crucial part of brake pad function is the transfer layer of pad material onto the rotor. Mixing old pads and new rotors can prevent this transfer from occurring properly. Replacing both parts will ensure even wear between your pads and rotors, reducing the chance that you will wear your pads or rotors unevenly. This will also provide much better braking feel and performance than if you changed just the rotors.
Brake pads are inexpensive and easy to install, so we'd highly suggest picking up new pads with your new rotors.
What About the Brake Fluid?
Rotors need to be changed every 70,000 miles or so, while pads need to be changed every 40,000 miles or so. Most manufacturers suggest changing your brake fluid every couple of years, or every 20,000 miles. If you haven't changed your brake fluid recently, you might as well change it at the same time you change your rotors. It's because brake fluid absorbs water, and that water can boil in hard braking. Boiling fluid means a soft pedal and poor braking performance.
If you don't know what type of brake fluid to get, consult your vehicle's owner's manual. Because brakes are crucial to the safety of those around you, and yourself, you should stick to what the manufacturer suggests.
Recent Updates:
September 26, 2023: Added Brembo recommendation, updated product links.
January 3, 2023: Removed promoted product recommendation.
December 20, 2022: Updated product links.
October 28, 2022: Updated product links.
August 23, 2022: Updated product descriptions and links. Removed DuraGo Vented Disc Brake Rotor.
May 11, 2022: Updated product links
---
We are committed to finding, researching, and recommending the best products. We earn commissions from purchases you make using the retail links in our product reviews. Learn more about how this works.
Photo credit: Kyle Lee / Shutterstock.com
Published April 21st, 2022 4:01 PM
Popular Articles
Latest Comparisons
Car Buying Tools