610 Views
The Best Wheel Chocks and Why You Need Them
August 5th, 2022 10:09 AM
Share
You don't want to be near a jacked car that's not using wheel chocks.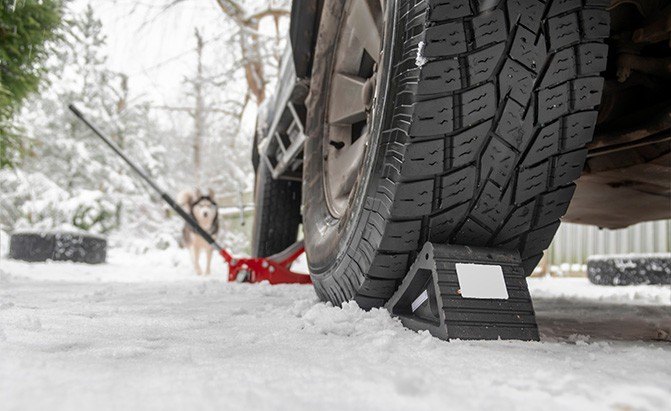 If you're working on your car or have it parked on an incline, the last thing you need is for it to roll away. Even if placed in park with the engine off and the parking brake engaged, there's still a risk that it might roll away, and that has the potential to seriously injure someone and/or cause damage to its surroundings.
Wheel chocks also called wheel immobilizers or chock blocks, are wedges made out of a sturdy material that you place against a vehicle's wheels to stop any accidental movement or rolling. They're typically made of rubber or plastic, but I wouldn't recommend buying plastic ones because they're just not as sturdy.
You've probably seen wheel chocks used on planes once they've pulled up to the gate, and maybe you've seen cut-up 2x4s stopping a parked RV from rolling down a driveway in the suburbs. You don't want to use wood scraps or big rocks to hold your car, trailer, or RV in place, though. There are better and safer options out there.
Wheel chocks are a good idea for additional safety and should be used with the parking brakes. If you work on your car and use a jack, wheel chocks are a necessity. Parking brakes typically are for the rear wheels only, and if you lift the rear of the car and the rear axle is up in the air, the front wheels are still free to roll. Using wheel chocks will prevent any unwanted rolling. You don't want to get crushed under a jacked car that isn't using wheel chocks.
We're going to go over the best wheel chocks for your car in this article. We've picked out the wheel chocks with the best reviews and ones that are also bestsellers. There aren't too many features that differentiate the best wheel chocks, but we've scoured hundreds of products, and these are the only ones we'd feel comfortable purchasing.
1. Editor's Pick: MaxxHaul 70472 Solid Rubber Heavy Duty Black Wheel Chock
These heavy-duty wheel chocks are made of solid rubber and are much more durable than the best selling product on Amazon, which we couldn't recommend (the best selling product is hollow, not as heavy duty as the manufacturer claims, and got terrible reviews). These chocks, however, are ideal for any climate, have a rubber traction pad to reduce slippage, and come with a built-in handle. The non-slip surface is also oil resistant. Users report that they have been able to use these wheel chocks with big trailers and trucks with no durability issues. They like the heavy-duty construction and grippy surfaces, saying that these have great value.
These wheel chocks are Amazon's Choice and earned a very good 4.3 out of 5 rating. They're also pretty high up on the bestsellers list.
The one downside to these wheel chocks is that users report it gives off a really strong rubber smell. The comments about how bad they smells are actually quite entertaining, but the wheel chocks do their job just fine and there were no complaints about functionality. The smell should also subside with time, but you might not want to use them inside your garage.
| | |
| --- | --- |
| Pros | Solid rubber, rubber traction pad, affordable, durable |
| Cons | Smells bad |
| Bottom Line | Editors's Pick for Best Wheel Chocks |
2. MLTOOLS Wheel Chocks | 2 Pack High Grip Wheel Chocks
These red wheel chocks are made in the USA and are backed by a lifetime warranty, which seems to be a rarity for wheel chocks. They're made from high-compression rubber and have grippy surfaces that help ensure your car or trailer won't roll around. The integrated handle also makes them easier to move and transport, while the red color also gives them more visibility.
Users report that these wheel chocks work really well, and some have even mistakenly tried to drive away, but the chocks stopped them in their tracks. Even when drivers attempted to drive over them to test their durability, they didn't break or get deformed. Users like that these wheel chocks don't feel cheap and that they're easy to place and remove. Good news: people have reported that these wheel chocks don't smell as bad or as strong as other rubber chocks on the market. The only recurring complaint is that they are not as wide, but it doesn't really affect their functionality.
| | |
| --- | --- |
| Pros | Lifetime warranty, red color, durable, affordable, don't smell |
| Cons | Not for heavy duty industrial use, could be wider |
| Bottom Line | The lifetime warranty and great reviews make these a solid choice |
3. Vestil LWC-15 Laminated Rubber Wheel Chock
These laminated rubber wheel chocks are large, heavy, and are unique for their metal handles, which help with placement and removal and also make the chocks stronger. They're quite large at 11 inches tall, 7.375 inches wide, and 11.25 inches wide, so they're great for heavy-duty use, but might not be suitable to use with lower cars or smaller wheels. The company says the laminated finish will resist slipping, tearing, ozone, abrasion and all types of weather conditions.
The American company that makes this wheel chock manufacturers all types of handling equipment and has been around since 1968. Users report that these wheel chocks don't give off a strong odor, but that they might be too tall to use with lower cars. It's also important to note that these chocks are rather expensive and aren't sold in pairs. People who have used these on everything from pickup trucks and Jeeps to 18-wheelers and large trailers have been really happy with these chocks and say that they're worth the steep price.
| | |
| --- | --- |
| Pros | Very heavy duty, durable, metal handles |
| Cons | Not suitable for smaller cars, pricey, not sold in pairs |
| Bottom Line | Expensive, but heavy-duty build makes these the last chocks you will ever need to buy |
4. Fasmov Solid Rubber Heavy Duty Wheel Chock
These Fasmov wheel chocks are a simple, no-frills option for basic needs. They're made of rubber that is oil and slip resistant and also have a ribbed surface to grip your wheels better.
They don't have handles like the other options we have listed here, so they might be a bit more difficult to place and remove. Users have reported that these chocks give off a strong rubber smell, but that's pretty normal and the smell should dissipate after some time.
Although the manufacturer says this is a heavy-duty wheel chock, they're on the smaller side, so use caution if you have plans to use these for a bigger trailer like a motorhome. For chocking your hatchback, sedan, SUV, or a lighter trailer, though, these should work just fine.
Some users have reported that they kept a car in place when they mistakenly tried to reverse out when the chocks were still holding the wheels, so they're durable and strong. These have an excellent 4.4 out of 5 rating on Amazon.
| | |
| --- | --- |
| Pros | Affordable, simple, solid rubber construction |
| Cons | No handle, smells bad |
| Bottom Line | A great no-frills option for those on a budget |
5. Best Budget Option: Camco Wheel Chocks
These Camco wheel chocks are affordable and functional. Photo credit: Amazon.com.
While most of us can appreciate quality goods and don't mind paying for them when the situation warrants it, there's a lot to be said for cheap and functional. Such is the case with these wheel chocks from Camco. They use the absolute minimum amount of material necessary to perform the function of keeping your vehicle or trailer from rolling away. Sold in packs of two, they're hollow and stack conveniently, one inside the other, making them lightweight and easy to transport and place as well as space efficient when the time comes to store them away.
On the downside, there is something reassuring about a hefty, solid-rubber, or metal wheel chock lacking from these budget-priced, hollow items. Hollow or not, these wheel chocks received an enviable approval rating from buyers and have sold by the tens of thousands. They're an ideal choice for the budget minded or for those who want a lighter-weight, easy-to-place wheel chock.
| | |
| --- | --- |
| Pros | Very affordable, lightweight |
| Cons | Hollow construction |
How to Use a Wheel Chock
Wheel chocks are pretty low-tech and self-explanatory, but there are a few things to keep in mind when buying and using them. Wheel chocks need to match the size of the tires you're using them on because the tires are designed in proportion to the car's size and weight. If you get the wrong size wheel chock that is too small, it might not be effective at doing its job. Most manufacturers say you should use wheel chocks that are a bit taller than 1/4 of the height of the wheel.
Also pay attention to the slope angle of the wheel chock. The general rule is this simple math equation: (chock height ÷ the height of the wheel) ÷ 0.016 = the maximum angle slope for a chock to be effective.
You should use wheel chocks on a hard, solid, and level surface and always make sure to use the parking brake. Wheel chocks will be less effective on larger slopes and loose ground like grass or gravel. I would opt for heavy-duty chocks for extra security. Some people cheap out on chocks or buy cheap plastic ones and they just end up getting crushed — this is not what you want when your safety is at risk. A heavy-duty rubber option will have more uses.
Recent Updates:
July 29, 2022: Added Camco wheel chocks as No 5, Best Budget Wheel Chocks.
---
We are committed to finding, researching, and recommending the best products. We earn commissions from purchases you make using the retail links in our product reviews. Learn more about how this works.
Photo credit: Konstantin Zaykov / Shutterstock.com
Published August 5th, 2019 12:01 AM
Popular Articles
Latest Comparisons
Car Buying Tools