214 Views
2022 Mazda CX-5 Review: For Those Who Think Young
March 24th, 2022 2:35 PM
Share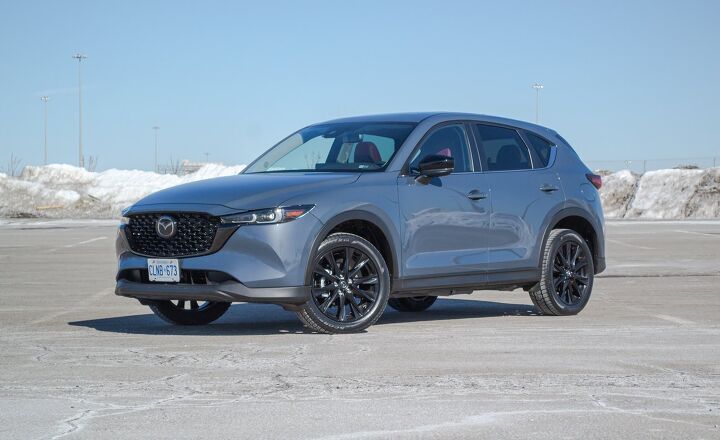 FAST FACTS
| | |
| --- | --- |
| Engine: | 2.5L I4 |
| Output: | 187 hp, 186 lb-ft |
| Transmission: | 6AT, AWD |
| US fuel economy (MPG): | 24/30/26 |
| CAN fuel economy (L/100KM): | 9.9/7.9/9.0 |
| Starting Price (USD): | $27,125 (inc. dest.) |
| As-Tested Price (USD): | $32,395 (inc. dest.) |
| Starting Price (CAD): | $32,150 (inc. dest.) |
| As-Tested Price (CAD): | $40,418 (inc. dest.) |
The Mazda CX-5 has had a reputation as the driver's choice in the segment since it debuted over a decade ago.
Not just marketing spin from the formerly Zoom-Zoom brand, the CX-5's status is deserved. Where other compact crossovers are languid, the Mazda is lively. A steady march up the sales charts confirms buyers are picking up what the CX-5 is putting down.
The 2022 Mazda CX-5 doesn't shake up that formula. In the face of new and revised competitors, the Japanese brand has treated its best-seller to a thoughtful round of improvements, making it more refined and better-equipped. For drivers who still want a dash of spice in their eminently practical life, this is the SUV to have.
Get a Quote on a New 2022 Mazda CX-5
What's new?
Mazda has gently massaged the CX-5 package for 2022. Nothing dramatic, but in that typical Mazda way, the result is greater than the sum of its parts.
Squint and you can make out the, er, squintier front fascia, a tidier bumper design hanging below the sharper LED headlights. Mazda has rearranged the interior lighting elements, a quartet of L-shaped highlights giving the CX-5 a familial resemblance to the upcoming CX-50 (which we drive very soon). There are tweaks to the grille too, namely a different surround, in the case of the Carbon (Kuro in Canada) done up in black instead of chrome. Similarly, the taillights have a little more definition to their shape, a subtle swell on the outer halves—also, mirroring the CX-50. Top trims swap out the typical crossover black plastic cladding for body-color pieces. Overall, the CX-5 remains one of the most attractive options in its segment.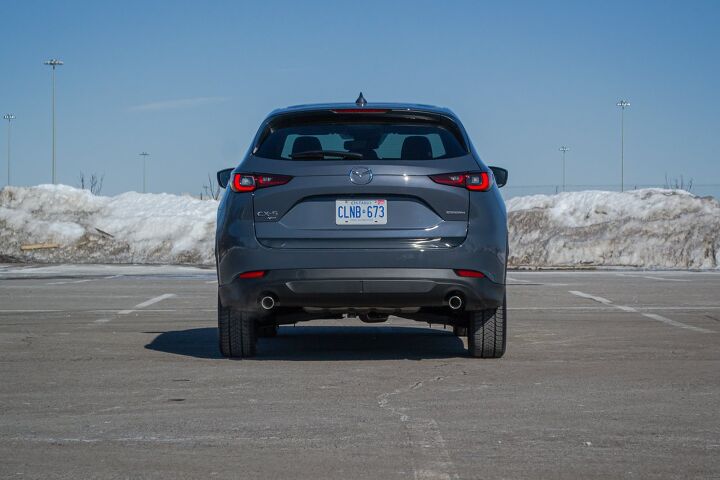 Under the skin, Mazda has improved frame rigidity and modified the dampers for what it says are reduced noise and vibration, plus better ride quality. The company's i-Activ AWD system is now standard on every CX-5, a relative rarity in the segment. That's the most notable drivetrain change; the naturally-aspirated and turbocharged 2.5-liter engines continue to hook up to a six-speed automatic, with the latter gaining an additional 6 horsepower on 93-octane gas, totalling 256 hp.
2022 Mazda CX-5 interior and comfort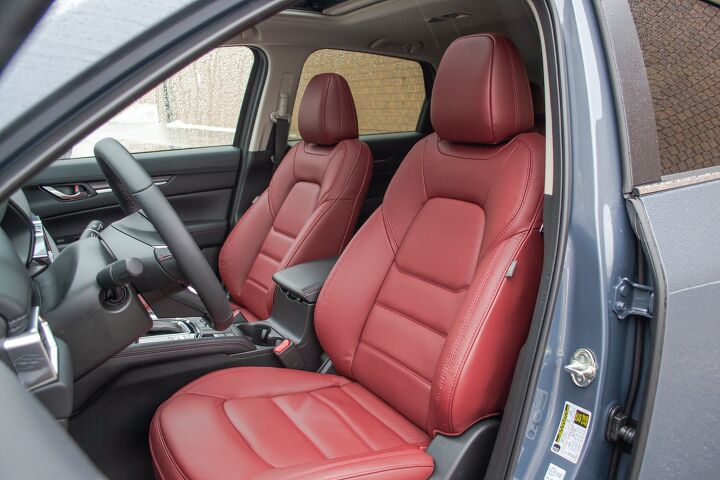 It's so nice to see a dash of color in a mainstream product. Opting for the Kuro drops in pretty red leather seating, a hue that adds a premium feel to the cabin without being distracting. The rest of the view up front is great, with a classy, padded dashboard and minimal fuss. The leather wrapping the steering wheel is as soft as anything I've handled from luxury brands, while the textured trim and red stitching make it clear this is a driver-oriented machine.
SEE ALSO:
Mazda CX-5 vs Nissan Rogue Comparison: Heart and Head
The seating position always feels a skosh too high, but the seats themselves are very comfortable—Mazda redesigned them for 2022. The letterbox sunroof lets a little extra light in, though taller folks may miss the extra headroom. Sight lines out of the CX-5 are very good, making it one of the easiest vehicles to wheel around downtown we've had in some time.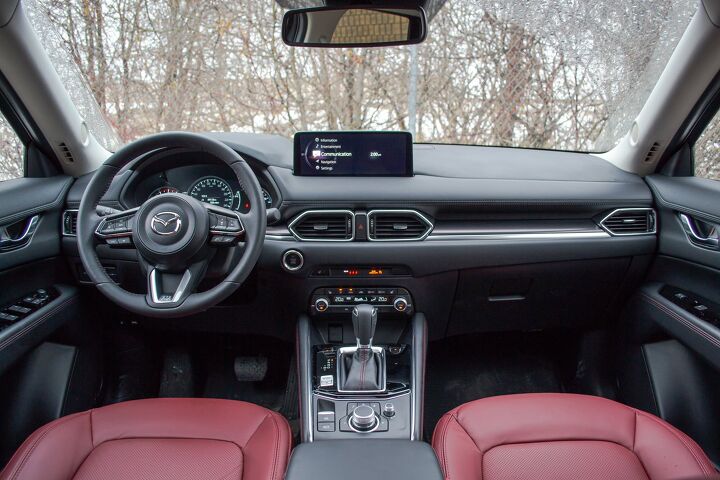 As the "sporty" choice in the sector, some might dismiss the CX-5 under the impression it puts space at a premium. That's true to a point, though not nearly as much as one might think. The rear seats will still happily host full-size humans, and the 90-degree opening of the doors makes it easy to install child seats. Going three-wide is a bit of a pinch, however, specifically because of the sizeable central drivetrain hump. Headroom and legroom measure 39.0 and 39.6 inches (991 and 1,006 mm) in the back, respectively, making the CX-5 wholly competitive with the larger competitors out there (Hyundai Tucson, Honda CR-V).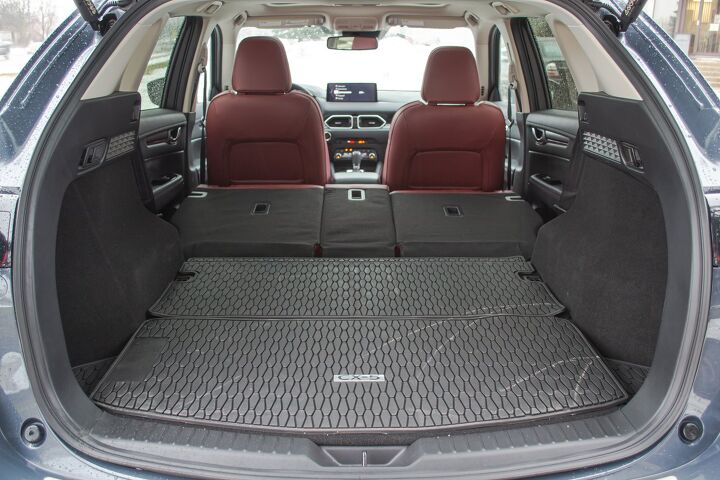 Where the CX-5 falls behind is its cargo hold. Mazda quotes an even 30.0 cubic feet (850 liters) of storage behind the rear seats. Dropping the 60/40 second row just about doubles that figure, to 59.3 cubic feet (1,679 L).
SEE ALSO:
2022 Mazda MX-30 Review: An EV History Lesson
2022 Mazda CX-5 technology and features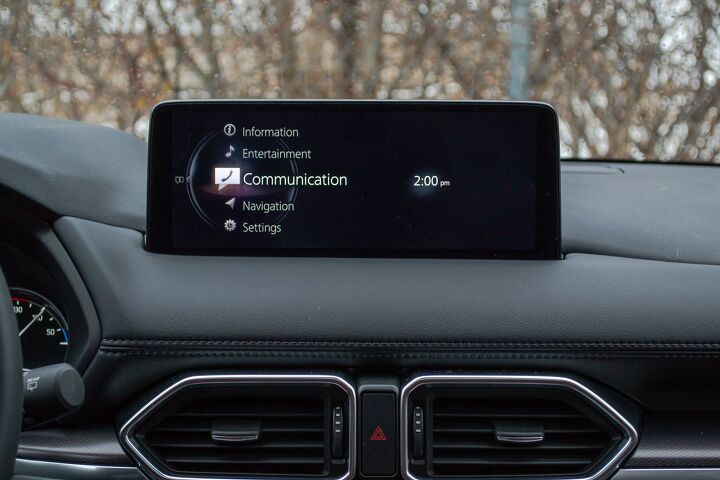 Like most modern Mazdas, the CX-5 uses an ultra-wide, non-touchscreen infotainment system. This particular example measures 10.25 inches across. Maybe it's increased exposure, or maybe it's from often having a co-pilot, but the system was less aggravating in the revised CX-5. Response times are quicker, for starters, with full control via a center console-mounted rotary dial, BMW-style. The menus are all pretty basic, so the dial's simple logic works well here.
It's when you leash up Apple CarPlay or Android Auto that the Mazda suffers. My co-pilot would just resort to using my actual phone to handle Spotify or navigation. A rotary dial still just feels punishing for passengers.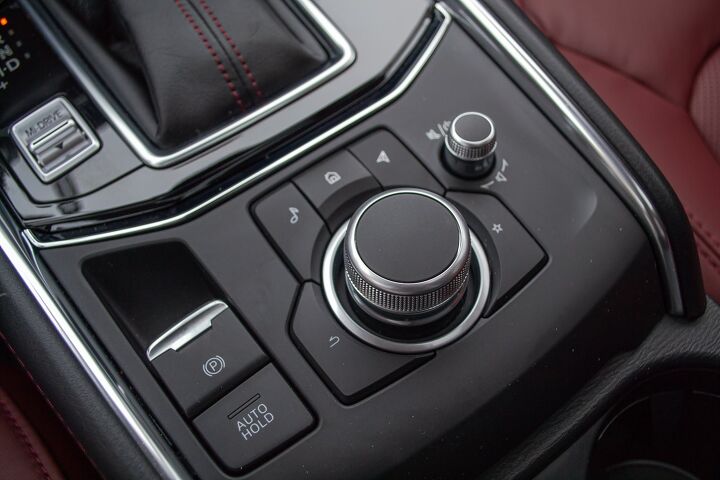 At least the tunes are pretty solid, the Mazda's six-speaker sound system being clean and powerful for a non-branded unit. I'm happy to say that the heated front seats and steering wheel are effective during a cold snap, too. Mazda fits a good amount of standard kit to this Carbon/Kuro CX-5, including dual-zone auto climate control, power adjustable driver and front passenger seats, auto-dimming rearview mirror, and a height-adjustable power liftgate. My only main complaint would be the lack of a Qi wireless charger on this model. It's available in higher grades, however.
SEE ALSO:
Nissan Pathfinder vs Mazda CX-9 Comparison
Mazda doesn't skimp on standard safety and driver assists, either. Automated emergency braking is standard across the board, as are rear cross-traffic alert, lane keep assist, hill launch assist, blind spot monitoring, and full-range adaptive cruise control. They all work smoothly, though I find the lane guidance a little heavy-handed in its alerts. The back-up camera is also a slightly unusual quasi-fisheye setup. Higher trims gain a head-up display, 360-degree camera, and other assists.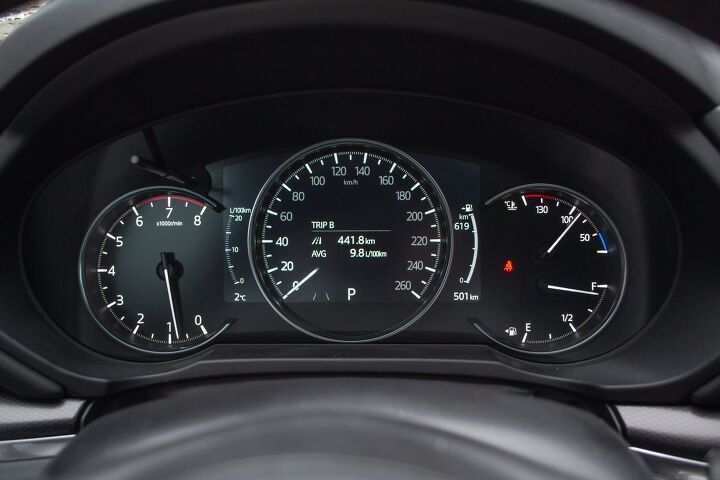 An extra note: I still adore the central digital dial in the instrument panel. It seamlessly blends in with the others. The perfect merger of new and old.
2022 Mazda CX-5 driving impressions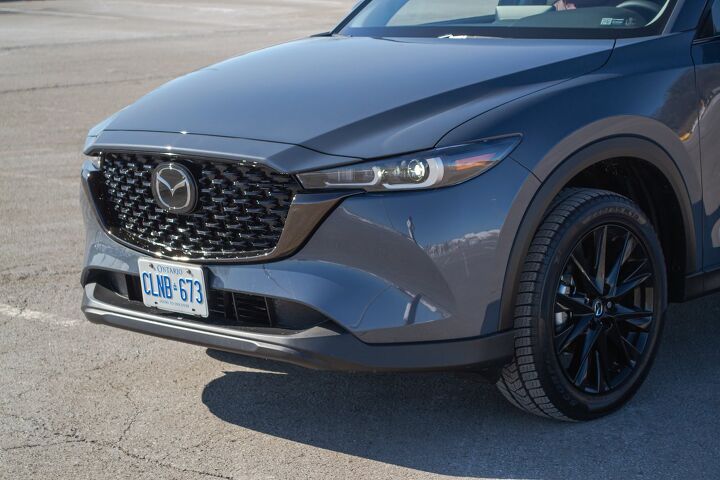 The CX-5 continues to use Mazda's trusty 2.5-liter four-cylinder. This tester has the naturally aspirated mill, sending 187 hp and 186 lb-ft of torque through a six-speed automatic. Those numbers drop it in the back half of the pack, but these must be some of the healthiest horses out there. The CX-5 is more than quick enough for everyday duty, with smart throttle mapping making the most of the corral. Sure, the turbo would be fun, but buyers won't feel short-changed with the atmospheric engine.
SEE ALSO:
Hyundai Tucson Hybrid vs Toyota RAV4 Hybrid Comparison: Fuel-Sipping Family Haulers
The six-speed keeps it on boil when needed too, though the CX-5 does pay for that at the pumps. It's rated at just 26 mpg combined (9.0 L/100 km). Our week was pretty accurate to that, but it's still worse than most other competitors, especially the Nissan Rogue.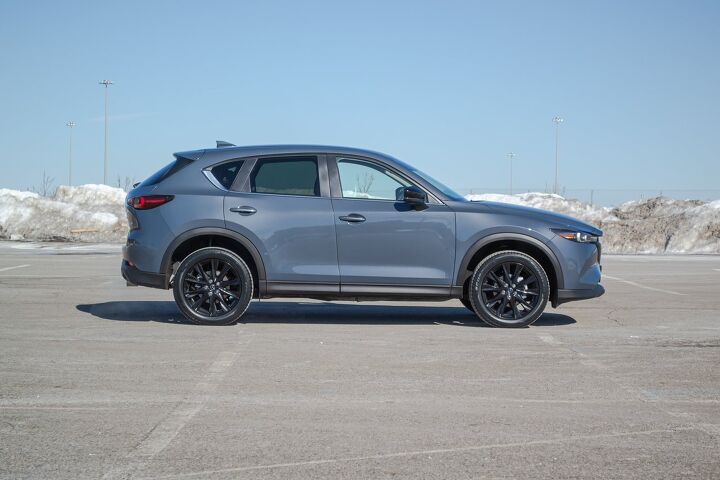 Enthusiasts will dig the CX-5's steering. Heavier than anything else in the class, it stops short of being a chore. Instead, the wheel encourages you to lean on it, repaying that trust with clean, consistent feedback. The 19-inch wheels and low-profile tires do add a bit of an edge to the ride, but it's far from uncomfortable.
Without a pre-facelift model to do back-to-back testing, we can't confirm Mazda's claims about the redesigned suspension making less noise. That said, the Mazda does ride with a hushed calm.
2022 Mazda CX-5 pricing and competition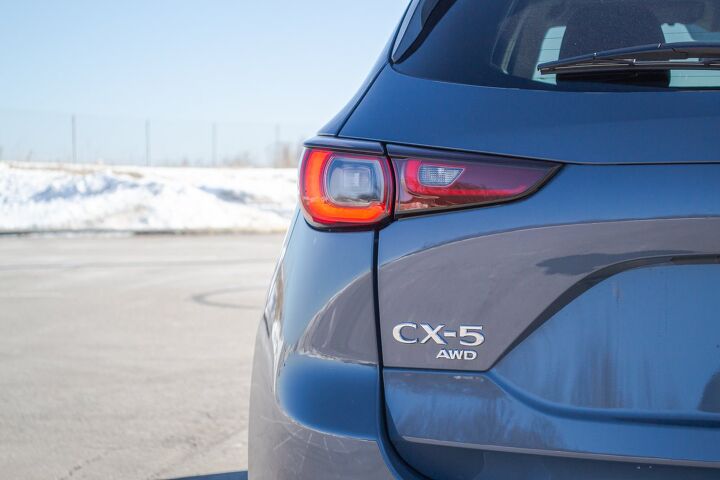 For 2022, CX-5 pricing starts from $27,125 ($32,150 CAD), including destination. That amount nets you a vehicle functionally identical to this tester, with the same engine, transmission, and suspension tuning. You'll get 17-inch wheels instead, but that just means an even better ride, really.
This Canadian-spec tester is the Kuro Edition, Canuck speak for the US-market Carbon Edition. It sits around the middle of the trim walk, ringing in at a reasonable $31,945 ($39,650 CAD). The only options added here are the Polymetal Gray paint (included in the US, $200 in Canada), and Mazda's navigation SD card ($450 / $568 CAD). That adds up to a final tally of $32,395 ($40,418 CAD). Given the proliferation of phone-based navigation, we'd just skip the SD card.
That sort of money will net you the best-selling Toyota RAV4 in XLE Premium trim. It's not as interesting to look at or to drive (especially since AWD is a $975 upgrade), nor is it as well-equipped. But it has space and fuel efficiency on its side, and that's before you get into the available hybrid. There's also the latest Nissan Rogue, which is a bargain of a vehicle in the SV trim we recently compared against this very same CX-5.
SEE ALSO:
2022 Subaru Forester Wilderness Review: First Drive
Verdict: 2022 Mazda CX-5 Review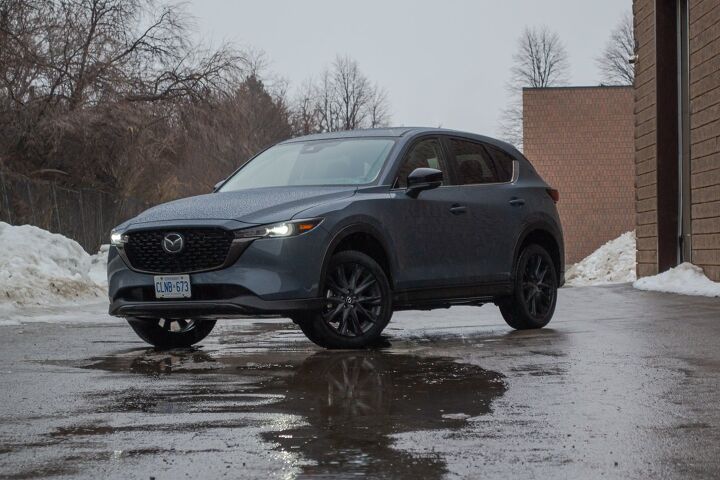 The thoughtful improvements Mazda has wrought on the 2022 CX-5 keep it looking fresh and fun in the compact sector. It's true that Mazda's best-seller lags behind in terms of fuel economy, and its infotainment isn't the most user-friendly. But on every other level, the CX-5 excels.
For buyers who place even a stitch of importance on driving enjoyment, this remains the pick of the segment, with tight steering and well-damped suspension tuning. The CX-5 still has one of the most pleasant interiors to spend time in too, especially with those red leather seats. The 2022 Mazda CX-5's smooth blend of value, style, and practicality makes it an easy compact crossover to recommend—and a tough one to ignore.
---
FAQs
How much does the 2022 Mazda CX-5 cost?
The new model starts from $27,125 ($32,150 CAD), including destination.
Does the 2022 Mazda CX-5 have remote start?
Yes it does.
Is the 2022 Mazda CX-5 safe?
Very: it earns the highest Top Safety Pick+ rating from the IIHS.
Become an AutoGuide insider. Get the latest from the automotive world first by subscribing to our newsletter here.
LOVE IT
Best-driving option in the class
Welcoming interior
Standard AWD
LEAVE IT
Poor fuel economy
Falling behind on the tech front
Sacrifices some cargo space
Published March 16th, 2022 5:26 PM
Popular Articles
Latest Comparisons
Car Buying Tools