23 Views
2016 Volvo XC90 T6 Review
July 22nd, 2015 8:58 AM
Share
We're committed to finding, researching, and recommending the best products. We earn commissions from purchases you make using links in our articles. Learn more here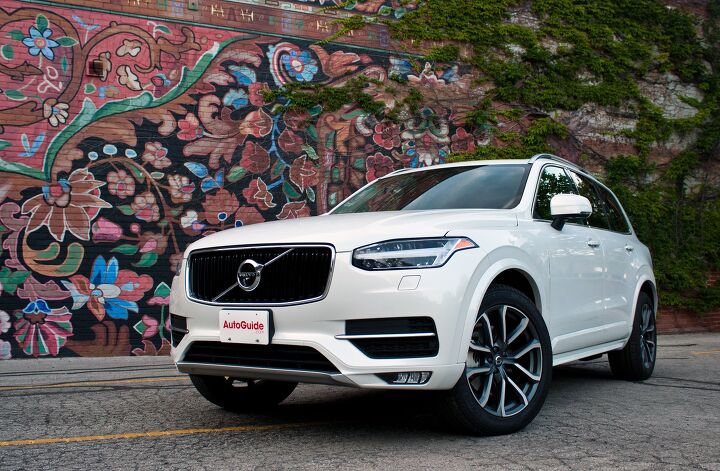 Like many people, I grew up with Volvos. I aced my driving exam in a boxy silver 244 GL. I drove to my first real date in an enormous green 850 Turbo that closely resembled a ping pong table and had all the same curves. At one point, my parents had matching XC70 wagons. My mom still has hers and there's nearly 174,000 miles on it. My dad drove his until there were 217,000 miles on the clock.
All the Volvos from my past all had a few things in common: They may not have been the sexiest cars, but they were sturdy, plush, luxurious and they felt invincible. This is probably why Volvos were the preferred choice of my parents for their teenaged daughters: Driving a tank is better than being crushed by a tank.
The 2016 Volvo XC90 T6 tested here looks so dramatically different from any Volvo that came before it, but after driving it, you realize it still has all those qualities my family cherished: It's still sturdy, still plush, still luxurious and still feels invincible.
It Runs in the Family
FAST FACTS
| | |
| --- | --- |
| Engine: | 2.0L turbocharged/supercharged four-cylinder, 316 hp, 295 lb.-ft |
| Transmission: | 8-speed auto |
| US Fuel Economy: | 20.5 MPG city, 24.8 MPG hwy. |
| CAN Fuel Economy (L/100 km): | 11.5 city, 9.5 hwy. |
| US Price: | $48,900 base |
| CAN Price: | $60,700 base/$67,425 as-tested |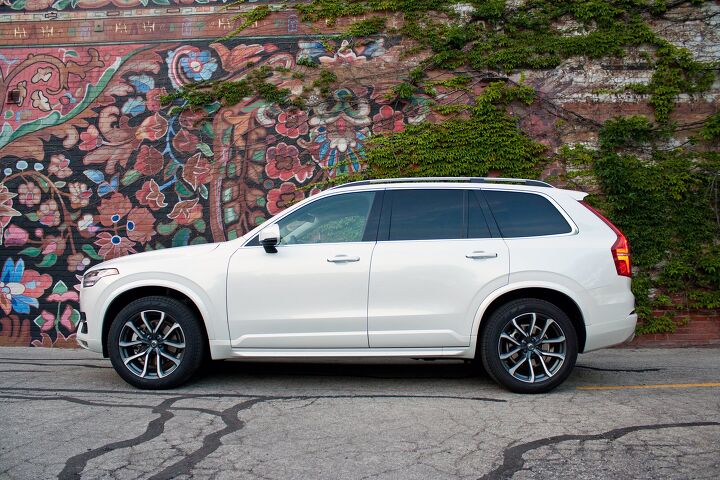 I sent my mom a photo of the XC90 and asked her if she liked it. "Yes," was her only reply. When I asked her why, she said, "I just like Volvos." Well, yeah, I already knew that, so I prodded again.
"Why do you like Volvos so much?" I asked. I finally got a legit answer.
"I just trust them and they drive well." And then my dad chimes in.
"Reliable, comfortable and safe. And it's not a BMW or Mercedes. Not showing off."
This review can pretty much end here. My parents' broken text messages capture the essence of Volvo and why people buy them, so there's really not much else to say.
Trust in a car company is a huge deal; it's something that cannot be bought but earned through generations of solid products and happy customers. And my dad is completely right in his assessment as well. Part of the allure of Volvos is that they're not the obvious choice for European luxury cars. You buy one if you want all the luxury but you don't want to show off. Volvo is humble, and its reputation is gold.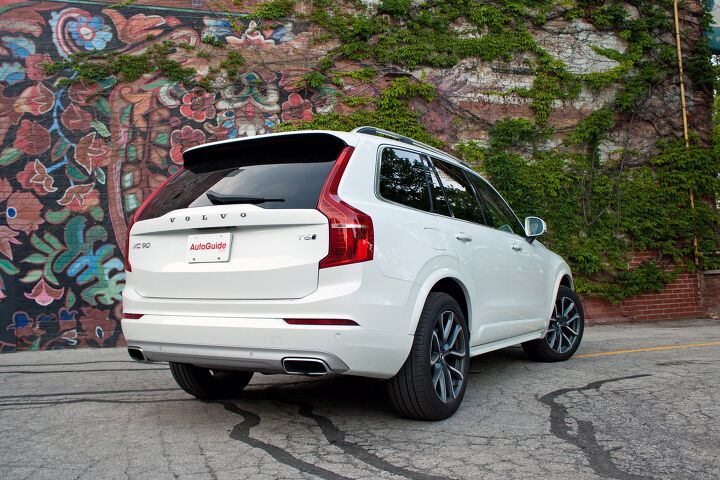 Dramatic New Design
Back to the XC90 in question though. Volvo took a dramatic leap forward with this SUV inside, outside and underneath. It is rare to see an automaker take such a huge design departure from previous models – they're often too scared of alienating buyers, so Volvo deserves credit for being so ballsy. The result is an innovative SUV that is one of the most sophisticated and unique ones you can buy.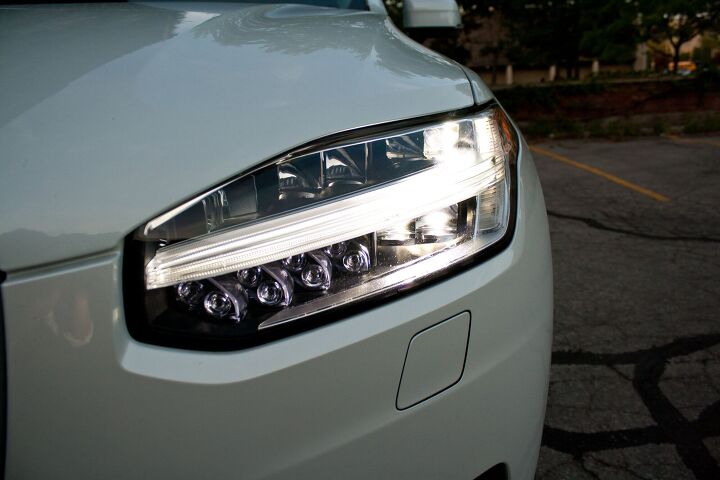 Starting from its handsome new face, the upright grille and slightly boxier lines give the Volvo a beefy stance. It's muscular and purposeful, yet elegant, and still distinctly Volvo. It's an SUV and doesn't try to hide that fact with an unpractical sloping roofline or swoopy distractions. I also love the headlights: The LED's sideways T shape is a nice touch and the design is clean and distinctive. I can't wait to see this design language make its way to other cars in Volvo's lineup.
Moving inside, there are plenty of little touches that make the cabin a swanky place. A little tiny detail I loved was the ignition. It's obviously keyless, but it uses a turn crank knob on the console that mimics the same motion you use to turn a key instead of a push-button. Call me old school, but it's so much more satisfying than pushing a button! Even the drive mode selector scroll wheel has a swanky design. It feels substantial and it's just an elegant detail that shows how much thought went into the interior's design.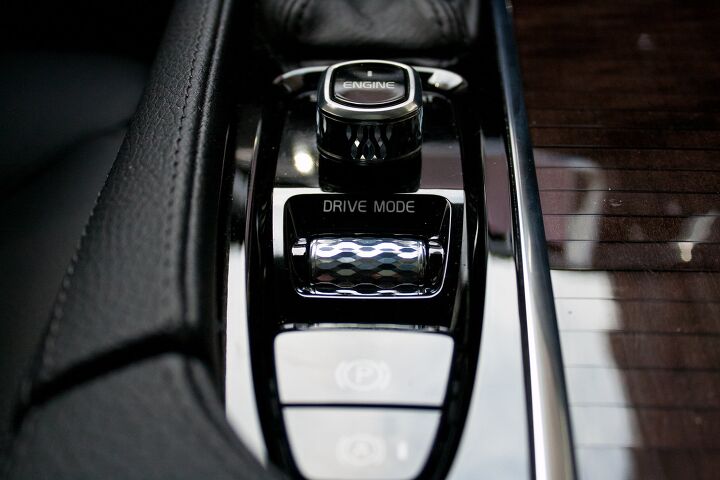 The rest of the cabin is plush as always. Ergonomics are great, the digital gauge cluster is crisp and easy to read, it's easy to find a comfortable driving position, there are no mystery buttons, the layout is intuitive and everything has a purpose. I wouldn't call the interior simple. Refined and tidy are more appropriate descriptors.
The same refinement carries on to the back seats, which are comfortable and have ample legroom. Even the third row of seats is useable, though not for tall people, and they're easy to access by moving the second row out of the way.
Another strong point is cargo capacity. The XC90 has a handy automatic opening and closing rear hatch, and with the third row of seats in up position, there is 15.4 cubic feet of space available. That number jumps to a huge 41.8 cu-ft behind the second row, and an enormous 85.7 cu-ft behind the first row. That's bigger than my whole kitchen.
Infotainment Jewel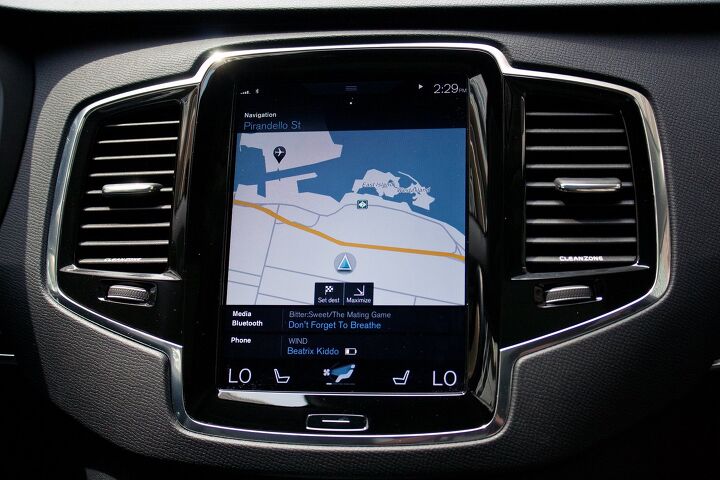 The big iPad-like infotainment screen is the jewel of the cabin. Volvo is pretty much the only automaker besides Tesla offering this type of setup, and it's one of the industry's best systems. The interface is very user friendly because menus are clearly laid out, and the home button makes navigating very easy. If you've ever used any type of tablet or smartphone, you'll find Volvo's system very intuitive: you swipe to flip through pages, pinch to zoom, poke to select.
It's an elegant solution, but it's not perfect in execution. For one, the shiny glass screen means that you will start becoming very self conscious about how greasy your fingers are — the screen attracts fingerprints like Ikea's $1 breakfast attracts lineups of bargain hunters. A matte screen may have solved this problem.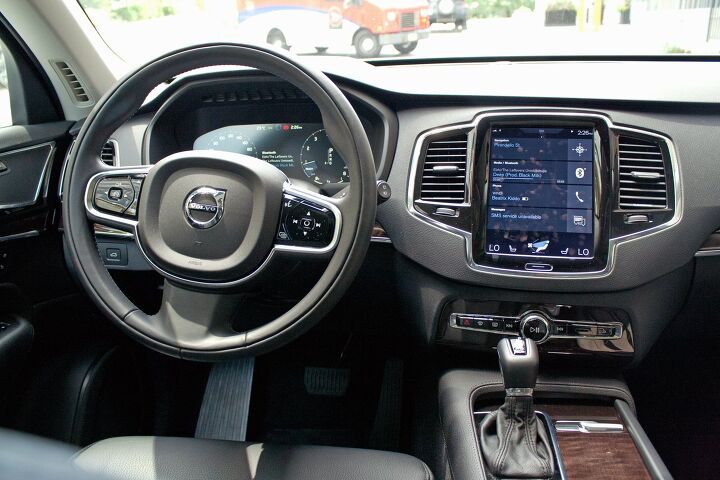 Pairing your phone, using the HVAC system and finding some music to listen to is easy with Volvo's system, but one area that needs improvement is the navigation. Its POI database just doesn't seem that complete, its GPS isn't very well calibrated (it thought I was in a field once), and it seems impossible to do something simple like cancel a route. The nav works, but it could definitely be more refined.
The second issue I found was that the system doesn't always remember your settings. With the stop/start function, for example, you have to de-activate it every time you turn the car on. I've never liked these systems because they're still not smooth enough and I find them very disruptive, especially in stop and go traffic. This one is no exception.
New Technology Under the Hood
The drivetrain is where the most innovation happens. This T6 tester uses a four-cylinder engine with both a supercharger and a turbocharger. Churning out 316 hp and 295 lb-ft of torque, the four feels more like a six-cylinder, especially when you consider how heavy this car is. Low-end boost is taken care of by the supercharger, and the turbo takes care of bringing the punch in the mid to high-range, so there's never a lack of pull no matter when you need it.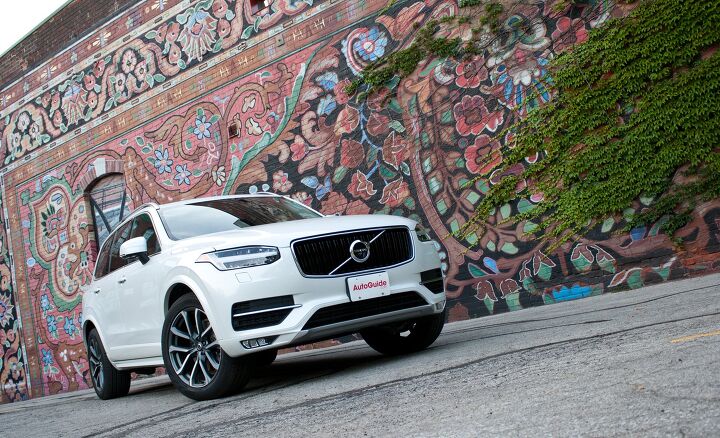 Most drivers will never need more power than this, but there is another engine available in the plug-in hybrid T8 trim that adds an 82-hp electric motor that powers the rear wheels. Total output for the T8 is 400 hp and 472 lb-ft of torque. As a plug-in hybrid, the T8 is said to get up to 87 mpg and go from zero to 60 in under six seconds!
Paired with an eight-speed transmission and all-wheel drive, the drive is well sorted and you never feel like you need more power. The transmission is very willing to drop a gear or two if you bury the throttle, and you can barely feel shifts happening. The power is sent to the front wheels under typical driving, but up to 60 percent of the power can be directed to the rear wheels when needed.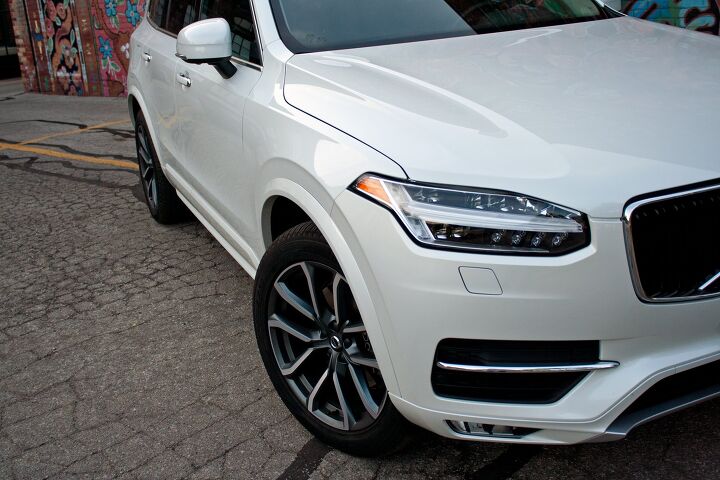 Even in Comfort mode, the XC90 delivers commendable performance. It doesn't drive like a three-row SUV, and despite its high center of gravity, it manages to stay pretty flat in a corner. The XC90 has a sure footed feel, yet its weight and size is never very obvious. The steering also feels artificially heavy, but I prefer this to overly flighty setups.
Of course, it wouldn't be a Volvo without a huge list of safety features, and this XC90 doesn't disappoint. Cross traffic alert uses radar to detect people or cars in your blindspots when you're backing up, a 360 degree camera gives you a bird's eye view of what's happening around the car, a signal in the side mirror lights up if there is a car in your blindspot, a lane-keep assist rumbles the steering wheel if you drift into another lane, and adaptive cruise control and other proximity sensors keep you at a safe distance from the car in front of you. And that doesn't even include all the passive safety features built right into the car.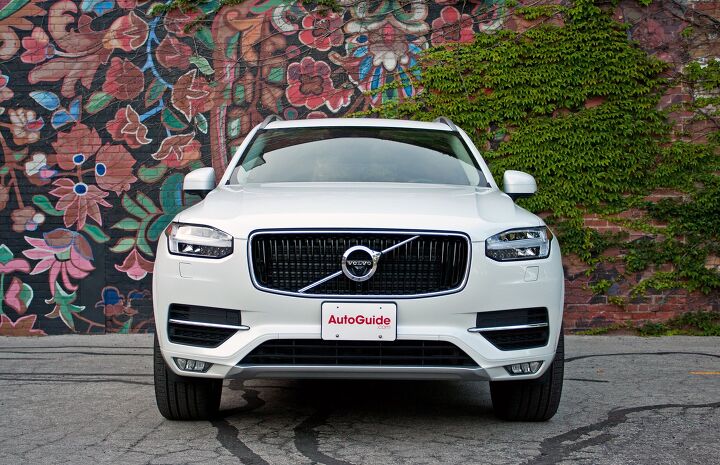 The Verdict: 2016 Volvo XC90 T6 Review
There is a lot to like about the Volvo XC90, and most of my gripes could be fixed with a simple software update. The XC90 just makes a lot of sense and it's a logical, yet unconventional pick for someone shopping this segment. It does a lot right, and you can tell that a huge amount of thought went into this car, which will pay big dividends for Volvo. It drives well, it looks good, it feels good, and it has all those qualities people have come to expect from Volvos.
For someone like me who grew up with Volvos, the XC90 is a dramatic departure from the cars of our past, but it makes me happy to see an automaker making bold strides yet never forgetting where it came from and always remembering why parents everywhere felt good about putting their teenaged daughters in one. This XC90 takes everything you know and love about Volvo and modernizes it, leaving you little choice but to love it even more.
LOVE IT
Handsome, unique look
Sophisticated powertrain
Lots of technology
LEAVE IT
Wonky navigation
Software issues

Jodi Lai
Jodi has been obsessed with cars since she was little and has been an automotive journalist for the past 12 years. She has a Bachelor of Journalism from Ryerson University in Toronto, is a member of the Automobile Journalists Association of Canada (AJAC), and a jury member for the prestigious North American Car/Truck/Utility Vehicle of the Year (NACTOY). Besides hosting videos, and writing news, reviews and features, Jodi is the Editor-in-Chief of AutoGuide.com and takes care of the site's day-to-day operations.
More by Jodi Lai
Published July 21st, 2015 10:46 AM
Popular Articles
Latest Comparisons
Car Buying Tools