596 Views
2023 Volvo S90 T8 AWD Recharge Review
June 5th, 2023 11:51 PM
Share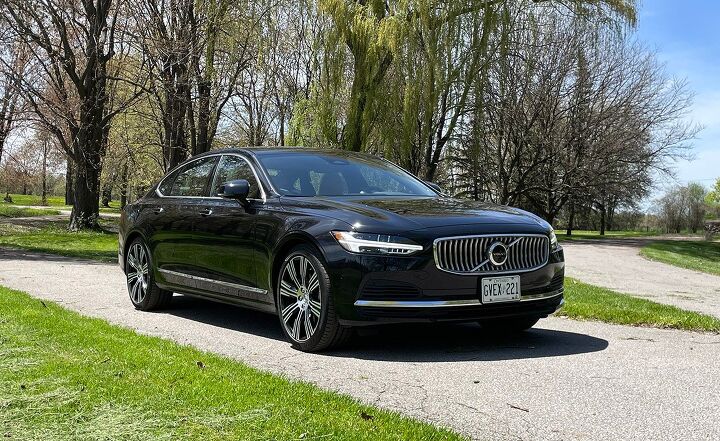 FAST FACTS
| | |
| --- | --- |
| Engine: | 2.0L Turbo and Supercharged I4 + Plug-in Hybrid |
| Output: | 455 hp, 523 lb-ft |
| Transmission: | 8AT, AWD |
| Fuel Economy (MPG): | 30 combined |
| Fuel Economy (L/100 km): | 8.1 combined |
| Starting Price (USD): | $71,795 (inc. dest.) |
| As Tested Price (USD): | $76,890 (inc. dest.) |
| Starting Price (CAD): | $79,965 (inc. dest.) |
| As Tested Price (CAD): | $92,865 (inc. dest.) |
Volvo's position is hard to pinpoint within the automotive landscape.
The company doesn't try to mimic the luxury heavyweights, yet offers vehicles with more panache and prestige than most automakers. The brand proudly walks to the beat of its own drum, which is evident with the 2023 Volvo S90 T8 AWD Recharge Ultimate.
It's a Volvo
As the manufacturer's largest sedan, the S90 is instantly recognizable as a Volvo, but in a more toned-down, elegant package. It lacks some of the sharper creases and flares of the smaller S60. At 200.1-inches (5,090 mm) long, it's a bit of an in-betweener. Larger than a mid-size BMW 5 or Mercedes-Benz E-Class, it's not quite as big as a BMW 7 Series or Mercedes-Benz S-Class.
Like all gas-powered Volvos, there's a 2.0-liter four-cylinder engine under the hood. In this application, it's turbocharged and supercharged to produce 313 hp, and 295 lb-ft. of torque on its own. But the power doesn't stop there. Residing at the rear of the car is a 107 kW electric motor that makes an additional 143 hp and 228 lb-ft. of toque. This gives the S90 T8 AWD Recharge a total of 455 combined hp and 523 combined lb-ft. of toque.
Quick When Set Right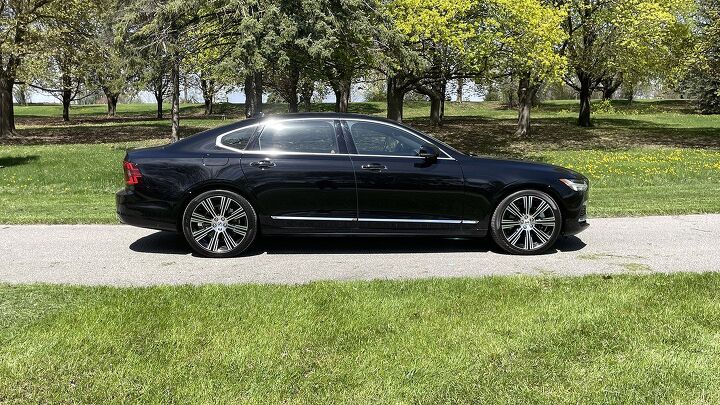 As the name suggests, the car features all-wheel drive, or electronic all-wheel drive as there is no driveshaft connecting the front axle to the rear. An eight-speed automatic is partnered to the engine up front and the whole system is good for a 0-60-mph run of 4.6 seconds. Not bad for a 4,628 lbs. (2,099 kg) car.
On the street, the 2023 Volvo S90 T8 AWD Recharge feels every bit as quick as those figures suggest. When hitting the sweet spot, the acceleration is immense. But power delivery can be very peaky as not all acceleration runs are equal. The rate in which full power is achieved depends on current vehicle speed, throttle input, and most importantly, the current drive mode selected.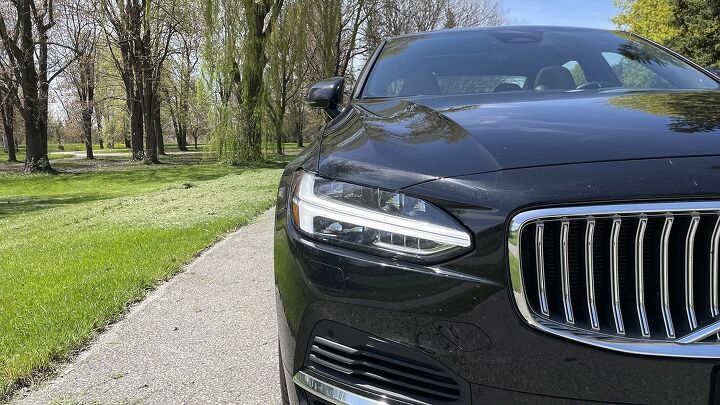 Being a double boosted four-cylinder, there's a different sound and feel to S90 T8 compared to more traditional powertrains. We quite like it, but it might take a minor adjustment period for those new to Volvos.
A Usable Plug-In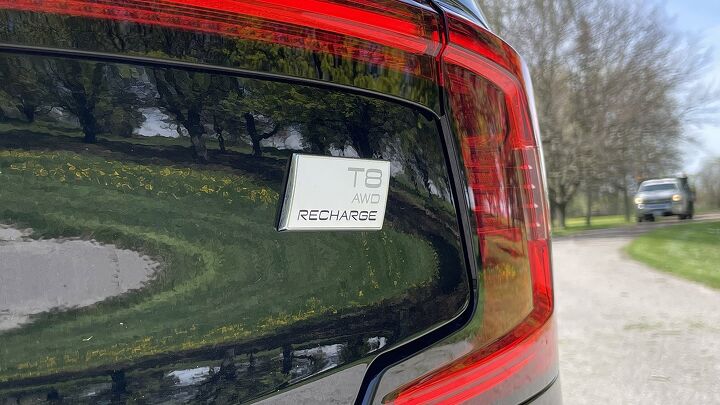 As the name Recharge suggests, the S90 is a plug-in hybrid. It features a 11.6 kWh battery pack that is good for 38 miles (61 km) all-electric range on a single charge. This is higher than most plug-in vehicles and during testing we're seeing roughly 32-35 miles of real-world range.
When in all electric mode, the rear motor takes on the bulk of vehicle propulsion. There's plenty of torque on tap accelerating effortless to city speeds. On the freeway, drivers need to be a bit gentler with the throttle, but EV-only power can get the car above legal speed limits. Too much throttle input will engage the gasoline engine though. In normal driving, the transition between electric and hybrid power is smooth and mostly seamless. But, when using EV mode, the first time the engine is called upon is a bit rough and delayed.
During our week with the car, we went on a 600-mile road trip to Detroit, driving mostly on the freeway. We averaged 31.4 mpg (7.5 L/100 km) which is right on par for the vehicle as its official combined rating is listed at 30 mpg (8.1 L/100 km).
Isolation Chamber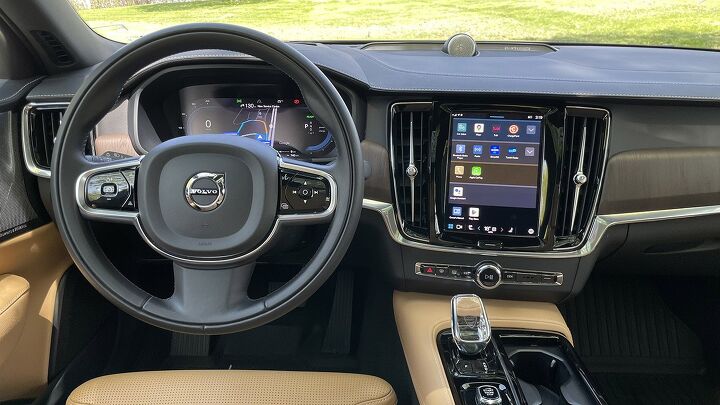 During our road trip we also got to appreciate how well sorted the optional rear air suspension and active chassis control are. The system is incredible at isolating outside nuisances. With such a prolonged freeway jaunt, we appreciate how well the 2023 Volvo S90 T8 AWD Recharge smooths out the pavement below. The broken, well-worn pavement our eyes see is not felt inside the car.
Also optional on our car are 20-inch wheels wearing 245/40VR20 tires. Although the S90 is not a dynamic handling car, the tires and suspension provide more grip than any S90 owner will probably ever want or need. On-ramps can be attacked in a surreal, drama-free way. Just turn the car and it grips at unexpectedly high g-forces.
Traditional Luxury and Space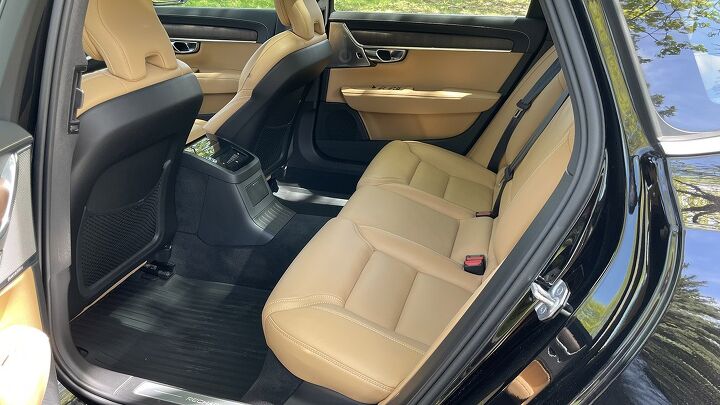 We generally like the car's interior design, especially the exposed wood trim pieces. The S90 forgoes an edgy, modern interior, for one that's more conservative, with a traditional luxury feel to it. It's aim is a more mature audience and reflects that mission.
There's plenty of room for passengers inside, as headroom lists at 37.8-inches (959 mm) up front and 37.8-inches (960 mm) in the rear. Legroom is more generous, with 42.2-inches (1,071 mm) for front passengers and 40.4-inches (1,026 mm) of rear occupants. To haul everyone's gear, there's 13.5 cu ft cargo (382 L) capacity in the trunk.
Central to the dash is a large infotainment system that's well laid out with smartphone-like logic. It's an easy enough system to use and straightforward, but there are better systems on the market. We also wish the fully digital gauge cluster was a bit more customizable as the layout options are quite limited. On the plus side, comfort is fantastic in the front bucket seats, that offer heat and ventilation functions.
Feature Rich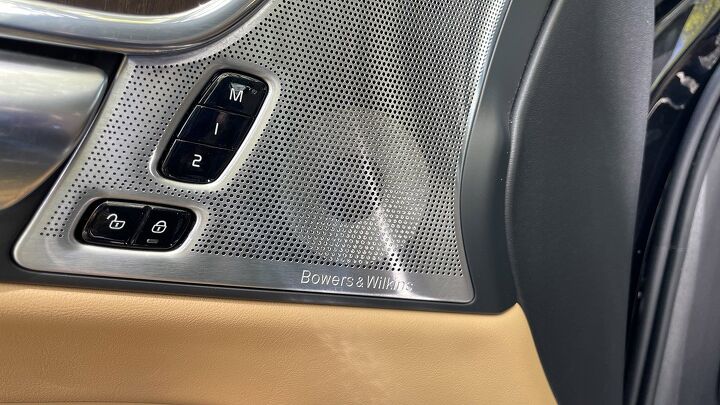 Other key comfort features included in the 2023 Volvo S90 T8 AWD Recharge are a heated steering wheel, heated rear seats, four-zone climate control, a panoramic sunroof, and power operated rear and side-rear window sunshades. On a technology front, there is a 12.3-inch infotainment screen, power folding rear seat, power folding side mirrors, and a head up display. One absent feature though was wireless phone charging.
Our test vehicle does include a few stand-alone options, such as metallic paint, the air rear suspension with active chassis, 20-inch wheels, and a Bowers and Wilkins sound system. The latter is well worth the price of admission as it delivers an audio experience not match by many vehicles.
When Disaster Strikes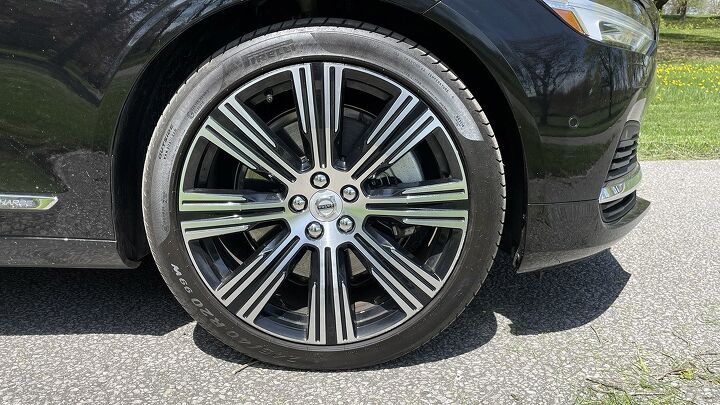 All car reviewers like to be as thorough as possible in their evaluation, us included. But there are some aspects we don't always get to test in the real world – like onboard telematics with emergency roadside assistance. Well, unfortunately, we got to test that in full during our time with the S90.
In an error we fully blame on the driver, a crater the size of a duffle bag was hit when the road surface suddenly changed, and not enough speed was scrubbed off. The S90's right side tires hit with a sickening thud, bending both wheels and causing the rubber up front to lose pressure at a moderate rate.
In a testament to the S90's chassis and suspension design, after impact, it felt like nothing was amiss with the car. We travelled for another a mile, and it was only the sudden illumination of the low tire pressure light that we knew something wasn't right. The suspension does such a good job isolating the driver, it wasn't until our final turn into a parking lot, with the tire nearly flat, that we could finally feel the drag and vibration from the destroyed right front rubber.
Volvo is Still About Safety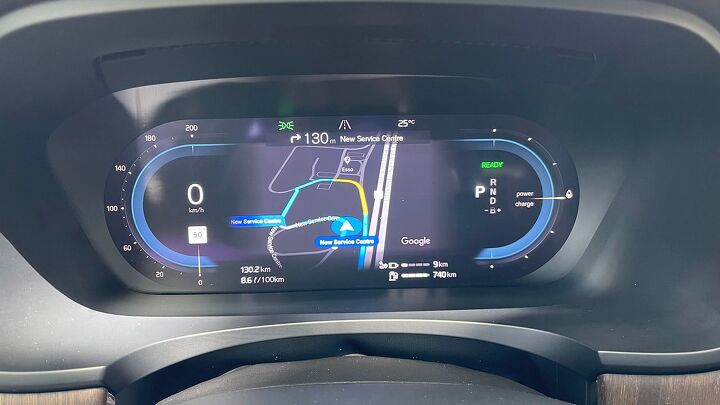 Using the in-car roadside assistance button, we called Volvo's roadside assistance network, and despite being in a different country, the call center had us all sorted with a tow truck enroute in about 15 minutes. Having a system like this is invaluable, especially in circumstances like this, and we appreciate how simple and easy to use Volvo's system is.
Of course, the 2023 Volvo S90 T8 AWD Recharge includes plenty of other safety systems, like blind spot monitoring, adaptive cruise control, collision mitigation front and rear, Pilot Assist, lane keeping aid, front and rear park assist, and 360-degree cameras.
2023 Volvo S90 T8 AWD Recharge: The Verdict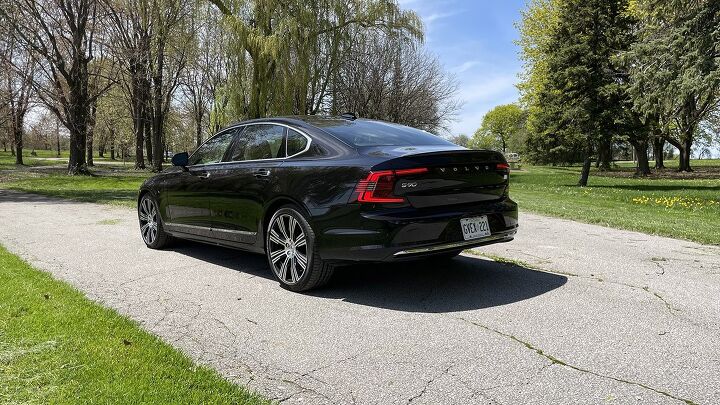 The S90 is a car that continues Volvo's tradition of blazing the brand's own path. It's prestigious and premium, but in a different way than the heavy hitters from Audi, BMW, Lexus, and Mercedes. It's a large luxury car alternative with its own quirks and charms.
The 2023 Volvo S90 T8 AWD Recharge starts at a price of $71,795 including destination charges ($79,965 Canadian). As tested, it comes in at $76,890 ($92,865 Canadian). Compared to more contemporary luxury offerings, that puts it roughly on par with the similarly powerful Audi S6, while undercutting the Mercedes-Benz E 53 AMG 4MATIC Sedan and the BMW 550i xDrive. Oh, and don't forget that none of these competitors offer the same fuel efficiency or all-electric driving range of the S90 T8 either.
For folks that want untraditional, unconventional, efficient luxury, the S90 is worth solid consideration.
---
FAQs
What is the Recharge mpg for a 2023 Volvo S90?
It is rated to get 30 mpg (8.1 L/100 km) on average. 
What is the range of the Volvo S90 Recharge?
The 2023 Volvo S90 T8 AWD Recharge has an all-electric range of 38 miles (61 km). 
What is the 0-60 mph on a 2023 Volvo S90 recharge plug-in hybrid?
Volvo claims the car can go from 0 to 60 mph in 4.6 seconds. 
Become an AutoGuide insider. Get the latest from the automotive world first by subscribing to our newsletter here.
LOVE IT
Ride Comfort
Engine Efficiency
Engine Power
Bowers and Wilkins sound system
LEAVE IT
Some Hybrid Transitions
Some Interior Technology
No Wireless Phone Charging
Published May 31st, 2023 1:20 PM
Popular Articles
Latest Comparisons
Car Buying Tools