88 Views
Best Overlanding Gear: The 10 Items You Need on Your Next Camping Adventure
June 2nd, 2023 3:37 PM
Share
Get Ready for Adventure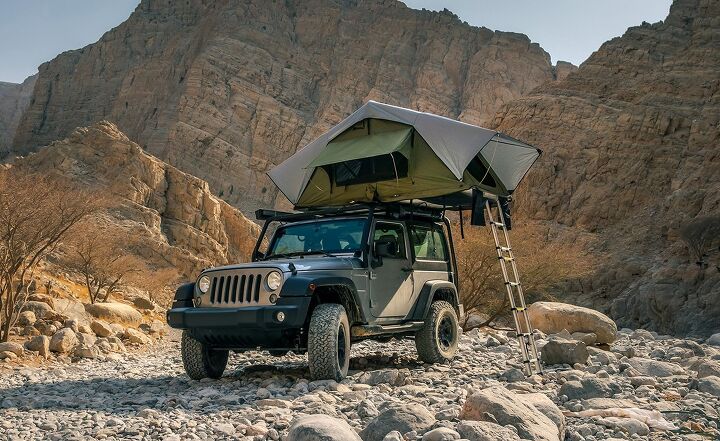 Want to join the growing ranks of overland campers? Here are 10 items you're going to need from Autoguide.com.
If you're not familiar with the growing Overlanding scene, you might be missing out. It's like camping, but instead of driving to some crowded campsite or hiking 20 miles to one that's more remote, you take your 4×4. With a 4×4, you can travel to camp in places where you could be the first to sleep there in hundreds of years. To where none of the distractions of the modern world can find you. And that annoying other family at the crowded campsite definitely can't find you.
To do it, you need gear. Overlanding gear is a bit different from regular camping. Because your site is both harder to get to and because you can bring more with you. But you need to make sure you have the right things to stay warm, dry, fed, and hydrated.
So here are our top 10 items of overlanding gear. The 10 things you absolutely need to get out there and get going. Then get sleeping and recreating in comfort.
How We Picked the Top Overland Gear
We understand what it takes to get out into the great outdoors. Based on our experience, we picked 10 items that were crucial but that you probably don't already have. From there, we used our own experience and scoured user reviews to find the best of each item.
1. Smittybilt 2583 Gen2 Overlander Tent
Smittybilt is an off-road icon, and it has expanded into the rooftop tent business as a natural extension. Why do you need a rooftop tent? For a start, less work finding a campsite. With your tent on board, you can sleep almost anywhere. You're also up and out of rain and mud and you have a great view of the outdoors.
This rooftop tent sleeps four, making it great for overlanding with the family. It has an inner tent made from waterproof ripstop nylon and a polyurethane-impregnated top to keep out the rain.
It is light, so you don't lose vehicle stability on the trail. It is also one of the more affordable rooftop tent options, which is also a plus. There's even an LED light strip inside so you can see what you're doing without the need for hand-held lights. It can fit a variety of vehicles and is not just Jeep overlanding gear.
| | |
| --- | --- |
| Bottom Line | Light Weight, Sleeps Four, LED Interior Lights |
2. ARB CKMA12 Air Compressor
Overlanding means going off-road. Literally over the land. And if you're going off-road, especially in the sand, you need an air compressor. Because sandy terrain and rocks mean airing down your tires. When you're done with that sand, you need to re-inflate. You can't drive home on four nearly flat tires.
This air compressor from ARB mounts under your hood. So it is always there and ready to go when you need it. It is powered directly by your 4x4's battery so you don't need to worry about cords. The compressor is sealed for dust and water resistance and protected by a fuse.
The anodized cylinder bore reduces friction and extends the life of the compressor. Because it is hard-mounted, it is ideal for inflating tires and even air-powered locking differentials. It is also great for inflating air mattresses, inflatable toys for the lake, and even bike tires if you cycle when you're camping.
| | |
| --- | --- |
| Bottom Line | Hard-wired for reliability, Can supply locking differentials as well as tires, Anodized compressor cylinder bore, Impossible to lose |
3. Maxtrax Xtreme Desert Tan Recovery Boards
Overlanding can mean heading out off-road by yourself into some pretty remote places. You need to be careful when there's nobody to come tow you out, but there are some things you can do if things get a bit out of hand.
One of those things is a good set of recovery boards. You know how people will tell you to use your floor mats for traction? Recovery boards are like that, except that they actually work. Strong metal or plastic panels with rugged teeth that dig into mud or sand that can support the weight of your vehicle. It's great overlanding gear for trucks of all sizes.
Maxtrax recovery boards are made in Australia and come with a lifetime warranty for materials and workmanship. Their 88 anodized alloy teeth bite into the terrain. They're also individually replaceable so if you break one while using it you don't need to throw out the whole board.
Each board has six handles, ramps on both ends, and a built-in shovel. So you can get yourself unstuck from almost anything.
| | |
| --- | --- |
| Bottom Line | Replaceable teeth, Loads of handles, Also works as a shovel, Gets you unstuck fast |
4. RotopaX Water Container
If you're headed overland, you need water. It's essential overlanding gear for beginners. The easiest way to get water is to bring it, and RotopaX offers one of the easiest ways to do that. The RotopaX system is made up of containers designed to attach together and then attach to your vehicle.
An easy-twist handle releases the container from its mounting point, but that's not the best part. The best part of the RotopaX system is that you can stack multiple containers together on one mount.
Need more water? Water and gasoline? No problem, bring containers for each one. The fuel containers are CARB and EPA compliant, plus all of the containers are colour coded for safety. Stay hydrated and fueled on the trail with ease.
| | |
| --- | --- |
| Bottom Line | Modular format, Offers water, fuel, other containers, Can install multiple containers on one mount |
5. Nemo Jazz Sleeping Bag
If you're overlanding, the size and weight of your sleeping bag is less important. You're not packing it in on your back, so you can put the emphasis on comfort instead of featherweight materials. Sure, since you're in a roof tent you could just bring sheets and a blanket, but we don't think that's how many people will do it.
The Nemo Jazz 30 is a top-notch sleeping bag, one that will keep you cozy in hot and cold weather, right down to the freezing point. The Nemo Jazz 30 also has a draft collar to keep the breeze off your face and a "featherbed-style" bottom to make sure you're extra comfy no matter if you're sleeping on your roof or the ground.
Zippers on both sides let you customize your venting. You can also zip two bags together if you're looking for some more romantic nights in the woods and not just spending time outdoors by yourself.
Then there's the pillow pocket, which is probably big enough for your pillow from home. It's hard to beat this one.
| | |
| --- | --- |
| Bottom Line | Soft and comfortable, Massive pillow compartment, Can be attached to other bags |
6. Estwing Sportsman's Axe - 14" Camping Hatchet
If you're in the woods, a hatchet can come in seriously handy. Ideal for clearing smaller obstacles out of the way, splitting kindling to start a fire, or scraping off small slivers of wood to use as tinder. Or, if you really want to show off, to open cans and cut sandwiches.
This hatchet from Estwing is forged as one piece and made from American steel. No more worrying about a handle that has come loose from use or from the weather, if this hatchet is in two pieces you have done something seriously wrong.
It also has a leather hand grip. The grip is durable and comfortable, hand sanded and then lacquered to keep it looking and performing at its peak. It also looks amazing, which might not be as important but is still pretty cool. It comes fully polished for corrosion resistance and has a hand-sharpened edge so you know it will cut right out of the box.
| | |
| --- | --- |
| Bottom Line | One piece forged steel construction, Leather hand grip, Looks as good as it functions |
7. Solo Stove Bonfire 2.0
It gets cold out there, and that means you'll need a fire. A fire is also the best way to cook unless you're bringing a gas stove and fuel for it with you. But you don't want to burn down the forest, ruining it for everyone and getting caught up in the blaze.
The Bonfire 2.0 from Solostove is a compact smokeless fire pit. It has SOlovstove 360 airflow technology that helps it burn more efficiently. There is less smoke and more flame, thanks to the vent holes bringing air in from underneath.
Solostove uses 304 stainless steel for durability, making sure the Bonfire can stand up to everything you can throw at it. It is also lightweight so you aren't lugging a heavy piece of kit around with you when you set up camp. Get the fire, and the benefits, without the smell.
| | |
| --- | --- |
| Bottom Line | Smokeless fire for food or warmth, Stainless steel durability, Convenient and packable size |
8. DOMETIC CFX3 25-Liter Portable Refrigerator
If you're going camping, you need to eat. And no matter how many different freeze-dried foods you bring, you're going to want to have some food that needs to be kept cold. Meat, veg, or maybe even medications (yes, we know that those aren't food). For short trips that could mean a plain old cooler, but for anything over a few days you're going to want refrigeration.
Dometic has been building recreational refrigeration for decades, and they've put that know-how into the CFX series of fridges. This is a 25L model, but they sell up to 100L if you need more capacity.
The CFX 25 runs on household AC, but it can also run on the 12V DC power supplied from your vehicle. Or solar power if you want to bring along a panel. The cooler can take temperatures down as low as -7 degrees Fahrenheit, with the set point controllable from the digital panel.
What really sets this one apart, though, is the compressor. Not only is it extremely efficient, it is mounted on springs. So it can withstand the vibrations and shock of driving down rough trails.
| | |
| --- | --- |
| Bottom Line | Can cool or freeze, Efficient power use, Compressor can handle trail abuse |
9. Rhino Rack Batwing Awning
The great outdoors is great, but sometimes it rains. And other times there's too much sun. That means you need to get out of the elements, and you don't always want to sit trapped in your vehicle. Enter the awning.
Conventional awnings pull out in one direction. That gives you some coverage, but not a lot. A new style offers 270-degrees of coverage, so you can sit and move around your vehicle without wandering into the rain or sun.
The Batwing from Rhino Rack has sturdy lightweight legs with a molded foot designed for easy staking. The design attaches to your roof rack, so it can be stowed or assembled in minutes at your campsite or lunch stop.
The heavy-duty fabric is water resistant and UPF 50+ to keep you protected while you're underneath and make the best of your overlanding experience. It's also great overlanding gear for jeep wrangler that might be on the trail without its roof.
| | |
| --- | --- |
| Bottom Line | 270-degree coverage, Easy setup and breakdown, Legs can be stored at your vehicle's length |
10. Noco Boost X Jump Starter
Spend enough time in the woods, especially with that fridge running and the lights on, and you could end up with a dead battery. You absolutely do not want a truck that won't start when you're 100 miles from the nearest road.
The solution is a portable jump starter like the NOCO Boost X GBX45. The pack uses a lithium battery that has enough energy to jump-start almost any vehicle. Up to a 6.5L gas or 4.0L diesel engine. The jump box has easy-use alligator clamps and a status bar to let you know it is charged.
You can buy bigger packs that will let you supply power on the trail, but here's why you don't want to: Your jump box is useless if you've run it down powering something else.
This one does have USB power plugs so you can give your phone some juice in an emergency but still be able to start your ride.
| | |
| --- | --- |
| Bottom Line | Can jump-start a vehicle multiple times, Easy-use battery clamps, USB charge ports |
Published April 24th, 2023 9:11 AM
Popular Articles
Latest Comparisons
Car Buying Tools