114 Views
Essential Gear for Your Toyota 4Runner Overlander
June 19th, 2023 3:40 PM
Share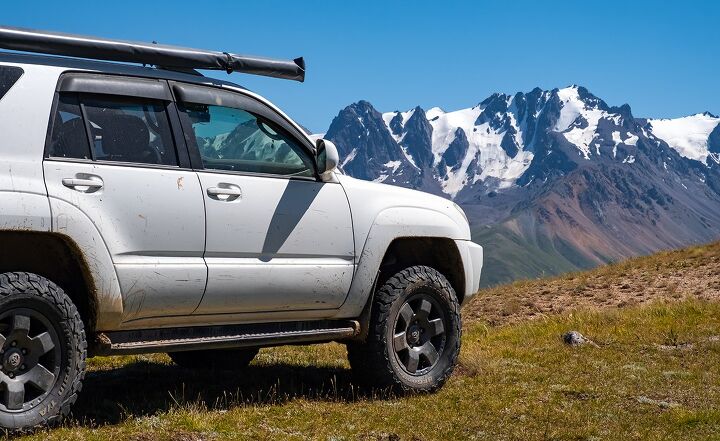 The Toyota 4Runner is an iconic off-roader.
The Tacoma-based SUV is known for the same rugged reliability as that pickup. It has an engine that will run forever and a chassis that can stand up to the worst the world has to offer. That's why it's such a popular choice for overlanders, that growing segment of off-roaders who want to travel further into the wilderness and stay there for days or weeks on end.
Stock models like the TRD Pro offer even more off-road capability with features like Bilstein shocks and tougher control arms. But what Toyota doesn't offer is the sort of specific extra gear that you really need to make overlanding more fun and less stressful. We're here to help, though.
Because to take your 4Runner overlanding, you'll need more gear. Accessories like tents, a fridge, and extra vehicle protection. We've got some of the best gear and the biggest must-haves to turn your 4Runner into a serious overlander.
Table of contents
Rough Country 3" Lift Kit
If you're heading into the wilderness, some extra ground clearance can be the difference between making it down the trail and having a long and painful reverse. Rough Country is a top name in off-road suspension systems and their 4Runner kit lives up to that reputation.
This kit gives your Toyota 4Runner an extra three inches of ground clearance. The N3 shocks and struts are carefully tuned to give your 4Runner a more capable ride on the trail while maintaining highway performance to get you there. The lift will let you fit bigger tires, too, and Rough Country says this kit makes room for 31-inch tires. Rough Country offers a three-year warranty on its dampers.
Features: More ground clearance for extra capability along with improved off-pavement performance.
ARN 100022 Semi-Hidden Fixed Winch Mount
Getting stuck is bad. Getting stuck somewhere down a remote backcountry trail can be disastrous. A winch is a must-have for getting yourself unstuck, and that requires a winch bumper.
Warn offers a discreet winch-mount bumper for the Toyota 4Runner that overlanders should like. Instead of leaving the winch exposed to the elements and obstacles, this low-profile bumper hides the winch away.
The company says the sturdy steel bumper lets you get easy access to the clutch lever and you won't need to relocate the winch control pack. It has two built-in recovery points and a 2.0-inch tubular brush guard to give the nose of your 4Runner a bit of extra protection.
Features: Subtle winch bumper hides one of your most valuable recovery tools.
Smittybilt Overlander Roof Top Tent
Yes, you can bring a tent along and set it up every night, but well, eww, David. Why set up a tent on rough, rocky, and wet ground when you can put it on your roof instead? A rooftop tent gives you a dry and flat surface every time and saves loads of setup and teardown time.
The Smittybilt Overlander rooftop tent is a three-person tent that can hold up to 661 pounds of occupants and gear. The tent is made from heavy-duty waterproof nylon and has a removable rain fly. It offers interior LED lights so you can see after the sun goes down and the side windows have mosquito nets so you can safely get ventilation. The tent has a mattress included as well as a ladder to help get you up and down.
Features: Easy open/close, always accessible, LED lighting.
ARB Under Vehicle Protection
Even if your Toyota 4Runner has the factory front skid plate, that might not be enough protection. It still leaves much of your SUV's delicate underbody unprotected.
This skid plate pack from ARB is made from 3 mm thick laser-cut steel. These heavy duty pieces protect your steering rack, oil pan, your transmission, and your transfer case. All parts that can end your trip and leave you stranded if they smash down into a rock or even a tree branch off-road. Get rid of that cringe you experience each time something smashes into your 4Runner from underneath.
Features: Twice as thick as stock, this is serious underbody protection.
Front Runner Toyota 4Runner Ladder
If you decide on a roof top tent, it will come with its own ladder. But if you go for a roof rack instead, a tailgate ladder makes it a whole lot easier to load and unload that high-up rack.
The Front Runner ladder is a four step ladder that secures to the top and bottom of the tailgate to let you get up and down. It's made from steel and aluminum, and it can support up to 260 pounds. This is a low profile ladder, so it sticks out only a few inches from the body of your 4Runner. Get up and down and packed or unpacked in a hurry with this Toyota 4Runner tailgate ladder.
Features: Steel and aluminum for strength and lightweight, allows handy roof access.
High Flying Modular Storage System
More gear means you need more storage, but since your 4Runner won't get any bigger, that means finding more efficient storage inside the vehicle.
This modular storage panel system adds Molle panels inside the back of your 4Runner. You can quickly and easily hang items securely to the panel, and one of those items is the modular shelf rack. The rack gives you an extra layer of storage in the back of your 4Runner, and that extra layer has more strong and light aluminum Molle grid panels to let you secure those items.
The High Flying kit installs with no drilling or other permanent modifications. So when you're done with your 4Runner or just want to try something different, you can quickly remove the storage system.
Features: Adds more and more versatile storage to the rear of your 4Runner.
ICECO APL55 Dual Zone Portable Refrigerator
Keeping your food cold with a crate full of ice and some hope isn't the best way to maintain a safe supply of grub on the trail. When you're overlanding with your vehicle, you need something more effective.
Something like this dual-zone fridge designed for off-roaders. It starts with a compressor from the well-known German refrigeration company Secop. The compressor can run on 12 or 24 volts, as well as 110v AC power and it can handle up to a 40 degree tilt. So off-road driving is not a problem for this fridge.
Other cool features include Bluetooth control and temperature notification, a lid not closed alarm, a locking lid, and it even has USB ports so you can charge your phone while the fridge is using the 12V port. Battery protection will shut off the fridge and send you an alert if your vehicle battery is running low.
Features: Rugged car fridge keeps your food safe off road.
WARN 103251 VR EVO 8-S Winch
There's no point in a winch bumper if you aren't putting a winch inside of it.
The Warn VR Evo8-S is an 8,000 pound-rated capacity winch, giving it plenty of power to pull your 4Runner through tough obstacles. The winch is waterproof and comes with a two-in-one remote. There are even wireless remote options to make winching even easier. The Warn winch has a lifetime warranty on its mechanical parts and seven years on the electrical components, so you can expect years of solid service. The VR Evo series of winches have a faster line speed and draw fewer amps, making quick work of vehicle recovery.
Features: Fits with above winch bumper, waterproof construction, long warranty
Published June 19th, 2023 3:40 PM
Popular Articles
Latest Comparisons
Car Buying Tools