4.9K Views
Pirelli Scorpion All Season Plus 3 SUV Touring Tire Review
June 20th, 2023 1:47 PM
Share
A Long Life Tire That Does It All?
The latest entry in Pirelli's Scorpion line of crossover and SUV tires is the Pirelli Scorpion All Season Plus 3.
We took the 70,000-mile rated tire to Nevada's Valley of Fire to put its highway and back road properties to the test, and hoped to not run into any scorpions of the arachnid variety.
Pirelli's Scorpion line has tires ranging from the eco-friendly Verde All Season to the rock-crawling All Terrain Plus, and nearly everything in between. It really is a family of tires, but the main thrust is that they're meant for heavier crossovers, SUVs, and trucks.
The Pirelli Scorpion AS Plus 3 is a touring tire, aimed at those crossovers, SUVs, and pickups. It's design focuses on a quiet and comfortable ride with solid traction in both summer and winter conditions. It's not a serious off-roading tire, but it is one that should be able to handle gravel or dirt roads. The kind you're likely to see when venturing out to campsites, parks, and cottage roads.
The Pirelli Scorpion All Season Plus 3 comes in 37 different sizes, covering 17 to 22-inch wheels. Pirelli says key fitments for the tire include a wide variety of vehicles. These include the Honda CR-V, Toyota Highlander, Jeep Grand Cherokee, and Ford F-150.
Table of contents
Details in the Design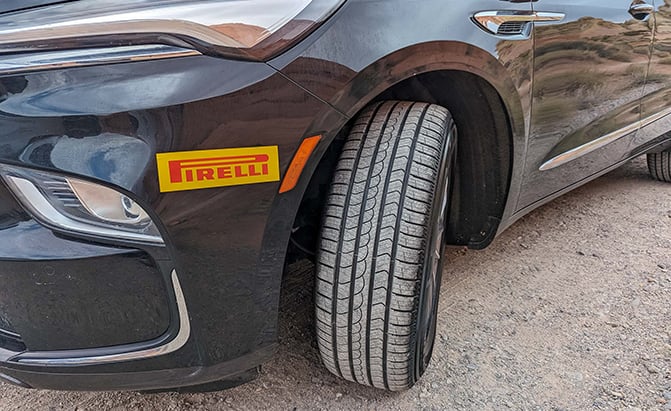 Much of the same design and development that went into the P Zero AS Plus 3 ultra high performance all-season went into this tire, but with a different goal. That's why both wear the Plus 3 name, which is also used on the P7 AS Plus 3 touring tire for cars.
That includes the computer-optimised tread pattern that helps cut noise levels and even absorb sounds coming from contact with the road. The same design has 3D sipes that link together for stiffness (and handling stability and steering feel) on dry pavement but can open up to give the tire even more grip in the snow.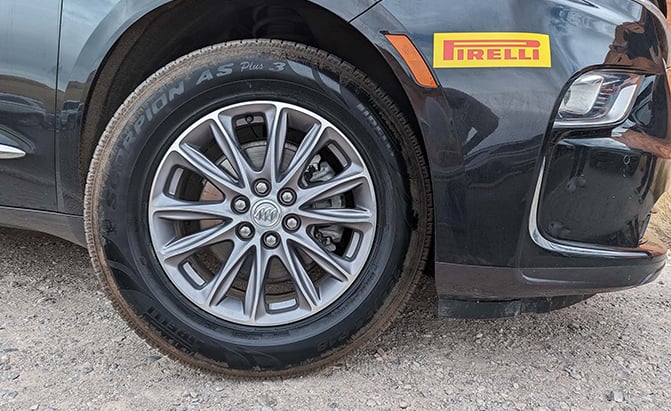 Pirelli's 3D sipes mean there is more sipe area as the tire wears, which helps maintain tire traction for the full life of the tire and not just when it's new. The new tread design lets the tire wear more evenly and helps promote a regular wear pattern. Thanks to that new tread, Pirelli is able to offer a whopping 70,000-mile treadlife warranty. A huge figure for any tire, but especially for one intended to be used on heavy vehicles.
New materials in the compound of the tread help lower the glass transition point of the tire. That's the temperature where the tire turns from soft to hard and loses its bite with the road. Traditionally, that temperature has been right around 45 degrees Fahrenheit (7 C), but with the new rubber Pirelli can bring it down below the freezing mark. That change gives the Scorpion AS Plus 3 better cold weather traction and especially wet braking capabilities.
To test the tire, Pirelli mounted Scorpion AS Plus 3 rubber to a fleet of Buick Enclave and Ford Explorer models. The full-size crossovers are vehicles not exactly known for their handling, but they're also models where quiet matters. And models where sound has plenty of opportunity to bounce around their large cabins so driver and passengers can hear it.
I picked the Buick, since it's the model I had the most experience with. It's a crossover that is already very quiet, so road and tire noise will quickly stand out.
Much of our drive route was on the section of Interstate 15 that runs from Las Vegas toward the Arizona border. This is a section of highway that has been under construction for a while, and that makes it a great test site.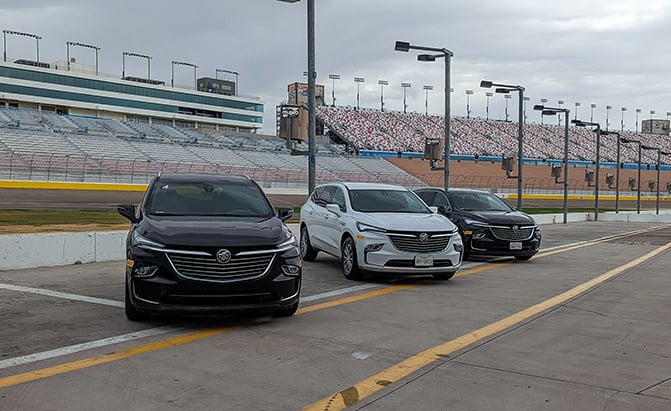 Countless lane realignments have our convoy driving over fresh new pavement as well as over long stretches of cut rumble strips, over portions where existing markers have been ground off, and sections where the pavement is still in dire need of replacement.
On all of those surfaces, the Scorpions were very quiet. Even the deep rumble strips were dampened, and the effect was very noticeable when compared with the platform-sharing Chevrolet Blazer I drove the same route in just weeks before.
These Scorpion tires were brand new, with several tires still showing their stickers when we started. A brand new tire already this quiet - and feeling this reassuring - is impressive. Normally it takes some wear for any new tires to begin to shine.
Desert Testing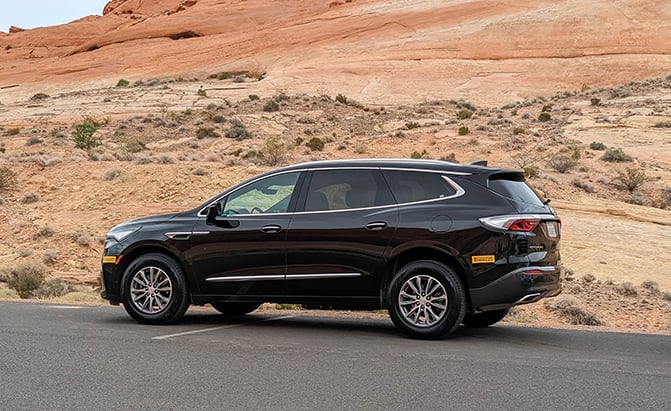 Later in the drive, as we entered Nevada's Valley of Fire State Park, the road surfaces deteriorated further. The pavement was cracked and broken and in some places covered in sand and gravel. Again the tires were quiet and did an exceptional job of absorbing impacts from contact with that cracked pavement.
After the arrow-straight roads leading to the State Park, the twists, turns, and hills were as welcome of a change as the area's vivid scenery and striking red rocks. The Enclave is hardly a crossover that encourages you to toss it into bends, but the Pirelli tires helped up the vehicle's fun quotient.
The Scorpion AS Plus 3 tires helped improve the Enclave's turn-in responses. They also offered confidence inspiring grip and a consistent feel when the big Buick was hustled. It's a far cry from the brand's performance tires, but the test tires certainly helped make the Enclave more fun to drive.
Track Testing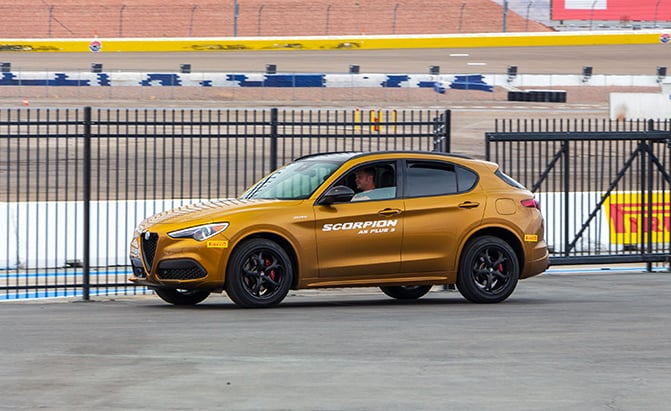 Along with the desert drive, we got a few laps around one of the many test tracks located at the Las Vegas Motor Speedway. I took an Alfa Romeo Stelvio shod with the AS Plus 3 Scorpions around one of the tracks that included high-speed sweepers and tight bends as well as a section that had been watered down for a wet traction test.
On this handling circuit, the tires once again had excellent steering response, high resistance to aquaplaning, and low levels of noise.
While we weren't able to test the tire in snow, the Pirelli Scorpion AS Plus 3 delivered a quiet and composed highway experience and it showed it could handle the fun stuff too. With a 70,000-mile treadwear limited warranty, this tire should be able to make your crossover, SUV, or pickup a more enjoyable experience for a very long time.
Become an AutoGuide insider. Get the latest from the automotive world first by subscribing to our newsletter here.
---
We are committed to finding, researching, and recommending the best products. We earn commissions from purchases you make using the retail links in our product reviews. Learn more about how this works.
AutoGuide may accept review samples for testing and evaluation. Suppliers of review products do not have any input into our conclusions and are not allowed to review our content before publication.
Published June 15th, 2023 9:34 AM
Popular Articles
Latest Comparisons
Car Buying Tools