692 Views
Pirelli P Zero All Season Plus 3 UHP Tire Review
June 20th, 2023 3:43 PM
Share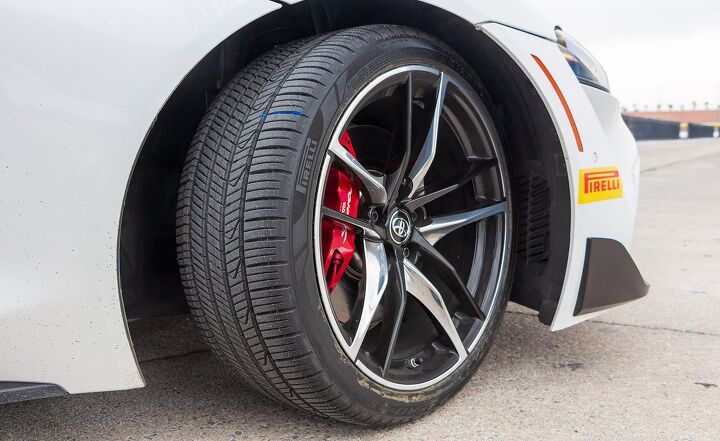 The Pirelli P Zero All Season Plus 3 UHP is the Italian tire company's latest entrant in the Ultra High Performance all-season tire category.
Pirelli says the brand's latest and greatest delivers better wear, better grip in the snow, and a quieter ride. So nothing big, it's just better at everything than the tire it replaces. According to Pirelli's graphs, by quite a bit. To find out if the Pirelli P Zero All Season Plus 3 UHP could match those claims, Pirelli brought us to Las Vegas Motor Speedway to give the new tire a shakedown.
All Season and Ultra High Performance sound like they go together as well as oil and water or minivans and style. But Pirelli says this is a high-demand segment. Especially in North America, where 94 percent of all tires sold are of the all-season variety. The company said that just two percent of tires sold here are winter tires. That shows that a large portion of buyers of all-season tires are actually expecting their tires to deliver cold-weather traction.
SEE ALSO:
Pirelli Scorpion All Season Plus 3 SUV Touring Tire Review
Pirelli's Plus series of tires are designed specifically with that North American buyer in mind. Buyers in the U.S. and Canada have very different demands than buyers in Europe and Asia. That includes not just road and weather-condition related requirements, but the demand for long life.
Designing a tire that can do everything is, well, impossible. But Pirelli says modern technology is helping it to come closer with every successive tire generation.
Table of contents
Better Winter Performance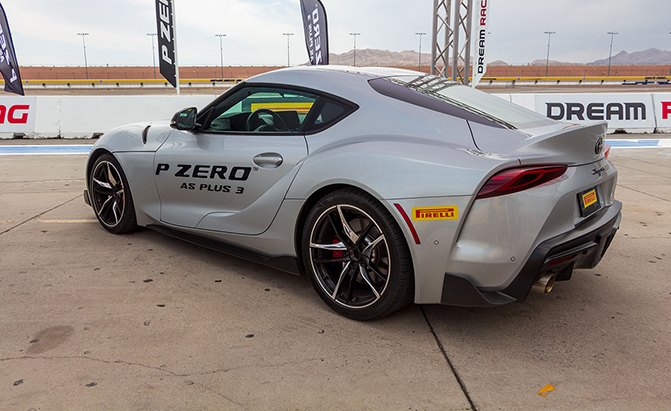 With this AS Plus 3 tire, Pirelli says that dry braking is four percent better while wet braking is 10 percent better. Braking in the snow is 20 percent better, and the total tire life is up to 25 percent better than the previous AS Plus tire.
Pirelli made these improvements in two big ways. The first is a new tread compound made with new "functionalized liquid polymers." A fancy way of saying there's new stuff in the rubber but the company isn't telling us exactly what is in the complex compound.
The company said the new rubber compound delivers a lower glass transition point. In English, that means it goes from soft and grippy to hard and slippery at a much lower temperature than before.
The glass transition point is a big part of the difference between summer and winter tires. Lowering it in this way improves traction in cold temperatures without making the tire soft and self-destructive when the weather is warm. Something we'd test very extensively later in the day.
Also thanks to the new polymers, Pirelli can better distribute the silica filler used in the tire. Silica helps the tire mechanically grip the pavement, and more even distribution helps tire life by resisting cutting or chunking of the tire surface. It also helps lower tire rolling resistance.
Tread Design and Tire Life
Then there's the new tread design. Pirelli is quite proud of its use of technology and this highly computer-optimised design is the latest result.
The new tread design means the tire is 1.2 dB more silent than the one it replaces, and 1.5 dB quieter in the frequency bands noticed most in the vehicle. It also has up to a 10 percent improvement in rolling resistance, using less energy to turn the tire.
This optimization helps tire life, with Pirelli claiming notably better tire wear uniformity and footprint wear. Combine the tread design and compound and you get 25 percent slower tire wear, which is how the company is able to offer a 50,000-mile treadwear warranty.
New 3D sipes are stiffer to allow for improved feel when you're cornering but play a huge part in the tire's ability to grip snow. Clever computer design of the tire and the moulds used in its construction deliver sipes that actually grow more surface area as the tire wears.
But the best part for potential buyers is not how much better the tire performs when new, but how much Pirelli says it maintains performance for the life of the tire.
While the AS Plus dropped to 81 percent efficiency at half life and 68 percent by end of life, the AS Plus 3 is still at 99 percent when it reaches half life. At the end of life, which Pirelli puts at 4/32nds of tread, the tire is still at 82 percent tread efficiency. It's a massive difference in performance over the life of the tire.
Learning the Track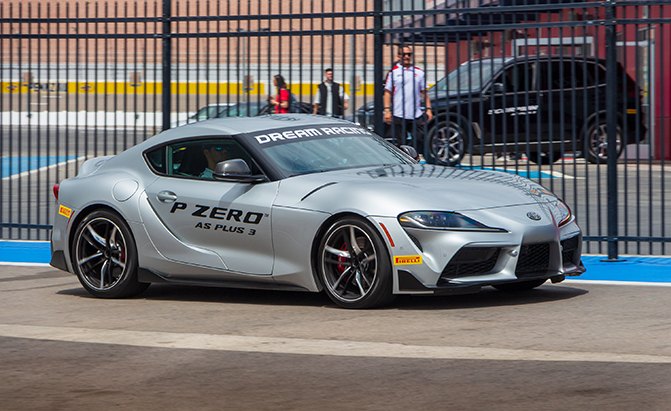 Those are the claims, but did the tire live up to them? Pirelli sent us to the track at the Las Vegas Motor Speedway and the Dream Racing program that lives there to find out.
The speedway has three road courses on top of the big oval, and we would be using all of them for our testing. Dream Racing supplied a small fleet of Toyota GR Supras (and some of its instructors) so that we could spend some laps hammering on the new tire. Dream Racing has a partnership with Pirelli, and uses its various tires exclusively on its fleet of racers ranging from quick to face-bending fast.
It was a hot Las Vegas day, with temperatures in the 90s. Since it was cloudy, track temperatures stayed hot instead of punishing. Still, this was a track-only dry test. We weren't able to test Pirelli's ride and noise claims (or snow claims) on actual roads.
I did have a couple of laps to learn the track, though, and I used those to try and get a feel for the P Zero AS Plus 3 in normal conditions. The tire was quiet, though it was admittedly extremely smooth asphalt.
Tossing it into the track's curbing didn't make much noise, either, and it showed that the performance tire has a level of sidewall compliance that seems like it would be a comfortable option on the road but had me worried about ultimate performance.
Track Testing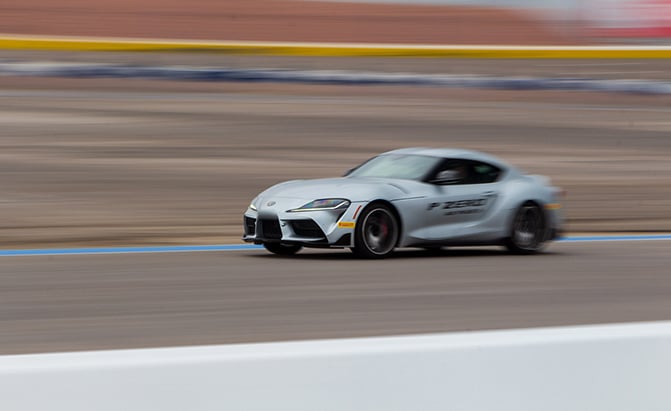 When it came time to drop the hammer, I learned pretty quickly I didn't need to worry about those sidewalls. When pushed, the P Zero AS Plus 3 displayed sharp and confidence-inspiring turn-in. Even when deliberately driven a little ham-fistedly, with moves like braking hard while turning.
The UHP Pirellis offered loads of grip with little squealing as I pushed them to and then through their overall limits. When pushed past that high limit of grip, the tires' breakaway was impressively smooth and gradual. Chalk some of that up to the Supra's excellent chassis, but much of it was still directly the result of these tires.
Traction and stability control were both firmly turned on for our laps, but the indicator light was clearly visible even in mid-corner. So I could tell just how much leash the system would give me before intervening.
That let me experience the gradual loss of grip along with the equally undramatic recovery. The Plus 3 was that gradual on both the steer and drive tires, and it made the tire both easy and fun for fast driving. Forgiving for those with less experience, playful for those who know what they're doing.
This isn't a tire that will give you the fastest lap times on your daily commute. It is a tire that is a load of fun to drive quickly. For an all-season tire that's meant to go on a road car, I think that's a much better thing to have.
Tires Stand Up, But More Testing
Just four Supras and about 20 drivers meant I was able to learn a lot about tire wear, too. From anything with all-season in the name, I expect sidewall scuffing and even serious chunking of the tread after just a handful of laps.
Even after nearly 100 laps, the Pirelli P Zero AS Plus 3s front and rear still looked nearly new. The tread surface was unharmed and the sidewalls were unmarked. The former demonstrates impressive durability and performance credentials. The latter shows a tire sidewall that does a great job of resisting roll and keeping the tread on the pavement.
The target customer for the Pirelli P Zero AS Plus 3 is buyers who want high performance, buyers who Pirelli think values its motorsports DNA, and buyers who want prestige-brand tires on their vehicles.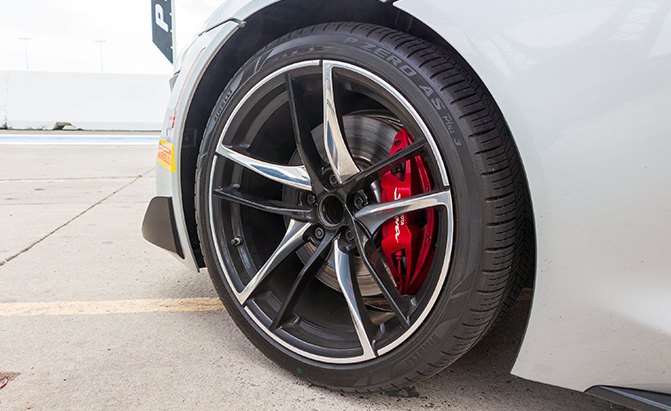 To cater to those buyers, Pirelli is making the tire in 31 sizes for 17-22-inch wheels. The company said key fitments include the Ford Mustang, Genesis G80, and the compacts from BMW and Mercedes-Benz, but it will offer sizes for some performance SUVs as well as sedans and coupes.
Pirelli's claims for dry weather performance held up. If the tire can do the same in the cold, then this is a serious competitor for best all-around performance tire on the market. Since we aren't able to test cold weather performance during this event, we hope to get our hands on the Pirelli P Zero All Season Plus 3 UHP later in the year for some wintery testing.
Become an AutoGuide insider. Get the latest from the automotive world first by subscribing to our newsletter here.
---
We are committed to finding, researching, and recommending the best products. We earn commissions from purchases you make using the retail links in our product reviews. Learn more about how this works.
AutoGuide may accept review samples for testing and evaluation. Suppliers of review products do not have any input into our conclusions and are not allowed to review our content before publication.
Published June 20th, 2023 1:48 PM
Popular Articles
Latest Comparisons
Car Buying Tools