1 View
Chevrolet To Introduce New Camaro-Based Car At Chicago Auto Show, New Caprice Almost Certain
February 5th, 2011 3:56 PM
Share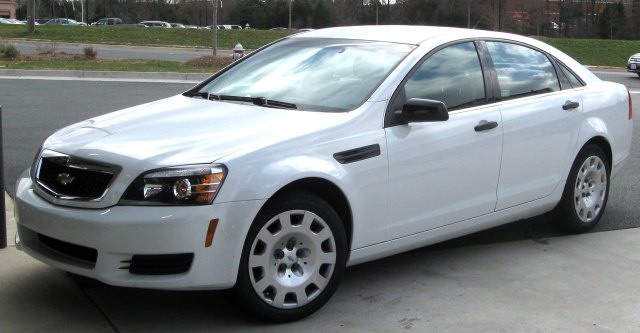 During our drive of the Chevrolet Camaro Convertible, we chatted with one engineer about GM's Zeta platform, which underpins rear-drive full size cars. Among remarking how much we adored the Pontiac G8 sedan and how we longed for a revival of the car, the engineer broke into a broad grin and said "well, these things have a way of happening."
Cut to Saturday, where GM's Mark Reuss announced the debut of a vehicle based on the Camaro platform at the Chicago Auto Show. The only other car built on the platform is the Holden Commodore, which formerly underpinned the G8 and is the basis for the Chevrolet Caprice PPV, a model only sold to law enforcement agencies for police duty.
In recent weeks, photos of the Caprice have emerged that show it looking very ready for civilian duty (seen above). Gone are the steel wheels, push bars and flashing lights, and to the untrained eye, the car could be any other full-size American sedan.
There's a strong chance the car will be a new variant of the Caprice, although a high-performance Camaro Z28 is also rumored to bow in Chicago. With Chrysler's new 300 sedan (and Dodge's Charger) being the only rear drive full size car on the market (and receiving rave reviews), Chevrolet will certainly want to capitalize on this and smash the 300's monopoly. The only question is whether the vehicle will be the long-wheelbase police version (based on the Holden Statesman) or the standard length Commodore based car that was previously given to Pontiac as the G8. Engine choices will likely be the familiar 3.6L V6 making 300 horsepower or more, and a small-block V8 of indeterminate output.
[Source: Detroit News]
See AutoGuide's complete 2011 Chicago Auto Show Preview here, with coverage starting Wednesday, February 9th.
Published February 5th, 2011 11:53 AM
Popular Articles
Latest Comparisons
Car Buying Tools