1 View
GM Calls Out Nissan Over 'Gas Powered Everything' Ad
May 28th, 2011 10:53 PM
Share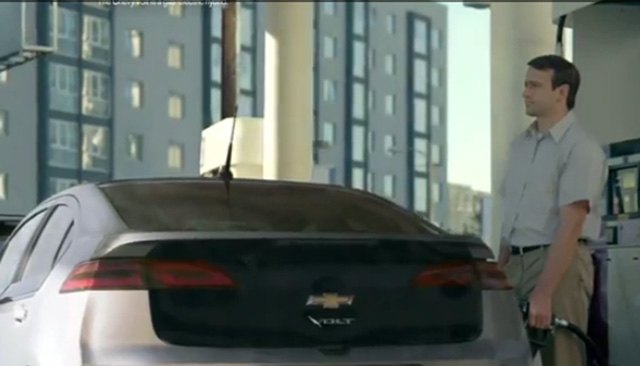 Aiming to build hype behind its all-electric Leaf, Nissan has released a new ad, imagining a world where tiny internal combustion engines power everything that currently runs on electricity. The bleak and dirty existence portrayed in the new ad spot then steps to a new level to prove Nissan's point, showing the sullen protagonist gassing up his Chevrolet Volt. Subtle it is not.
Understandably the folks at General Motors are none-too impressed and while in most cases silent indignation would be the correct course of action, GM product and brand communications chief Jason Laird chose a 140 character or less medium with which to toss back a cleverly worded barb.
"A carmaker poking gentle fun at our product ignores towtrucks they need and rental cars they recommend as backup to their product," tweeted Laird, hinting at the Leaf's limited range and reports that owners would be given free rental car days to help eschew concerns over range anxiety. Ouch!
In a brief online exchange Laird cited plausible deniability, commenting that he made no reference to anyone or anything, including the commercial, Nissan, or the Leaf. True, but we think you'll forgive us for thinking we can make the assumption and hold on to our journalistic integrity.
"The commercial is cute, but its misleading and damaging to the EV movement," says Rob Peterson, the man in charge of public relations for the Volt. His main issue with the ad, however, is in even comparing the two cars, which he sees as two very different vehicles based on their range capability.
"Many people are intrigued by electric cars but they don't have the financial flexibility to own a second or even a third car. The Volt can be you only car."
Ultimately, Peterson dismissed the spot, commenting that its, "long term effect will be relatively minimal."
This isn't the first such exchange between Chevy and Nissan either, with Chevrolet showing an ad at the Volt's official world premiere at the LA Auto Show in which it's referred to as more than just a "leaf blower". The subtlety of that spot seems to have been replaced with a more explicit message and we have to wonder if it will continue to escalate as both Chevrolet and Nissan are vying to be recognized as the leader in new green automotive technology.
There's a lot more at stake here than just hurt feelings or even the future of a single type of car. Both Nissan and Chevrolet have made commitments to the technologies used in their respective electrically-motivated vehicles, with the future of each automaker closely tied to the success of their flagship green product.
If you haven't already, watch the Nissan spot after the jump:
{ "id": "12960238", "alt": "", "title": "", "video_link": "https://www.youtube.com/embed/j0sCCJFkEbE", "youtube_video_id": "j0sCCJFkEbE" }
{ "width": 634, "height": 357, "showRelated": true }
Published May 28th, 2011 4:02 PM
Popular Articles
Latest Comparisons
Car Buying Tools