1 View
Nissan Leaf Limo: Frugality Meets Excess
September 19th, 2011 4:30 PM
Share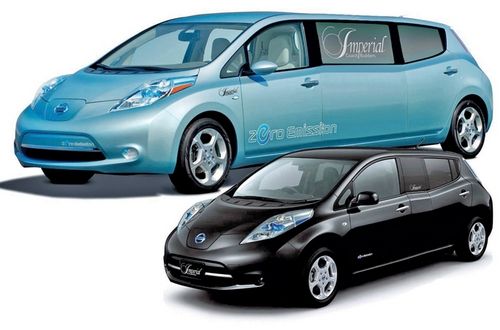 Limousines often symbolize wealth and celebrity status. To travel in one means that you've either arrived or are celebrating a special occasion, which, usually calls for a little more excess than normal.
So, when you take a car like, say, the Nissan Leaf, that's been conceived as an example of motoring frugality, saving both fuel and reducing the impact on the environment, does it really pay to make a stretched limousine out of it?
Springfield, Missouri based Imperial Coachbuilders Inc. thinks so and believes the idea will strike a cord, particularly with enviro-conscious fleet customers, which is why it's hatched plans to build such a vehicle. However, the traditional methods of cutting and stretching cars don't exactly apply here.
The Leaf's lightweight construction and relatively large lithium-ion battery pack presents unique challenges, so in order to get around the problem, Imperial has teamed up with UK based Liberty Electric Cars, an EV conversion firm that will add a second lithium-ion battery pack to help compensate for the extra weight, while retaining the car's existing 80 to 100 mile driving range.
Will it be successful? Difficult to say at this point, though Imperial's director of marketing, Tom Catterson remains optimistic. "It's going to make a great limo," he said.
[Source: Automotive News]
Published September 19th, 2011 4:30 PM
Popular Articles
Latest Comparisons
Car Buying Tools