1 View
Tesla Vs. TopGear In Court, BBC Winning So Far
October 21st, 2011 2:00 PM
Share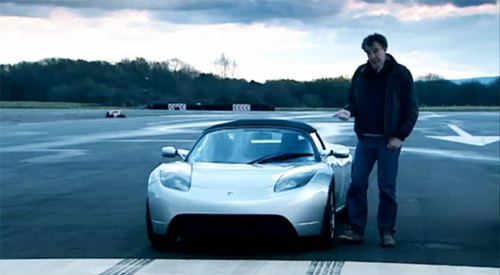 It is not common for a car company to take legal action against a publication or TV show based on their opinion of the product, but Tesla did just that after TopGear aired an episode in 2008, featuring the all-electric Tesla Roadster.
According to Tesla, TopGear showed their car in a less than perfect light, claiming it suffered from poor range and even had a problem with the brakes.
The program claimed that the Tesla ran out of range in just 55-miles, well short of the 200-miles its makers suggests. This according to Tesla has been an ongoing cause of concern for its to be customers and hence sued the BBC program for libel.
However, at a ruling on Wednesday at the High Court in London, U.K., the honorable Justice Tugendhat sided with the BBC and said that no TopGear viewer would have reasonably compared the cars performance on the track to compare with the cars ability on the road.
A car would be driven far more aggressively on the track, and would thus be less efficient than when used on public roads.
Tugendhat went on to say; "In my judgment, the words complained of are wholly incapable of conveying any meaning at all to the effect that the claimant [Tesla] misled anyone."
The judgement in favor of TopGear and its broadcaster the BBC was verbally handed out on Wednesday before lunch time.
Tesla however pointed out five other counts of complaints against TopGear, saying it staged some of the footage, like when the car was being pushed into the garage and also that just a faulty fuse was made to be looked as if the brakes had malfunctioned.
The case will resume in a few weeks time. We will keep you posted on this developing news story.
[Source: The Guardian]
Published October 21st, 2011 2:00 PM
Popular Articles
Latest Comparisons
Car Buying Tools