1 View
Two-Thirds of All Hybrids on the Road Are Toyotas
October 21st, 2011 11:00 AM
Share
Toyota's leadership in the hybrid car category has reflected extremely highly on its perception as a "green" automaker. And for good reason, with two-thirds of all hybrids currently on the road being Toyota brand products. Much of that success can be given to the Prius, with more models sold than all other hybrids combined, totaling 52 percent of all registered hybrids.
The numbers grow further in Toyota's favor if you take into account all Toyota brand vehicles. Adding in Lexus sales, Toyota Group models makes up 73 percent of all registered hybrids.
Next to Toyota's 66.4 percent share of the hybrid market, Honda ranks a distant second with 15.7 percent. Totaling 288,906 units, much of Honda's success has been with its Civic Hybrid with just shy of 200,000 units sold.
Broken down by brand, Lexus ranks third with 6.4 percent of the market, although if you include those vehicles in the larger Toyota number, then Ford comes in third with 6.3 percent.
According to data compiled by Polk Automotive, at the bottom of the list are Kia, with just one registered hybrid, Hyundai with four and Infiniti with 12. (Note: the data is as of April 2011 and since then these three automakers have all begun selling hybrids in more significant volumes).
With Toyota's hybrid sales comprised of just the Prius, Camry Hybrid and Highlander Hybrid the Big T is looking to continue stay on top in the hybrid segment, launching the Prius v this year and Prius Plug-in Hybrid next year, followed by the Prius c. An all-new Camry Hybrid is also expected to double Toyota's annual sales volumes in that segment.
Toyota is also on the verge of a milestone in the U.S. market with 959,794 Prius models currently registered.
GALLERY: 2012 Prius Plug-in Hybrid
[Source: Polk]
Hit the jump for a full breakdown of hybrid model sales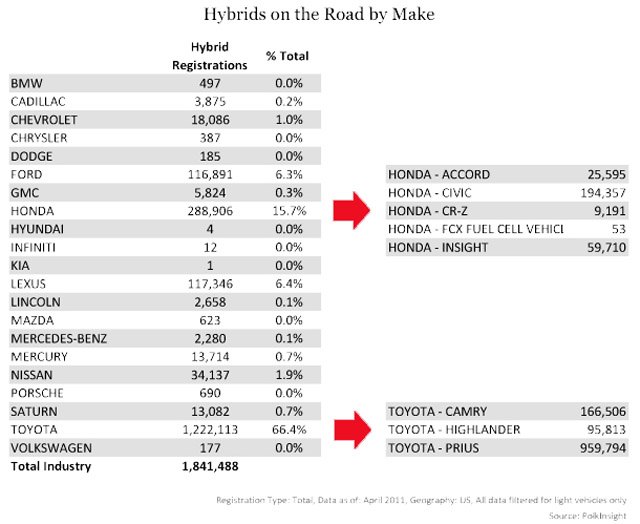 Published October 21st, 2011 11:00 AM
Popular Articles
Latest Comparisons
Car Buying Tools