3 Views
Top 10 Worst Cars of SEMA: 2011 SEMA Show
March 27th, 2012 2:16 PM
Share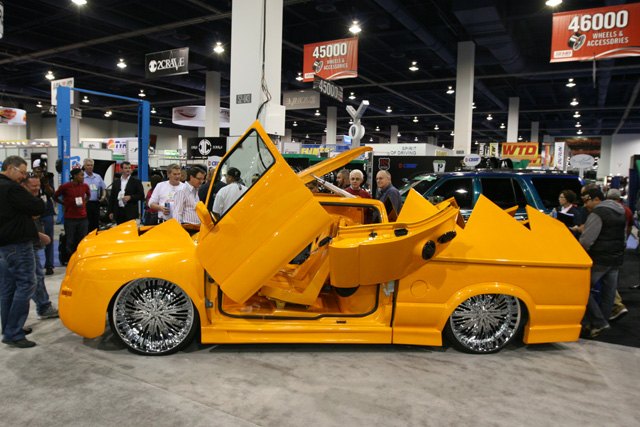 With the 2011 SEMA Show just about wrapped up we're sure you've already seen plenty of "best of" stories.
But the world's largest aftermarket expo is known as much for its abominations as for its stunning creation and so we've assembled a list of the very worst. The selection of eye-searing why-did-they-do-that cars and trucks was picked with the expert help of celebrity judges Barry Meguiar, RJ de Vera and Wally Sema – the man this whole crazy car show is named after (Note: none of the preceding sentence is true).
Placing in 10th spot and somewhat of an honorary member of the Top 10 is the school bus yellow Chrysler 300-grilled pickup truck. It's got all the requisite terrible attributes from oversized chrome wheels to scissor doors and odd speaker housings. We can't go too hard on it, however, as the truck looks to be built by a collision repair shop and is obviously meant to represent an accident.
GALLERY: Chrysler 300 Pickup Mess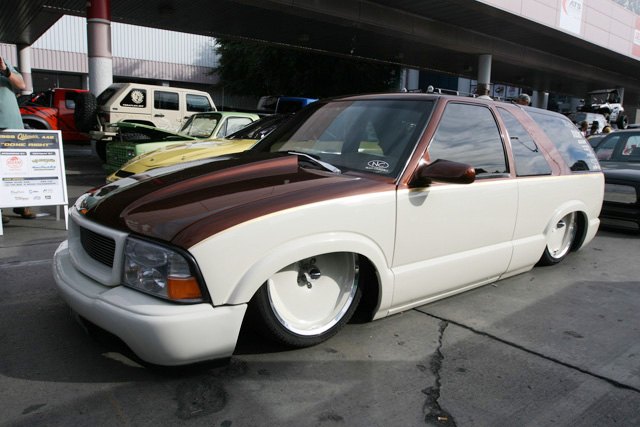 It's not the first lowrider we've seen made out of a GMC Jimmy or Chevy Blazer, but it might just be the worst, thanks in part to the cream paint and matching cream dish-plate wheels. And just because these trucks have been adopted by some in the lowrider/minitruck community, it doesn't make it right.
GALLERY: GMC Jimmy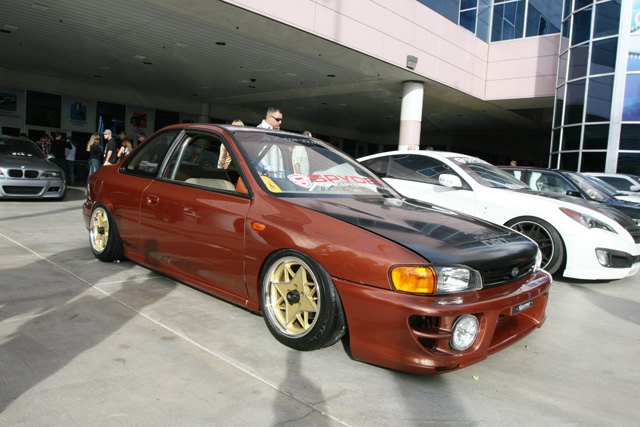 The whole "stanced" movement has its opponents, but even the most open minded tuner might have a tough time praising this car, which appears to be a first-gen Subaru Impreza coupe. It's not all bad, but we do warn you that this is one of those rare instances where the photos actually make the car look better than reality. Normally we wouldn't pick on a car like this, but its hard not to with brown paint, a tweed-style interior, a roof that's been covered in photographs and (the icing on this less than delicious cake), what appears to be a vinyl coated trunk.
GALLERY: Stanced Subaru Impreza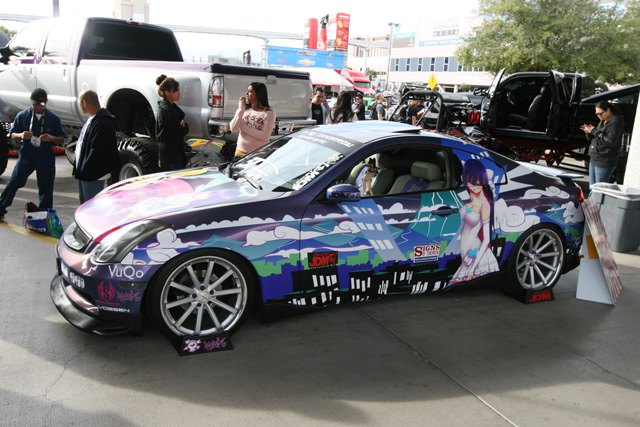 What is Itashi? You'll wish you hadn't asked. According to the poster board next to this sports coupe, it's a trend where people decorate their cars with anime or manga characters. Apparently, the trend is supposed to be "cute"… you know… like a strip club. We almost didn't include this car in the Top 10 Worst Cars of SEMA list at all, with stiff competition coming from the Stitch-themed (you know, from Lilo and Stitch) Scion xB.
GALLERY: Infiniti G35 Itasha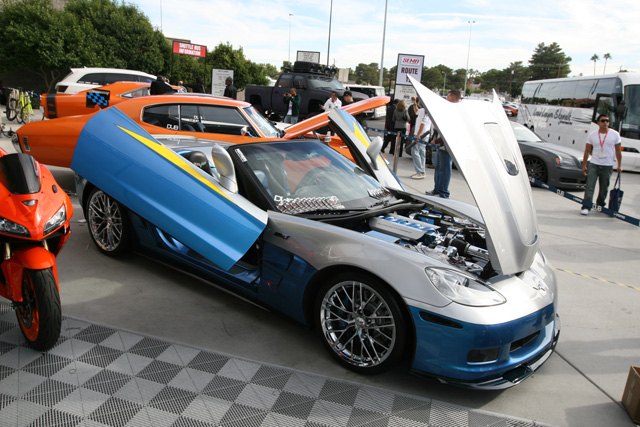 If you love sports cars, shed a tear. If you love Corvettes, maybe it's best you don't even look. Once a stunning piece of engineering and beauty, capable of lapping the Nurburgring in near record-setting time, this Corvette ZR1 now spots scissor doors and a long list of styling no-nos.
GALLERY: Corvette ZR1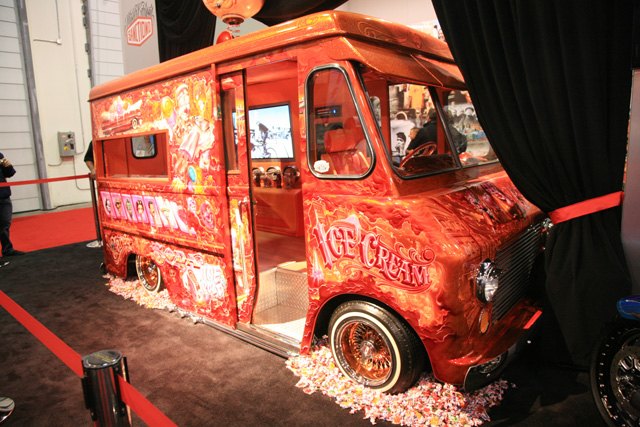 What exactly is going on here? We're not sure. Although we are scared. Looking like something from a child's nightmare after eating a few too many Klondike bars, this wildly styled ice cream truck is downright sinister. The truck itself is the work of LA-based graffiti and tattoo artist Mr Cartoon (Mark Machado).
GALLERY: Mister Cartoon Ice Cream Truck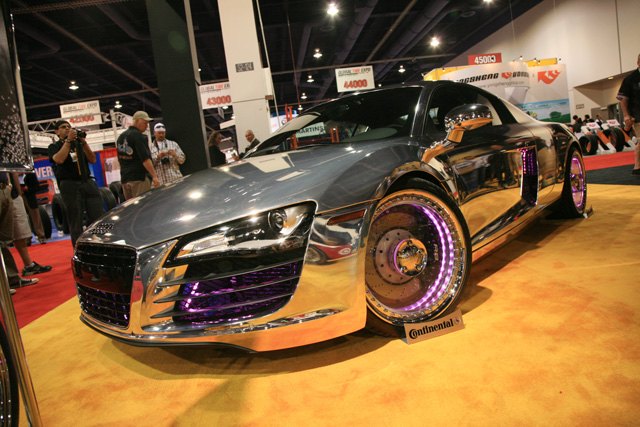 On display at the Continental tires booth, this Tron-themed Audi R8 might not be beutiful, but it certainly worked as a way to draw in the crowds. From the chrome paint, clear rims and plenty of purple LED-lighting, it's certainly unique. Would you expect anything less from West Coast Customs?
GALLERY: Tron Audi R8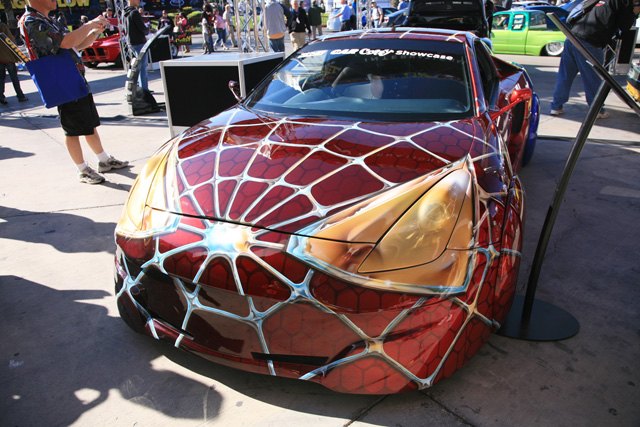 Our first inclination is to call this a Toyota Celica. Head around back, however, and the taillights are obviously from a Mazda RX-8. With a Spiderman theme from the front to the back, about the only way we could excuse this machine is if it were a drag racing funny car. Toyota? Mazda? Let's just call it a Nissan Juke.
GALLERY: Spiderman Car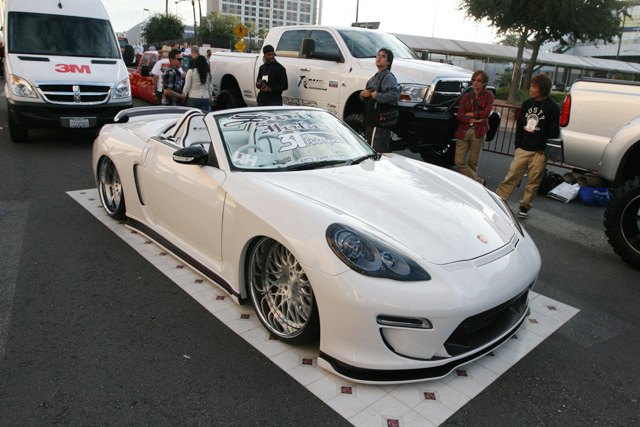 Is this the new cabriolet version of Porsche's rumored Panamera-based 928 Coupe? Of course it's not. Heck, it might even be a Lexus SC under that widebody. What we do know is that's it's from Japan, with the steering wheel on the right side and plates that indicate as much. Where we do have to give this car some serious credit is in the interior, which looks to be crafted with first rate materials and skill.
GALLERY: Porsche Panamera Convertible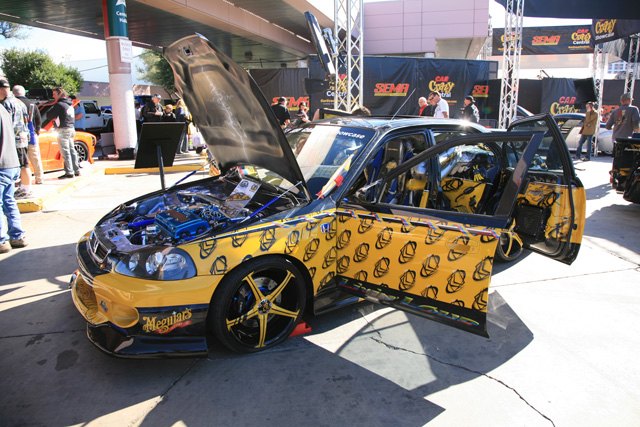 It might just embody everything that can go wrong with a SEMA Show car. Part of the first ever Car Crazy International Vehicle Showcase held by Meguiar's this Honda Civic has traveled all the way from Colombia to be mocked mercilessly by anyone with eyes. Think it's bad on the outside, check out the interior photos… but be warned.
GALLERY: World's Most Riced-Out Civic
Published November 3rd, 2011 8:35 PM
Popular Articles
Latest Comparisons
Car Buying Tools