1 View
Top 10 Best Cars of SEMA: 2011 SEMA Show
March 27th, 2012 2:15 PM
Share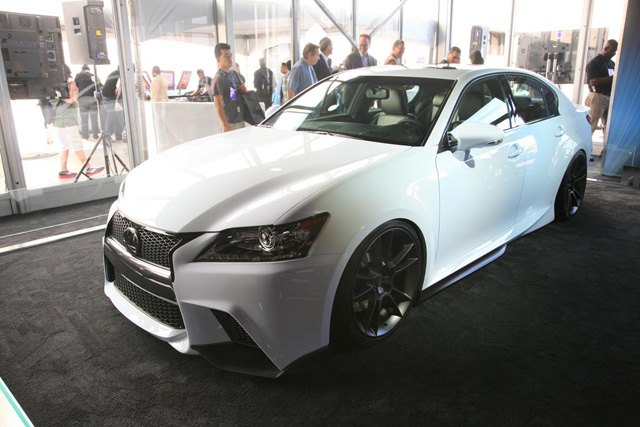 Ever since Lexus first began participating at the SEMA Show the team from Five Axis has been around. Showing just what's possible when you're not constrained by styling that must appeal to all types or by volume manufacturing, creative boss Troy Sumitomo has been crafting wild one-offs for years. Initially some rather wild tuner-style cars, more recently the design house seems to have developed its own identity, showcased most recently in the "Project GS" concept based on the all-new 2013 Lexus GS. With an extra wide body, massive 20-inch wheels and a low-low stance, this unique interpretation of the new GS is easily the best reason yet why Toyota should hire Sumitomo.
GALLERY: Five Axis Project GS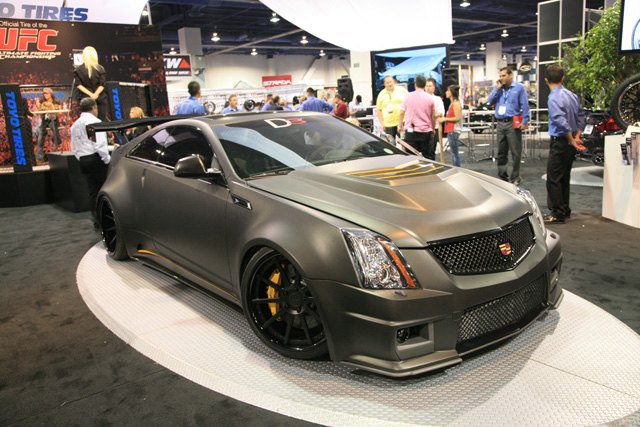 For years the only time you wold have seen a Cadillac at SEMA would be either if it was an Escalade with 30-inch rims or a classic model sitting on the ground with the rest of the lowriders. A sign of changing perceptions about the brand, Caddy tuner D3 has revealed its newest creation "Le Monstre", taking the new CTS-V Coupe and injecting it with plenty of Euro-style aggression and track styling. Far more than just a matte-black paint job this V gets a custom widebody and a supercharged V8 that's been pumped up to 1,001-hp!
GALLERY: D3 Cadillac CTS-V Coupe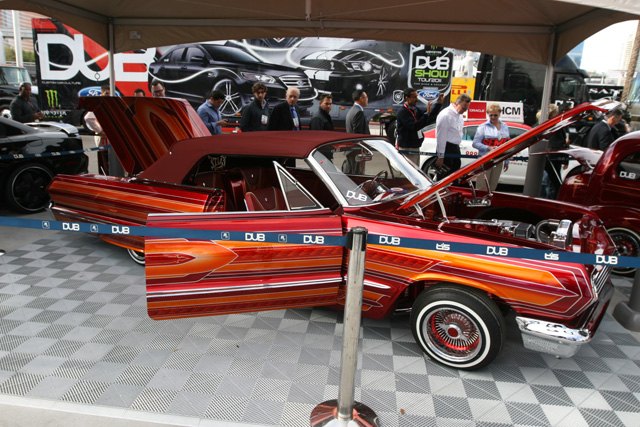 It's not often, if ever, that we'd pick a car from the DUB section of the SEMA Show to be in our Top 10 list, but this 1963 Chevy Impala can't be ignored. Owned by Albert De Alba the work was done by Mario's Autoworks of Montclair, CA and Calblast of Upland, CA. Winner of a Mothers Choice Award trophy at the SEMA Show, the paint work isn't just pristine, the art work is too, especially on the under side of the hood. The attention to detail in every area is simply unbelievable from the custom interior, to the chrome engine parts. Of particular note, be sure to check out the design of the woman on the valve cover. The jewelry around his neck isn't paint, it's actual jewels.
GALLERY: 1963 Chevy Impala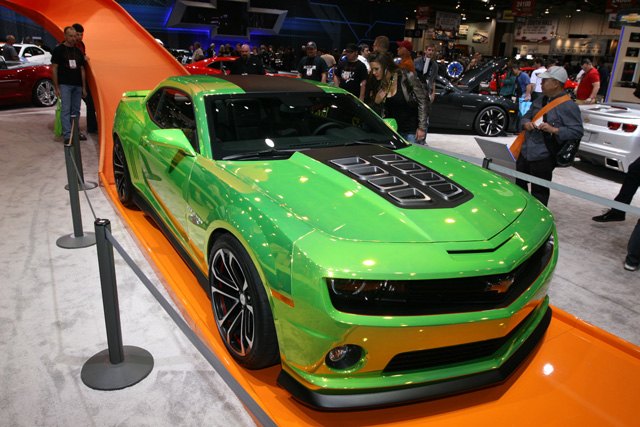 It's next to impossible not to love Chevy's new Camaro Hot Wheels concept. Painted "Over Chrome Green" it was easily a fan favorite at the SEMA Show. Along with the obvious, this concept car also makes use of satin black wheels and paint-matched ground effects, plus Euro-style taillights, not to mention a ZL1 grille and spoiler. And of course there are plenty of Hot Wheel badges from the rear deck;id, to the logos on the headrests. And adding performance to the already impressive 426-hp 6.2-liter V8 is a lowering kit, upgraded Brembo brakes, exhaust system and strut tower brace. Hot Wheels will offer a 1:64 scale model of the car for sale. We just hope Chevy delivers the real thing.
GALLERY: Hot Wheels Camaro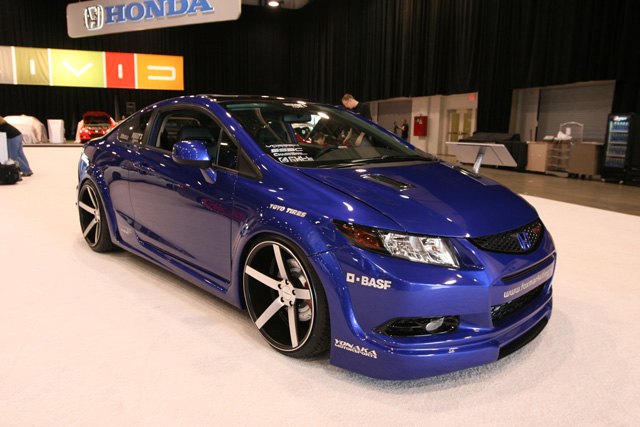 We'll admit that many of the past Fox Marketing cars have been too over-the-top for our tastes, and while the company's restyled 2012 Civic Si is certainly extreme, it manages to strike a balance. Apart from the excessive 20-inch wheels, which do match the design, but are a few steps past impractical, we're impressed with how sleek a look the car has, especially as the new 2012 Civic has been criticized for being too tame a design. Of note, the car makes 450-hp and to appease the Honda fanboys the turbocharged used to make all that power is the very same unit used to deliver race car amounts of thrust in Honda's IndyCar and LMP race cars.
GALLERY: Fox Marketing 2012 Honda Civic Si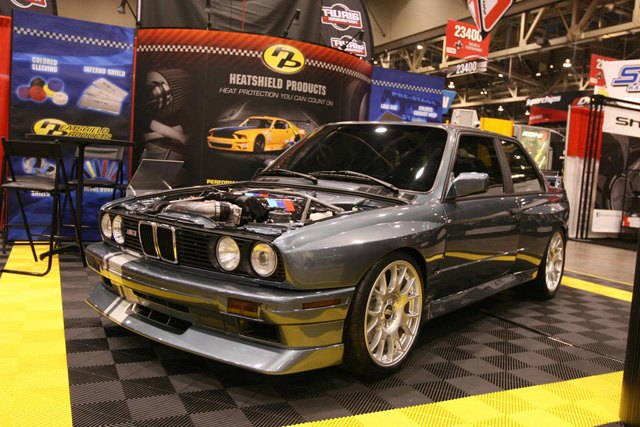 It was one of the first cars we stumbled across at the SEMA Show and its remained a favorite ever since. The E30 BMW M3 is a purists car if there ever was one. Plus, it looks absolutely incredible, with a simple, yet athletic coupe design. Sure the factory 2.3-liter 4-cylinder is an impressive motor, but you also can't argue with the power generated by a Corvette LS3. With that in mind, builder Kevin Byrd added the big V8 plus a few modifications to deliver around 500-hp. (Note: our inclusion of this car in the Top 10 Best of SEMA list is based on the assumption that the factory M3 engine was somehow destroyed. If it was in fact in perfect running order and was swapped out, we now nominate the LS3-powered M3 for our Top 10 Worst Cars of SEMA List).
GALLERY: LS3- Powered BMW M3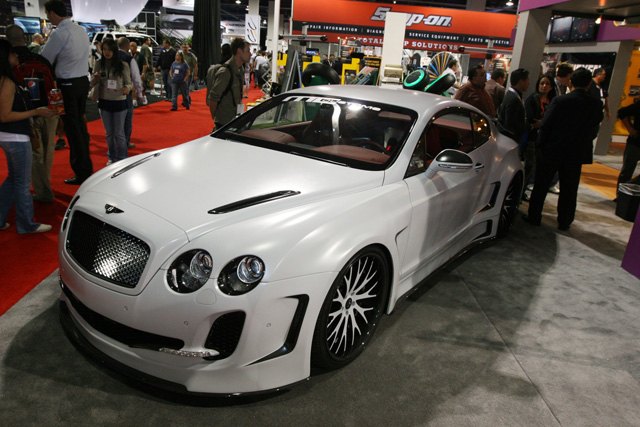 Divisive might be the best word used to describe this custom Bentley, on display at the Nexen tires both. Built by MC Customs it's certainly excessive. Making the project even more bold is the fact that it's not your run of the mill Bentley Continental either, but a Supersport model, complete with diamond-stitched Alcantara seats and rear seats absent. We'll forgive you for thinking we're nuts to include it, but hear us out first. While an impressive performance and luxury machine, the Continental by no means looks the part. Now it does.
GALLERY: MC-Customs Bentley Continental Supersports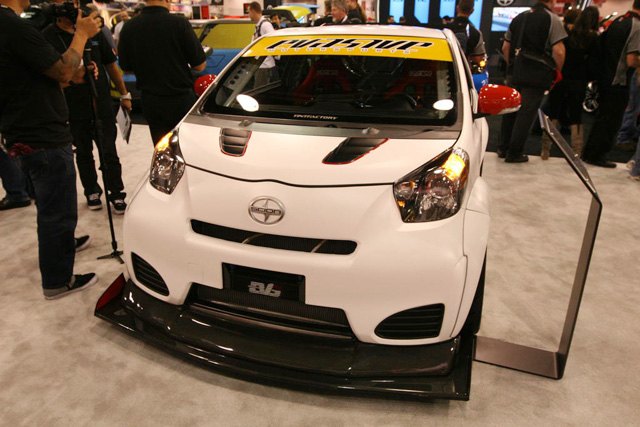 It might not have won the Scion Tuner Challenge, but it is number three on our list of Top 10 SEMA Cars. Designed by Michael Chang we have to give credit where credit is due, transforming the too-cute iQ into a serious looking race car. With help from Evasive Motorsports it looks like a genuine touring car, with a custom widebody kit and lots of carbon fiber, not to mention a custom 6-point roll cage, Sparco seats and a fuel cell.
GALLERY: Scion iQ by Michael Chang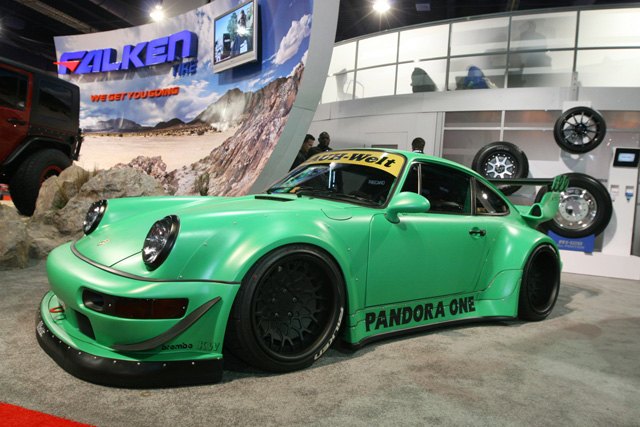 Somewhat of an underground tuning trend in Japan, RAUH-Welt Begriff (or RWB) styled Porsches have grown considerably in popularity over the past few years, with this year's SEMA Show marking the first time any have been displayed at the aftermarket parts mega-show. Not one, but two RWD Porsches were actually on hand, with the first belonging to former 0-60 Magazine editor-in-chief Brian Scotto (now managing Ken Block's Hoonigan brand), while the second and our favorite (sorry Scotto) was the stunning green version above, on display in the Falken tires booth.
GALLERY: RWB Porsche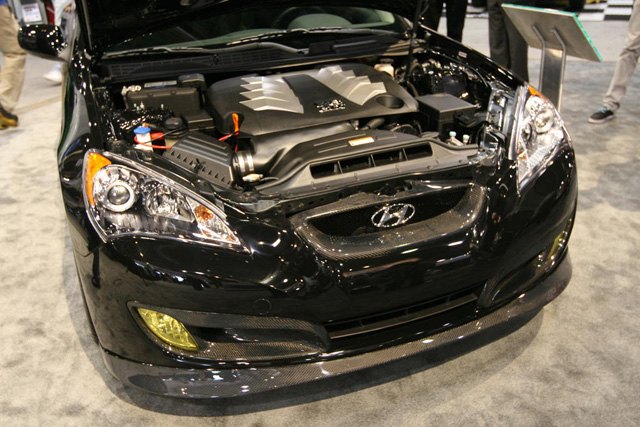 It's not the wildest or even the nicest looking car at the SEMA Show, but the RMR500 Hyundai Genesis Coupe is the perfect example of all that is right with modifying cars.The aesthetic modifications are clean and simple with a carbon fiber aero kit, a lowered suspension, some nice HRE 793-RS 19-inch wheels and Brembo brakes. The crux of this built, however, is what's under the hood, with the factory 3.8-liter V6 swapped out for the new 5.0-liter Tau V8 found in the R-Spec Genesis sedan. Making 430-hp in that car, Rhys Millen Racing added a few extra goodies including a new exhaust system, GReddy muffler, plus oil and differential coolers. Final output is rated at 450-hp.
But the best part is the fact that as the Genesis coupe and sedan use the same platform, the swap isn't all that difficult to do, a massive hint that Hyundai may actually be planning to offer a production car like this SEMA concept in the future. They'd be crazy not to.
GALLERY: RMR500 Hyundai Genesis Coupe
Published November 7th, 2011 3:45 PM
Popular Articles
Latest Comparisons
Car Buying Tools