2 Views
Chevrolet Volt Battery Issues Growing, Safety Findings May Have Been Suppressed
December 6th, 2011 12:32 PM
Share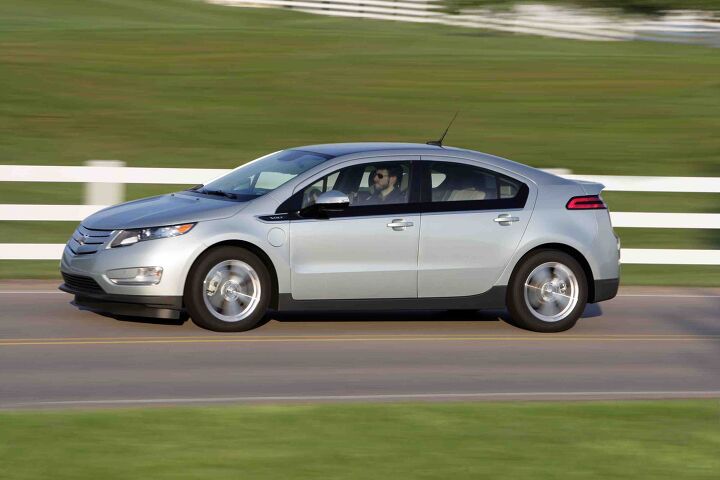 Following on from the announcement that GM is looking at redesigning the Chevrolet Volt's lithium-ion battery system in the wake of several highly publicized fires resulting from test crashes, comes further news that both the automaker and the National Highway Traffic Safety Administration delayed disclosure of their original findings by months.
Apparently, way back in June, General Motors heard about a Volt fire that happened three weeks after said vehicle was crash tested, yet it wasn't until November that the company, or NHTSA disclosed there was a potential problem, urging both dealers and customers to drain the battery pack immediately following an accident.
As a result the public relations nightmare surrounding Chevy's halo vehicle appears to be deepening, though a good deal of the blame in this case also rests with NHTSA.
Joan Claybrook, a former adminstrator at NHTSA believes part of the reason for the delay was the "fragility of Volt sales." Yet she also believes that "NHTSA could have put out a consumer alert, not to tell them [customers] for six months makes no sense to me."
GM designed a complex cooling system for the Volt's lithium ion battery pack to help regulate its temperature (lithium-ion units are known for overheating), yet until July it hadn't finalized a standard proceedure to power down the battery system, the Volt had already been on sale in the US for six months at that juncture.
The Insurance Institute of Highway Safety, which crash tested a Volt back in February reported no incidents of fire as resulting from the accident, yet when a second crash test was performed in August, General Motors sent a technician to power down the battery.
An interesting point on the subject been raised by Clarence Ditlow, executive director for the Center of Auto Safety in Washington D.C. He said that he is "surprised that NHTSA didn't drain the battery after crash testing as it is standard procedure to empty the fuel tank on conventional gasoline powered vehicles." He also says that the NHTSA incident underlines the need for "greater transparency when conducting crash tests," as well as setting proper industry standards when it comes to new technologies.
A spokesman for GM said the company felt it didn't need to initially disclose the issue because the original fire was an isolated occurrence and happened some time after the vehicle was crashed. "It's kind of odd in many respects," said Rob Peterson. "The question became: What was making this happen and what do we have to do?"
Nonetheless in wake of the findings; GM is now working with both NHTSA and the Society of Automotive Engineers to develop standards for all electric vehicles when it comes to crash testing. It's also continuing with its program of providing concerned Volt owners with free loaner vehicles; so far 33 of roughly 5,000 customers have signed up.
[Source: Automotive News]
Correction Notice: The original article claimed that 5,000 customers has signed up for loaner cars. That information was incorrect. In fact, 33 of roughly 5,000 owners have requested loaner vehicles from General Motors.
Published December 5th, 2011 8:15 PM
Popular Articles
Latest Comparisons
Car Buying Tools