23 Views
Ford 1.0L EcoBoost Race Car Sets Nrburgring Record
September 4th, 2012 10:51 AM
Share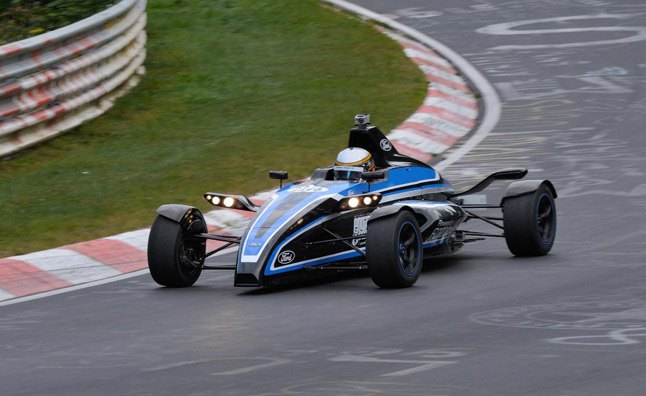 Ford's 1.0-liter EcoBoost engine has already been recognized as the 2012 International Engine of the Year, and now, adding to its list of accolades, a street legal Ford race car powered by the three-cylinder EcoBoost has just set the 11th fastest lap time on the Nürburgring.
The Ecoboost powered race car made it around the legendary German circuit in 7 minutes, 22 seconds, beating times set by 600+ horsepower cars such as the Lamborghini Aventador and Ferrari Enzo.
While it normally gets either 98 hp or 123 hp, the EcoBoost in the Ford Formula race car was rated at around 202 hp. That gives the car a top speed of 158.8 mph, and a 0-62 mph time of under four seconds. On the record setting run, Ford's Formula race car ran the 12.94 mile circuit at an average speed of 105 mph.
In-house testing at Ford revealed that the racer also achieves frugal fuel economy numbers, getting 57 mpg while running at 75 mph. "We wanted to prove that size doesn't matter by showing everyone what an amazingly capable engine we have developed in the 1.0-litre EcoBoost," said Roelant de Waard, vice president of Marketing and Sales at Ford of Europe.
The 1.0-liter EcoBoost has also been proving its worth on the market, as about 30 percent of Ford Focus buyers have opted for the small three-cylinder over in Europe. Here in North America, we will get our hands on the 1.0-liter EcoBoost in the 2014 Ford Fiesta.
Read Autoguide's review of the 1.0-liter EcoBoost here.
Get the Flash Player to see this player.
{ "id": "12985648", "alt": "", "title": "", "video_link": "https://www.youtube.com/embed/bexyLla5NAE", "youtube_video_id": "bexyLla5NAE" }
{ "width": 634, "height": 357, "showRelated": true }
GALLERY: Ford Formula Race Car
Stephen Elmer
Stephen covers all of the day-to-day events of the industry as the News Editor at AutoGuide, along with being the AG truck expert. His truck knowledge comes from working long days on the woodlot with pickups and driving straight trucks professionally. When not at his desk, Steve can be found playing his bass or riding his snowmobile or Sea-Doo. Find Stephen on <A title="@Selmer07 on Twitter" href="http://www.twitter.com/selmer07">Twitter</A> and <A title="Stephen on Google+" href="http://plus.google.com/117833131531784822251?rel=author">Google+</A>
More by Stephen Elmer
Published September 4th, 2012 9:31 AM
Popular Articles
Latest Comparisons
Car Buying Tools